Hyatt Regency Aruba Resort & Casino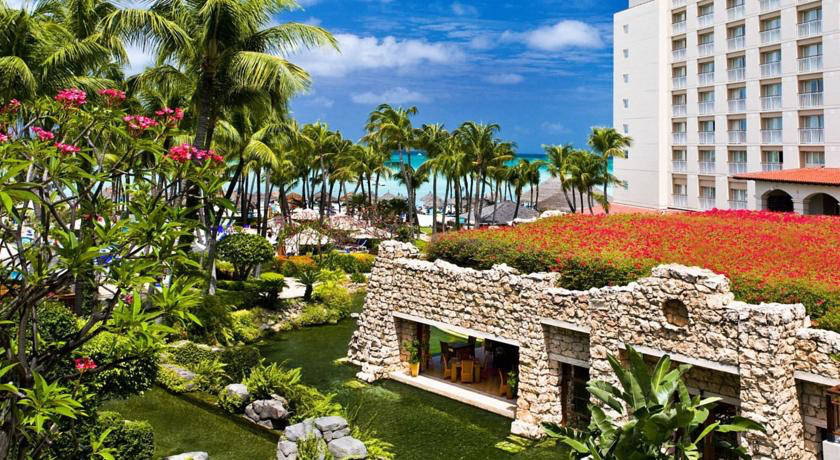 Address: J.E. Irausquin Blvd #85, Palm Beach, Aruba
Number of rooms: 360.
Outdoor Facilities: Outdoor Pool, Garden.
Free Services: Free WiFi, Free Breakfast, Free Parking.
Rating: 5 star.
---
Check Availability
About the Hyatt Regency Aruba Resort & Casino
Bon bini to the Hyatt Regency Aruba Resort & Casino where the winds of change enhanced this award-winning retreat with endless upscale amenities and gracious hospitality! Just 15 minutes from Reina Beatrix International airport and nearby downtown Oranjestad, this 12 acre Palm Beach resort is the destination of choice for many Dutch Caribbean travelers. Following a 20 million dollar renovation in June 2006, the Hyatt Regency Aruba Resort & Casino further enriches the guest experience by combining casual Caribbean elegance with sleek modern style. From the moment you enter the stunning open-air lobby, you'll notice how the resort's new design embraces the open spaces and lush tropical gardens that make you feel one with the island of Aruba. Enhanced with the tranquility of contemporary furnishings and artistic elements, the lobby invites you to relax in secluded spaces, and enjoy the inspiring ocean views. The newly renovated accommodations exemplify the glorious setting of the resort.
Restaurants at the Hyatt Regency Aruba Resort & Casino
When dining at the Hyatt Resort and Casino, you will enjoy a variety of tastes and cuisine in each of the restaurants. Open for breakfast, dinner and Sunday brunch, the resort's signature restaurant – Ruinas del Mar – offers one of the most exclusive settings in Aruba, complete with an open-air terrace and a view of the hotel's lagoon. The chef's Sunday brunch is a culinary delight, offering distinctive dishes from around the world. Enjoy a relaxing lunch or dinner of flavorful cuisine at Palm's – a lively beachfront latin Bistro. Café Piccolo – a cozy Italian bistro – features a stone oven and open kitchen that serves up Italian classics. Savor the tantalizing flavors of an innovative fusion of Pan-Asian cuisine, sushi and fresh seafood at Café Japengo, open for dinner. Enjoy fine dining beachside, as the sun sets at Footprints Beach Grill, a unique restaurant where every table assures you of a unique dining experience. Romantic dining packages include 'Pampered in Paradise', where dinner is served at a private table, just steps away from the water's edge. 24-hour dining is also offered for those wanting to dine in the comfort of their room.
About The Rooms at the Hyatt Regency Aruba Resort & Casino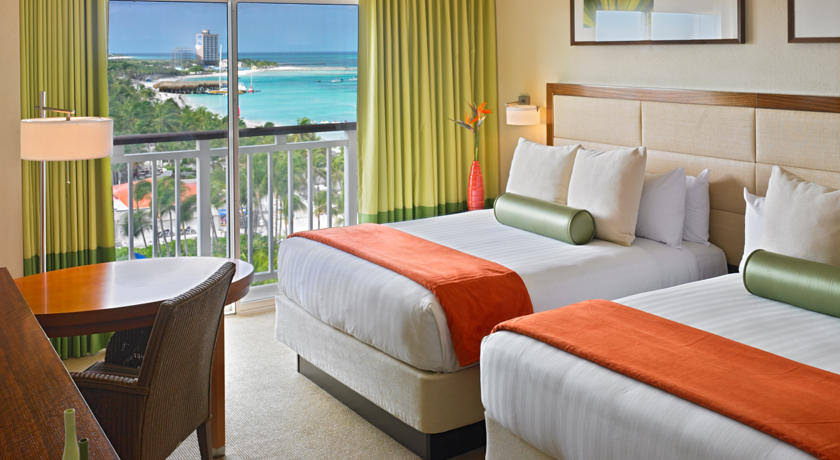 The Hyatt Regency Aruba Resort & Casino boasts 360 recently remodeled guestrooms, including 24 suites and parlors, and 29 Regency Club rooms. All accommodations offer a grand bed, free high-speed wireless Internet access, a 42" television, a work space with telephone and voicemail, and an in-room safety-deposit box. Furthermore, you'll have a minibar and coffeemaker at your disposal. All bathrooms have a hair dryer and make-up mirror. Owners of an iPod will appreciate the iHome alarm clock! Breakfast or dining in the rooms is available from 6:30 AM to 11:30 PM. The 380-square-foot Standard Rooms are all located on the third floor, offering views of the resort's gardens and waterfalls. The spacious Regency Club rooms are situated on the top level of the resort, and offer beautiful ocean or island views from a private balcony. View Rooms come in two flavors: King and Queen. King rooms feature a shower, Queen rooms have a bathtub. These rooms are situated on the upper floors of the resort, and have a private balcony offering stunning views of the ocean and tropical gardens.
About Palm Beach
The nearest beach at the Hyatt Regency Aruba Resort & Casino is Palm Beach.