Aruba Points of Interest
On this page, you'll find most popular points of interest and tourist attractions in Aruba, including the well-known California Lighthouse, the Butterfly Farm, the Bubali Bird Sanctuary, the Ayo Rock Formations and the Bushiribana Gold Mill Ruins. You can use the tourist attractions map below to quickly find things to do in Aruba or read more about each attraction below the map, and then click the links to find out more. The island Aruba offers various guided tour activities. Check with the activities desk of your place of staying how to tour Aruba that suits you most!
Many points of interest are not really far away from your resort or Palm Beach as a reference (one of Aruba's finest beaches). It is even possible to bring your snorkeling gear when you feel like snorkeling after you have visited your preferred point of interest.
Aruba Points of Interest Map
In the map below, click on a pin to find out more about each tourist attraction.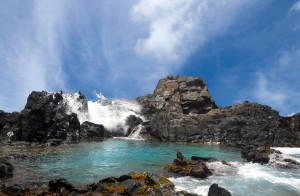 The Natural Pool Aruba, also known as the Conchi, is enclosed by natural walls of rocky coastline. These outcroppings are what allow the inside of the pool to be calm and swimmable. The waters that lie outside of them are rough, powerful, and filled with strong currents. If you are lucky enough to visit the Conchi on a day when swimming is safe, it's imperative that you stay within the walls of the pool at all times. Situated in the heart of Arikok National Park, either incredibly good stamina (for long distance hiking) or an off-road vehicle is required to reach the Natural Pool and while this may sound like something to put you off, you should be assured that this journey is often what makes the adventure that little bit more exciting.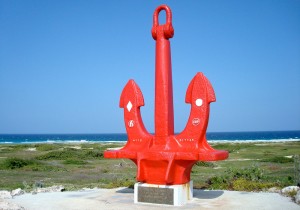 The Seroe Colorado Anchor is located in the southeastern part of the island. Through the years, the anchor has become a popular point of interest in Aruba where many tourists go to explore the surroundings and take some memorable pictures. It was manufactured sometime in the 1960's by a German company. The story goes that sometime after 1972, a fully laden crude carrier got into trouble when it was looking for a place off the southeastern coast of Aruba to await further orders. Because of rough weather and strong currents, the ship eventually lost its anchor. Both the anchor and chain fell to the bottom of the sea. When the anchor was installed at its current location, it was agreed upon that it would serve as a signpost indicating directions to other points of interest in Aruba.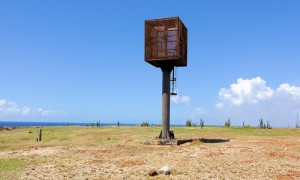 The Seroe Colorado Lighthouse, also known as the Colorado Point Lighthouse, is the second active lighthouse in Aruba. It is located at the southeastern point of the island. It is still active to warn maritime traffic for the various reefs that are in the vicinity. The Seroe Colorado Lighthouse has been at this location since 1881 when it was built. Around Colorado Point (or Punta Basora in the native Aruban language) you are able to see the remainders of military defense zones and bunkers that were occupied and used by more than a thousand American soldiers during World War II to defend the oil refinery.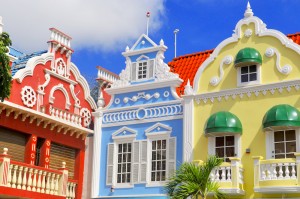 Oranjestad promises to be a travel destination like no other. It is the largest and capital city of Aruba that will expose you to a little old and new thanks to a large number of old sites and buildings as well as a fair share of new restaurants and hotels along the breathtaking beaches. It incorporates a mix of diverse culture, history and loads of fun places and things to do making it a must- go Caribbean holiday destination. The climate in this exotic city couldn't be more enjoyable given that it is neither too hot nor too cold. On most days the temperatures don't fall or go beyond 28 degrees Celsius, even with the occasional drizzle. Think of giving Oranjestad a try? Here are a few pointers that you need to know, which will make your trip so satisfying.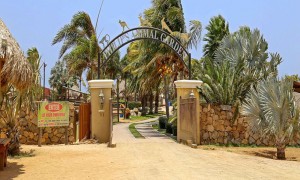 Philip's Animal Garden is a non-profit organization that was founded in 2009. Philip Conrad Merryweather, an Aruban native, transformed his passion for exotic animals into taking care of mistreated and abandoned animals by offering them treatment, food, and shelter in his own garden. What all started with rescuing a little kitten found in a dumped bag at a young age has resulted in rescuing and adopting many animals in the years afterward. In the early years, shelter and cages for the animals were designed and custom-built by Philip. Eventually, the goal is to upgrade the premises to a world-class animal shelter with veterinary care and a 24-hour staff. Because the garden is a non-profit organization, it depends fully on local investors and public donations and income from ticket sales.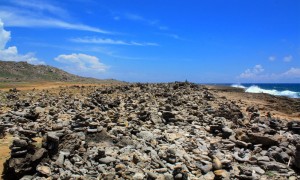 Often referred to as the Rock Wish Garden in Aruba, mainly on the north-eastern coast you will find little stacks of rocks that look like they were formed by nature but in fact are not. The piles of rocks are man-made! The Rock Wish Garden is a tradition for tourists made by tourists. There's a wish connected to every stone you stack. Going to Rock Wish Garden maybe is a kind of a spiritual journey during your stay in Aruba.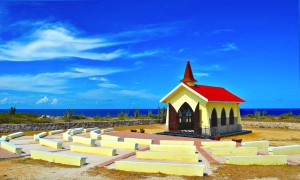 Located about 5 miles south-east of the California Lighthouse in a neighbourhood named Alto Vista, you will find a small church called the Alto Vista Chapel. Originating from 1750, it was the first church that was built in Aruba. The small church was established through the pioneering work of a Venezulean missionary, with the sole purpose to convert the local population of Aruba to the Catholic Christian faith. Today, the chapel is still being used for several Catholic services, and is a popular Aruba sightseeing spot.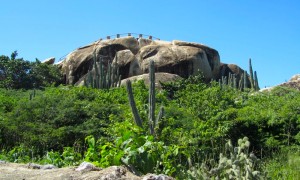 The Casibari Rock Formations are the perfect place for short hikes. Exploring the huge wind-carved boulders is a hiker's delight, the tunnels and narrow ledges make climbing the rocks exciting and fun for all ages. The top elevation is 140 ft and the change of elevation is only 20 ft when you are exploring the surroundings of the diorite boulders. Compared to the Ayo Rock Formations, the Casibari Rock Formations are a little bit easier to explore as stairs and handrails have been created at the site. From the top you'll have a beautiful panoramic view and on clear days you will be able to see the coastline of Venezuela.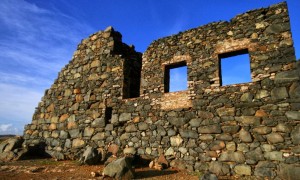 The Bushiribana Gold Mill Ruins are the remnants of a long-abandoned gold mill that processed gold ore during the gold rush of the nineteenth century. The gold mill was built in 1874 by the English Aruba Island Gold Mining Company. The fort-like Bushiribana Gold Mill was made of limestone in order to fence off potential pirates. Today, the Bushiribana Gold Mill Ruins are still a popular Aruba sightseeing spot, visited by tourists on their way to view the rougher side of Aruba.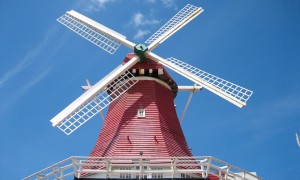 Originally built in the province of Friesland, the Netherlands in 1804, the Old Dutch Windmill is one of Aruba's most authentic landmarks and reminder of Dutch influences on the island. In 1960, the Old Dutch Windmill was privately purchased, disassembled, and shipped to Aruba. Once the 5000 mile journey was completed, it was carefully reassembled to serve as one of Aruba's first major tourist attractions and has housed several restaurants, pubs and bars ever since.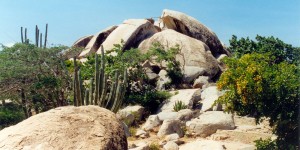 The mysterious Ayo Rock Formations, situated close to Ayo Village and Andicuri Beach, are worth visiting when you are looking for things to do in Aruba. This sightseeing spot is a place filled with mystery. Given Aruba's rather flat landscape, one can only wonder about the origin of these smooth-surfaced rocks. The carvings you'll find at the rock formations, made by the Arawak indians who came from Venezuela to Aruba around 2000 B.C. are mysterious works of art.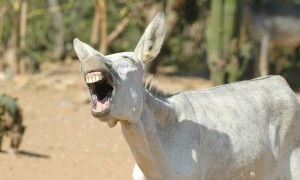 The Donkey Sanctuary is a popular and well-known Aruba sightseeing and great to visit with children. Founded in 1997, the non-profit initiative provides food, shelter, and medical care to nearly two hundred donkeys. Visitors to the sanctuary can feed and pet the donkeys, and locals are encouraged to adopt them. The Donkey Sanctuary is located on Santa Lucia in Santa Cruz, just a few kilometers north-west of Arikok National Park. It is open from Monday until Friday from 9 AM to 4 PM, on Saturdays and Sundays from 10 AM to 3 PM. Entrance to the sanctuary is free. Do bring some apples and carrots, the donkeys will love them!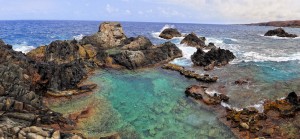 Located near the rougher eastern coast of Aruba, the protected Arikok National Park covers almost 20% of the island. Here you'll find unique flora and fauna and several historical, cultural and geological sites to explore. Interesting sites include the Natural Pool (sadly, it collapsed in 2005), Daimari, the dunes of Boca Prins, the Fontein Cave and the Quadirikiri Cave. The park is open from 8 AM to 4 PM daily. Tickets cost $11 and can be purchased at the Visitors Center. Entrance is free for children younger than 17 years old.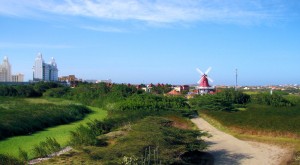 Located on the west coast of Aruba and near the Butterfly Farm, the Bubali Bird Sanctuary is another popular sightseeing destination. It consists of giant wetlands and is an important place for all kinds of migratory birds to come to rest and breed. Multiple bird species can be spotted throughout the day. It's best to visit the Bird Sanctuary early morning at dawn or late afternoon at dusk when the birds are more active.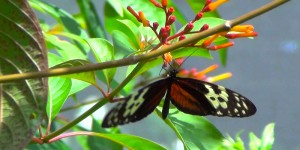 The Aruba Butterfly Farm, one of Aruba's major tourist attractions, is a great place to learn more about the life cycle and behaviour of butterflies. It's a great sightseeing spot to visit with kids. The farm is is open year-round from 08:30 AM to 04:30 PM daily. Tickets cost $15, included with the purchase of your ticket is a guided tour which generally takes about 20 minutes to complete. Also included is a free return pass that remains valid during your stay in Aruba.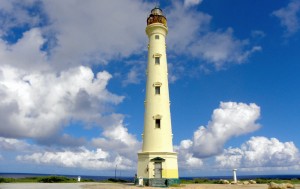 Located in north-west Aruba, the California Lighthouse is one of Aruba's most famous points of interest. It was first lit in 1916 and is still active today, functioning both as a monument and coastal warning light. The landmark was named after the S.S. California, a British wooden steamship that wrecked in the nearby waters in 1891. Today, the remains of the S.S. California shipwreck are still a fascinating diving site, surrounded by beautiful coral formations and reef fish. The lighthouse keeper's house has been rebuilt into a an Italian restaurant named La Trattoria el Faro Blanco, open daily at 8:30 AM. La Trattoria also sells cameras, film rolls, and California Lighthouse souvenirs.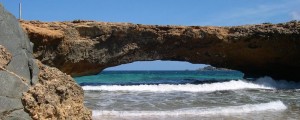 The Natural Bridge was one of the most popular Aruba sightseeing attractions, until it was destroyed by Mother Nature's brute force on September 2 2005. Located between the Bushiribana Gold Mine Ruins and Andicuri Beach, it was a formation of coral limestone along Aruba's rougher north-east coast, slowly carved out by the powerful ocean waves. The bridge rose 23 feet above sea level and spanned more than 100 feet. There is a smaller natural bridge, often called "Baby Bridge", right beside the collapsed natural bridge that definitely is worth checking out.