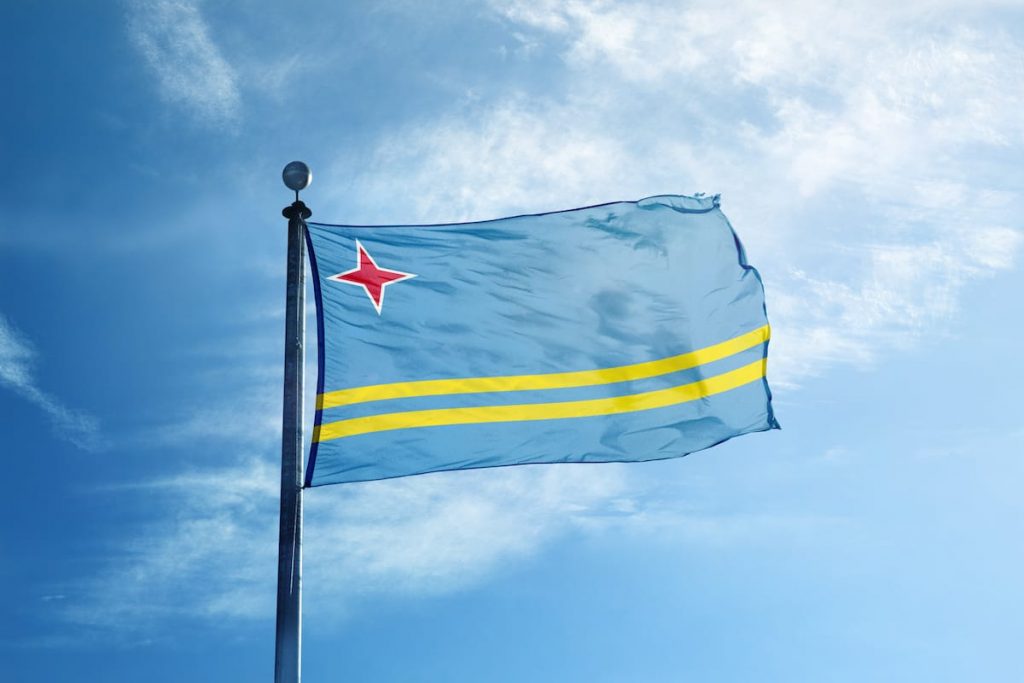 New Year's Day – 1 January
New Year's Day is a much quieter affair than the night before when locals and visitors descend on the resorts, restaurants, and bars to celebrate. Music plays a central role during this public holiday in Aruba, and the many casual gatherings around the island are frequented by local musicians known as "Dande." A Dande group will usually consist of musicians with different instruments, and they travel from home to home and resort to restaurants to spread light and love through the music.
After a night of fireworks, music, and dancing, things quieten down a little, but the celebrations continue as most people head for the beach. "Nieuwjaarsduik" is a simple concept on New Year's day in Aruba, where everybody takes a plunge at the beach. There is also a mass Zumba class for young and old and some traditional pea soup and sausage for all participants to enjoy afterward. Although many shops and supermarkets are closed, you should find most hotels, resorts, and restaurants are open, but booking in advance is always recommended on this busy day.
Dia di Betico – 25 January
Betico Croes Day (Dutch:Betico Croes Dag) takes place on 25 January and commemorates the birthday of François (Betico) Croes – the late statesman from Aruba. Croes was the influential leader that helped Aruba attain "Status Aparte," which enabled the island to become an autonomous member of the Dutch kingdom. "Betico" was a former school teacher most famous for his charismatic approach and highly respected by locals.
Many gas stations, shops, supermarkets, etc., are closed on Betico Croes Day, but there are many cultural and sporting events on this national holiday in Aruba. For instance, Santa Cruz is the birthplace of François Croes. The town hosts an amateur 10km race on Dia di Betico where runners follow an incredibly hilly terrain through many busy intersections and neighborhoods.
Several folkloric shows and culinary festivals also occur at various locations, and there is a giant Harley Davidson bike tour around the island. In the evenings, food kiosks pop up in many of the towns around Aruba, and musicians take to the stage to continue the cultural festivities of Betico Day.
Carnival Monday – Feb 24
Carnival Monday takes place on 24 February, one day after the Grande Parade. This particular parade in Oranjestad is the last and biggest parade of the Carnival season, which lasts for an entire month. Carnival season is a huge deal in many Caribbean nations, which is undoubtedly the case in Aruba. People spend much of the year preparing for this national holiday in Aruba and the parades and festivities that light up the island with color. You will find everything from pajama parties and street parties to concerts, pageants, and massive feasts on the island.
While many shops and supermarkets will close on Carnival Monday, it's business as usual for most hotels, resorts, and restaurants. Most locals use this holiday in Aruba to recover from all the dancing, partying, and celebrations. Relaxation is the main "thing to do" on Carnival Monday for most people, and this is hardly a surprise given the extent of lively festivals that take place throughout the month.
National Anthem and Flag Day – 18 March
National Anthem and Flag Day take place on March 18 and celebrates the independence of Aruba. This is a great day of pride for Arubans and a national holiday commemorating the first proposal for separation by politician Shon Eman back in 1948. However, it wasn't until 1978 that Francois "Betico" Croes declared this a National holiday in Aruba. Flag and Anthem Day is also a day when locals pay homage to the beautiful arrangement of their anthem – "Aruba Dushi Tera." This waltz was composed by three famous Aruban artists: Rufo Weever, Hubert Booi, and Juan Lampe. A work of art was revealed at Plaza Padu to commemorate this beautiful accomplishment.
Like many National holidays in Aruba, shops, supermarkets, and gas stations are closed. However, the streets are a hive of activity, with a classic car parade and scout parade taking the central stage for the patriotic celebrations. There are also many cultural and sporting events around the island and games in which locals and tourists are invited to participate. "Bolas Criollas" is one such sporting event, and the origins of this traditional team game can be traced back to Europe.
Meanwhile, folkloric and culinary celebrations are notable in Oranjestad, where the masses descend upon Plaza Betico Croes. You can also expect to see the Aruba national flag's blue, yellow, red and white at every turn and a vibrant atmosphere all over the island.
Good Friday, April 2
Good Friday is a National holiday in Aruba and the beginning of the Easter weekend. This is also the start of "Semana Santa," which refers to the Holy Week that most locals celebrate on the island. This is because most locals are Catholic, and the holiday aligns with many countries worldwide, which also reserve a national holiday for Good Friday. Many shops, supermarkets, etc., are closed, but celebrations are widespread on the island.
In terms of significance, death and resurrection are two of the most critical dates in a Christian calendar. Christians believe Jesus to have been the Son of God, and his life is the foundation of the relevant teachings. With this in mind, Good Friday is a day of mourning for the suffering and death of Jesus on the cross. Christians typically perceive this day as "Good" because the message of Easter is that Christ was victorious over death, sin, and evil. This is outlined in the New Testament, and locals celebrate the day by taking to churches for special ceremonies that commemorate the life of Jesus Christ.
Easter Monday – April 5
Easter Monday is an official public holiday in Aruba that falls on April 5th and is the last day of the long weekend at Easter. Many Arubans attend church with their friends and family on this day. As you may know, Easter commemorates the resurrection of Jesus Christ, which Christians believe to have happened two thousand years ago. Easter Monday in Aruba is also a lively affair, as many special events take place around the Island. For example, large egg hunts are organized in which the locals look from the bottom in search of the eggs, and the young children are always eager to get involved in this one.
Many other special events are held for the children at the malls in Oranjestad and Palm Beach. However, beach camping is undoubtedly the most popular on Easter Monday in Aruba as locals descend on the white sands at Eagle Beach, Baby Beach, and Hadicurari Beach with their tents. It might sound like a rather odd activity for Easter Monday, but camping is a very social experience that helps bring everyone together at this vital time of year.
King's Day – April 27
The birthday of King Willem Alexander is celebrated every year on April 27, and this national holiday in Aruba is commemorated on the other Dutch-Caribbean islands.
An official ceremony in Oranjestad at Wilhelmina Park involves a large parade with the scouts and military staff. Many restaurants, resorts, and hotels also hold fun celebrations, and guests are encouraged to wear orange in tribute to the King. While supermarkets and shops may not be open on this public holiday in Aruba, the streets are packed with stalls, and special events are held inside local community centers.
There are flea markets in big towns and parties to enjoy in the evenings. Moreover, several sporting events also take place around the island, most suitable for young families. Willem-Alexander of the Netherlands usually shows up to one of these cities with his family on King's day, it's one of the most exciting national holidays in Aruba.
Labor Day – May 1
Labor Day is a National holiday in Aruba and is marked in more than 80 countries worldwide. It dates back to 1890 and commemorates the unity and solidarity of workers worldwide. More specifically, Labor Day recognizes how the Labor Unions demanded an eight-hour workday which came into effect on 1st May 1886. These demands led to an infamous strike and riot in Chicago, United States, and the eventual sanction of an eight-hour workday.
Most government buildings, schools, and businesses are closed on Labor Day, but the Open House is the place to be. Open House is the base of the Dutch marines and opens to the public on Labor Day. In this area, there is live music, food courts, boat rides, and activities for children, and both the coast guard and helicopter demonstrations are not to be missed.
Ascension Day – May 13
Ascension Day is a national holiday in Aruba that celebrates the ascension of Jesus Christ into heaven. This ascension took place after the death and resurrection of Christ, and Catholic churches observe this day around the island. With this in mind, Ascension Day takes place one month after Easter weekend and officially celebrates the 40th day of Easter. While many businesses and shops will close today, most restaurants, hotels, and tourist-oriented facilities will remain open.
Visitors will often head down to the beach, and the resorts are still operating as usual, and even holiday-makers like to take this opportunity to go to church with the locals. Ascension Day is, therefore, a religious celebration and one of the quiet national holidays in Aruba. You will find different types of parades, markets, and events than other holidays. However, locals do typically go to church and at least spend some quality time with the family.
Christmas Day – 25 December
Arubans like to welcome visitors to experience a different type of "White Christmas" on this beautiful island. There are white sandy beaches all over the island, and Aruba's vibe is arguably more conducive to a relaxing holiday. You will still find the streets, restaurants, bars, etc., decorated with colorful lights, and Christmas is one of the biggest national holidays in Aruba. Most restaurants feature a special festive menu on the day, which goes for brunch, lunch, and dinner.
Christmas is held no less than three times as the arrival of "Sinterklaas" is celebrated on December 5, and another celebration takes place for the Three Kings on January 6. Young families should appreciate the extra sweets and presents, and the islanders do everything possible to create a unique atmosphere. Traditional music and dance are also a big part of the Christmas theme, and it is a fantastic experience to hear those famous Christmas on the beach!
Boxing Day (Day After Christmas)
Boxing Day is a national holiday in Aruba that originated in colonial times due to Dutch tradition. While many shops and supermarkets will close on the day, most restaurants, bars, resorts, etc., remain normal. The restaurants in Aruba take great pride in their festive menu on Boxing Day, one of their busiest days of the year. With this in mind, visitors are always recommended to make bookings in advance and expect such places to be rather crowded.
The churches hold Christmas mass and the Seroe Preto in San Nicolas hosts a special Christmas show for visitors. This is where you will find the most impressive lineup of Christmas lights in Aruba, while houses, gardens, and buildings are often decorated for festive cheer. Arubans make a great effort to create a magical atmosphere at this time of year, but the natural attractions and near-perfect weather make this the perfect place to explore on Boxing Day.