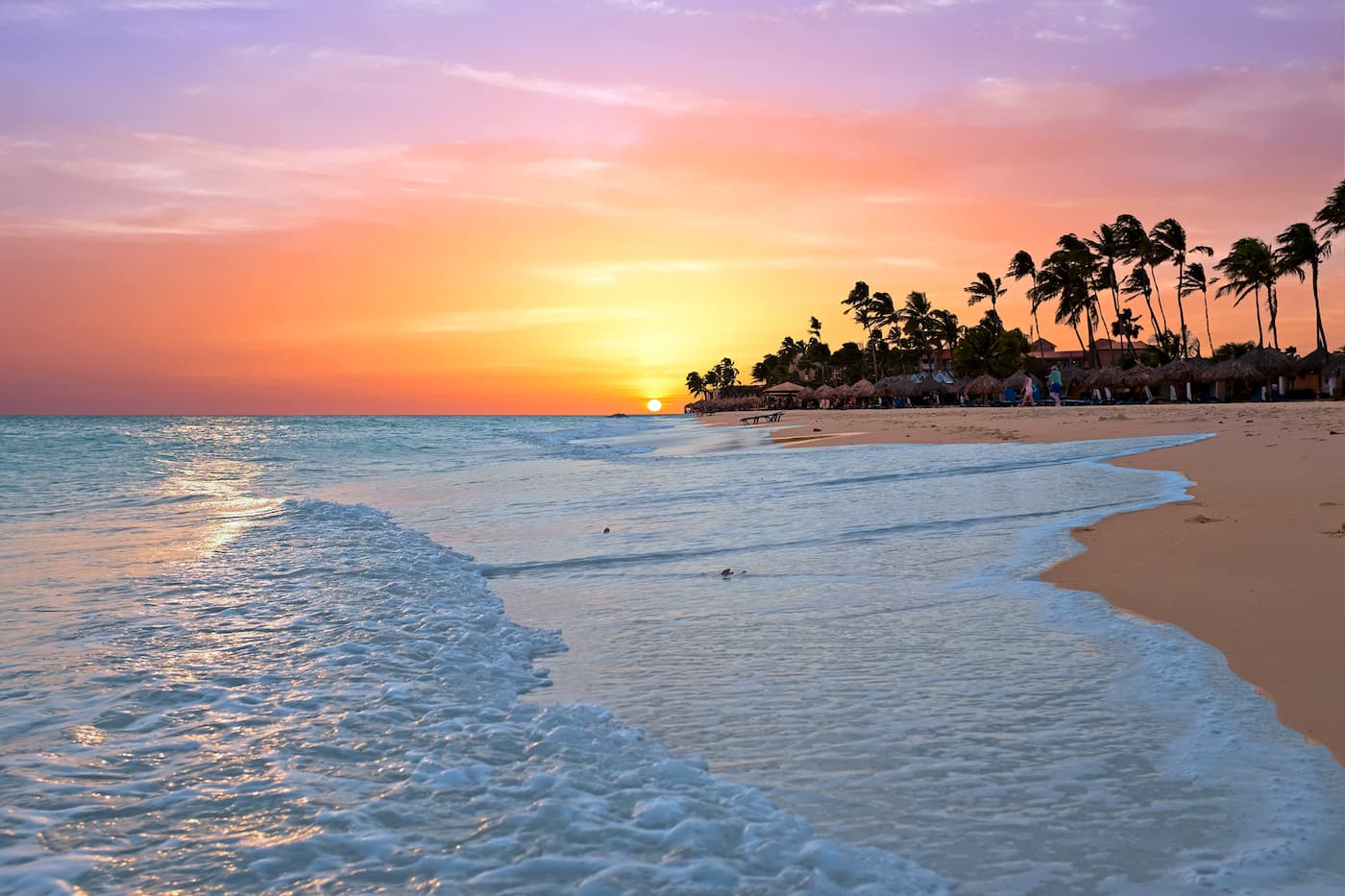 bar, beach chairs, cabanas, parking, restaurant, hotel.
snorkeling, swimming.
19:51 PM
07:49 AM
300 meters.
Excellent, with calm waters.
Druif Beach Bus Stop
About Druif Beach
From the gorgeous Manchebo Beach, walk a few hundred meters south-east and the beach will gradually morph into Druif Beach (Grape Beach) that also belongs to the Eagle Beach area. Here too you will most certainly enjoy the epic vistas the Caribbean has on offer! Druif Beach is about 300 meters long and can get up to 50 meters wide, making this a great beach for walking along the coastline, although you may want to wear some sandals as the sand can get very hot. There are many low-rise hotels nearby as well as the Divi Village Golf Course. The food in the restaurants is good and varied, and the staff is happy and always helpful. The trade winds are usually constant at this corner of the tropical island, but comfortable. The swimming conditions are excellent as the waters are almost always calm. Soft white sand, clear blue sea – Druif Beach is yet another one of those postcard perfect Aruba beaches!
Druif Beach Map
Use the map below to explore the area surrounding the beach.
Fill in your vacation dates to get a real-time view of available accommodations near Druif Beach!
Beach Bars at Druif Beach
The Sandpiper Beach Bar
The Sandpiper Beach Bar is located near the picturesque Druif Beach in Aruba, part of the Tamarijn Aruba All Inclusive Resort. The bar has a relaxed and casual atmosphere, perfect for lounging and sipping cocktails while enjoying the stunning views of the Caribbean Sea. The Sandpiper Beach Bar has a large thatched-roof palapa with ample seating, including bar stools, tables and chairs, and comfortable lounge chairs right on the beach. The bar serves a wide range of refreshing tropical drinks, including rum punches, margaritas, and frozen cocktails. They also offer a selection of beer, wine, and non-alcoholic beverages. Guests can enjoy light snacks, including burgers, sandwiches, salads, and full meals such as fish tacos or jerk chicken. The friendly bartenders are happy to mix up your favorite drinks and provide excellent service. Whether you're looking for a quick bite or a place to relax and enjoy the sun, Sandpiper Beach Bar is a great spot to visit while in Aruba.
Where to Stay near Druif Beach - Our Top Picks
Divi Dutch Village Beach Resort - All Inclusive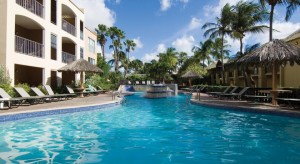 The Divi Dutch Village Beach Resort is a beautiful all-inclusive property located near Druif Beach in Oranjestad, Aruba. The resort features spacious and comfortable accommodations, including studios and one-bedroom suites, which are perfect for families, couples, and groups of friends. The resort is located just steps away from the pristine beaches of Aruba, offering guests easy access to some of the island's most popular water sports and activities. The resort also features a variety of recreational facilities, including a swimming pool, fitness center, and tennis courts. Guests at the Divi Dutch Village Beach Resort can enjoy all-inclusive dining at the resort's three restaurants, which offer a variety of international cuisines and local specialties. The resort also features a bar and lounge where guests can enjoy refreshing drinks and cocktails.
How to Get to Druif Beach

Druif Beach is accessible by public bus, taxi or rental car. To get to Druif Beach from Oranjestad, just head northwest on Zoutmanstraat toward Arnold M Schuttestraat. Take the first right turn, then turn left onto Wilhelminastraat. Take the first left onto Arnold M Schuttestraat, then turn right onto L.G. Smith Blvd. Continue to follow Lloyd G. Smith Blvd. Go through the roundabout, then at the next roundabout, take the third exit onto L.G. Smith Boulevard/Sasaki Weg. Turn right onto Caya Punta Brabo, then turn left onto J.E. Irausquin Blvd. until you've reached the beach.
After Druif Beach, There's Always Another Beach to Explore!