Aruba is a fantastic island with tons of things to do, including water sports. More specifically, if you're looking for an awesome place for kitesurfing in the southern Caribbean, with winds pretty much guaranteed, Aruba is the place to go. Aruba offers crystal-clear, warm, and shallow waters that are often only waist-deep. The trade winds from the east produce excellent kitesurfing conditions throughout the year. Kitesurfing season in Aruba typically runs from December to June, with the peak season occurring from January to May. The high-wind season in Aruba is well-known among kitesurfing fans, as it is one of the longest in the Caribbean. In May, June, and July, wind speeds in Aruba are highest, averaging between 20 to 30 knots. From August to November, wind speeds decrease to an average of approximately 10 to 18 knots. They reach an average speed of 15 to 20 knots in December through April. The reef offers good kitesurfing opportunities for beginners, while the waves outside the reef are challenging enough for the experienced kitesurfer. Unsurprisingly, The Aruba Hi-Winds Windsurfing and Kiteboarding tournament, held in Aruba every year in June and July, is a magnet for both professional and amateur kitesurfers. It is important to note that kitesurfing conditions can vary depending on the location and the time of year, so it is always a good idea to check the forecast before heading out on the water.
What to Bring
You can rent most kitesurfing gear at the kitesurfing schools.
Practically everything in Aruba has to be imported though, so you can save money now by buying a few things that will come in handy:
Wind & Weather
As you wake up each day, you instinctively know that you'll have the perfect conditions for kiting, regardless of checking the forecast. Throughout the year, Aruba blesses you with consistent trade winds, blowing between 20 and 25 knots on most days. Occasionally, the wind may be gentler, ranging from 15 to 20 knots, while on other days, it may intensify to 30 to 35 knots. To make the most of these conditions, kite sizes ranging from 7m to 12m are commonly used. Aruba doesn't adhere to such patterns unlike other places with distinct windy seasons. While occasional storms in the vicinity can influence the wind, they seldom make direct contact with the island. However, when these storms pass by, they temporarily diminish the wind. Nevertheless, you can still indulge in kiteboarding during these days by utilizing larger kites or hydrofoil boards. Notably, the likelihood of encountering low wind days is relatively higher in September and October, coinciding with the hurricane season.
Hadicurari Beach Map
Aruba's kitesurfing hotspot is Hadicurari Beach, also known as The Fisherman's Huts. That's where most kitesurfing schools are located.
Use the map below to find accommodations nearby. Fill in your travel dates for an accurate overview.
Aruba Kitesurfing Spots
In a nutshell, the best beaches to go kitesurfing in Aruba are Hadicurari Beach (Fisherman's Huts) and Boca Grandi.
See below for more kitesurfing spots!
Boca Grandi
Kitesurfing Conditions at Boca Grandi
Wind: Constant cross-wind on-shore throughout the year.
Swell: Swell consistency is constant, with a East to North direction.
Experience: Best for beginners who want to make progress fast, or more advanced riders who'd like to push limits.
At the south-eastern part of Aruba, you will find Boca Grandi. This is where the Aruba Hi-Winds Kitesurfing and Windsurfing contest takes place in June and July every year. Boca Grandi offers the bluest waters on the island, especially when viewed from the dunes near the beach. Nature is raw and rugged, with a half moon bay, white sand beaches, and waves breaking out on the reef. Kitesurfing here is an entirely different experience to that of Fisherman Huts. The winds are usually safer here, blowing cross-onshore from the right. But you do need to be careful, as there's no one to rescue you. The place is never crowded. You can park your car on the road and walk to the spot. If you rent a 4×4, you can drive on the beach right to the waterfront.
Arashi Beach
Kitesurfing Conditions at Arashi Beach
Wind: Offshore.
Swell: Nice swell, sweet easy waves.
Experience: Advanced riders only.
Arashi Beach is located on the northern tip of Aruba, about 2 miles north of the Fisherman Huts. You can clearly see the California Lighthouse. The wind here blows offshore, and if you are confident going upwind, you should definitely check this kite spot out. You may want to have access to a rescue boat. If you're going to go to Arashi from the Huts, just put up your kite and go right until you get to the tip of the island. Let the lighthouse be your guide. On the way to Arashi, don't be surprised if you pass a snorkel tour catamaran in the Arashi Bay. It's an excellent opportunity to show off a massive jump – see if you can get some cheers from the crowd! Once at Arashi, you'll find crystal clear warm water with offshore wind, plenty of deeper water, and a reef with a gentle swell. The waves are sweet and comfortable. For advanced riders only!
Fisherman's Huts
Kitesurfing Conditions at Fisherman's Huts
Wind: Offshore. Can be quite gusty inside, usually constant outside.
Swell: Swells are rare at the Fisherman Huts, due to cold-fronts.
Experience: Beginner to advanced riders.
The Fisherman Huts, also known as Hadicurari Beach, offers powder-soft white sand and translucent shallow waters. It is located at the north-western side of the island, near Palm Beach. The beach is right next to the Aruba Marriott Resort and the Ritz Carlton Aruba – both high-rise hotels that make the winds rather gusty. It is an exciting kitesurfing spot for beginners, as they can learn the basics by taking kitesurfing lessons. Advanced kitesurfers who are not afraid to challenge the waves, currents, and strong offshore winds will have a field day! The best part of the Fisherman Huts is the amount of wind. Only a handful of spots on the entire planet have this many hours of wind, which gives you the best shot at completing a kitesurfing course. At walking distance from the main hotels and resorts, are a few experienced kitesurfing schools, with boats, radio's and new kite gear. If you're looking for vibes, the Fisherman Huts is the place to go!
Barcadera Beach
Kitesurfing Conditions at Barcadera Beach
Wind: Favorable trade wind conditions.
Swell: Swells are rare at Barcadera.
Experience: Beginner to advanced riders.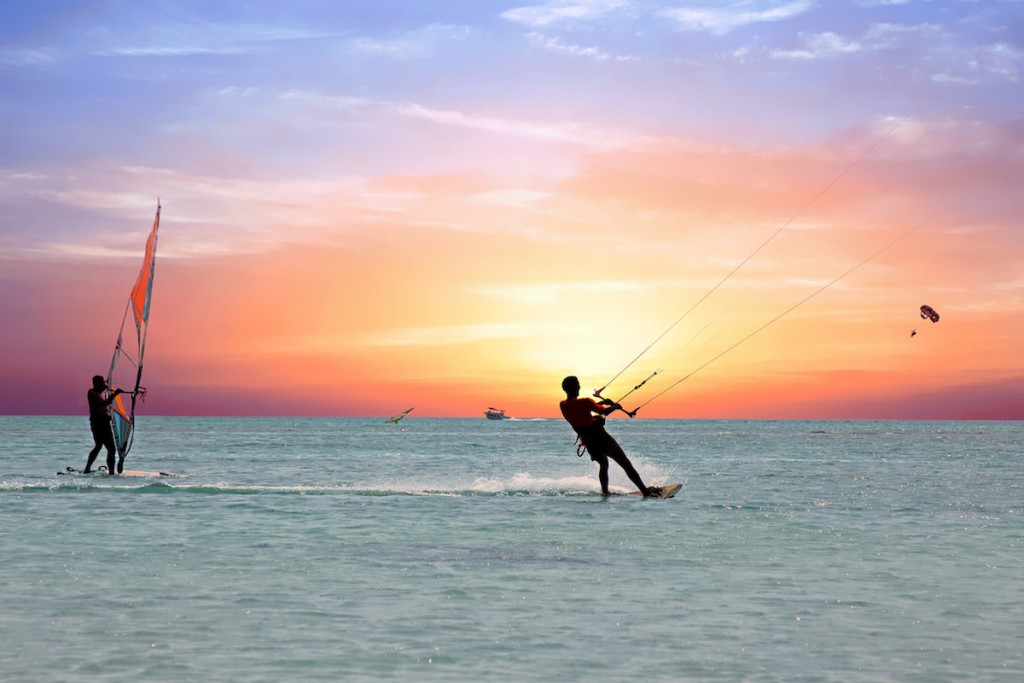 Southeast of Oranjestad and Queen Beatrix International Airport, you will find Barcadera Beach. This kitesurfing spot sits in between the Barcadera Port and a suburban area called Balashi. With favorable wind conditions, it is a popular place to go windsurfing or kitesurfing in Aruba. You'll get a decent trade wind here from January through August. Winds are blowing from the north-east at a minimum of 15 knots, often at around 25 knots. The winds can be lighter from September into early December, but they'll still be powerful enough to make you work. The water is never flat, and depending on the wind strength, you can see waves of between three feet and ten feet high. You'll have fun playing in the water for hours, as the waves will roll in consistently throughout the day.
Baby Beach
Kitesurfing Conditions at Baby Beach
Wind: Usually constant.
Swell: Swells are rare here.
Experience: Beginner to advanced riders.
Another fantastic (unofficial) kitesurfing spot is Baby Beach, although you are actually not allowed to kitesurf here. But if you go early in the morning between 6 AM and 9 AM, you can probably get away with it! Just make sure you leave before the swimmers and snorkelers start to fill up the beach. Respect the rules and you should be having an awesome ride, on smooth, shallow blue water. You'll have the entire spot to yourself for a couple of hours in the most stunning morning light. Disrespect the rules, and chances are the police will stop by, and that would be a bummer.
Aruba Kitesurfing Schools
Aruba Kitesurfing School
🏠
Noord
,
Aruba
.
☎ Telephone:
+297 731 4398
At the Aruba Kitesurfing School you can learn kitesurfing in a safe, efficient and fun way. They are located at Hadicurari Beach, one of the best spots to get into kitesurfing, which is at a walkable distance from the high rise hotel area, between the Fisherman's Huts and the Aruba Marriott Resort. You can learn how to surf in shallow crystal clear blue waters, warm temperatures, and trade winds all year-round. The school offers kitesurfing lessons, wing surfing lessons, hydro foiling lessons, stand up paddle boarding (SUP) and more. The kitesurfing school is family owned and works together with a team of experienced and IKO (International Kiteboarding Organization) and ISA certified instructors from all over the world.
Armando's Kite Shack
🏠
Noord
,
Aruba
.
☎ Telephone:
+297 733 1515
Armando's Kite Shack is located right on the beach at The Fisherman's Huts on Hadicurari Beach, north of the Ritz Carlton Hotel. The shack offers everything you need to start surfing the flat and shallow water with steady winds. From the lesson packages they offer, the 4 lesson package is the most popular. The Shack is the only kitesurfingschool in Aruba that gives a "riding guaranteed" after the 4 lesson package.
Vela Sports Aruba
🏠
101
,
L.G. Smith Boulevard
,
Noord
,
Aruba
.
☎ Telephone:
+297 562 4520
Kite instructors at Vela Sports Aruba are focused on delivering the best kitesurfing experience for guests. Safety, quality of lessons and equipment are always a top priority. Lessons are designed to fully prepare beginners to become an independent kiteboarder. Instructors will take you through each stage of learning at your own pace. The teaching system is divided into three primary sections: Kite Control, Body Dragging and Water Start. Vela Sports Aruba is located on Hadicurari Beach. Lessons are available for both beginner and advanced levels. For beginners, an introductory course as well as a full course is available.
Venture Holidays Aruba
🏠
L.G. Smith Boulevard
,
Noord
,
Aruba
.
☎ Telephone:
+297 733 2480
At Venture Holidays Aruba, all instructors are certified professionals. They teach using IKO standards, guaranteeing great quality of lessons and progression. One of the instructors is Hendrick Burgers, who has been representing the island since 2010 in world championships. Venture Holidays Aruba is a mobile eco friendly kiteboarding school, and you can kite at two kite spots: on the north (Fisherman's Huts) and on the south side of the island (Boca Grandi). Venture Holidays also offers boat rescue so you can learn how to kite downwind. A VIP jet ski support is also available for full time one-on-one lessons with the instructor. Once you've completed the course, you will receive a world recognized certificate!
Aruba Active Vacations
🏠
Noord
,
Aruba
.
☎ Telephone:
+297 586 0989
You'll find Aruba Active Vacations in Noord, on Hadicurari Beach. That's where all the kitesurfing action is! It's not just a kitesurfing school, you can learn other water sports as well including windsurfing and windfoiling. Mountain biking and snorkeling are on the menu as well. If you'd rather just hang out and watch other people do the hard work, there's a beach lounge area with free WiFi, beach beds and music. Whatever you choose to do, highly experienced instructors speak English, Dutch and Spanish and make your safety their first priority.
Aruba Kitesurfing Shops
FX Sports Co.
🏠
28
,
Rooi Santo
,
Noord
,
Aruba
.
☎ Telephone:
+297 586 6381
Whether it is for water sports or biking, a dedicated team of professionals will gladly help you out at the FX Sports Kite Surf Shop. The shop has products from premium water sports and cycling brands (Cabrinha, Core, Duotone, F-One) as well as parts and accessories from leading suppliers.