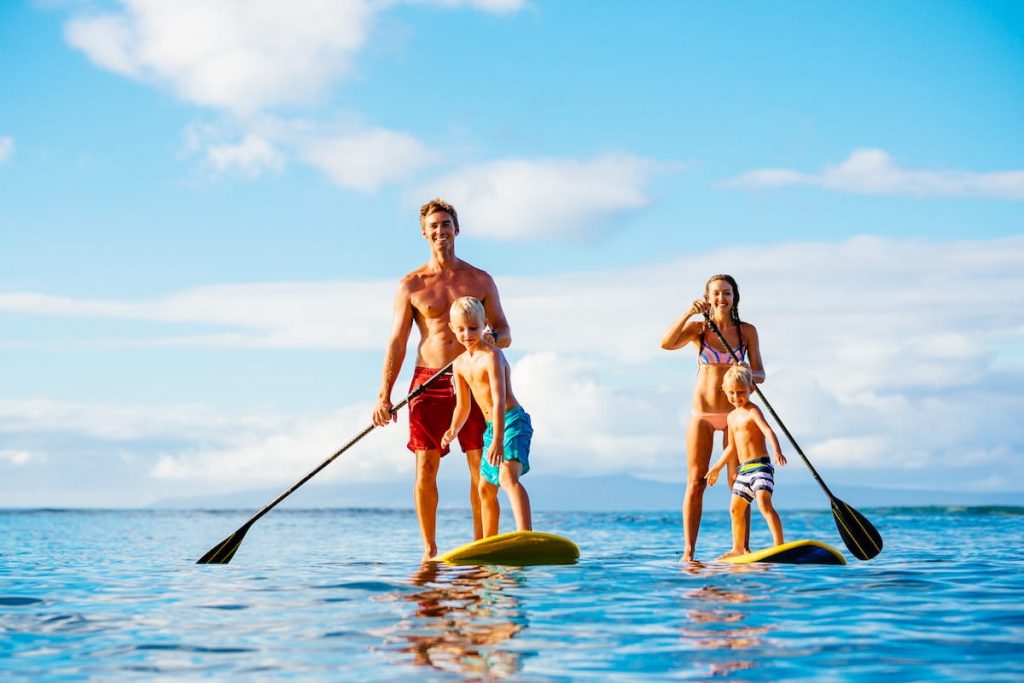 Stand up paddle boarding in Aruba (also known as SUP) is an incredibly fun and exhilarating experience. With its pristine turquoise waters, gentle waves, and stunning coastal scenery, Aruba provides the perfect backdrop for this enjoyable water activity.
As you glide along the calm waters, standing on your paddleboard and using a paddle to navigate, you'll feel a sense of freedom and serenity. The warm Caribbean breeze brushes against your skin as you explore the island's picturesque coastline, coves, and hidden gems.
The pristine and transparent waters of Aruba allow you to observe the vibrant marine life beneath you, such as colorful fish and even sea turtles, adding an extra element of excitement and wonder to your paddle-boarding adventure. You can also discover secluded beaches, untouched by crowds, and take in the breathtaking views of the surrounding landscape.
Besides, SUP offers a fantastic way to stay slim and active, especially after indulging in local food, beers, and fruit smoothies. This exhilarating water sport is an excellent workout for your entire body. By engaging your core, legs, and arms, paddle boarding helps burn calories and build muscle strength.
So, while you savor the local cuisine and beverages during Happy Hour, paddle boarding becomes a perfect complement to maintain your fitness level and balance the island's temptations! If you want to get ripped, paddle boarding can help you reach your goal, if you skip the indulgences even faster so.
Where to Go Paddle boarding in Aruba
Aruba offers a range of paddle-boarding spots suitable for all skill levels. Most are located on or near Palm Beach. You can choose to paddle at your own pace, enjoy a peaceful solo excursion, or join guided tours and group activities for a more social vacation experience.
Aruba Surf & Paddle School
The Aruba Surf & Paddle School is the only stand-up paddleboarding business in Aruba operated by instructors certified by the World Paddle Association and Paddlefit Pro. With over 20 years of experience, the Aruba Surf & Paddle School aims to introduce the exciting and fast-growing sport of Stand Up Paddle Boarding (SUP) to beginners of all ages in a safe and fun environment.
Their certified and friendly instructors will get you paddling in no time!
They offer lessons to all levels, rentals of paddleboarding equipment from leading brands, and amazing tours. Private paddleboarding parties and SUP YOGA are also available. As pioneers of paddleboarding in Aruba, they can proudly say that they have, by far, the best and most skilled instructors on the island and aim to provide nothing less than outstanding service.
The Aruba Surf & Paddle School is located on Palm Beach, directly in front of the Marriott Surf Club (Beach side).
Open 7 days a week – 9:30am – 4:30pm
http://www.arubasurfschool.com/
Island Cabana Aruba
If you're interested in mastering Stand Up Paddleboarding in just one session, then this program at Island Cabana Aruba could work for you! You'll have a full 60-minute SUP session dedicated solely to you, guided by an instructor. They will cover essential aspects such as ocean safety, entering the water, maintaining a proper stance, stroke techniques, and turning. With this comprehensive lesson, you'll be on your way to becoming a part of the fastest-growing sport in the world.
If you want to experience Stand Up Paddle Boarding alongside a friend or family member, their shared instruction lesson offers a slightly more economical option, where both of you can learn the basic techniques together. Knowledgeable instructors will guide you through entering the water, paddling with the correct stance, using efficient strokes, and executing smooth turns, all within a single lesson. It's a great opportunity to enjoy the sport while bonding with your companion!
Island Cabana Aruba is located on Palm Beach (just below Hadicurari) between the Ritz-Carlton and the Fisherman's Huts.
https://www.island-cabana.com/
Frank's Place
Frank's Place, operating for over 25 years, is a premier destination for paddle boarding and other water activities along the scenic shores of Palm Beach. With three convenient locations at the Amsterdam Manor Beach Resort, Marriott Resort & Stellaris Casino Hotel, and Holiday Inn Sunspree Resort, Frank's Place offers easy access to the crystal-clear waters of the Caribbean Sea.
Expert instructors are available to assist paddlers of all levels, ensuring a safe and enjoyable experience. Rent top-quality paddle boards and equipment for a convenient and confident adventure on the water.
Immerse yourself in the serene beauty of Palm Beach as you paddle along, engaging your core muscles and finding inner serenity. Afterward, unwind at Frank's Place, enjoying a cool drink and tropical treats in a laid-back beachside setting.
Aruba Watersports Center
The Aruba Watersports Center is a well-established, family-run business with extensive experience and expertise in the industry. With a team of delightful and friendly staff, they create a welcoming atmosphere and ensure your comfort in every activity you undertake.
Located in the Palm Beach Area, the Aruba Watersports Center is your ultimate destination to explore the wide range of water activities that the island has to offer. Whether you're interested in diving, snorkeling, parasailing, or paddle boarding, this center serves as your one-stop shop for all your aquatic adventures and more!
But the experience doesn't end there.
After your thrilling water activities, you can unwind at the Bread Basket, conveniently situated at the back of the shop. This cozy spot provides the perfect setting to relax with a cup of coffee or a refreshing beer while indulging in delicious bites to satiate your appetite.
The Aruba Watersports Center is located in the high-rise area of Palm Beach between the Hilton and Barcelo resorts. Look for the brown building on the beach!