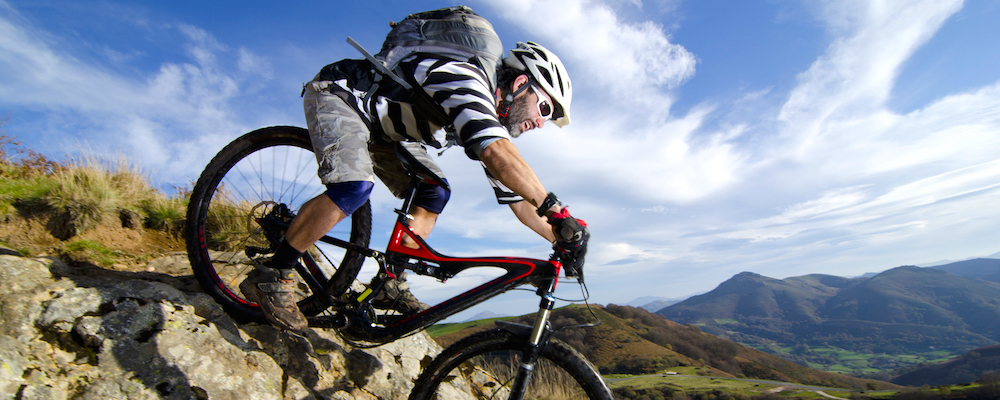 Mountain biking in Aruba generally takes place at the northern part of the island. There are many great and challenging trails to explore that cover a total distance of about 350 kilometers. It is a great way to stay fit or keep up your training routine you are used to at home. While you explore the trails that consist of sandy, mainly flat and rocky roads, you are offered many opportunities to take some beautiful pictures of the surroundings, especially on the rough east coast of Aruba with its secluded beaches and coves (bocas).
Prepare
It is important to prepare your trip well by bringing sufficient drinks, a helmet, sunglasses and protective clothing, and do not forget to protect yourself sufficiently against a sunburn. Bear in mind that an overdose of sun goes quickly. The north-eastern trade winds cool your body but also take away your protective layer of sweat with a sunburn as a result.
Guided Tours
A great way to start mountain biking in Aruba is by joining a guided tour. In the area of the hotel strip, you are able to find some bike rental companies that offer packages at reasonable prices. Have a look at Bike Rental Aruba or Aruba Active Vacations for further information. If you prefer to organize your own biking trip, here are some ideas for the northern and southern part of the island.
Mountain Biking in Aruba – North
By taking Manchebo Beach as a reference point, there's a scenic route to the north that brings you all the way to the California Lighthouse. During your bike trip you will pass Eagle Beach, Hadicurari Beach and Malmok Beach. Further north the road narrows close to Boca Catalina Beach. By continuing north, you will reach Arashi Beach and eventually the lighthouse. At the lighthouse, you can take a break and make up your mind if you want to continue further east or return towards the direction of Malmok Beach. If you continue going east you will pass the Tierra del Sol Golf Course and you will notice the California sand dunes before you reach the rough and windy east coast of Aruba. Here you will find some secluded beaches like Boca Druif, Wariruri Beach, Andicuri Beach, Daimari Beach, Dos Playa and Boca Prins that all offer the opportunity to take a refreshing dive into the ocean before you continue further south. At Boca Prins there is a place called Boca Prins Bar and Restaurant where you have the opportunity to eat and drink something while enjoying the beautiful view the surroundings at this place have to offer.
From Boca Prins you can decide to return to the west coast of Aruba by taking route 7, the Northern Loop, towards Santa Cruz and then follow directions to Oranjestad. From there the route is easy to Manchebo Beach where you have started your journey. Just follow directions north. Or from Boca Prins you can also return to the trail that brought you there. By biking north and after Boca Druif eventually west, you will see the California lighthouse ahead of you. At the lighthouse, you just follow directions to Manchebo Beach by biking south until you have reached the point where you have started from.
Mountain Biking in Aruba – South
If you are interested in exploring the southern part of Aruba, we recommend going to San Nicolas and check out mountain bike renting opportunities there. From San Nicolas, you can plan your trip towards the direction of Rodgers Beach or Baby Beach and then continue to Seroe Colorado Lighthouse. There's also a rest area in the vicinity. When you follow Sero Colorado road to the north, you will be able to reach Bachelor's Beach. At Bachelor's Beach, there's also a trail to the north that brings you to Boca Grandi and further north Grapefield Beach. From Grapefield Beach you will be able to see the oldest golf club of Aruba, The Aruba Golf Club. Feel like going back? Just follow directions to the west to the Valero Aruba Oil Refinery before you arrive in San Nicolas again.
Happy mountain biking in Aruba, mind your speed and stay focused!