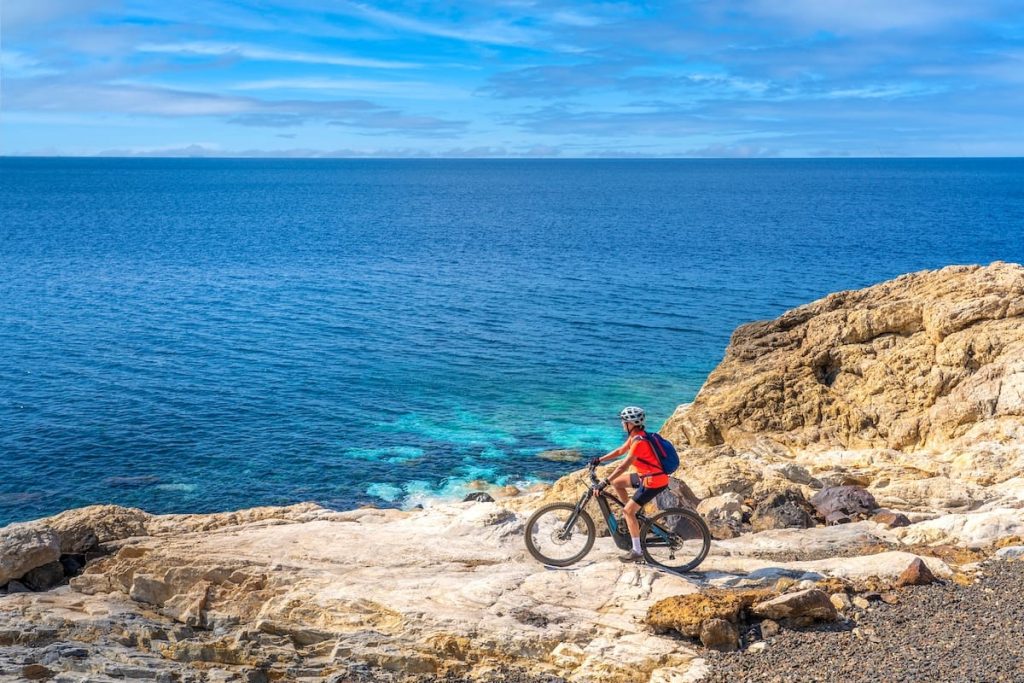 With so many things to do in Aruba and the endless talk about Happy Hour and white sandy beaches, you might wonder if there is any good mountain biking on the island?
The answer is definitely yes!
Mountain biking in Aruba generally takes place in the north part of the island. There are many great and challenging trails to explore that cover a total distance of about 350 kilometers. It is a great way to stay fit or keep up your training routine you are used to at home.
While you explore the trails that consist of sandy, mainly flat and rocky roads, you are offered many opportunities to take some beautiful pictures of the surroundings, especially on the rough east coast of Aruba with its secluded beaches and coves (called bocas).
Book a Mountain Biking Tour Online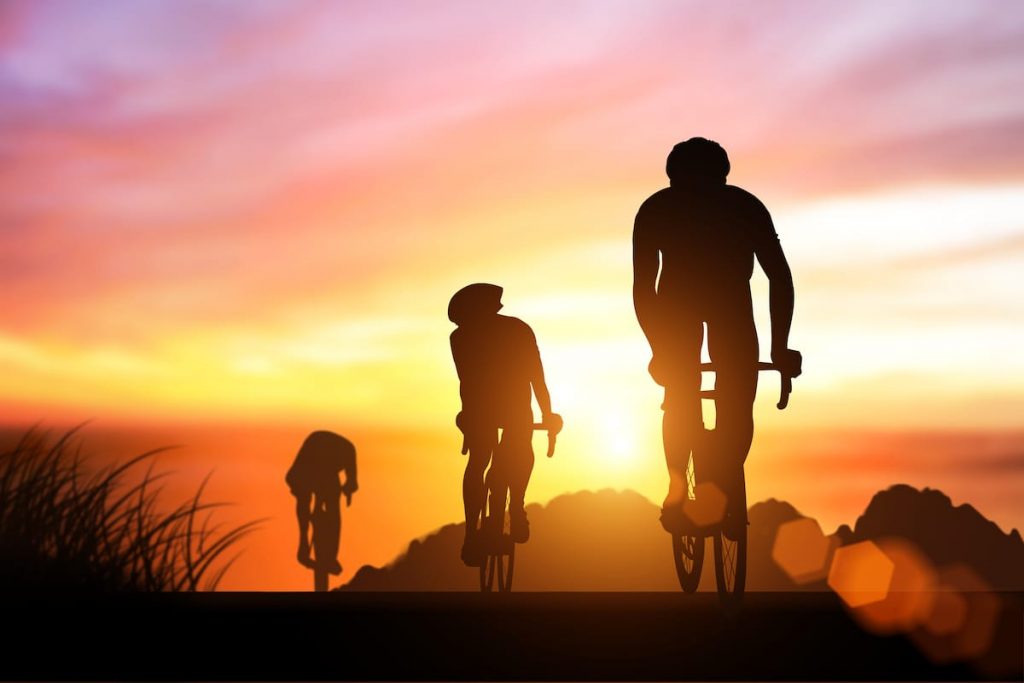 This mountain biking tour is a great opportunity for both beginner and intermediate mountain bikers to embark on an unforgettable ride alongside a certified guide from the Dutch Cycling Federation.
As you explore the breathtaking landscapes, you'll receive valuable tips and tricks to enhance your mountain biking skills, all while cruising on state-of-the-art Scott or Trek mountain bikes.
The duration of the ride will span between 2 to 2.5 hours, depending on the number of stops you choose to make along the way. Your journey will traverse diverse terrains, from the picturesque north east coast to the serene Alto Vista chapel and the enchanting Wish Garden. You'll pass by the Tierra de Sol Golf course and ascend towards the iconic California lighthouse, taking in the mesmerizing sights of Arashi Beach, Boca Catalina, and the vibrant wind and kite surf schools. Throughout the excursion, your knowledgeable guide will share captivating insights about Aruba's rich heritage and culture.
Not only does this adventure promise an exhilarating mountain biking experience, but it also offers a fantastic opportunity to stay fit or maintain your training routine while enjoying the splendid views that Aruba has to offer.
The bike ride will encompass a total distance of 11 miles (20 km) and will commence in the refreshing morning hours when the temperatures are pleasantly cool.
Organise Your Own Mountain Biking Trip
If you prefer to organize your own mountain biking trip, here are some ideas for the northern and southern part of the island.
Where to Rent a Mountain Bike
There are several places in Aruba where you can rent a mountain bike.
Here are a few options:
Bike Rental Aruba: Located in Noord, Bike Rental Aruba offers a variety of bicycles for rent, including mountain bikes.
Aruba Active Vacations: This company in Oranjestad provides bike rentals, including mountain bikes, as well as guided tours for outdoor enthusiasts. They have Cannondale, Giant, and Marin mountain bikes available for rent, and offer bike drop-offs and pick-ups at the low-rise and high-rise hotels.
Tri-Bike Aruba: Situated in Palm Beach, Tri-Bike Aruba offers bike rentals for various purposes, including mountain biking. Helmets, locks, clip-on pedals and hand pumps are usually free of charge.
Mountain Biking in North
By taking Manchebo Beach as a reference point, there's a scenic route to the north that brings you all the way to the California Lighthouse. During your bike trip you will pass Eagle Beach, Hadicurari Beach and Malmok Beach. Further north the road narrows close to Boca Catalina Beach. By continuing north, you will reach Arashi Beach and eventually the lighthouse. At the lighthouse, you can take a break and make up your mind if you want to continue further east or return towards the direction of Malmok Beach. If you continue going east you will pass the Tierra del Sol Golf Course and you will notice the California sand dunes before you reach the rough and windy east coast of Aruba. Here you will find some secluded beaches like Boca Druif, Wariruri Beach, Andicuri Beach, Daimari Beach, Dos Playa and Boca Prins that all offer the opportunity to take a refreshing dive into the ocean before you continue further south. At Boca Prins there is a place called Boca Prins Bar and Restaurant where you have the opportunity to eat and drink something while enjoying the beautiful view the surroundings at this place have to offer.
From Boca Prins you can decide to return to the west coast of Aruba by taking route 7, the Northern Loop, towards Santa Cruz and then follow directions to Oranjestad. From there the route is easy to Manchebo Beach where you have started your journey. Just follow directions north. Or from Boca Prins you can also return to the trail that brought you there. By biking north and after Boca Druif eventually west, you will see the California lighthouse ahead of you. At the lighthouse, you just follow directions to Manchebo Beach by biking south until you have reached the point where you have started from.
Mountain Biking in South
If you are interested in exploring the southern part of Aruba, we recommend going to San Nicolas and check out mountain bike renting opportunities there. From San Nicolas, you can plan your trip towards the direction of Rodgers Beach or Baby Beach and then continue to Seroe Colorado Lighthouse. There's also a rest area in the vicinity. When you follow Sero Colorado road to the north, you will be able to reach Bachelor's Beach. At Bachelor's Beach, there's also a trail to the north that brings you to Boca Grandi and further north Grapefield Beach. From Grapefield Beach you will be able to see the oldest golf club of Aruba, The Aruba Golf Club. Feel like going back? Just follow directions to the west to the Valero Aruba Oil Refinery before you arrive in San Nicolas again.
More Trails
There are more mountain biking trails to explore, check out the all trails website for some of the best mountain biking trails in Aruba!
Tips Before You Hit The Trails
Regulations: Traffic rules are largely based on Dutch traffic regulations. However, some specific adaptations and local regulations may apply to Aruba. It's important to familiarize yourself with Aruba's traffic rules and regulations before driving or cycling on the island.
Dress appropriately: Wear comfortable, moisture-wicking clothing suitable for outdoor activities. Opt for breathable fabrics that will keep you cool in the tropical climate. Don't forget to wear a helmet for your safety.
Hydration is key: Aruba's climate can be hot and humid, so it's crucial to stay hydrated throughout your ride. Carry an ample supply of water or sports drinks to replenish fluids and electrolytes. The amount of water you'll need depends on factors like sweat rate and exertion level, but a general guideline is to consume 0.5 to 1 liter (16 to 32 ounces) of fluid per hour during exercise.
Protect yourself from the sun: Apply sunscreen generously to shield your skin from the intense sun rays. Additionally, wear sunglasses to protect your eyes and consider a lightweight, breathable long-sleeved shirt for added sun protection.
Bring essential supplies: Pack a small backpack or saddlebag with essentials such as a basic first aid kit, snacks, spare tubes, a multi-tool, and a pump or CO2 inflator to handle any minor repairs or adjustments that may be needed during your ride.
Know your limits: Choose trails that align with your skill level and fitness. Aruba offers a variety of routes suitable for beginners and intermediate riders. Start with easier trails and gradually progress to more challenging ones as you gain confidence and experience.
Follow trail etiquette: Respect other riders and hikers by yielding the right of way when necessary. Stick to designated trails and avoid damaging the surrounding environment. Leave no trace by carrying out any trash or waste with you.
Stay aware of your surroundings: Be mindful of your surroundings, including obstacles, wildlife, and other trail users. Stay focused and alert while enjoying the beautiful scenery.
Listen to your body: Mountain biking can be physically demanding, so pay attention to your body's signals. Take breaks when needed and don't hesitate to adjust your pace or route if you feel fatigued or uncomfortable.
Ride with a buddy: Whenever possible, ride with a companion or join guided tours to enhance safety and share the experience with others. It's always more enjoyable and reassuring to have someone alongside you.
Have fun and enjoy the ride: Ultimately, mountain biking in Aruba is about embracing the adventure and relishing the stunning landscapes. Take the time to appreciate the beauty around you, challenge yourself, and savor every moment of your ride.
Remember, these tips are meant to enhance your experience and ensure your safety.
Enjoy your mountain biking adventure in Aruba!
Bringing Your Mountain Bike To Aruba
It is possible to bring your mountain bike to Aruba. If traveling by air, you must check with your airline regarding their bicycle transport policies and requirements. Some airlines may allow you to bring your bike as checked luggage, while others require it packed in a bike box or a special bike bag. It's important to note that you may incur additional fees for transporting your bike, and there may be specific packing and weight restrictions guidelines. It's recommended to contact your airline directly or check their website for detailed information on their bicycle transportation policies.