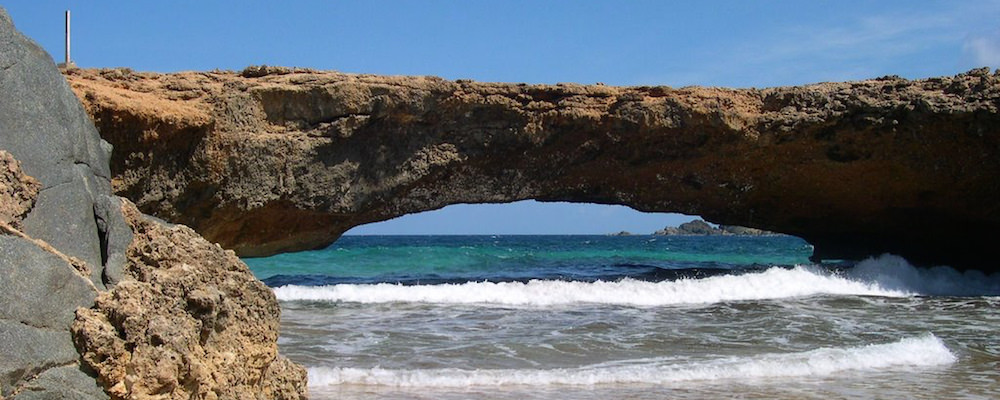 It was the second of September. That day, Aruba will always remember.
The renowned Aruba natural bridge collapsed on September 2, 2005.
Just before dawn on that particular Friday, one of the most famous things to do in Aruba was destroyed by Mother Nature's brute force.
The famous natural bridge of Aruba, located between the Bushiribana Gold Mine Ruins and Andicuri Beach, was a formation of coral limestone along Aruba's rougher north-east coast, slowly carved out by the powerful ocean waves and trade winds. The bridge rose 23 feet above sea level and spanned more than 100 feet.
That sad morning, when the natural bridge had collapsed, the news spread quickly across the island, and hundreds of Arubans left their homes and traveled along the bumpy dirt road to see what remained of their famous national treasure. What exactly caused the natural bridge to suddenly collapse nobody knows, although a few years earlier a large crack had been spotted on one side of this geologic phenomenon, according to the owner of a nearby snack and souvenir shop.
Thousands of visitors to Aruba walked across the natural bridge each year. It was a very popular picnic spot and surely must have been photographed millions of times throughout the past few decades. Countless tours have been organized to show the visitors this unique attraction of Aruba for many years in a row.
The scenery around the collapsed natural bridge is still beautiful and picturesque, and it is quite relaxing to watch the ocean waves break along the limestone rocks. It is not advised to climb on top of the collapsed bridge as that could be dangerous. Tourists also should not swim or dive here as the sea in this area is far too rough.
There is a smaller natural bridge, often called "The Son of the Natural Bridge", or "Baby Bridge", right beside the collapsed natural bridge that definitely is worth checking out as the area features many rock cliffs and sea sprays.
Other natural bridges can be found near Baby Beach, at Wariruri Beach and near Black Stone Beach. It is interesting visiting these places, as an alternative to the Natural Bridge, when you are in the neighborhood.