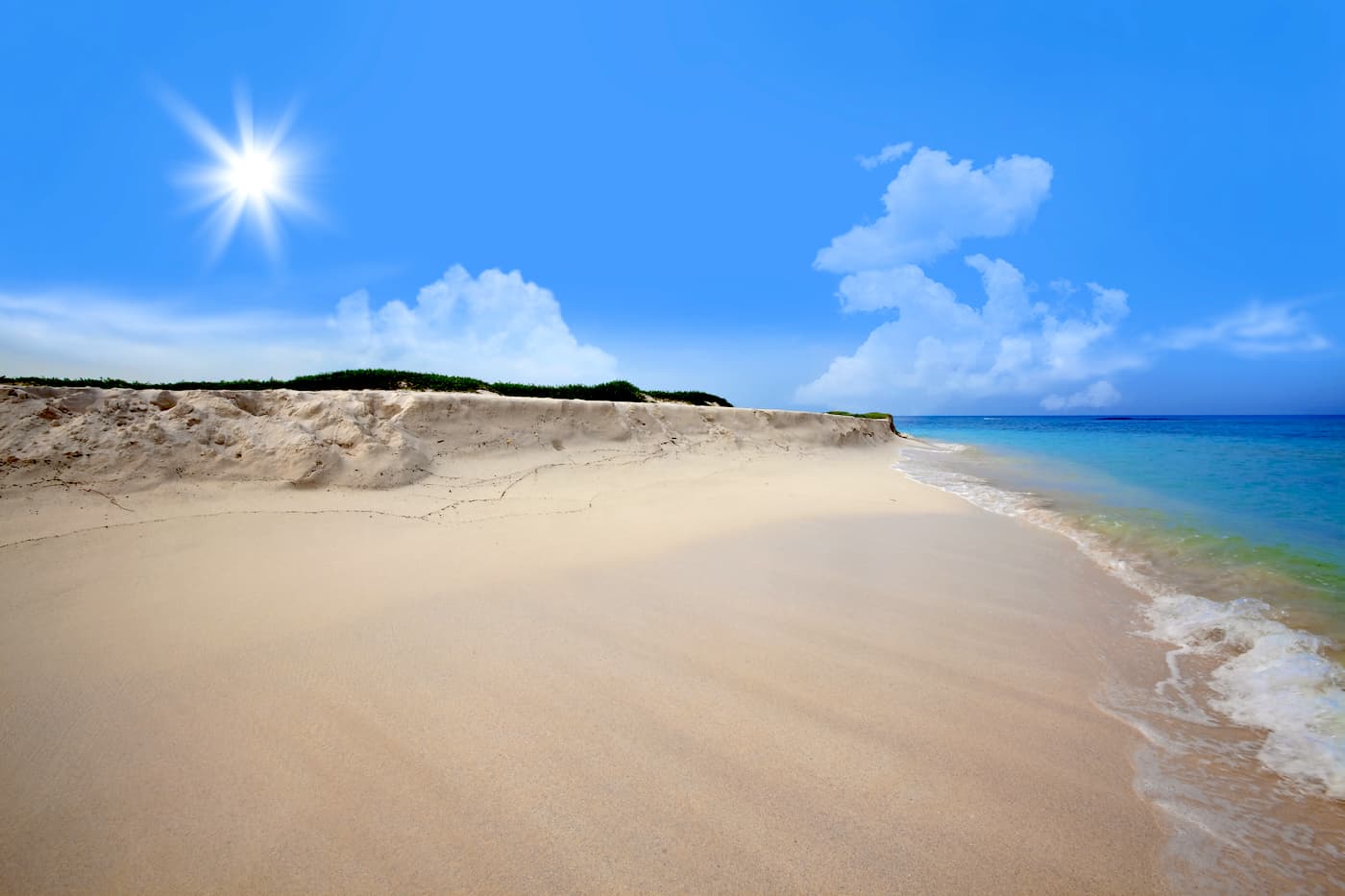 Length: 600 meters
Facilities: none
Activities: surfing, hiking
Next Sunset: 18:49 PM
Next Sunrise: 06:47 AM
About Grapefield Beach
Just north of Boca Grandi you will find Grapefield Beach, a rare combination of cliffs to your left and beautiful beach on your right. Grapefield Beach is a quiet beach that is about 600 meters long. Looking to the north the beach further continues for about a kilometer to Rincon Bay where the beach ends. Grapefield Beach is a beach not a lot of people go to, so you can make it almost your private beach when visiting. Swimming or snorkeling is not recommended because the tide, currents and trade winds are typical and always present at the east side of Aruba. At the beach you will find some wooden shacks that the surfers still use when spending a day here. In the past you could find a lot of sea grape plants here and people used to come here to pick the fruits for eating. Nowadays the plant has almost vanished but there is still a good chance you could find some and look for the grapes to enjoy them yourself! If you want to explore the cliffs make sure you are well-prepared. It is not recommended to challenge them in your swimming or sunbathing outfit! When you plan to visit Grapefield Beach, prepare it well by taking necessities with you as no amenities are there to be found. Plan to take protective beach shoes too!
Grapefield Beach Map
Use the Google and Booking map below to explore the area.
Fill in your vacation dates to get a real-time view of available accommodations near Grapefield Beach
How to Get to Grapefield Beach
From Oranjestad make sure you enter Lloyd G. Smith Blvd and follow directions south to the Queen Beatrix Airport and then Savaneta and eventually to San Nicolas South. Continue following directions to Sero Colorado. From here on you proceed further east to Boca Grandi. A bright red giant anker marks the entrance to Boca Grandi that you cannot miss! Just before the entrance to Boca Grandi make a left and continue following the (unpaved) road that brings you to Grapefield Beach. From the hotel zone the trip to Grapefield Beach takes about 35 minutes.