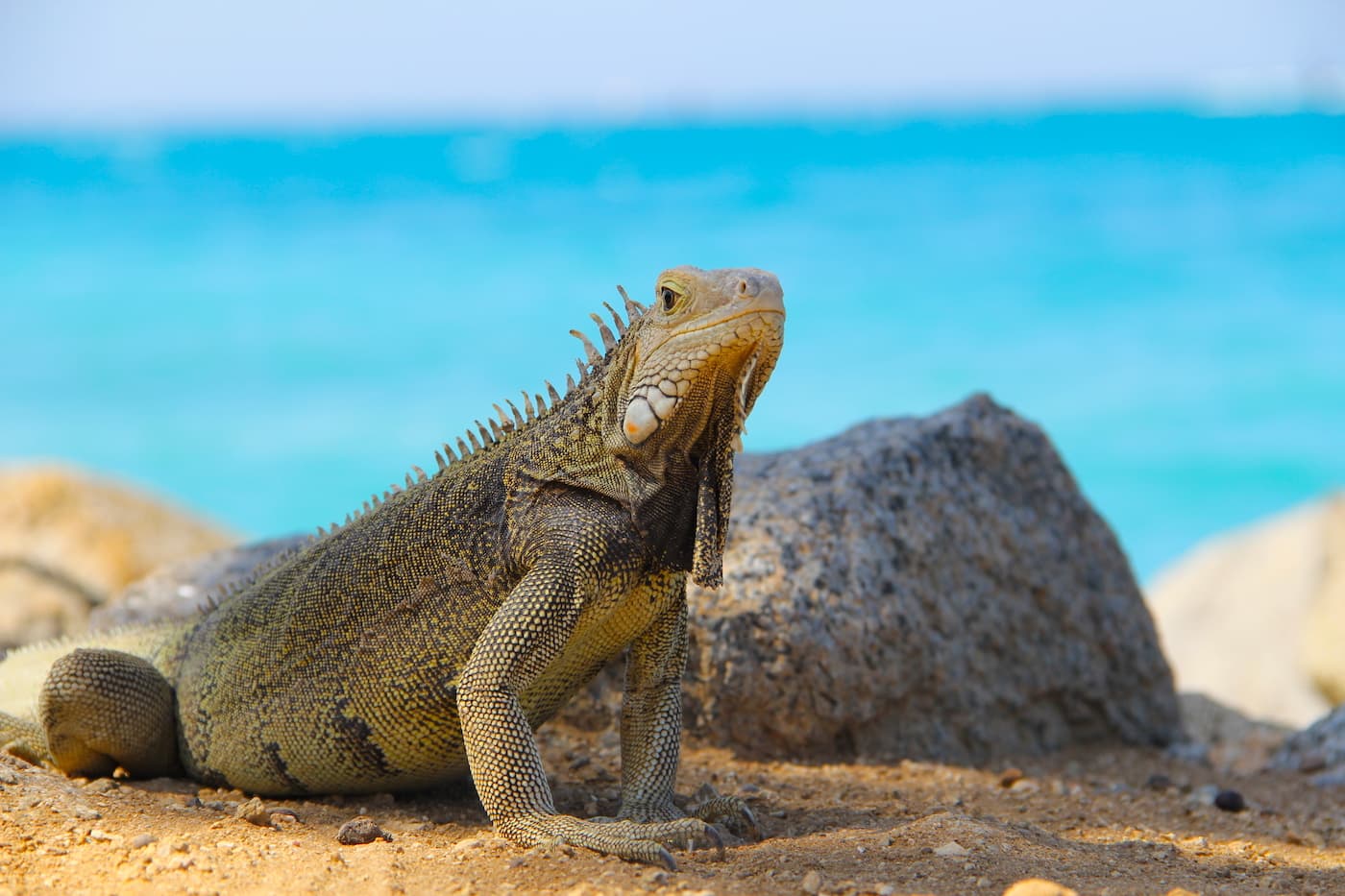 About Iguana Beach
Just like Flamingo Beach, Iguana Beach can only be reached when you visit Renaissance Island.
Renaissance Island is the exclusive property of the Renaissance Aruba Resort & Casino.
Guests of the Renaissance Aruba Resort & Casino have free access by boat taxi to the island that is open between 7 AM and 7 PM on a daily basis. When you are a non-visitor of the resort and you would like to visit Renaissance Island to enjoy your day, buying a Renaissance day pass is possible (see our article about Renaissance Island under the Things to Do Menu).
Iguana Beach, a family friendly beach located on Renaissance Island
Iguana Beach is a private family friendly beach. It is situated at the southwest part of Renaissance Island and lies next to Flamingo Beach. Parents with children will love the amenities Iguana Beach has to offer. Iguana Beach is the perfect spot for you to enjoy your precious time with your children. The surroundings are safe and Iguana Beach is often not too busy. Guests are offered towels and relaxing beach chairs for free use and here and there you can find parasols with palm tree leaves tops that offer some shade to protect you from the sun.
Remember to bring the right sun-protection and protective clothing and even a hat or a cap and sunglasses for your children. Their very sensitive skin gets sunburnt before you know it. Also important not to forget is protection for their feet, the sand becomes very hot and makes it almost impossible for them to walk around while playing. Have a look at our "what to bring" article under the "Travel to Aruba" menu for further advice. Drinks, food, and also snacks are very close by to order at the Papagayo Bar & Grill or the Mangrove Beach Bar to quench your thirst and satisfy your appetite when needed.
Now and then iguanas will appear out of nowhere and this gives your children the opportunity to observe this interesting animal. At noon every day, the hotel staff organizes a "lunch time moment" for children to participate in feeding the iguanas and it's such an awesome sight to see so many iguanas crawl out from all the bushes to the beach and eat leaves from your hand. Really a wonderful experience!
Although the animal looks rather scary it is actually a harmless creature. Make sure you do not put your beach chair or towel underneath a palm tree! From time to time iguanas decide to just leave the tree above you by falling to the ground. Imagine that one lands on your back while taking a nap!
Also for non-guests that can visit Renaissance Island by buying a Renaissance day pass, towels and comfortable beach chairs and even a free lunch are available at Iguana Beach. When you are a guest of the Renaissance Aruba Resort & Casino and you are visiting with your children they just will love the boat trip you have to take when you want to spend some time at Renaissance Island. The trip will take you less than 10 minutes and every 15 minutes a boat taxi leaves from or arrives at Renaissance Island. Iguana Beach offers shallow waters and not too strong tide or currents. It is actually a perfect spot to spend your time swimming or snorkeling with your children!
Iguana Beach Map
Use the Google and Booking map below to explore the area.
Fill in your vacation dates to get a real-time view of available accommodations near Iguana Beach