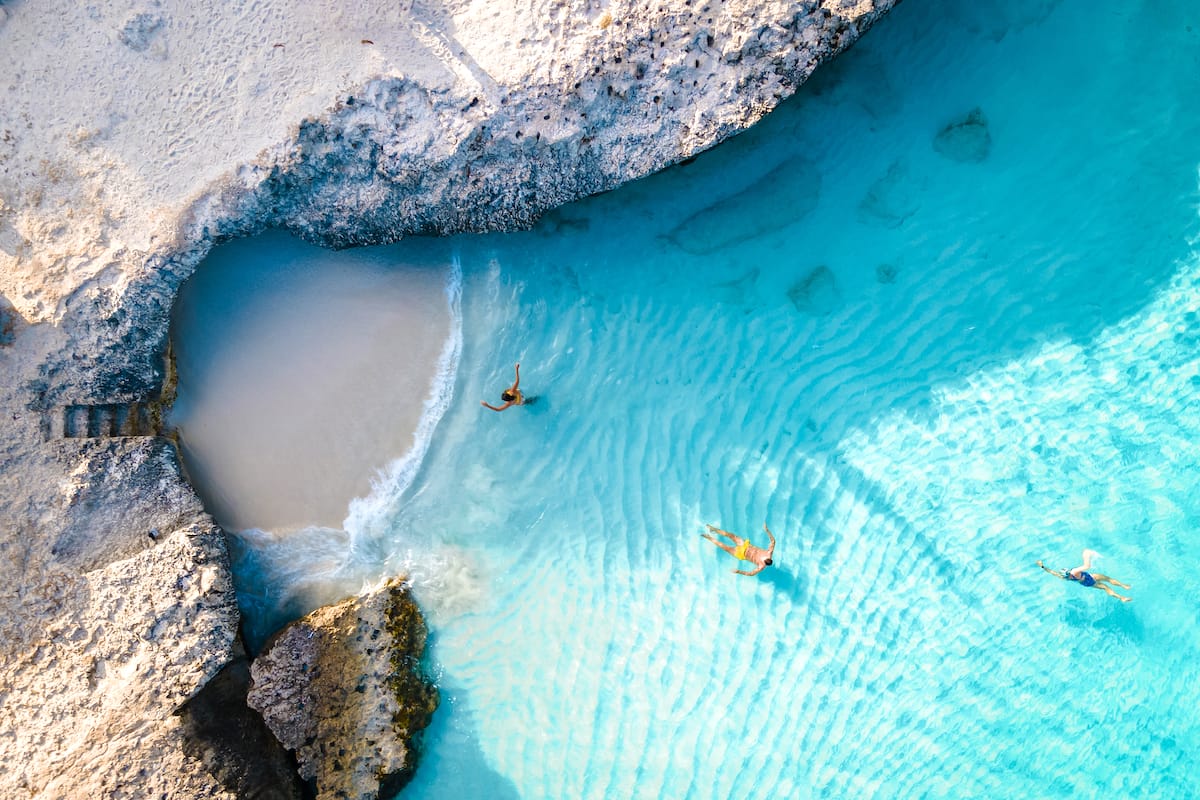 parking.
snorkeling, swimming.
19:58 PM
07:56 AM
Like a dream! Check wind conditions before swimming offshore.
Arubus Stop Malmok
About Tres Trapi
Is it a beach? Is it a snorkeling hotspot? Is it a serene lagoon? Well, it's up to you to decide! But one thing's for sure: Tres Trapi is an incredible snorkeling spot that captures the essence of the Caribbean. If you want to see turtles in Aruba, this is the place to be. That's why it's on our list of the top snorkeling spots in Aruba. Tres Trapi is situated north of Palm Beach, between Boca Catalina and Malmok Beach. Finding it is a breeze – keep an eye out for a stunning 7-foot coral wall with an entrance.
To get into the water, you'll need to descend a well-carved staircase in the rock formation that leads straight to the ocean. "Tres Trapi" means "Three Steps" in the local language, referring to the original three steps carved into the coral years ago to access the water. Nowadays, there are about six steps. Be cautious as you enter the water, as the stairs can be a bit slippery and rough on your feet. Consider bringing along some water shoes. Once you're in the water, get ready to experience some of the finest offshore snorkeling in Aruba. And if luck is on your side, you might spot some turtles. The turtles tend to hang out around the sandy sea grass fields, so make sure you snorkel out to the darker grass areas to catch a glimpse of them. You'll also encounter a variety of beautiful tropical fish, moray eels, and perhaps a few stingrays and sea snakes. The water at Tres Trapi is incredibly clear and stunning, providing an awe-inspiring underwater experience!

Swim close to the cliffs, and you'll witness an abundance of fish swimming among the fallen rocks. If you're up for a bit of adventure, swim towards the shipwreck, which is located about 0.4 miles away. There, you may have the chance to see sea turtles and even spot a few starfish. For those seeking an adrenaline rush, there's a cliff where you can jump from about 5 feet above the water into a refreshing depth of around 6 feet. To attract tropical fish, bring an empty water bottle and fill it with small pieces of bread. Just cut some small holes in the top. Once the bottle is filled with seawater, you can disperse the bread crumbs to entice the fish.
While enjoying your swim at Tres Trapi, keep an eye out for recreational boat traffic (as many boat tours utilize this spot for snorkeling). If you plan to swim far offshore, consider wearing brightly colored gear for better visibility. When it's windy, be mindful of the surf at Tres Trapi, as it can get quite rough.
Tres Trapi can sometimes get crowded, but if you visit early in the morning or late in the afternoon, you can enjoy a peaceful dip and let the water wash away your stress. Convenient parking is available right behind Tres Trapi, and you'll find a bit of shade there. On weekdays, finding a parking spot shouldn't be much of a hassle. And who knows, you might even encounter a few lizards at the parking lot!
So, get ready to have an amazing time at Tres Trapi!
Please Mind the Tres Trapi Sea Turtles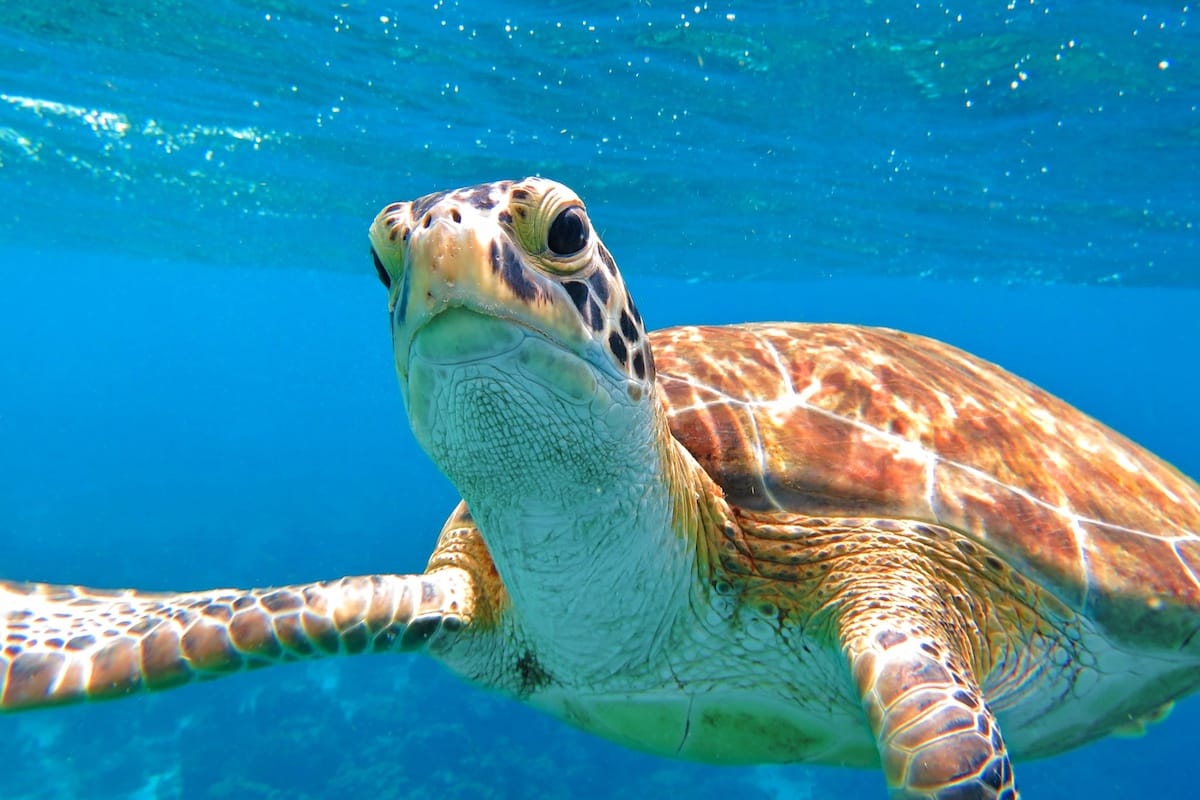 If you are lucky enough to encounter a sea turtle while snorkeling at Tres Trapi, here's what you should do:
Maintain Distance: It's important to give the sea turtle space and avoid getting too close. Keep a respectful distance to avoid causing stress or disturbing their natural behavior.
Observe Quietly: Enjoy the opportunity to observe the sea turtle in its natural habitat. Stay calm, move slowly, and avoid making sudden movements or loud noises that could startle or scare the turtle.
Do Not Touch: Resist the urge to touch or chase the sea turtle. Remember, they are wild animals, and respecting their space and natural behavior is important.
Capture Memories Responsibly: If you have a camera or smartphone, you can take photos or videos from a distance. However, avoid using flash photography as it can startle marine life.
Enjoy the Moment: Take the time to appreciate and enjoy the experience of observing a sea turtle in its natural environment. It's a unique and magical encounter that should be cherished.
Tres Trapi Map
Use the map below to explore the area surrounding the beach.
Fill in your vacation dates to get a real-time view of available accommodations near Tres Trapi!
Where to Stay near Tres Trapi - Our Top Picks
Ocean Z Boutique Hotel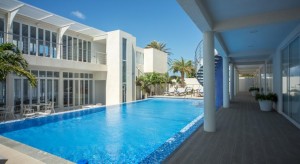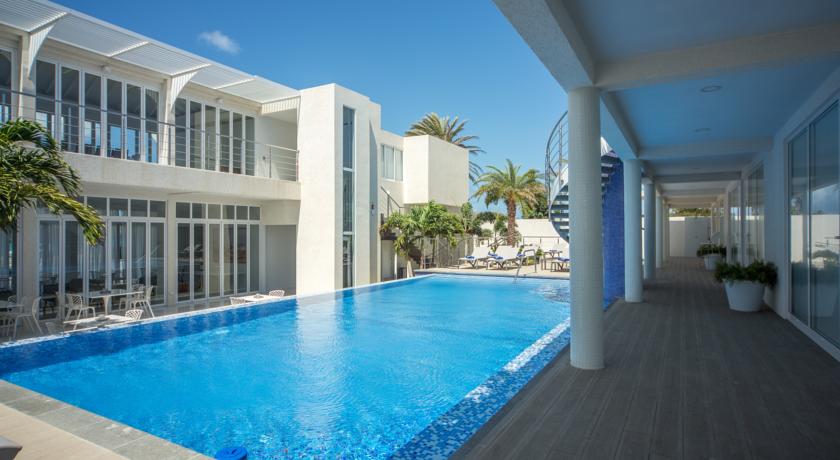 The Ocean Z Hotel, rated as the 2022 Best of the Best in TripAdvisor, is a remarkable establishment close to the enchanting Tres Trapi snorkeling spot. Nestled along the stunning coastline of Aruba, this hotel offers guests a perfect blend of luxury, comfort, and breathtaking views of the Caribbean Sea. Situated just a short distance from Tres Trapi, the Ocean Z Hotel provides easy access to the captivating underwater world and vibrant marine life that the snorkeling spot is renowned for. It offers a convenient base for travelers exploring the natural wonders of Aruba's oceanic treasures. The hotel itself boasts a modern and elegant design, with spacious and well-appointed rooms designed to provide guests a tranquil sanctuary. Each room is thoughtfully decorated, creating a calming atmosphere and offering all the essential amenities needed for a comfortable stay. From plush beds to private balconies, guests can relax while enjoying stunning ocean views. The Ocean Z Hotel also offers a range of exceptional facilities and services to enhance the guest experience. Guests can take a refreshing dip in the sparkling outdoor pool or lounge on sunbeds while savoring the warm Caribbean sun. The hotel's onsite restaurant serves a delectable array of local and international cuisine, allowing guests to tantalize their taste buds with flavors from around the world.
How to Get to Tres Trapi

By Car
To get to Tres Trapi from Oranjestad, start by heading northwest on L.G. Smith Boulevard (Route 1) from Oranjestad. Continue on L.G. Smith Boulevard until you reach the roundabout with the intersection of Route 2 (Sasakiweg) and Route 3 (Matividiri). Take the second exit at the roundabout to merge onto Route 3 (Matividiri), heading north. Stay on Route 3 for approximately 3.5 miles until you reach the intersection with Route 4 (Palm Beach Road). Turn left onto Route 4 (Palm Beach Road) and continue heading northwest. Continue on Route 4 for about 1.5 miles until you see Malmokweg on your right. Turn right onto Malmokweg and continue for a short distance. Tres Trapi will be located on your left-hand side!
By Arubus
You can get to Tres Trapi by bus; it stops at the Boca Catalina bus stop and the Malmok Beach bus stop. You'll have to walk for the last 1000 feet or so.
After Tres Trapi, There's Always Another Beach to Explore!