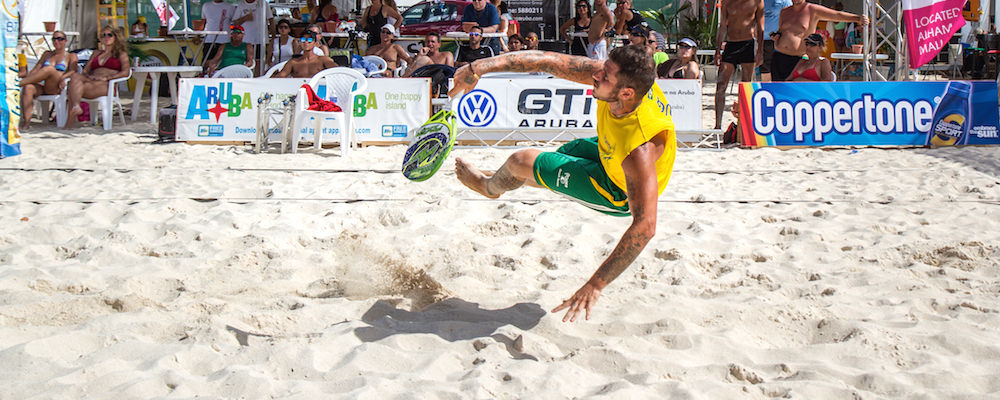 Beach Tennis in Aruba
Beach tennis was introduced on the tropical island of Aruba in the year 2000. This type of sport has rapidly grown to become one of the most popular beach activities in Aruba. In 2002 the first International Beach Tennis Tournament was held in Aruba, and now these type of tournaments are frequently organized throughout the entire year. All that is needed to play the fast-paced Paddle Battle is a volleyball court in the sand, a net, a soft tennis ball and some beach tennis rackets.
Beach tennis in Aruba not only is a wonderful thing to do, but also a great game to watch. Many hotels and resorts offer the facility to play the game at the "private" section on the beach. Beach tennis, just like beach volleyball, is a great workout and almost without realizing is giving you a perfect tan too. Remember though to drink sufficient water and apply sun lotion often. Wearing a hat or a cap and sunglasses is recommended too, especially when you play the game around noon.
International Beach Tennis Tournament
The International Beach Tennis Tournament takes place every year in November, where Divi Beach (near Eagle Beach) will be transformed into a spectacular little beach tennis village with over 20 tennis courts prepared on the beach, food courts and bars, and live music of all kinds played by both bands and DJ's. Hundreds of players of all ages – both locals and tourists – and from countries like Aruba, Brazil, Bermuda, Canada, Colombia, France, Germany, Italy, USA, Mexico, The Netherlands, Venezuela and Puerto Rico will battle the white powdery sands of Aruba in a friendly atmosphere. Usually, the Divi Aruba All Inclusive Hotel is home to this special event, offering special rates for all hotels that Divi has in the area of Eagle Beach.