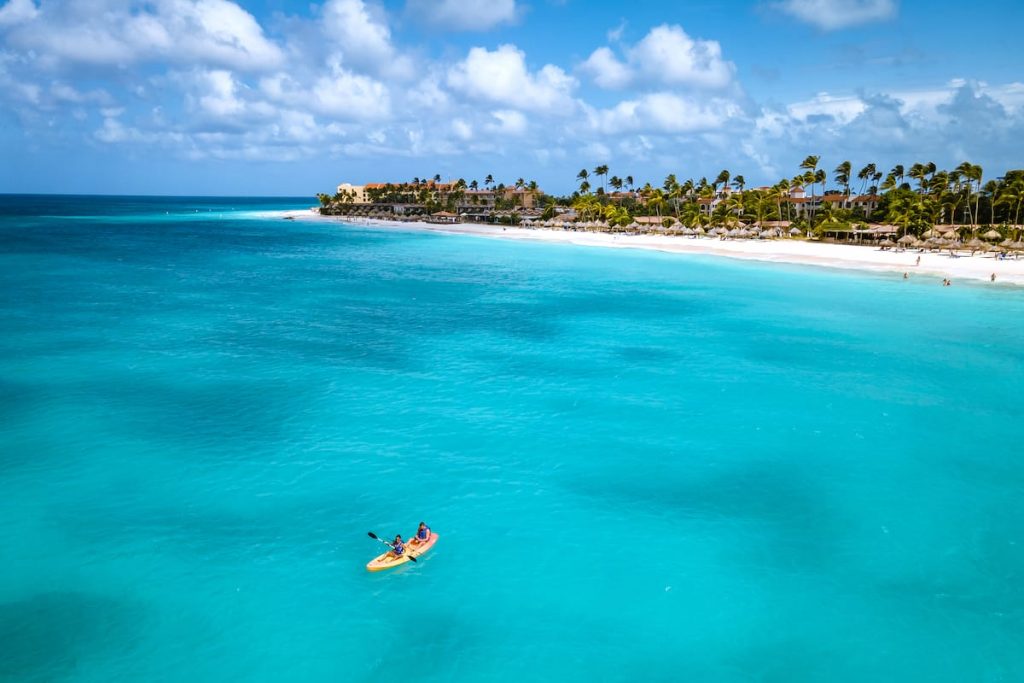 Through the years, kayaking has become one of the more popular water sports in Aruba. Kayaking offers a peaceful and tranquil experience, allowing you to escape the hustle and bustle of the island. It offers opportunities to connect with friends, family, or fellow enthusiasts, fostering a sense of camaraderie and shared vacation experiences! You can see birds, fish, marine life, and other animals in their natural environment, enhancing the overall holiday experience.
There are several places in Aruba where you can go kayaking.
Some popular options include kayaking in the calm waters of Spanish Lagoon on the island's east coast. Mangel Halto is another popular spot, which is located on the south coast of the island and offers great kayaking opportunities through the mangroves. Another option is kayaking at the beautiful Boca Catalina beach, located on the island's northwest coast and offers crystal-clear waters perfect for kayaking. The average water temperature in Aruba ranges from 79°F (26°C) to 83°F (28°C), making it ideal for kayaking and canoeing as the water is warm and comfortable to be in!
Kayak Tours Available Online
Several tour companies offer guided kayak tours of these areas, which can be a great way to explore Aruba's natural beauty from a different perspective. Additionally, many kayaking tours in Aruba are led by experienced guides who can provide insights into the island's history, culture, and wildlife, making it a great way to learn more about the island.
Sunset Kayaking at Arashi Beach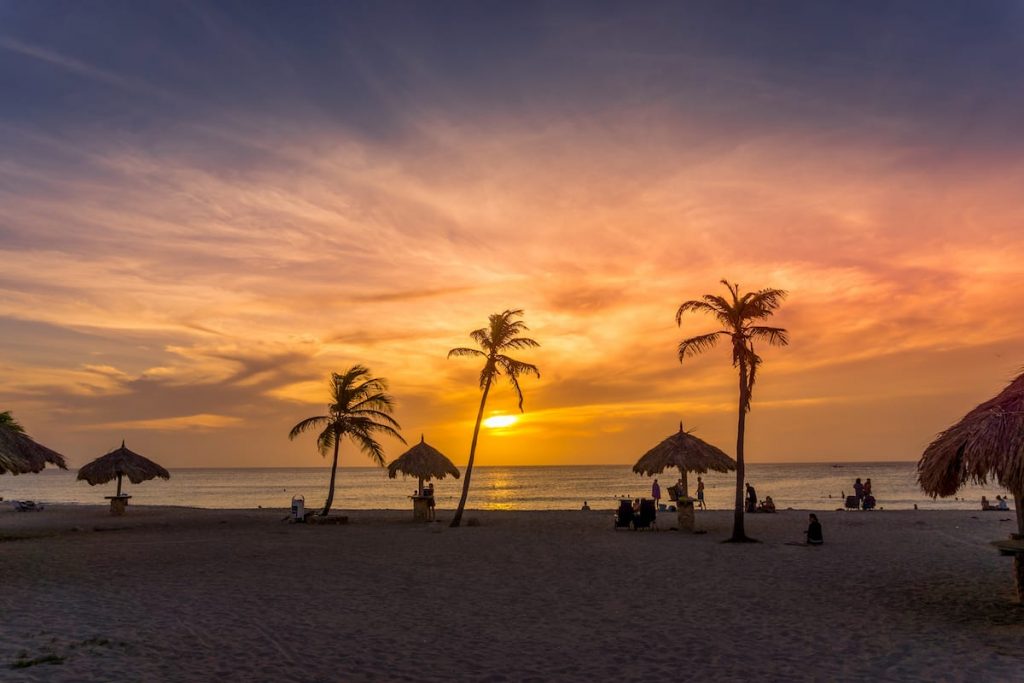 Looking for a unique and romantic experience in Aruba? How about a kayaking tour under the starry skies at Arashi Beach? As the sun sets, embark on a tranquil kayaking adventure along the shoreline, surrounded by breathtaking scenery. Once darkness falls, the tour guide will activate special LED light racks, securely fastened beneath your kayak, illuminating the underwater world. Witness the captivating nightlife of fish and coral, enhanced by the moon's gentle glow. You can even snorkel for an up-close encounter with the local marine life.
Explore a shallow shipwreck and marvel at the marine life from a new perspective, all while guided by experts who will teach you effective kayaking techniques. Remember to bring extra towels to shield yourself from the refreshing night breeze once you exit the water! Meet at the designated meeting point, the parking lot of Arashi Beach, and look for Clear Kayak Aruba, easily identifiable by the stone arch near the entrance.
Mangrove Forest Kayak Boat Excursion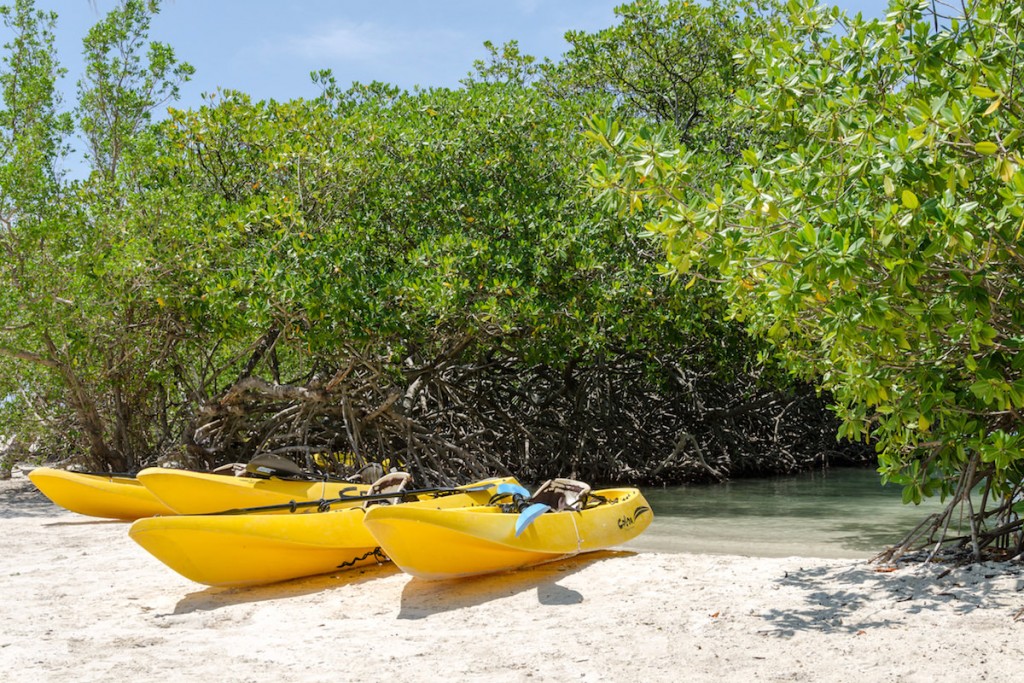 Experience Aruba's stunning marine world above and below the surface with a glass-bottom boat and kayak excursion at Mangel Halto and Santo Largo Beach.
Mangel Halto is known for its beautiful and extensive mangrove forests, home to various marine life, such as fish, crabs, shrimp, and birds. These mangroves are not only important for the ecosystem and local wildlife but also serve as a natural barrier against erosion and storms.
This is an ideal kayak excursion for intrepid travelers who enjoy staying atop the waves. Keep an eye out for colorful coral, fish, and other marine life through the glass bottom, and then grab a 2-person kayak and paddle to Isla di Oro through the tranquil mangrove forests. During this excursion, you'll discover the local history and culture while experiencing a fun and exciting water adventure!
Lagoon Cruise with Kayaking Excursion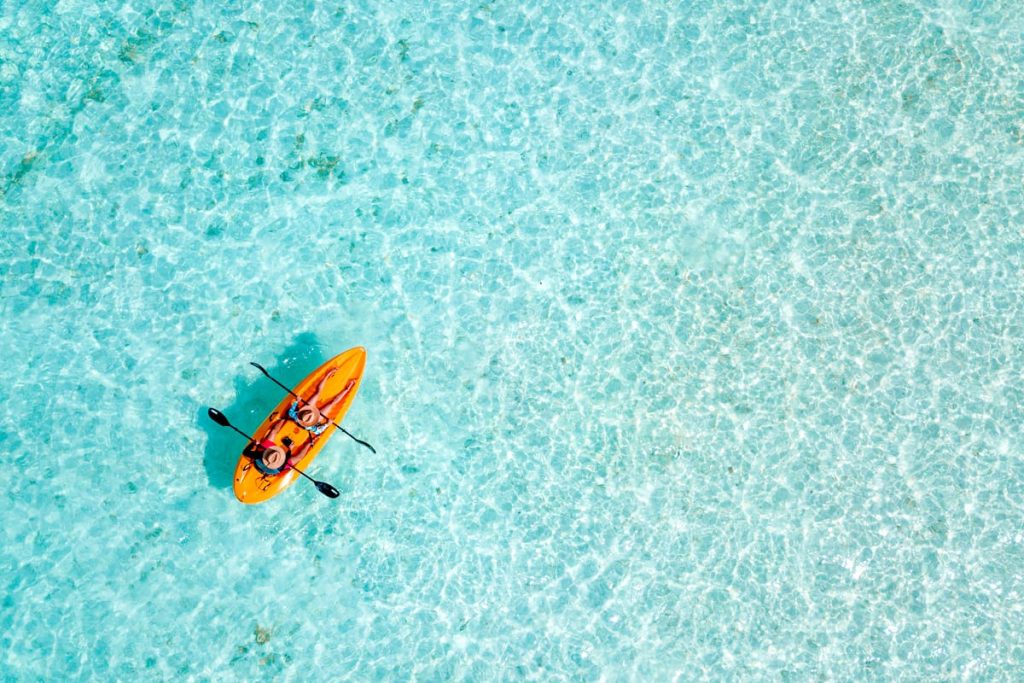 With this tour, you'll embark on a luxurious journey along Aruba's South Coast on an exquisite vessel. You can relax at the bar with a refreshing drink or lounge on the deck and bask in the scenery. If you're feeling adventurous, swing on the rope and dive into the water.
After a refreshing swim, you can go on an exciting guided snorkeling tour or kayaking excursion at the Spanish Lagoon! The lagoon is sheltered from the strong currents and waves of the Caribbean Sea, making it ideal for kayaking, especially for beginners.
After that, indulge in the mouthwatering lunch cooked on-site by your skilled chef, along with hand-crafted cocktails. As you sail back, simply unwind and enjoy the breathtaking views that Aruba has to offer.
All you need to do is bring swimwear, a towel, and a camera, and don't forget about the sunscreen!