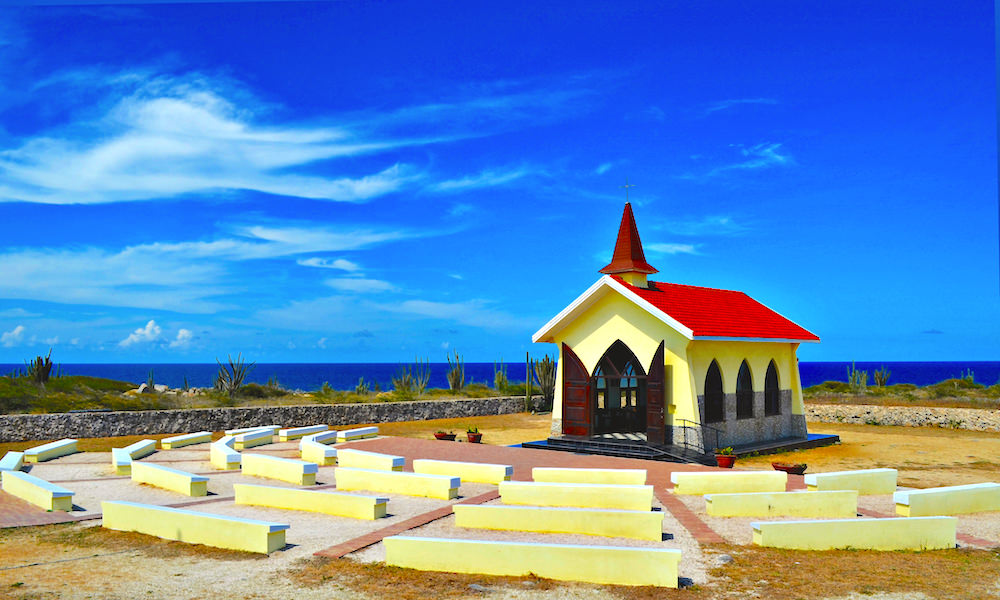 In a neighbourhood named Alto Vista, located in Noord, you will find a small church called the Alto Vista Chapel. Some people refer to it as "Our Lady of Alto Vista". It is a small but colourful pilgrim's church. The Alto Vista Chapel is a popular sightseeing spot because of its history and size.
Location
The Alto Vista Chapel is located about 5 miles south-east of the California Lighthouse. To the north, you will find the Tierra del Sol Golf Course and the California Sand Dunes. The location of the Alto Vista Chapel serves very well as a reference point should you go hiking or mountain biking in the neighbourhood. Also at this location, you'll be able to make some beautiful pictures of the breathtaking surroundings.
Alto Vista Chapel Opening Hours
The Alto Vista Chapel is open daily from 5 PM to 7 PM. The chapel has a 35 minute mass on Tuesdays. Everyone is welcome to visit for free (no tickets needed), but donations are always welcome!
The Alto Vista Chapel's History
The Alto Vista Chapel originates from 1750. It was built by the Spanish with the help of the Caquetio people, the indigenous of the island who were forced to work as slaves for the Spanish. A missionary from Venezuela named Domingo Silvestre established the church through his pioneering work and sole funding, with the mission to convert the local population to the Catholic Christian faith.
Good Friday
The Alto Vista Chapel was the first church that was built in Aruba. It was dedicated to Mother St. Mary, also known as the "Mother of the Rosary". In 1952 a new chapel was built on the same location. Long benches encircle the chapel to seat the congregation. Outside you can find some benches that have been placed there to accommodate worshipers. The chapel does not have stained glass panelled windows you normally would find in churches. It does not have a cemetery but you can find some white graves with crosses near the chapel.
Nowadays the chapel is still being used for Catholic Services like baptisms and marriages. Weekly services, both Catholic and non-Catholic, still take place at the chapel. On Good Friday every year, many locals from Oranjestad go on a pilgrimage to the chapel to celebrate and keep the Christian tradition alive.
The Peace Labyrinth
Next, to the Alto Vista Chapel, you'll find the Peace Labyrinth. Modern "pilgrims" visit the Peace Labyrinth to enhance prayer, contemplation, meditation, and/or personal growth. The labyrinth walk is popular among a growing number of people given its simplicity and the ability to approach the labyrinth's paths on one's own terms: there is no right or wrong way to walk it.