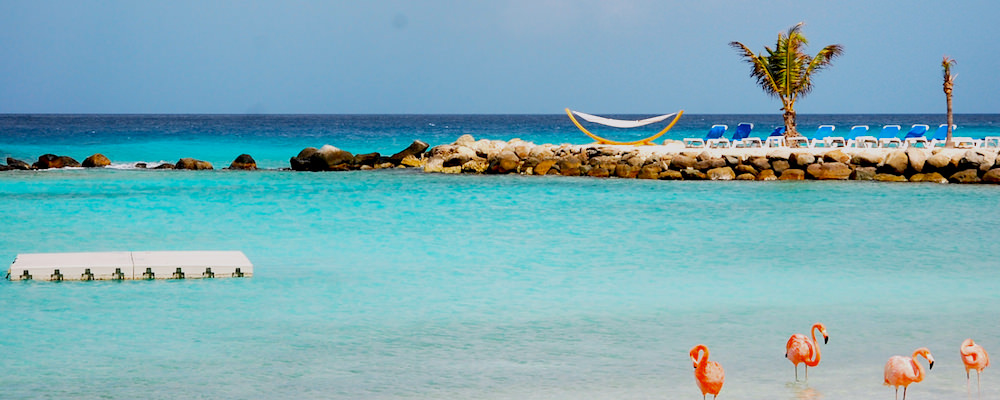 Visit De Palm Island, is it worth the effort?
Just like Renaissance Island, De Palm Island lies off the west coast of Aruba. De Palm Island is operated by De Palm Tours and it offers an all-inclusive concept to make your visit an unforgettable one. Whether you are in for relaxation and food and drinks, fun, activities or just a trip away from the busy Hotel Zone, De Palm Island has all that it takes, especially when you are visiting Aruba with your children.
Getting to De Palm Island
When you are travelling by bus, packages are available including round-trip transfers (ferryboat transportation included) to and from all major hotels. You can book your trip at the front desk of your hotel or you can book online. When you have a car of your own, just take a drive to the De Palm Island Parking Lot (free parking is available) that is very close to the De Palm Island Ferry Terminal. Here you can buy your tickets to visit De Palm Island.
What does De Palm Island have to offer?
An all-inclusive food & beverages concept. Breakfast, a lunch buffet, snacks from the grill, various cocktails and beers and soft drinks are available whenever you feel hungry or thirsty.
Snorkelling
Free snorkelling tours are offered on a daily basis. Shallow waters offer a great opportunity to go snorkelling with your children and explore the marine environment. It is also a perfect spot to teach your children how to snorkel or how to swim.
Banana Boat Rides
Banana Boat Rides are endless fun, especially for children! Ride the Banana Boat as many times as you want but bear in mind that there's a minimum age or length for children applicable. Children have to be older than 10 years or taller than 55 inches.
De Palm Island Water Park
The park is open to adults, teenagers and young children. It features six water slides. It's really an unforgettable experience! You will be surprised how many adults become children again by having fun going off the slides!
Sea Trek Underwater Helmet Walk
A lot of people who visit De Palm Island just do not want to miss this wonderful underwater experience. It is like walking on the moon – underwater – when you wear a specially designed underwater diving helmet. Along a custom walkway below the surface, you will experience near-zero gravity. Children who want to participate have to be older than 8 years. Remember that you cannot use your own underwater camera to make pictures. It is possible though to buy a DVD of your experience, just ask your instructors for further information.
Snuba
Snuba is a combination of snorkelling and scuba diving. Snuba allows you to go deeper and further into the beautiful exotic marine environment De Palm Island has to offer without having to surface for air. Also, young children are able to participate. They have to be older than 4 years.
Power Snorkel
Power Snorkel is snorkelling with the help of a motorised machine. It will make your snorkelling experience even more spectacular and it allows you to float and manoeuvre through the water without any effort.
De Palm Island Daily Activities
When you feel like working out, you are able to join a game of beach volleyball or take a salsa dancing class.
De Palm Island Spa Treatments
Right on the beach, there's the possibility to enjoy a deep, relaxing massage, whether you are alone or visiting the De Palm Island as a couple. The combination of a massage, the breeze of the ocean and the surroundings will make you really relax!
De Palm Island Beaches
Although not very big, De Palm Island offers three beaches to choose from. Relaxing beach chairs are included when you visit but you have to bring your own towel. There are lots of lounges available in the shade and in the sun. All three beaches offer great opportunity to go snorkelling and when you go you might be accompanied by beautiful blue parrot fish, among others, that are swimming close by to where the beach enters the ocean.
De Palm Island Zip Line
A brand new activity called the De Palm Island Zip Line has been introduced this year. Ask your travel guide for further information about what Aruba's first Zip Line has to offer.
Further Amenities at De Palm Island
There's a gift shop where you can buy your souvenirs to remember your visit when you are back home. Also, accommodation to change and freshen up are at your disposal. When you are visiting De Palm Island with your children and you want some time for yourself, The Kids Corner offers various activities to keep your children busy while you take your well-deserved break!
Preparing your visit to De Palm Island
The number one preparation is to take your towel and camera. Also do not forget sunglasses, beach shoes, a cap or hat and some protective clothing. It goes without saying that you have to bring some good quality protective sun lotion or even a sun block. When you are visiting with children this is a bare necessity to bring! Have a look at our What to Bring to Aruba article for more tips and information.