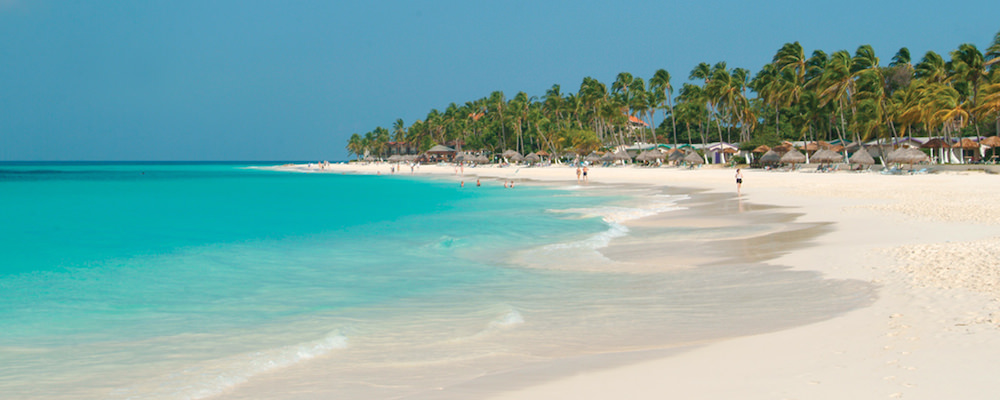 Length: 500 meters
Facilities: bar, beach chairs, cabanas, parking, restaurant, hotel
Activities: beach tennis, snorkeling, swimming
Bus Stop: Divi Beach Arubus Stop
Next Sunset: 18:51 PM
Next Sunrise: 06:48 AM
About Divi Beach
Divi Beach faces south-west and is located just south of Druif Beach, and by walking along the shore for just a few hundred meters it can easily be reached. This beach can get up to 100 meters wide and has a length of about 500 meters. The beach extends all the way to the Tamarijn Beach Resort further down south. Divi Beach is home to the Divi Beach Tennis Aruba event, held around the third week of November every year. The event is a melting pot of cultures from all over the world playing beach tennis on 20 beach tennis courts in a friendly atmosphere.
Beach Resorts near Divi Beach
Just seconds behind Druif Beach, you'll find the All Inclusive Divi Village Golf and Beach Resort. This family-friendly Aruba beach resort features delicious dining options, great casino action and a full-service spa. The beach resort offers full access to the other amenities and facilities at nearby Divi resorts on the island. Resort guests can discover multiple restaurants, tennis courts and live entertainment at night. This beach resort also features a children's club and three swimming pools. In the same area you'll find Divi Dutch Village, set in a tropical garden-like setting. Divi Dutch Village offers a large variety of recreational activities, including organized snorkeling tours, bike rides and deep-sea fishing excursions. Guests can enjoy a free shuttle service to the shopping area and Divi's Alahambra Casino.
Divi Beach Map
Use the Google and Booking map below to explore the area.
Fill in your vacation dates to get a real-time view of available accommodations near Divi Beach
How to Get to Divi Beach
To reach Divi Beach from Oranjestad, head northwest on Zoutmanstraat toward Arnold M Schuttestraat. Take the first right, then turn left onto Wilhelminastraat. Take the first left onto Arnold M Schuttestraat. Turn right onto L.G. Smith Blvd and Continue to follow. Go through the roundabout, and at the next roundabout, take the third exit onto L.G. Smith Boulevard/Sasaki Weg. Turn right onto Caya Punta Brabo, then finally turn left onto J.E. Irausquin Blvd.