Things to Do in Aruba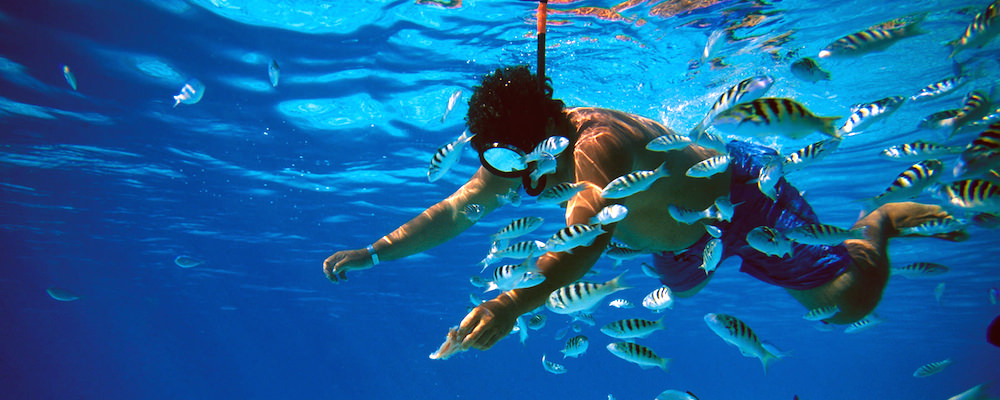 There's plenty of things to do for Aruba visitors, ranging from all kinds of water activities, beach activities, and great activities for families with kids. To explore or tour Aruba island, many top attractions are listed in the "points of interest" section in the menu you can choose from. You can do so by following a guided tour, offered by local companies, known for their high level of service, or just make the arrangements and prepare for the visit yourself. At the reception or activities desk of your stay, handy and concise maps are available. When you are looking for a cultural experience, restaurants or for a variety of shops, visit Oranjestad or San Nicolas. Both places are worth the trip and will bring you some wonderful Aruba time!
One of the best things to do when you visit Aruba is to go snorkeling. Just strap on your snorkeling gear at any of Aruba's beaches, take a few steps into the warm water and you'll spot some Caribbean fish. It's that easy! Many times, it takes a little more effort though to get to the good snorkeling spots. Aruba features enough coral reefs, marine life, and shipwrecks, and even plane wrecks to keep both scuba divers and snorkelers busy for their entire vacation. Many people travel to Aruba for this reason alone. Even though your holiday on Aruba may be short, you can be confident you've done some of the best snorkeling in Aruba after a little bit of planning.
Beach tennis, introduced in Aruba in the year 2000, has rapidly grown to become one of the most popular beach activities in Aruba. In 2002 the first International Beach Tennis Tournament was held at Divi Beach near Eagle Beach, and now beach tennis tournaments are frequently organized throughout the entire year. All you need to play is a volleyball court made in the sand, a net, a soft tennis ball, and some beach tennis rackets. Fun!
When you're looking to combine a little workout with a challenging game while being surrounded by the beautiful, natural environment Aruba has to offer, then visiting one of the three Aruba golf courses is for you. Aruba has some of the best golfing opportunities in the Caribbean: The Tierra Del Sol Golf Course, Divi Links, and The Aruba Golf Club. To work on your handicap just before a beautiful sunset will make your visit to the course unforgettable.
Jogging or running in Aruba may not be an activity that immediately comes to mind during your Caribbean vacation, but with a few simple guidelines/tips (wear sunscreen and bring water!) this should be a very enjoyable activity. Overlooking the Caribbean sea, a great area to jog or run is the surroundings of the California sand dunes, mainly consisting of white sand and some vegetation. Quite a challenge!
Mountain biking in Aruba generally takes place at the northern part of the island, where you'll find challenging trails to explore with a total distance of about 350 kilometers. Stay fit or keep up your training routine you are used to at home. While you explore the trails that consist of sandy, mainly flat and rocky roads, take some beautiful pictures of the surroundings on the rougher east coast of Aruba with its secluded beaches, pounding waves and bocas. Quite an adventure!
Things To Do in Aruba – Day Trips
Renaissance Island is a private island that is only accessible for guests that are staying at the Renaissance Aruba Resort & Casino. The island features two family-friendly beaches called Flamingo Beach and Iguana Beach. From the resort, boat taxis leave every 15 minutes and it takes just 8 minutes to get there. Renaissance Island is open between 7 AM and 7 PM.
De Palm Island is located off the west coast of Aruba. It is operated by De Palm Tours, and it offers an all-inclusive concept including breakfast, a lunch buffet, and snacks from the grill. Daily activities include (power) snorkeling, snuba diving, riding a banana boat, and playing beach volleyball.
As Curaçao is located just 70 miles east of Aruba, a day trip to Curaçao is a fun thing to do if your holiday in Aruba is long enough. Several airlines operate multiple flights to Curaçao daily, it's only a 30-minute flight, and it's affordable.
Just like a day trip from Aruba to Curaçao, a day trip from Aruba to Bonaire is worth considering. By plane, it is only a short trip via Curaçao and several flights a day are being carried out by Insel Air. Bonaire, a diver's paradise, is located just 30 miles east from Curacao and 50 miles north of the Venezuelan mainland.
Especially the beaches of Aruba and Bonaire belong to the best Caribbean beaches you can visit.