Flamingo Beach, your Private Beach in Aruba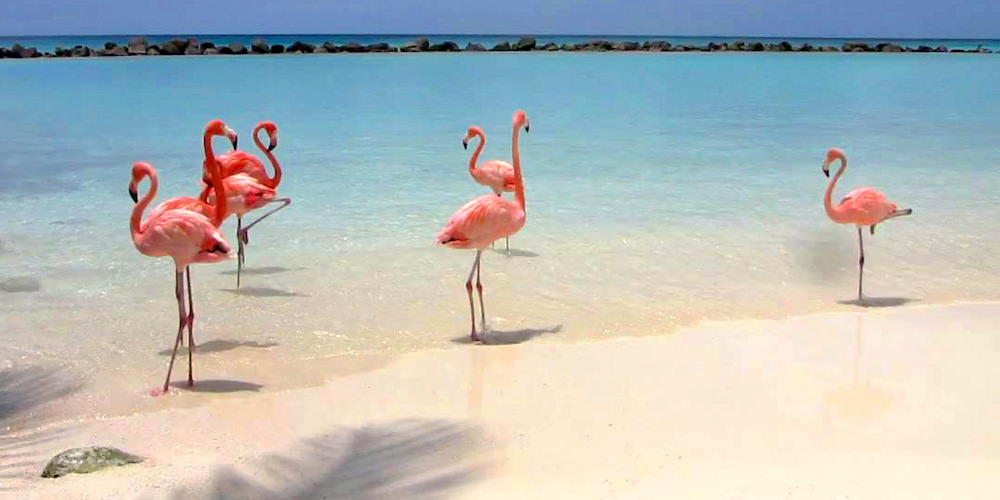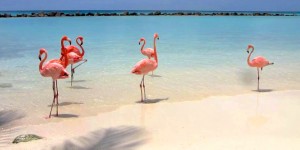 Flamingo Beach (Playa Flamingo) can be reached when you visit Renaissance Island, an artificial, privately owned island of Aruba that is approximately 40 acres large and features a mangrove and two white sandy, beautiful private beaches. Renaissance Island belongs exclusively to the four-star Renaissance Aruba Resort & Casino in Oranjestad. Guests of the Renaissance Aruba Resort & Casino have free access to the private island that is open between 7 AM and 7 PM on a daily basis. When you do not stay at the hotel and you would like to visit Renaissance Island to enjoy your day, buying a day pass and visiting by boat (water taxi) is possible (see our coverage of Renaissance Island under the Things to Do Menu). The boat ride takes you less than 15 minutes.
Flamingo Beach is an adult-only beach. It is situated in the southwest part of Renaissance Island. It offers privacy, quietness, and a spectacular view of the flamingos of Aruba looking for food where the beach enters the ocean. It is a really quiet, world-class beach, the only sound you mostly hear is the wind going through the leaves of the swaying palm trees. Flamingo Beach is a perfect spot for couples' romantic getaways, tasty cocktails, and open-air massages, indeed contributing to a wonderful vacation. It is a place to let go and go for that reborn feeling. Flamingo Beach offers good protection from the trade winds too and that means that you have to use sun protection extensively and cool off by going into the water often. Fortunately, drinks, food and also snacks are very close by to order at the Papagayo Bar & Grill and the newly added Mangrove Beach Bar. When you are looking for a family-friendly beach on this private island, visit Iguana Beach. Both beaches are Aruba's only private beaches.
For guests who stay at the Renaissance hotel beach resort, towels and relaxing beach chairs are free to use. Also, hammocks are available. But also for non-guests that can visit Renaissance Island by buying a day pass, towels and comfortable beach chairs and even a free lunch are available. Because of the adult-only character of Flamingo Beach, topless sunbathing is possible to do when that makes you feel comfortable and relaxed. On the other hand, nudity is prohibited. Adult-only also has to do with the presence of so many pink colored flamingos. They are really everywhere around you when you are visiting Flamingo Beach and they can sometimes be rather disturbing and a little bit too curious. Management of the Renaissance Aruba Resort & Casino Beach Resort has decided not to allow children to minimize the disturbance of the flamingo population. The flamingos around you at Flamingo Beach at Renaissance Island offer great opportunity to make some beautiful selfies or other kinds of pictures while visiting. Flamingo Beach definitely is a special beach with that typical powder-like white sand of Aruba you will love and you should not forget to visit when you are traveling to Aruba to enjoy your Caribbean holidays. Definitely an item worth putting on your bucket list!