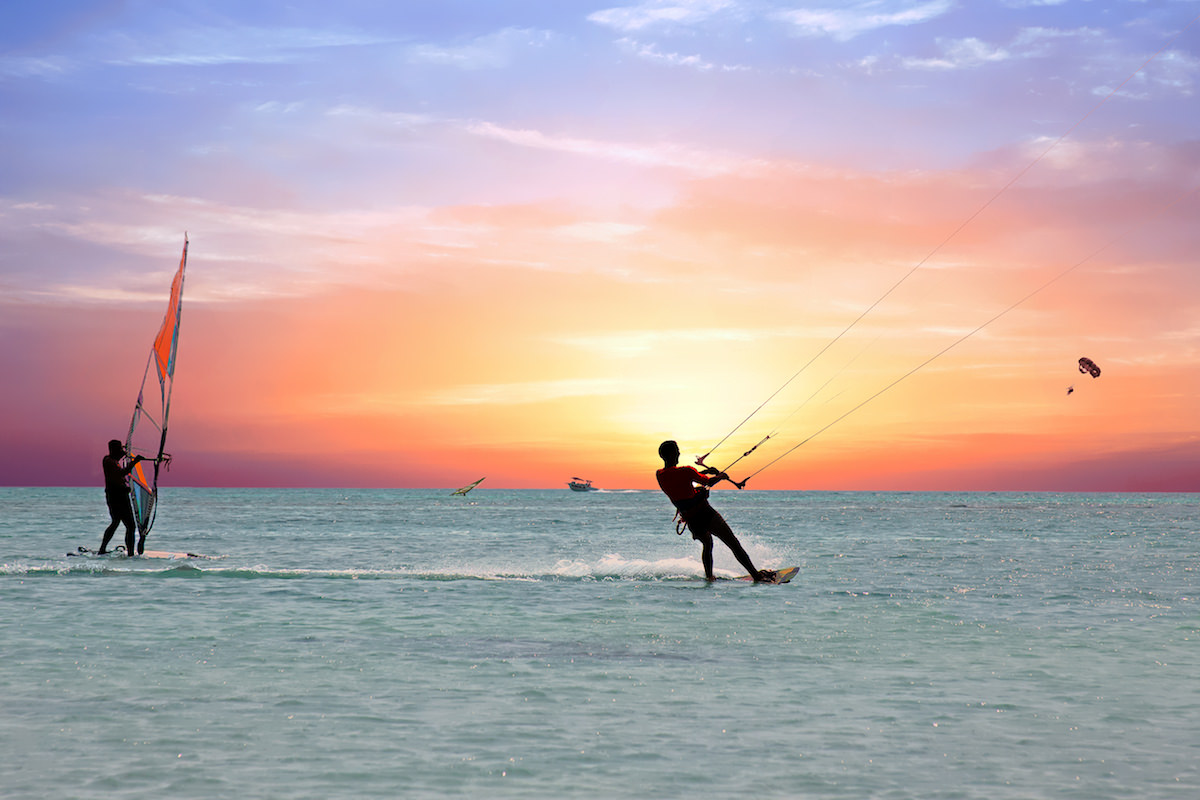 Barcadera Beach
Southeast of Oranjestad and Queen Beatrix International Airport, you will find Barcadera Beach. The beach sits in between the Barcadera Port and a suburban area called Balashi. Barcadera Beach is a secluded beach without any facilities. It mainly consists of very fine white sand combined with a rocky underground and some scattered mangrove vegetation. Some parts of the beach have a dune-like shape. Barcadera Beach is about 400 meters (1300 feet) long, and it varies in width. The water at the beach is calm, shallow and crystal clear. It is a perfect spot to go swimming or snorkeling when you are in the neighborhood. If you come here by car, it should be easy to find a parking spot.
Kitesurfing at Barcadera Beach
With favorable wind conditions, it is a popular place to go windsurfing or kitesurfing in Aruba. You'll get a decent trade wind here from January through August. Winds are blowing from the north-east at a minimum of 15 knots, often at around 25 knots. The winds can be lighter from September into early December, but they'll still be powerful enough to make you work. The water is never flat, and depending on the wind strength, you can see waves of between three feet and ten feet high. You'll have fun playing in the water for hours, as the waves will roll in consistently throughout the day.
The Barcadera Reef
Off the coast of the beach lies the Barcadera Reef. This reef is a favorite diving spot, especially for people who love to go drift diving. The bottom of the ridge is sandy and covered with large gorgonians and coral. The depth of the reef begins at 15 feet and can increase up to 80 feet. The conditions of the reef are still good. It is a healthy and beautiful place where you will spot underwater life such as lobster, barracuda, moray eel, the French angelfish and the pufferfish, among others. Aruba Kayak Adventures uses Barcadera Beach as a pickup point to bring back tourists to their resorts once they've finished guided kayak tours to De Palm Island.
Brouwerij Nacional Balashi Tropical Bottling Company
Head northeast from the beach and you'll arrive at the brewery company called Tropical Bottling Company N.V., famous for its Balashi and Chill brands. Balashi beer was introduced in Aruba back in 1998. Chill Beer was introduced to the Aruban beer market in 2011. Both local beers gained popularity and market share after the Antillian Brewery closed down in 2005. This brewery, located on Curaçao, mainly produced and distributed the popular Amstel Beer. The Tropical Bottling Company N.V. is open to tourists during regular working hours; guided tours are available.
Barcadera Beach Map
Use the Google and Booking map below to explore the area.
Fill in your vacation dates to get a real-time view of available accommodations near Barcadera Beach
How to Get to Barcadera Beach
From Oranjestad, follow directions south to L.G. Smith Blvd. Continue following directions to Camacuri and proceed to Sabana Berde. After driving around the airport, eventually, you will reach a roundabout. Take the second exit and follow directions to Barcadera Port. After making a right turn, head towards Barcadera. Turn right and take the first exit on your left hand. The beach will be right in front of you.