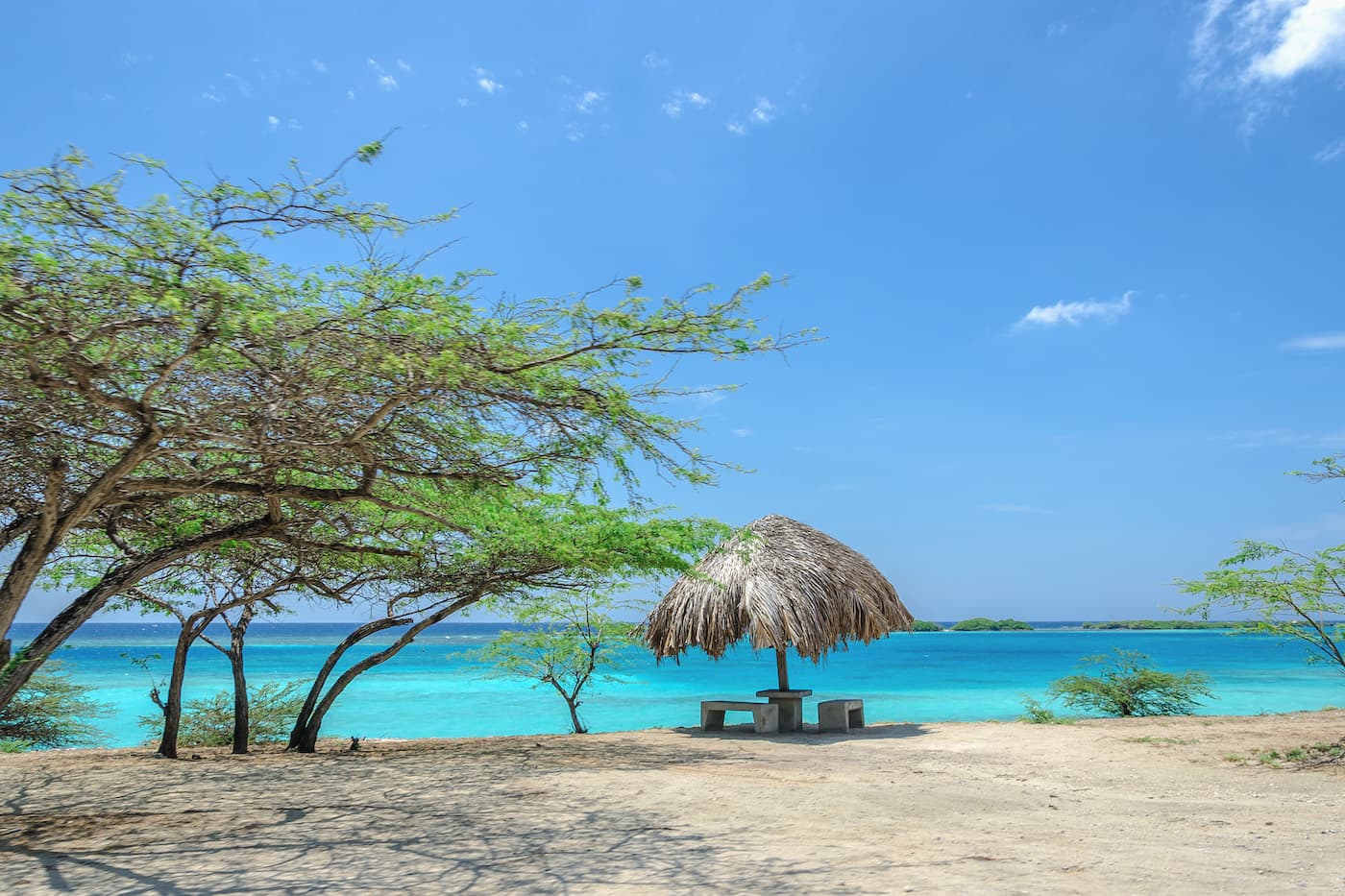 Length: 600 meters
Facilities: bar, cabanas, parking
Activities: snorkeling, scuba diving, canoeing, stand up paddling (SUP)
Next Sunset: 18:51 PM
Next Sunrise: 06:48 AM
About Mangel Halto Beach
Mangel Halto Beach is a secluded beach that is located on the southeast coast of Aruba. In fact, it is one of few secluded beaches you'll find on this side of the island. The beach is approximately 600 meters long and is divided into several parts with sugar-fine sand and vegetation. Up north you will find the Spanish Lagoon, a characteristic point of interest of Aruba, that extends for more than 1.5 kilometers into the mainlands. The beach is well known for its mangrove vegetation and the Mangel Halto Reef that is nearby, you can even walk to it through the shallow water. You'll find great snorkeling, scuba diving and canoeing opportunities here, both for the novice and the experienced. The marine life here is just phenomenal. If you are looking for shallow, calm waters or just a place to enjoy the sun, go for a swim with your children, or have a picnic and meet some locals, Mangel Halto Beach is the right place to go. You may want to bring some beach shoes to protect your feet, as the beach can be quite rocky both on the beach and in the water. Mangel Halto Beach features some beach cabanas to protect you from the sun. The beach can easily be reached by car, bus or taxi, and has a small parking lot nearby.
Mangel Halto Apartments
If you'd like to stay close to Mangel Alto beach during your vacation on the Happy Island, you'll love this selection of Mangel Halto apartments in a small Aruban village called Pos Chiquito, the island's unofficial seventh district.
Mangel Halto Beach Apartments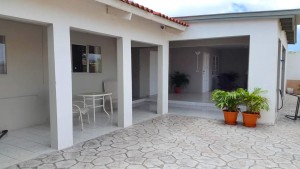 These beach apartments are located less than 100 meters from Mangel Halto and its mangroves, where you can go snorkeling, diving, kayaking and stand up paddling. Both ground floor apartments are family-friendly and feature a fully equipped kitchenette and dining area. Both the private patio and terrace offer stunning ocean views. If you want to stay in and do your own cooking or barbecuing, it's good to know that there are several mini markets and food centers just a few hundred meters from the accommodation. Queen Beatrix International Airport is approximately seven kilometers from the property. Both WiFi and parking are free, and children under two years old can stay for free.
Sea Breeze Apartments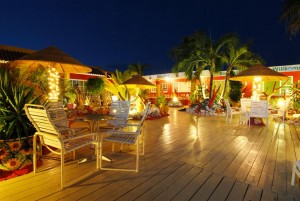 Travel north-west towards the Spanish Lagoon ("Spaans Lagoen"), and you'll find the Sea Breeze Apartments on Malohistraat 5 in Pos Chiquito. They're reasonably priced and located just a few minutes from the beach of Mangel Halto. Ten apartments and studios have free Wi-Fi, modern furnishing, air conditioning, and a well-equipped kitchenette so you can make your own meals. The nearest supermarket is just around the corner. If you'd like to go out for dinner, you'll enjoy Marina Pirata, a fish restaurant with ocean views where you can dig into some of the best lobster of Aruba. The apartments can comfortably accommodate up to four persons or a family with children. The studios were renovated in 2015 and can accommodate two persons. The tropical garden at Sea Breeze has a small outdoor pool which was renovated in 2013, a jacuzzi, BBQ facilities and a small gazebo where you can relax and enjoy Aruba's tropical environment. Guests at the Sea Breeze Apartments who want to go snorkeling or diving at Mangel Halto can use snorkeling equipment and scuba gear for free. There is a shipwreck just a short swim out and an excellent reef just south down the road. It's a great scuba diving spot. Should you need a rental car, just ask Sea Breeze owners Joey and Nelson. They will gladly arrange a rental car for you starting at US$ 175.- weekly, with free mileage.
Highly recommended!
The Hideaway Out Back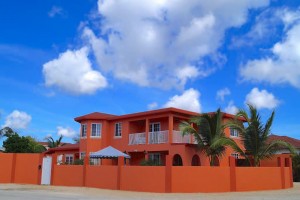 Right behind the Sea Breeze and Mangel Halto Apartments on Pos Chikito 273, you'll find three additional apartments named The Hideaway Out Back. These homes away from home have been decorated in a typical Caribbean colonial style and are perfect for self-catering as well. The apartments feature a fully equipped kitchen with a dining area, microwave oven, and fridge. You'll find several minimarkets, grocery stores, pharmacies, and ATMs nearby. The accommodations all offer garden views, and there's a shared outdoor pool on the premises. Walking to the beach will take you about 5 minutes. Families with children are welcome!
Mangel Halto Beach Map
Use the Google and Booking map below to explore the area.
Fill in your vacation dates to get a real-time view of available accommodations near Mangel Halto Beach
How to Get to Mangel Halto Beach
From Oranjestad make sure you take directions south to L.G. Smith Blvd. Continue following the Blvd south until you reach a roundabout. Take the first exit to Camacuri, then continue to Sabana Berde. As you will be driving around the airport, follow directions to Pos Chikito. At the roundabout keep on driving straight for another 4 kilometers, then make a right turn that brings you to the Spaanse Lagoenweg. Follow the road to reach Mangel Halto.