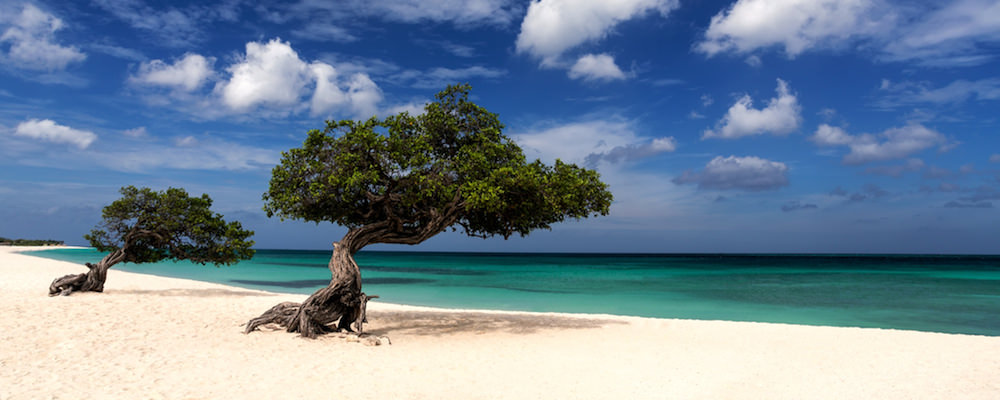 About Aruba – Location
Aruba is located about 1600 kilometers (990 miles) west of the Lesser Antilles in the southern Caribbean Sea. The island lies just 27 kilometers (17 miles) north of Venezuela. Aruba is 33 kilometers long (20 miles), and most of the Aruba beaches can be found on the east and west coast of the island. The beaches of Aruba have a total length of over 19 miles combined. Aruba has a total land area of 179 square kilometers (69 square miles) and is densely populated, with a total of 110,000 inhabitants according to the 2013 population census. The main cities in Aruba are Oranjestad and San Nicolas. Most of the inhabitants live in Oranjestad and its surroundings.
About Aruba – ABC Islands
The capital of Aruba is Oranjestad ("Orange City"). Together with Bonaire and Curaçao, Aruba forms an island group often referred to as the ABC islands. Aruba and the other Dutch islands in the Caribbean are called the Netherlands Antilles or the Dutch Caribbean. Together with the Netherlands, Curaçao, and Sint Maarten, Aruba forms the Kingdom of the Netherlands. The citizens of these countries all share the Dutch nationality. In 1986, Aruba seceded from the Netherlands Antilles to become a separate, autonomous member of the Kingdom of the Netherlands. For census purposes, Aruba is divided into eight regions.
About Aruba – Tourism
Tourism continues to flourish on Aruba, as visitors to the island can reliably expect warm and sunny Aruba weather. In 2013, the number of stayover visitors on Aruba almost reached one million, with an average stay of a little under 8 nights in Aruba hotels. In 2012, more than half of those traveling to Aruba came from the United States, with New York, New Jersey, and Massachusetts being the top visiting states. For US travelers Aruba is still the number one destination in the Caribbean. Also, visitors from Canada are well represented for years in a row.