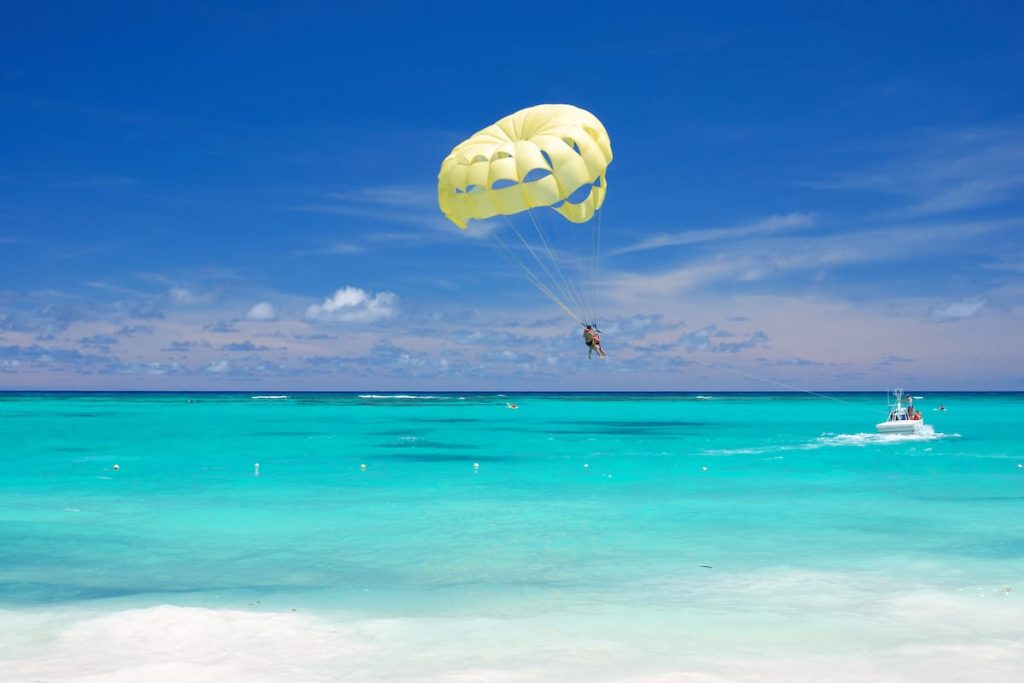 Parasailing is a popular water activity in Aruba, and there is one hotspot where you can go parasailing on the island: Palm Beach!
Palm Beach is a popular tourist area with several water sports operators offering parasailing experiences. You can find various companies located along the beach or near the high-rise hotels in the Palm Beach area. They typically provide guided parasailing trips that allow you to soar above the beautiful coastline and enjoy breathtaking views of the high-rise area.
Parasailing at Palm Beach
What's it Like?
Parasailing over Palm Beach in Aruba is an exhilarating experience that combines adventure and stunning natural beauty. As you ascend into the sky, suspended by a colorful parachute, a sense of freedom washes over you. The panoramic views of the turquoise waters, pristine white sands, and the sprawling coastline are simply breathtaking! You feel the warm Caribbean breeze against your skin as you glide above the palm-fringed shore. From this vantage point, the vibrant beach scene, luxury resorts, and crystal-clear waters create a postcard-worthy sight. The sense of serenity and awe is unmatched as you create memories that will last a lifetime!
How Much Does it Cost?
The cost of parasailing in Aruba can vary depending on several factors, such as the duration of the experience, the operator you choose, and any additional services included. Generally, the price for a single parasailing session in Aruba ranges from $50 to $100 per person.
How Long Does it Last?
Typically, a single parasailing ride lasts around 10 to 15 minutes from the moment you take off to the moment you land back on the boat or the beach. However, some operators may offer longer durations, ranging from 15 to 25 minutes or more!
How High Will I Fly?
Typically, parasailing adventures reach heights ranging from 100 to 500 feet (30 to 152 meters) above the water surface. However, it's important to note that the exact height may be subject to the operator's safety regulations, wind conditions, and other factors.
Book Online & Skip the Line!
Frank's Place Watersport
At Frank's Place Watersport, you'll experience an adrenaline-fueled adventure as you soar above Aruba's High Rise Hotel in Palm Beach! Prepare for an exhilarating ride that promises the best view of the entire island from an unmatched vantage point in the sky. Bring your camera and capture this awe-inspiring moment that will become a cherished memory. Skilled and experienced guides will pair you up for an incredible journey, whether you prefer to go solo, in tandem, or even as a daring trio! Feel the rush as you ascend above the crystal blue waters, taking in the breathtaking beauty of Aruba. Safety is their top priority, and while participants must be at least five years old, the weight restrictions ensure a secure and thrilling experience. Prepare for an adventure of a lifetime as you let the winds carry you on this remarkable parasailing escapade!
Location: On the beach of the Holiday Inn.
Duration: 15 minutes!
Aruba Parasailing Adventure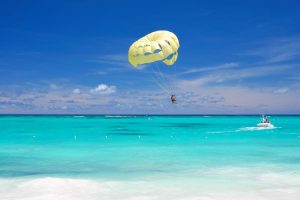 "The best views are often found when we dare to lift our spirits and let our dreams take flight."
With this parasailing excursion, you'll soar above the azure waters for an unforgettable 12-minute thrill from Palm Beach. With the expert guidance of experienced instructors, you'll experience the sensation of flying in the safest way possible. Take in the breathtaking landscape of this tropical island, capturing stunning photos with your camera at every turn. All the necessary gear is provided for your convenience. Whether you ride solo or with a partner, prepare for an extraordinary perspective as you gaze down upon the turquoise waters and pristine white sand coastline. Marvel at the possibility of spotting sea turtles and intriguing shipwrecks in the glistening waters below. Get ready to make memories that will last a lifetime on this remarkable parasailing escapade!
Location: between the Hilton and the Barcelo resorts.
Duration: 30 minutes!
General Parasailing Guidelines
Weight Limit
The specific weight limit can vary depending on the operator and the prevailing wind conditions. However, as a general guideline, solo parasailors usually need to weigh at least 100 pounds (45 kilograms) to fly alone. Tandem and triple flights are also available, with a maximum combined weight limit typically ranging from 350 to 450 pounds (158 to 204 kilograms), depending on the operator and wind conditions. It's important to note that these weight restrictions are implemented to ensure the safety of participants and may be subject to change based on the weather conditions on the day of your parasailing adventure.
Safety
Note that parasailing is not wheelchair accessible and not recommended for travelers with back problems or who are pregnant. Additionally, individuals with heart problems or other serious medical conditions are advised not to participate. These guidelines are in place to prioritize your safety and well-being.