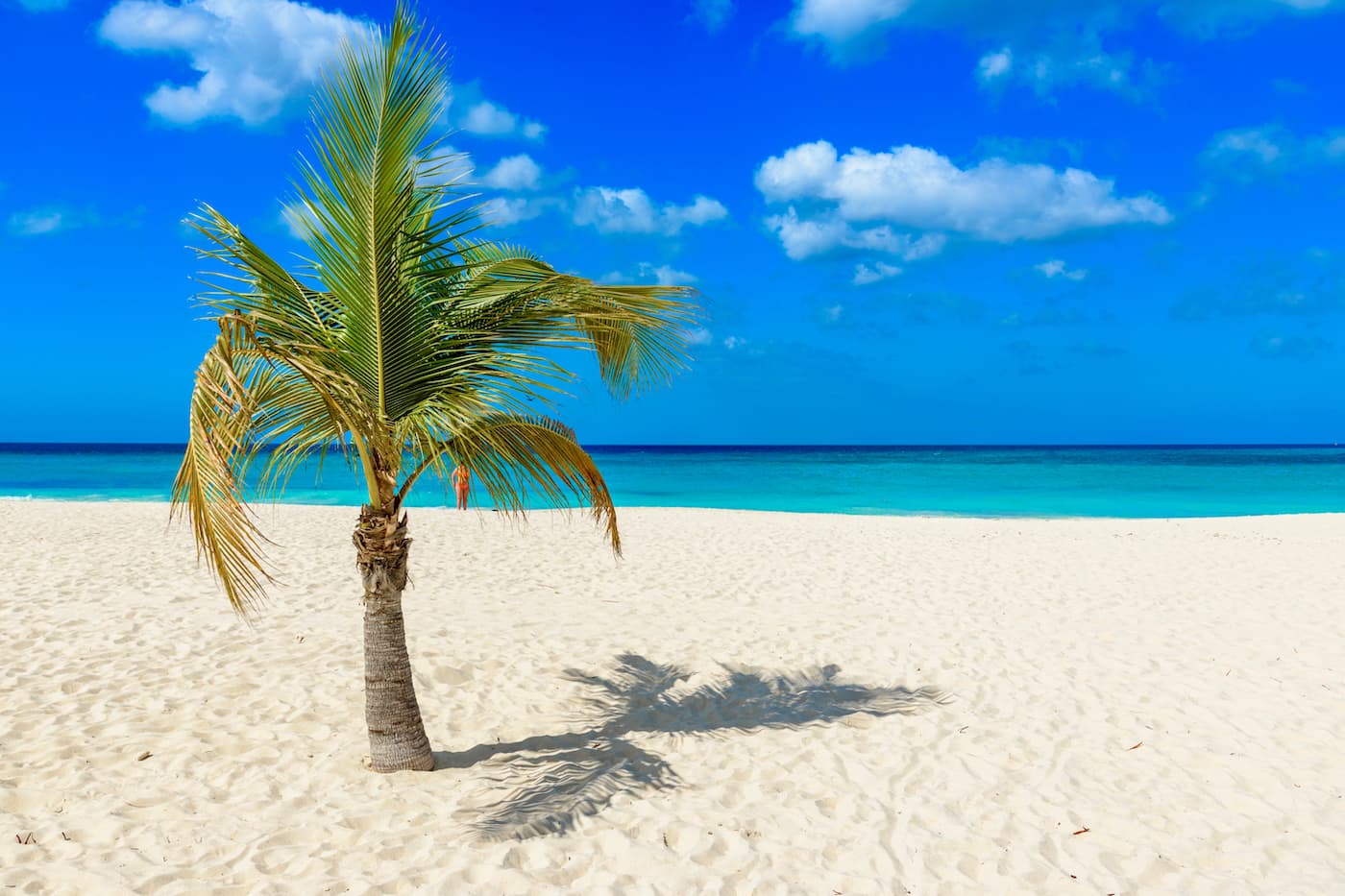 bar, beach chairs, cabanas, parking, restaurant, hotel.
beach tennis, snorkeling, stand up paddling (SUP), swimming.
19:49 PM
07:47 AM
1100 meters.
Great, with a gentle surf.
Eagle Beach Arubus Stop
About Eagle Beach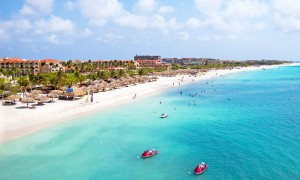 Eagle Beach, famous for its fofoti trees, is located northeast of Manchebo Beach and is simply one of Aruba's best beaches. It goes without saying that this great beach has been reviewed many times in various magazines and brochures, all leading to the same conclusion. It's a beach that is often searched for when people book their accommodation when planning to visit Aruba. It is a quiet sanctuary, away from the hustle and bustle of some of the island's other beaches. In some places, the picture-perfect paradise is over 1000 meters long and very wide. Here is where you will find the perfect white sand that looks like powder on the beach that Aruba is famous for. The beach faces northwest, offering an amazing view of the Caribbean that has often been used as a backdrop to many (wedding) pictures. No wonder it is seen as probably the most beautiful beach in the world. All hotels and beach resorts in the area provide cabanas and beach chairs for guests. Mostly during the weekends, Eagle Beach is a popular spot for beach tennis enthusiasts. Compared to other beaches, Eagle Beach is a fantastic place to go and see on this happy island. You will never forget it. You'll likely come back to it many, many times.
Don't miss happy hour and the amazing sunsets!
Eagle Beach Map
Use the map below to explore the area surrounding the beach.
Fill in your vacation dates to get a real-time view of available accommodations near Eagle Beach!
Beach Bars at Eagle Beach
Water's Edge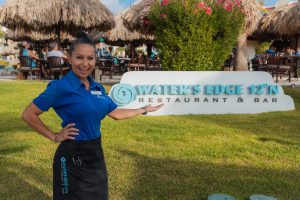 Near the widest (and best) part of Eagle Beach, in front of the Costa Linda Beach Resort, you'll find Water's Edge, one of the best beachfront restaurants in Aruba. This restaurant and beach bar offer beach dining with spectacular ocean views, located in a relaxing and inspirational environment. It's the ideal place to enjoy a gourmet dinner after a day at the beach. Friendly staff attends to your every wish, whether it's in the air-conditioned dining room or right on Eagle Beach under a palapa with your toes in the white sand. For some of the best happy hour in Aruba, head up to the beach bar. It offers three (!) Happy Hours daily (12 noon – 1 PM, 4 PM – 6 PM, and from 9 PM – 10 PM) with all premium brands at lower prices. All day long, the staff pampers guests with a delicious lunch menu and cocktails that include mixed frozen tropical concoctions, local beers (Balashi Chill Draft, Heineken), and international wines, all served right at your beach lounge.
Coco Loco Beach Bar
The Coco Loco Beach Bar on Eagle Beach is a fantastic spot to indulge in frozen drinks, cold beer, and delicious food while lounging on the beach. The bar offers an incredible location, making it an excellent place to relax and watch the sunset while enjoying the lively music and perfect vibe. In addition to the lively music and perfect atmosphere, the Coco Loco Beach Bar also offers an extensive menu of food, which visitors highly praise. The chicken sate with peanut sauce is one of the many menu items that have accolades for being amazing. Guests can also indulge in refreshing drinks, including frozen cocktails and cold local beers, perfect for cooling off on a hot day. Beach chairs and umbrellas are available to rent. The beach bar also has an open-air shower that provides the perfect opportunity to rinse off after a swim in the stunning waters of Eagle Beach. The bar offers a great place to relax, soak up the sun, swim, and enjoy the company of friends and family. Coco Loco is located on the south side of Eagle Beach, near the parking lot and the Eagle Beach playground. You can't miss it, just look for the beautiful artwork on the walls of the bar.
Where to Stay near Eagle Beach - Our Top Picks
Amsterdam Manor Beach Resort ⭐⭐⭐⭐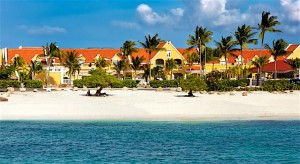 Up north, there's the four-star Amsterdam Manor Beach Resort, a highly acclaimed 72-room hotel that offers relaxing facilities, spacious studios, and suites with fully equipped kitchens. The family-run Amsterdam Manor is a four-star eco-friendly beach resort built in a style that reminisces the early seventeenth-century Dutch colonial era. Built in 1983 and designed by a famous Dutch architect, the beach resort's colors make it stand out among the other Aruba accommodations in the area. It is the northernmost resort at Eagle Beach, near the wetlands of the Bubali Bird Sanctuary that divides Eagle Beach and Palm Beach. The resort is centrally located near Oranjestad and just about a 15-minute drive from Queen Beatrix International Airport. You'll find plenty of dining opportunities, shops, casinos, a pharmacy and a large food plaza in the vicinity of the Amsterdam Manor. Guest activities include two daily Happy Hours and movie nights on the beach.
Divi Aruba Phoenix Beach Resort ⭐⭐⭐⭐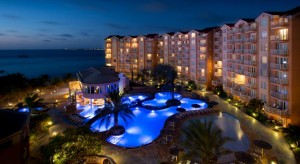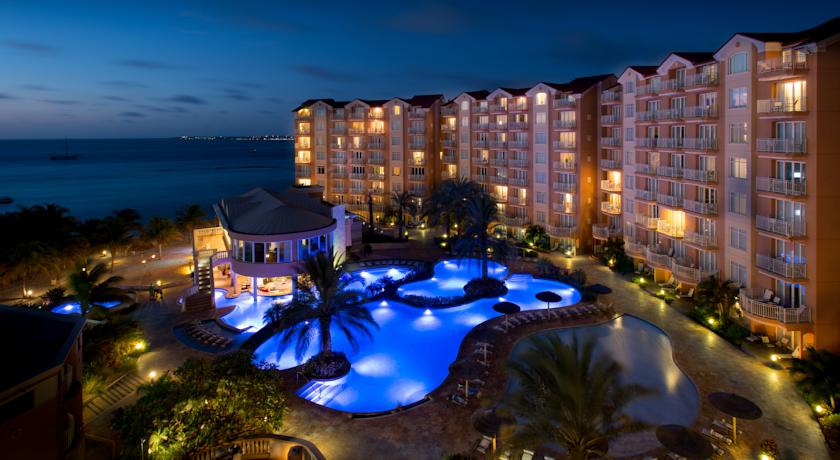 Nestled suitably on the whitest powder sands of the Caribbean, the Divi Aruba Phoenix Beach Resort is a four-star hotel which offers a full range of modern amenities to accompany a collection of spacious suites. Equipped with a comfortable sofa, queen or king-size beds, cable TV, free Wi-Fi, private bathroom, air conditioning, modern decor, and a balcony to relax further after a day on the beach – the luxurious standard of these rooms will ensure every need is catered for on your Caribbean vacation. However, there is much more to Divi Aruba Phoenix Beach Resort than these beautifully designed suites and you will also find an enormous number of facilities on site to help keep you entertained. Two swimming pools (including a hot tub and children's pool), a fitness center, spa and sauna, tennis courts, bike rental, and a fantastic kids club. In fact, there are many more options for entertainment in the area which are then nicely complimented by a large number of water sports and even a 9-Hole Golf course.
Bucuti & Tara Beach Resort - Adult Only ⭐⭐⭐⭐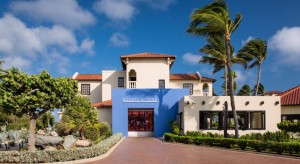 A little further south just above Manchebo Beach, you'll find the four-star Bucuti & Tara Beach Resort, an adult-only boutique resort featuring an ocean-front restaurant with amazing views and healthy food options. The resort is near to Alhambra Casino and a shopping center. The highly-acclaimed four-star Bucuti & Tara Beach Resort is located right at the widest and most secluded part of Eagle Beach Aruba. It is an intimate escape for people looking for relaxation and romance, located safely away from the far busier Aruba high-rise hotels. Whether is's day or night, the powdery white sands that surround the resort are just breathtaking.
The MVC Eagle Beach Hotel ⭐⭐⭐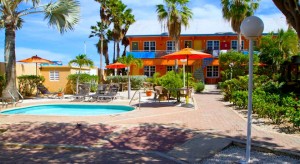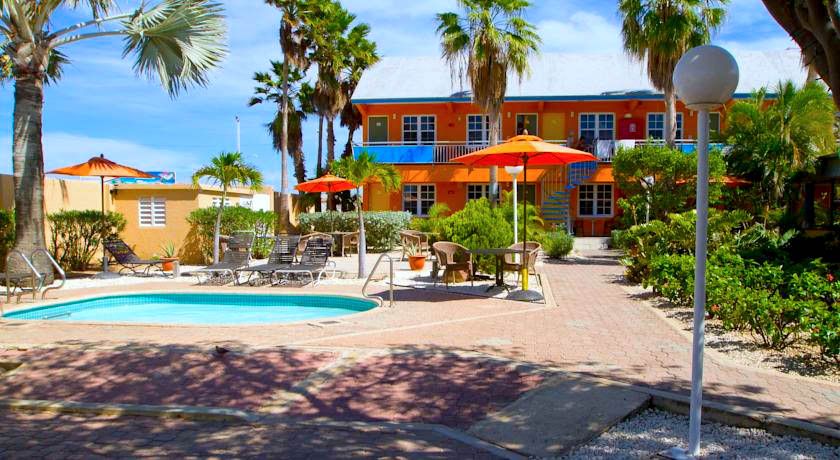 Walk a few hundred meters south along Eagle Beach, and you'll find the three-star MVC Eagle Beach Hotel. It is located just a few steps from the beach. It's a small family hotel in a boutique style with just 19 rooms, 3 of which are suitable for families of up to 4 persons. Outdoor facility highlights include a freshwater outdoor pool, a tennis court and there's a jogging trail near the hotel. Although the hotel is situated in a quiet area, there are several restaurants, nightlife venues, and shops nearby at a walkable distance. Dining on the beach can be done at Passions On The Beach, seafood, and international cuisine can be enjoyed at the Carambola Seafood restaurant. In general, prices are reasonable. There's a nearby supermarket, and 2 mini markets can be found at La Cabana Hotel and the Amsterdam Manor Beach Resort.
Things To Do at Eagle Beach
Eagle Beach Yoga and Wine
How about treating yourself to a little slice of paradise with Wine and Yoga on Eagle Beach? It's the perfect way to unwind and embrace the weekend vibes. Picture yourself practicing yoga on the stunning number 2 beach in the world, surrounded by swaying sea grape trees, the soothing sound of waves, and breathtaking sunset views. This unique experience combines relaxation, fun, and the joy of sipping wine as you challenge yourself with yoga poses. It's a delightful blend of serenity and playfulness. No worries if you're new to yoga – all levels are welcome, starting from 16 years old. After an hour of yoga bliss, we'll indulge in more wine and capture stunning photos against the backdrop of the setting sun. Let them know if you're looking for a private session or alternative dates, times, or locations! Get ready for a truly memorable and rejuvenating experience. Namaste!
Swimming
Swimming at Eagle Beach in Aruba is a delightful experience. The water is clear, calm, and warm, with a refreshing temperature of around 80°F (27°C) all year round. The beach's powdery white sand is soft and easy to walk on, and the gentle slope of the shoreline makes it easy to enter and exit the water. The sea at Eagle Beach is relatively calm due to the shelter provided by the island's position, making it a great spot for swimming and other water activities. You might even spot a pelican or two. The shallow water near the shore is perfect for wading or swimming with children. Lifeguards also monitor designated swimming areas during the day, ensuring a safe swimming experience. Visitors can also enjoy other water activities at Eagle Beach, such as paddleboarding, kayaking, and parasailing. The calm waters and gentle breeze make it an ideal location for these activities, and equipment rental is readily available along the beach.
Snorkeling
You'll love this slice of paradise – swimming here is terrific, but Eagle Beach may not be the best snorkeling spot on the island. While the water is crystal clear and there is plenty of fish to see, the shallow waters near the shore do not have as many coral formations as other areas of the island, which can limit the variety of marine life that you can see while snorkeling. There are several other locations on Aruba that are better suited for snorkeling. Malmok Beach and Boca Catalina, located on the island's northwestern coast, are known for their coral formations and abundant marine life. Arashi Beach and Tres Trapi are great snorkeling spots with clear waters and plenty of action! You'll love Tres Trapi in particular, where the sea turtles often come out and swim. See: The Best Snorkeling Spots in Aruba for more information.
How to Get to Eagle Beach

From Oranjestad
To get to Eagle Beach from Oranjestad, head northwest on Zoutmanstraat toward Arnold M Schuttestraat. Take the first right turn, then turn left onto Wilhelminastraat. Take the first left onto Arnold M Schuttestraat. Turn right onto L.G. Smith Blvd/Lloyd G, then continue to follow Lloyd G. Smith Blvd. Go through a roundabout, then at the next roundabout, take the third exit onto L.G. Smith Boulevard/Sasaki Weg. Turn right onto Caya Punta Brabo 700, then make a slight right to merge onto J.E. Irausquin Blvd. Make a U-turn, then a slight right to reach the large parking area at the beach. The hotels and resorts of Eagle Beach Aruba are very close by.
From the Cruise Ship Terminal (by taxi or bus)
Taxis are readily available at the Cruise Ship Terminal, and the ride to Eagle Beach should take around 15-20 minutes. The cost will depend on the time of day and the number of passengers, but the approximate cost is $20-$30 USD each way. The Arubus public transportation system has a route that runs from the Cruise Ship Terminal to Eagle Beach. The bus route number is 10A, and it operates every 15-20 minutes during the day. The cost is $2.60 USD per person each way, and exact change is required. Keep in mind that the bus may be crowded, and it may take a bit longer than a taxi ride.
After Eagle Beach, There's Always Another Beach to Explore!