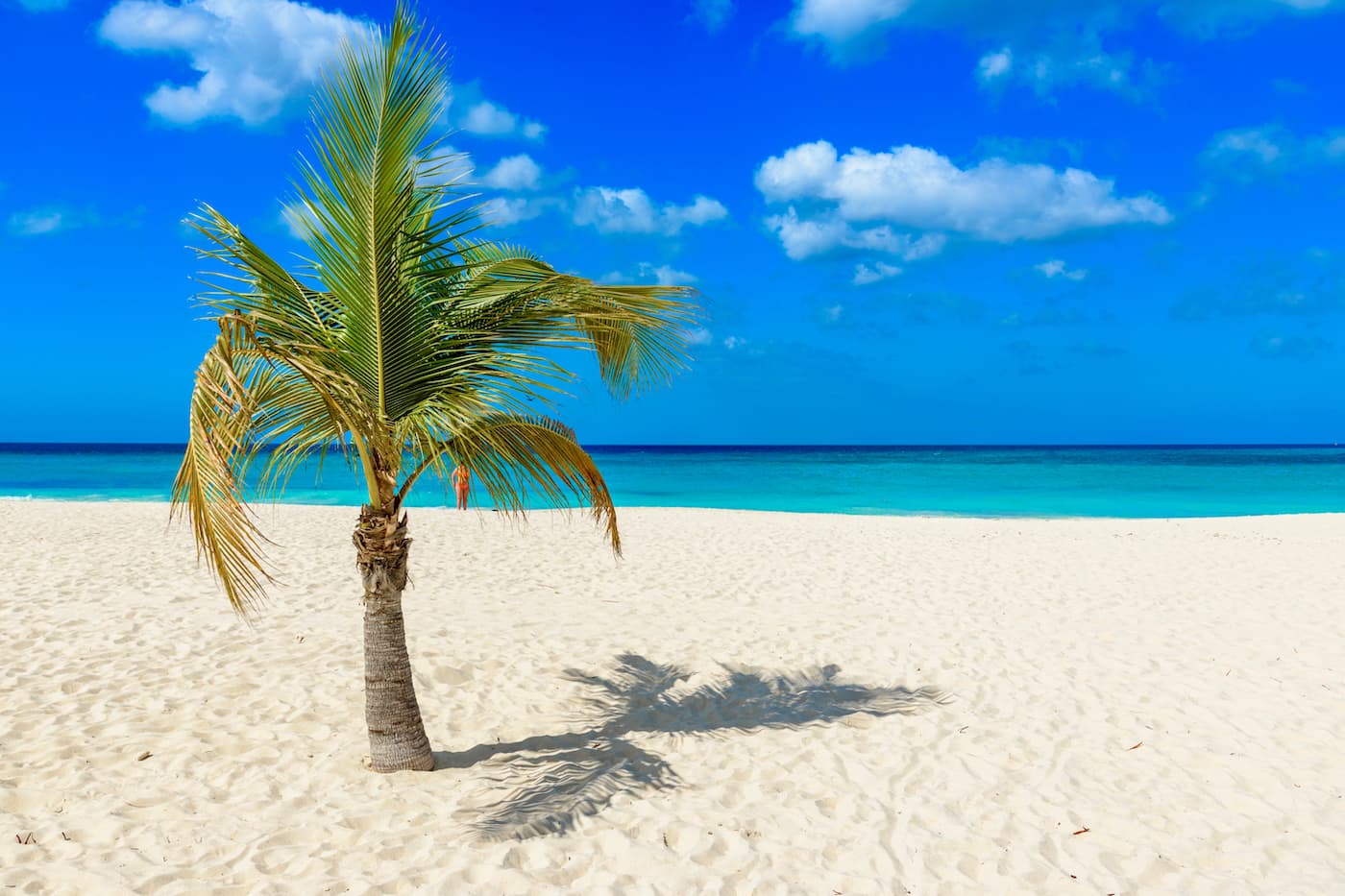 Length: 1100 meters
Facilities: bar, beach chairs, cabanas, parking, restaurant
Activities: beach tennis, snorkeling, swimming
Swimming Conditions: Great, with a gentle surf.
Bus Stop: Eagle Beach Arubus Stop
Next Sunset: 19:14 PM
Next Sunrise: 07:11 AM
About Eagle Beach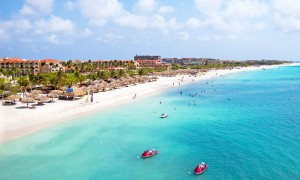 Eagle Beach, famous for its fofoti trees, is located north-east of Manchebo Beach, and it's simply one of the best beaches of Aruba. It goes without saying that this great beach has been reviewed many times in various magazines and brochures, all leading to the same conclusion. It's a kind of beach that is being searched for a lot when people are booking their accommodation when they plan on visiting Aruba. It is a quiet sanctuary, away from the hustle and bustle of some of the other beaches of the island. The picture-perfect paradise is over 1000 meters long and very wide in some places. Here is where you will find the perfect white sand that looks like powder on the beach that Aruba is so famous for. The beach faces northwest, offering an amazing view of the Caribbean that has often been used as a backdrop to many (wedding) pictures. No wonder it is seen as probably the most beautiful beach in the world. All hotels and beach resorts in the area provide cabanas and beach chairs for guests. Mostly during the weekends, Eagle Beach is a popular spot for beach tennis enthusiasts. Compared to other beaches Eagle Beach is an awesome place to go and see on this happy island, you will never forget it. You'll likely come back to it many, many times. Don't miss happy hour and the amazing sunsets!
Snorkeling
You'll absolutely love this slice of paradise – swimming here is terrific – but there is no good snorkeling anywhere along this part of Aruba. It will be all sand, and there are no coral heads here to explore. If you want to snorkel off a beach either drive (or take a bus) north towards the California Lighthouse and stop at either Malmok Beach or the next one, Boca Catalina. Both spots have relatively shallow waters with lots of reef fish, especially grunts. Another option would be to to go on a sailing or snorkeling trip.
Restaurants & Beach Bars
Water's Edge
Near the widest (and best) part of Eagle Beach, in front of the Costa Linda Beach Resort, you'll find Water's Edge, one of the best beachfront restaurants in Aruba. This restaurant and beach bar offer beach dining with spectacular ocean views, located in a relaxing and inspirational environment. It's the ideal place to enjoy a gourmet dinner after a day at the beach. Friendly staff attends to your every wish, whether it's in the air-conditioned dining room or right on Eagle Beach under a palapa with your toes in the white sand. For some of the best happy hour in Aruba, head up to the beach bar. It offers three (!) Happy Hours daily (12 noon – 1 PM, 4 PM – 6 PM, and from 9 PM – 10 PM) with all premium brands at lower prices. All day long, the staff pampers guests with a delicious lunch menu and cocktails that include mixed frozen tropical concoctions, local beers (Balashi Chill Draft, Heineken), and international wines, all served right at your beach lounge.
Where to Stay near Eagle Beach
Eagle Beach Map
Use the Google and Booking map below to explore the area.
Fill in your vacation dates to get a real-time view of available accommodations near Eagle Beach
How to Get to Eagle Beach
From Oranjestad
To get to Eagle Beach from Oranjestad, head northwest on Zoutmanstraat toward Arnold M Schuttestraat. Take the first right turn, then turn left onto Wilhelminastraat. Take the first left onto Arnold M Schuttestraat. Turn right onto L.G. Smith Blvd/Lloyd G, then continue to follow Lloyd G. Smith Blvd. Go through a roundabout, then at the next roundabout, take the third exit onto L.G. Smith Boulevard/Sasaki Weg. Turn right onto Caya Punta Brabo 700, then make a slight right to merge onto J.E. Irausquin Blvd. Make a U-turn, then a slight right to reach the large parking area at the beach. The hotels and resorts of Eagle Beach Aruba are very close by.