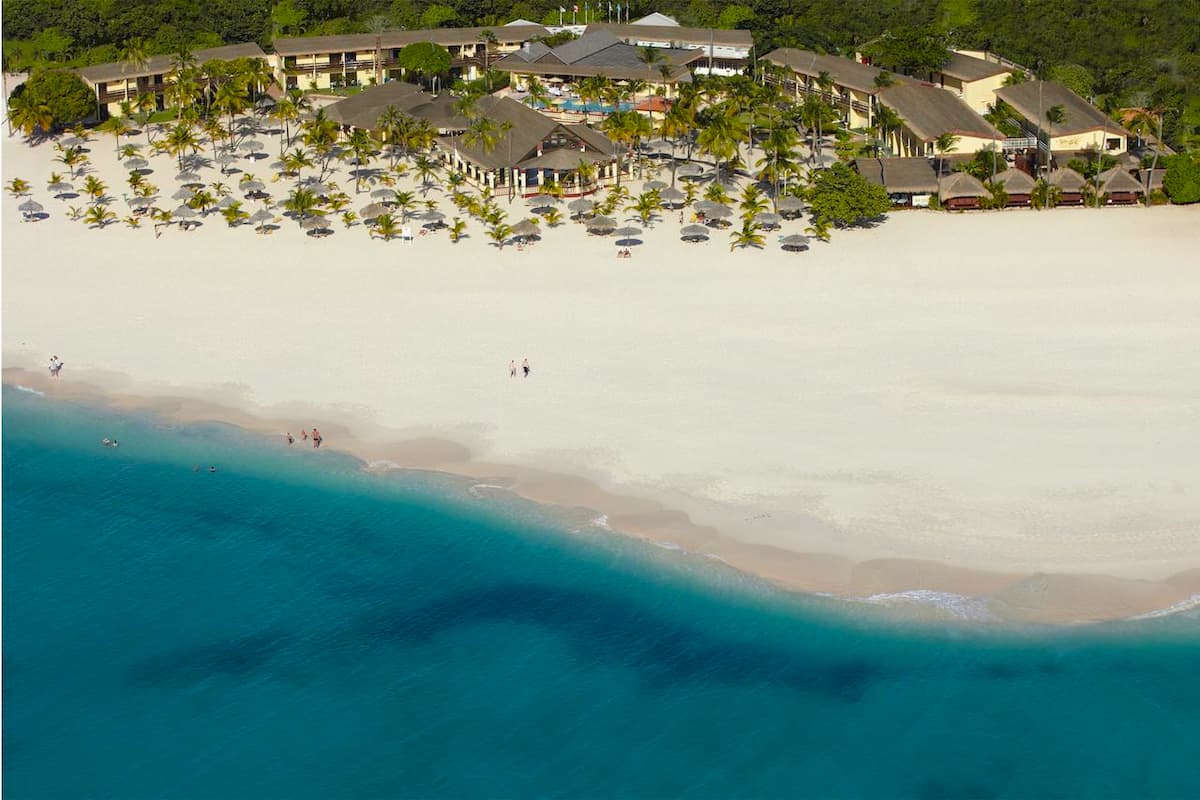 bar, beach chairs, cabanas, parking, restaurant, hotel.
snorkeling, stand up paddling (SUP), swimming.
19:51 PM
07:49 AM
800 meters.
A swimmer's dream.
Manchebo Beach Arubus Stop
About Manchebo Beach
Though it's sometimes hard to tell exactly where one beach ends and another beach starts, Manchebo Beach is located right in front of the Manchebo Beach Beach Resort & Spa, that's located on the shores of the majestic Eagle Beach. Also known as Punta Brabo, the beach at the Manchebo Beach Resort is by far Aruba's widest beach, offering shade cabanas and plenty of beach lounges. This beautiful and wide beach is curved, approximately 800 meters long and 90 meters at its widest, and mainly faces west. Just throw your towels out on the silky white sand and spend the whole day here – ordering drinks from a nearby beach bar. Conclude your day at the beach by enjoying some of the best Happy Hour in Aruba at the Pega-Pega Café Beach Bar, it goes from 5 until 6 PM. This gorgeous beach has several restaurants nearby to enjoy a healthy lunch. Don't forget to watch the sunset here – it's absolutely stunning! The beach at Manchebo is just another piece of paradise in Aruba!
Manchebo Beach Map
Use the map below to explore the area surrounding the beach.
Fill in your vacation dates to get a real-time view of available accommodations near Manchebo Beach!
Beach Bars at Manchebo Beach
Pega Pega Beach Bar & Grill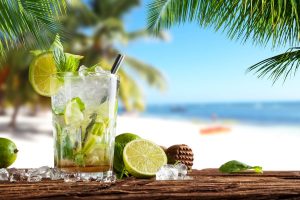 Located on the stunning Manchebo Beach, the Pega Pega Beach Bar & Grill is the perfect destination to indulge in various colorful tropical cocktails, fresh fruit smoothies, and local brews while enjoying a range of delicious food options. Whether you are looking for fish tacos, fresh salads, paninis, or burgers, the Mega Mega Beach Bar & Grill has something to offer everyone. The bar is a favorite open-air gathering spot for casual fare and delicious drinks. Guests can dine at the bar, on tables on the terrace, or beneath a palapa on the beach, where they can enjoy their meals with their toes in the sand. To order food or drinks, guests must stake an orange flag in the sand to signal to their beach waiter that they are ready for lunch or a cocktail! The Pega Pega Beach Bar & Grill visitors have praised the stunning view, good food, perfect virgin mojito, and affordable prices. The Spicy Mango cocktail has been particularly praised for its surprisingly delicious taste. The restaurant also offers a range of vegan options, making it an excellent choice for vegans and vegetarians. Local beers on offer include Balashi and Chill. Or you can go Dutch with Amstel Bright and Heineken!
Where to Stay near Manchebo Beach - Our Top Picks
Bucuti & Tara Boutique Beach Resort - Adult Only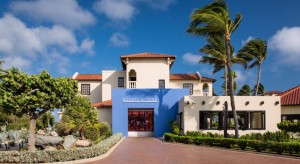 The Bucuti Tara Beach Resort is an idyllic and luxurious resort located on the pristine white sands of Eagle Beach in Aruba. Focusing on sustainability and eco-friendliness, the resort provides a serene and peaceful atmosphere for guests to relax and unwind. The resort features 104 spacious and well-appointed rooms and suites, each with a private balcony or terrace and stunning views of the turquoise waters of the Caribbean Sea. Guests can enjoy modern amenities like flat-screen TVs, mini-fridges, and free Wi-Fi. The Bucuti Tara Beach Resort offers guests a wide range of activities and amenities to enjoy, including an oceanfront infinity pool, a full-service spa, a fitness center, and a range of water sports, such as snorkeling and kayaking. Guests can also participate in yoga classes (Vinyasa, Hatha, Ashtanga, Yin Yoga), cooking classes, and wine tastings. The resort has several dining options, including the highly acclaimed Tara Lounge and the intimate and romantic Elements restaurant. The resort's restaurants feature locally sourced ingredients, sustainable seafood, and organic produce, focusing on healthy and delicious cuisine. One of the most remarkable features of the Bucuti Tara Beach Resort is its commitment to sustainability and eco-friendliness. The resort has received numerous awards and certifications for its environmental initiatives, including a Gold Certification from Green Globe. It is one of the few carbon-neutral resorts in the Caribbean. And very romantic!
The Manchebo Beach Resort and Spa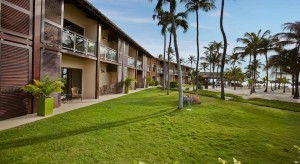 The Manchebo Beach Resort and Spa is a beautiful and intimate resort located on the stunning white sands of Manchebo Beach in Aruba. The resort focuses on wellness and relaxation, offering guests a serene and tranquil atmosphere to rejuvenate and unwind. The resort features 72 spacious and comfortable rooms and suites, each with a private balcony or patio and beautiful views of the gardens, pool, or ocean. The rooms are decorated in a tasteful and elegant style and feature modern amenities such as flat-screen TVs, free Wi-Fi, and air conditioning. The Manchebo Beach Resort and Spa offer guests various activities and amenities, including a large outdoor pool, a full-service spa, a fitness center, and a yoga and meditation pavilion. Guests can also participate in water sports such as kayaking, paddle boarding, and snorkeling or take a bike ride along the beach. The resort has several dining options, including the popular Pega Pega Beach Bar and Grill, which offers delicious and healthy cuisine, and the romantic and intimate Omakase Sushi Bar, which features fresh and locally sourced ingredients. The resort's spa offers a range of wellness treatments and therapies, including massages, facials, and body scrubs, all using natural and organic products. The resort is also committed to sustainability and has implemented numerous eco-friendly initiatives to reduce its environmental impact.
All Inclusive - Divi Village Golf and Beach Resort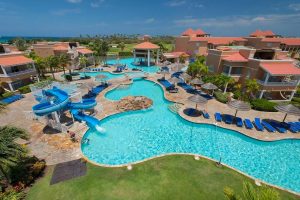 The Divi Village Golf and Beach Resort is a sprawling resort located near the beach and is surrounded by lush tropical gardens. The resort offers a range of accommodations, including spacious suites and villas. Each room is elegantly decorated and equipped with all the modern amenities guests may need, including air conditioning, flat-screen TVs, and free Wi-Fi. Some rooms also feature fully equipped kitchens and private balconies or patios. One of the highlights of the Divi Village Golf and Beach Resort is its golf course. The resort boasts a 9-hole golf course open to guests and non-guests alike. The course is challenging enough for experienced golfers yet accessible for beginners. The resort also offers multiple swimming pools, a spa, a fitness center, and various restaurants and bars. The restaurants offer a variety of cuisines, from Italian to seafood, and there are plenty of options for casual and formal dining. The resort's location is also a major draw for guests. It is just a short walk from Manchebo, Eagle, and Druif Beach, where guests can enjoy water sports, sunbathing, and stunning sunsets. Returning visitors know it's one of the best all inclusive resorts in Aruba!
Things To Do at Manchebo Beach
Swimming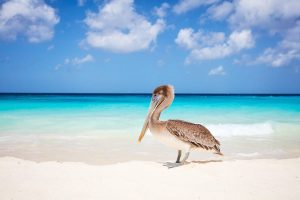 Swimming at Manchebo Beach is an enjoyable and refreshing experience. The crystal-clear water is warm and inviting, and the gentle waves create a calming and soothing atmosphere. The water at Manchebo Beach is typically calm, making it an ideal spot for swimming, snorkeling, and other water activities. The beach has a long stretch of shoreline, providing ample space for swimmers to enjoy the water without feeling crowded. One of the most significant advantages of swimming at Manchebo Beach is the absence of strong currents, making it a safer option for swimmers of all levels. The water is also shallow, allowing swimmers to wade out comfortably and enjoy the waves without fear of getting carried away. In addition to swimming, visitors to Manchebo Beach can enjoy other water activities, such as paddleboarding, kayaking, and windsurfing. The beach is well-equipped with rental shops that offer a range of equipment and gear for these activities. Overall, swimming at Manchebo Beach is a delightful experience. The occasional pelican will agree!
Kayaking
Kayaking near Manchebo Beach and Druif Beach is an exciting and unique experience that allows you to explore the island's stunning coastline and marine life. The clear turquoise waters of Aruba's coast provide a perfect environment, with calm and shallow water that is ideal for beginners and experienced kayakers alike. There are a variety of kayaking options available near Manchebo Beach, ranging from guided tours to rentals for independent exploration. You'll enjoy the scenic coastline and views of the stunning beaches and rock formations. There is also an opportunity to observe marine life, such as colorful tropical fish, sea turtles, and other aquatic creatures. Paddle through mangroves, explore secluded coves, and discover hidden beaches that are only accessible by water. Kayaking near Manchebo Beach is a great way to get some exercise too! It's an eco-friendly way to explore and observe nature up close.
How to Get to Manchebo Beach

To get to Manchebo Beach from Oranjestad, head northwest on Zoutmanstraat toward Arnold M Schuttestraat. Take the first right, and turn left onto Wilhelminastraat. Take the first left onto Arnold M Schuttestraat, then turn right onto L.G. Smith Blvd. Continue to follow Lloyd G. Smith Blvd. Go through the roundabout, and at the next roundabout, take the third exit onto L.G. Smith Boulevard/Sasaki Weg. Turn right onto Caya Punta Brabo, then make a light right to merge onto J.E. Irausquin Blvd. Lastly, make a U-turn, the beach will be on the right.
After Manchebo Beach, There's Always Another Beach to Explore!