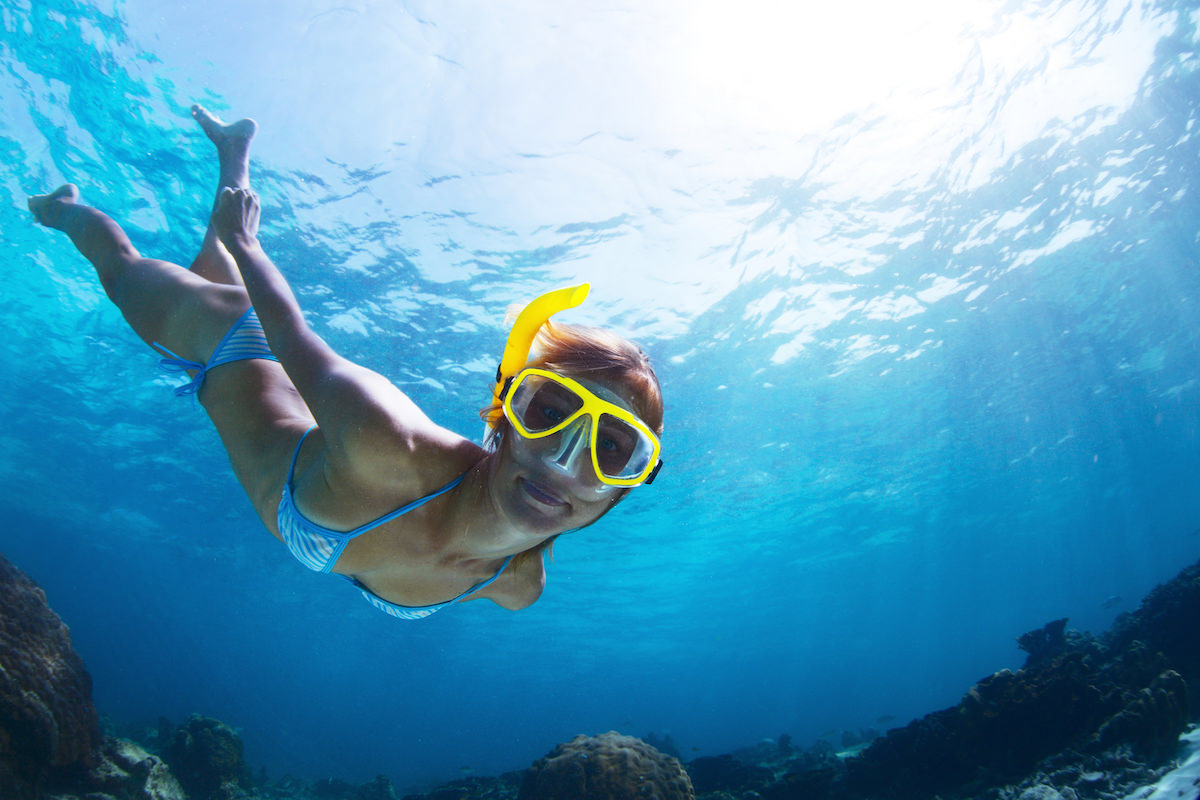 On this page you can learn more about some of the best snorkeling spots on the island.
You'll see why snorkeling is one of the most popular things to do in Aruba !
All snorkeling spots are easily accessible from the mainland. Although you could practically strap on your snorkeling gear at almost any of Aruba's beaches and spot some tropical fish in the Caribbean the easy way, it takes a little more effort to get to the good snorkeling spots that make it worthwhile.
Aruba boasts plenty of coral reefs, marine life, and shipwrecks to keep scuba divers and snorkelers busy for their entire vacation, and many people travel to Aruba for this reason alone. The good thing about Aruba is that the island doesn't have an overwhelming amount of interesting snorkeling spots to begin with, so even though your vacation in Aruba may be short, you can be confident enough that you've done some of the best snorkeling with just a little bit of planning!
Tres Trapi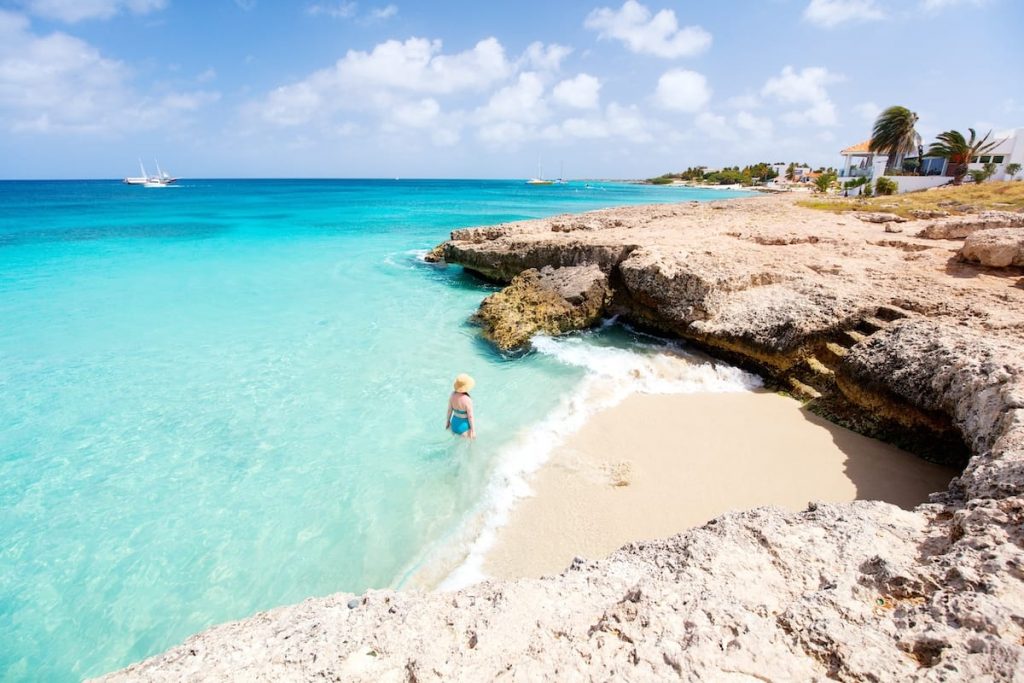 Tres Trapi is an incredible snorkeling spot that captures the essence of the Caribbean. If you want to see sea turtles, this is the place to be. That's why it's at the top of our list. Tres Trapi is situated north of Palm Beach, between Boca Catalina and Malmok Beach. Finding it is a breeze – keep an eye out for a stunning 7-foot coral wall with an entrance. Swim close to the cliffs, and you'll witness an abundance of fish swimming among the fallen rocks.
If you're up for some adventure, swim towards the shipwreck about 0.4 miles away. There, you may have the chance to see sea turtles and even spot a few starfish. For those seeking an adrenaline rush, there's a cliff where you can jump from about 5 feet above the water into a refreshing depth of around 6 feet. To attract tropical fish, bring an empty water bottle and fill it with small pieces of bread. Just cut some small holes in the top. Once the bottle is filled with seawater, you can disperse the bread crumbs to entice the fish.
Read more about Tres Trapi and how to get there.
Boca Catalina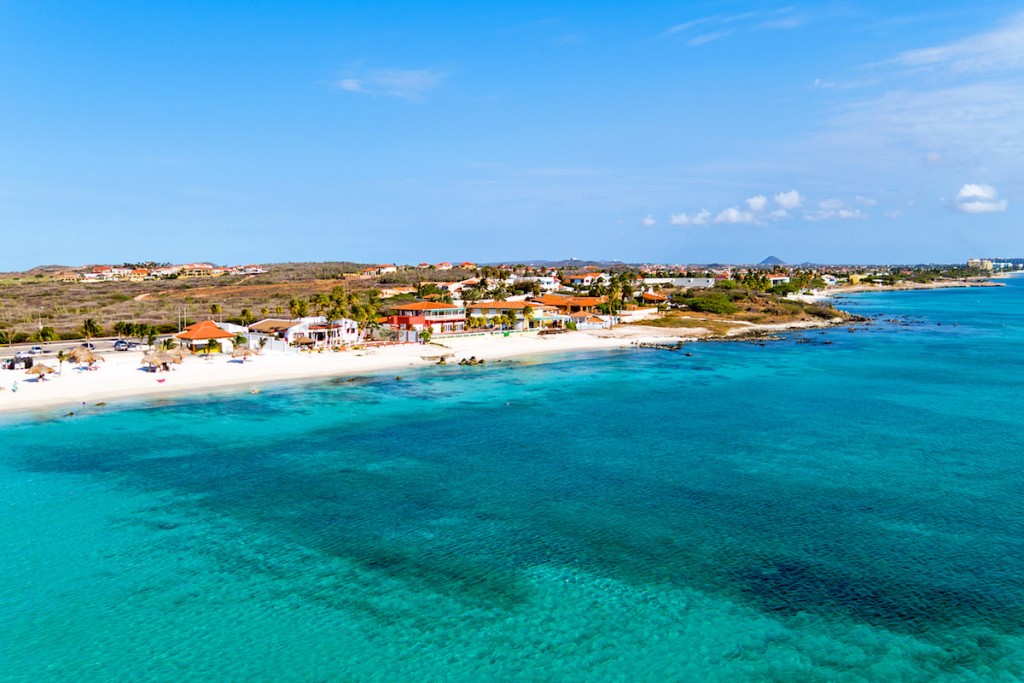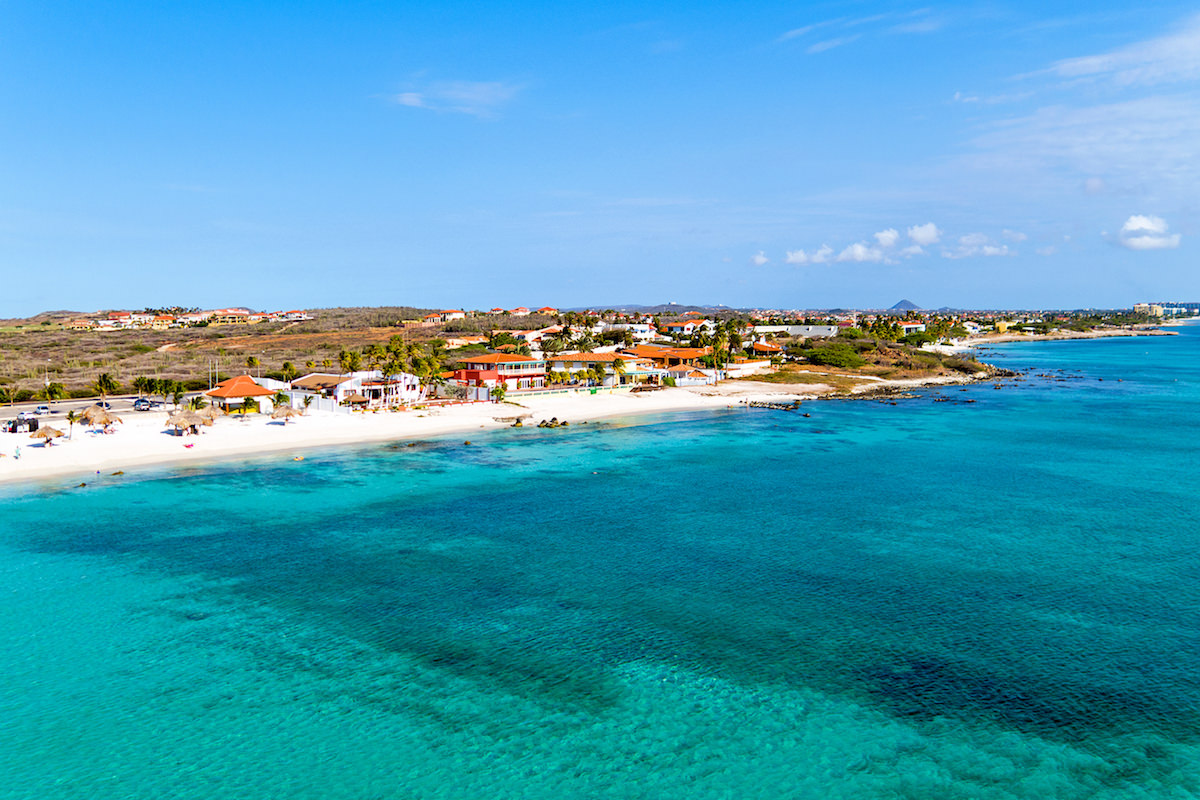 Boca Catalina is hands down one of the best swimming and snorkeling spots in Aruba. Just ask the locals! They love coming here during the weekends. The beach is located in a residential area, between Arashi Beach and Malmok Beach, a few miles north of the high-rise hotels. It's about 300 meters long and faces west, offering stunning views of the southern Caribbean Sea. Small rock ledges near the shore can make it a bit difficult to get into the water, so you'll want to bring some water shoes. The water is warm, crystal clear, with little swell, especially in the early morning when the winds and currents are calmer. Snorkeling at Boca Catalina is top-notch. You'll spot an enormous amount of different species of tropical fish. It's like you're swimming in an aquarium. You'll probably see some barracuda, parrotfish, starfish, and squid. If you go at daybreak, you'll probably spot some turtles.
Snorkeling trip boats such as the famous Jolly Pirates drop off their passengers on the north side at Catalina Cove in the early afternoon. If you're up for it, you can swim beyond the yellow ropes where the snorkel tour boats and catamarans are anchored. That's where you'll spot the most tropical fish for sure. If you're very lucky, you can even go swimming with wild dolphins. Spinner dolphins tend to hang around in the waters off Boca Catalina, Arashi Beach, Malmok Beach, and the south coast of Aruba. Besides a few cabanas for shade, you'll find few facilities at Boca Catalina, so you may want to bring a beach chair.
Stay on the beach until around 6:30 PM; the sunset views are legendary!
Read more about Boca Catalina and how to get there.
Malmok Beach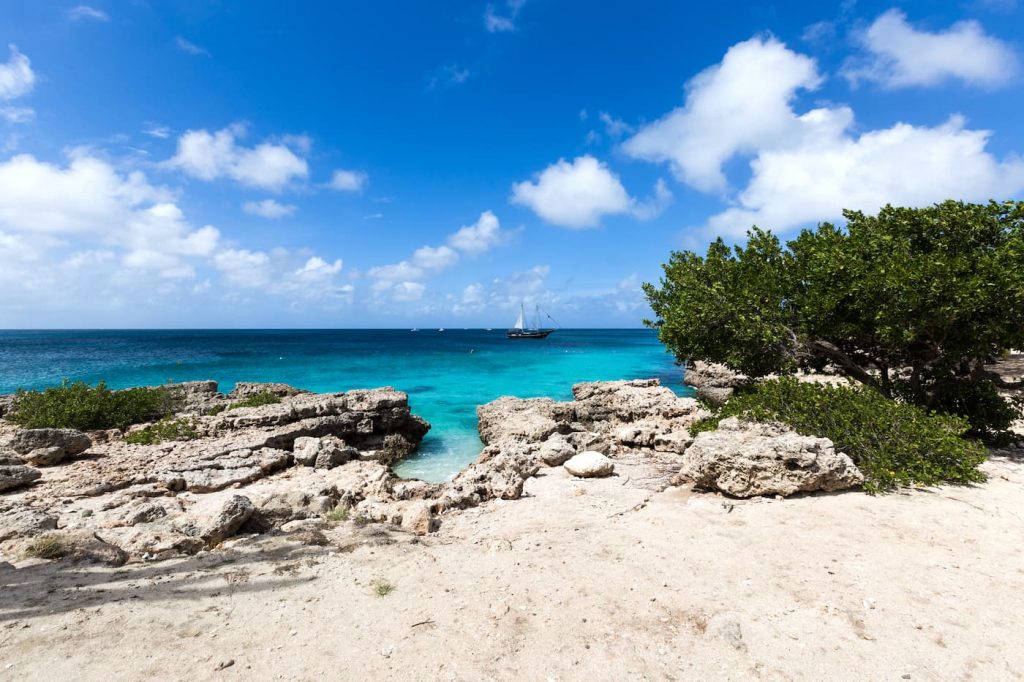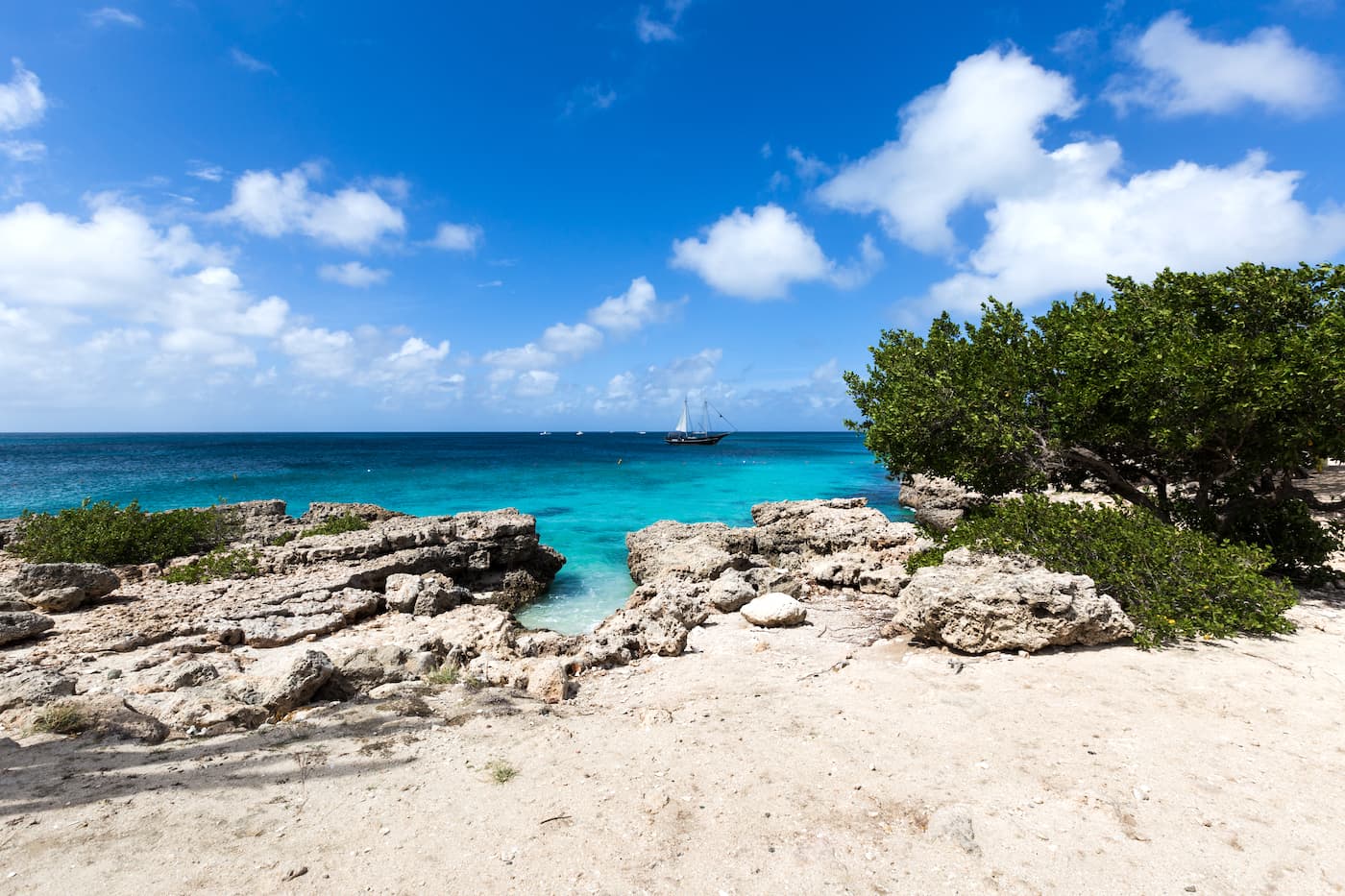 Malmok Beach is located north of Palm Beach, just past the high-rise area on the north coast of Aruba. It is a popular snorkeling site, as several Aruba boat tour companies offer their snorkeling trips here, though it's easy to enter the water yourself and go solo. It's best to go early in the morning at around 10 AM as this spot can become quite noisy once the snorkeling tours start around 1 PM. You can enter the waters of Malmok Beach by choosing one of two sandy beaches, you may want to wear some water shoes or flippers as the beaches are scattered with rocks. You can snorkel along the rocky coastline of Malmok Beach to see some sponges with fish swimming nearby.
If you swim further, you'll likely spot some tube sponges scattered over the sandy bottom. You'll spot some large shells, fire coral, sea whip, and blade coral. Angelfish, parrotfish, snapper, trumpetfish, and goatfish are usually easy to spot, some of those swimming in overwhelmingly large schools. Sea turtles, too, have been spotted at Malmok Beach. Even if they stay close to shore, beginner snorkelers will have plenty to see. Malmok Beach has a few cabanas scattered along the beach, which are free to use. It has free parking, and can easily be reached by bus, taxi or rental car. Bring your snorkeling gear, food, and water, as Malmok Beach has no facilities.
And remember to bring your underwater camera!
Read more about Malmok Beach and how to get there.
Mangel Halto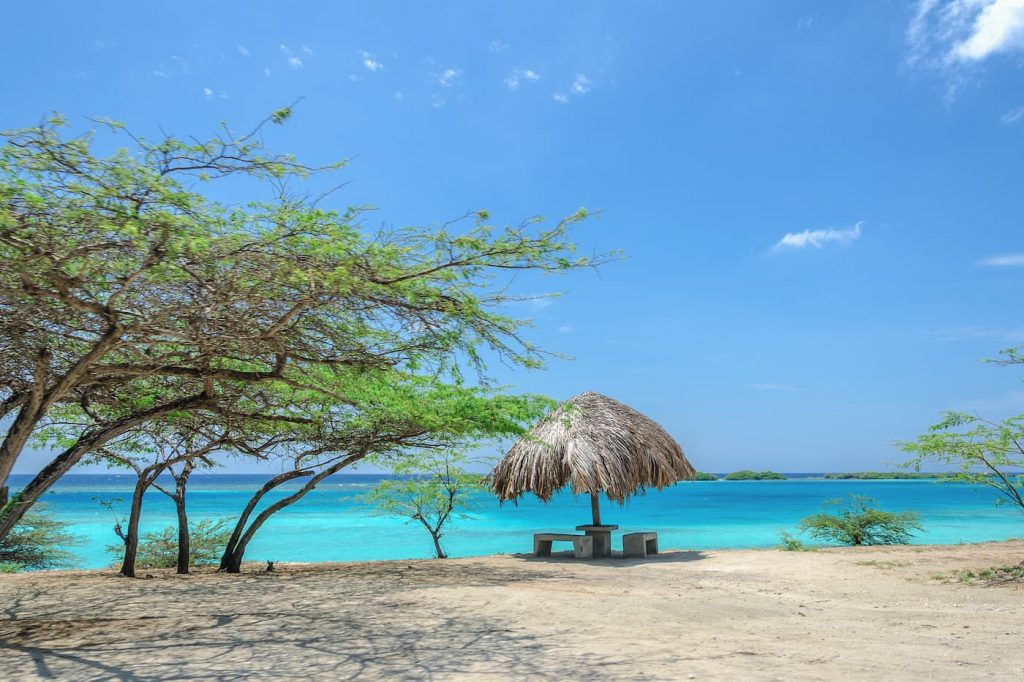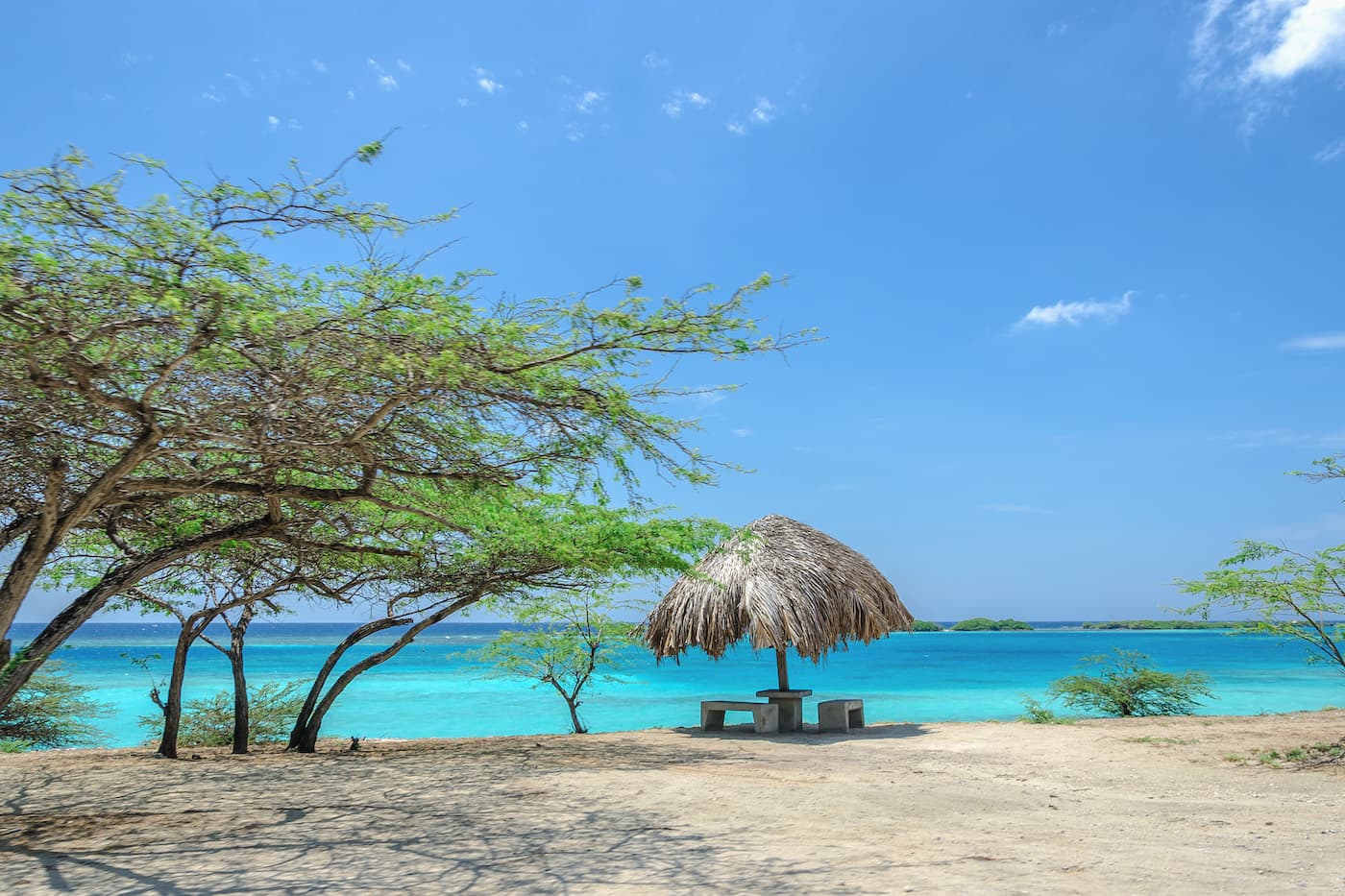 Some say Mangel Halto is the best-kept secret on the island. Mangel Halto is located on the southwest coast of Aruba, just south of the Spanish Lagoon. Although Mangel Halto is one of the best snorkeling spots of Aruba with crystal clear water and amazing visibility, it is not very suitable for snorkeling beginners because of the currents near and outside the reef edge where most of the corals and fish can be found. But even if you stay close to shore, the marine life is outstanding. Mangel Halto has multiple entry points: You can go down a ladder or down some steps, or you can walk right in the water under the mangrove trees and start snorkeling right away. Beginners are advised to stay inside the bay, where you'll easily spot some parrot fish, yellowtail snapper, sergeant majors as well as deep water sponges and anemones. Mangel Halto has some sea grass that hide the sea life.
The local pelicans sometimes put on quite a show while they are chasing lunch! If you feel comfortable dealing with potential currents while snorkeling Mangel Halto, you can head out to the opening of the bay to explore the marine life at the reefs. The reef is beautiful on both sides; the one to the left is the shallowest. Please remember to save some energy, always stay aware of potential boat traffic and keep an eye on the currents since you'll have to swim back to the beach at some point. You'll quickly spot some sergeant majors, copper sweepers, grunts, blue tangs, butterfly fish, and perhaps sea turtles. Chances of seeing sea turtles are highest in spring, as they come to lay their eggs on the beaches of Aruba. When planning a snorkeling trip at Mangel Halto, bring your snorkeling gear, water, snacks, and perhaps a cooler, as this beach offers no facilities.
Enjoy!
Read more about Mangel Halto and how to get there.
Aruba Snorkeling Tours
Catamaran Snorkeling Adventure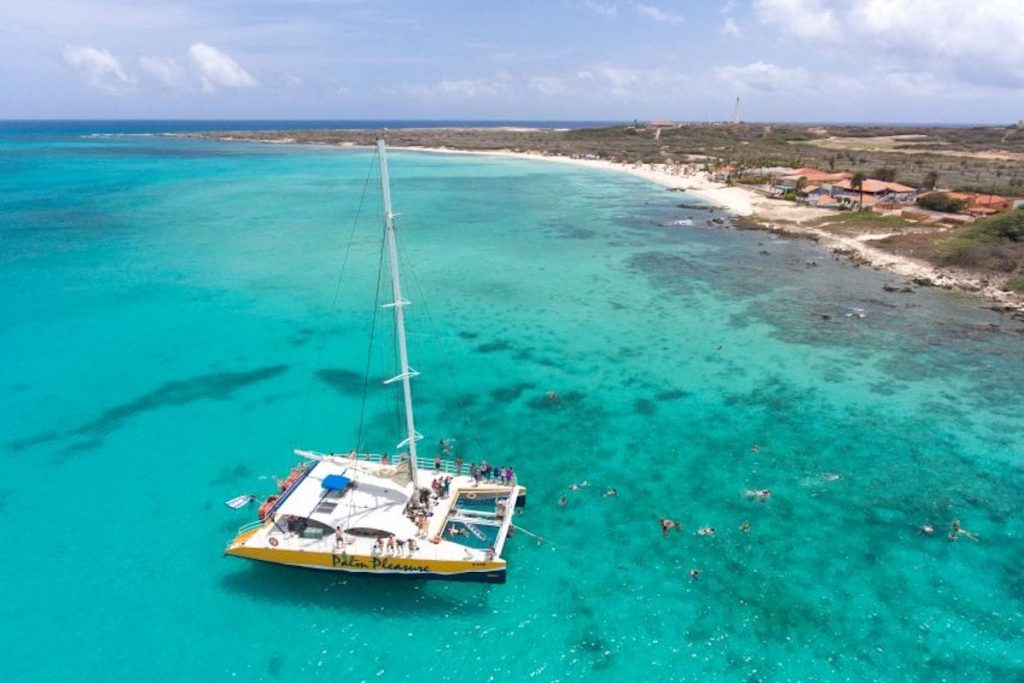 Embark on an unforgettable adventure with this half-day Aruba snorkeling excursion on a spacious 70-foot catamaran. Immerse yourself in the mesmerizing beauty of the sea as you dive into the crystal-clear waters and witness the vibrant marine life thriving beneath the surface at Antilla Shipwreck, Boca Catalina, and the Arashi Reef. Your day begins with a convenient pickup from your accommodation, where a friendly driver awaits. Once aboard the catamaran, sit back, relax, and let the skilled crew whisk you away across the breathtaking blue waters. Bask in the warm sun and indulge in tropical cocktails as you savor the tranquility of the journey.
Take a plunge into the refreshing water and enter an enchanting underwater realm. Swim above the legendary SS Antilla shipwreck, a poignant relic from World War II, and feel a profound connection to history. To satisfy your appetite, delight in a delectable onboard lunch meticulously prepared by renowned chefs, accompanied by an open bar serving various refreshing drinks. This remarkable snorkeling trip promises a blend of natural wonders, culinary delights, and unparalleled relaxation, ensuring an extraordinary experience that will leave you with cherished memories!
Mangel Halto and Baby Beach Snorkeling Tour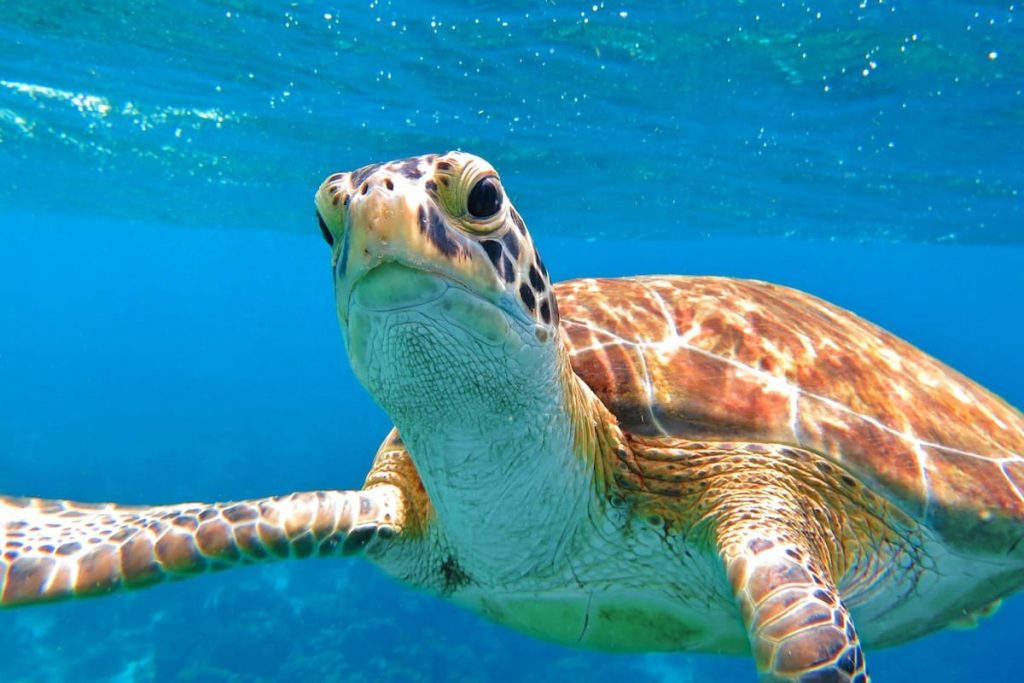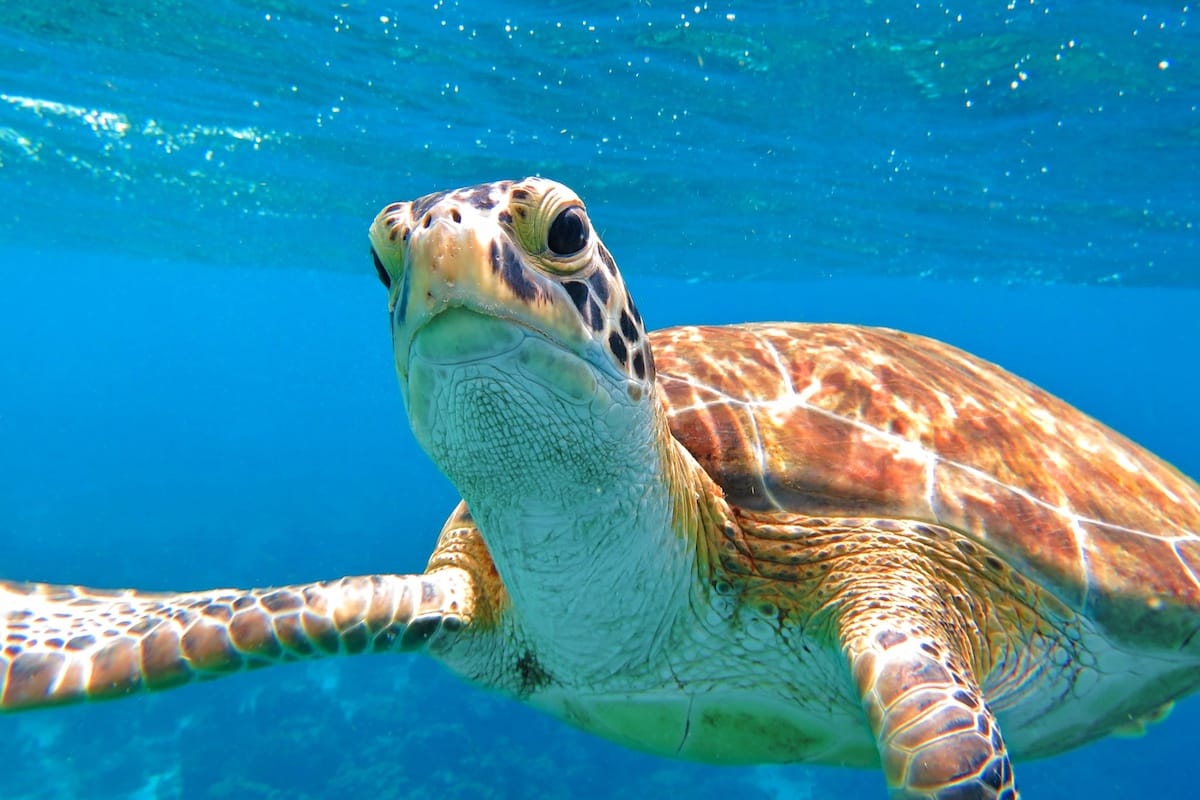 Your adventure begins with a convenient pickup from your hotel, followed by a journey to the diving center. There, a knowledgeable snorkeling instructor will provide you with a comprehensive briefing on how to properly use the snorkeling equipment, emphasizing essential safety measures.
Prepare to be captivated by the mesmerizing turquoise blue waters that await you. Dive into the shallow depths and behold the wonders of the coral reef, teeming with a fascinating array of marine life. From graceful Angel fish and vibrant Parrot fish to elusive Trumpet fish and lively Sergeant Major Surgeonfish, you'll encounter a kaleidoscope of colors and species. Keep your eyes peeled for curious Oysters, clever Octopus, graceful Turtles, delicate Sea urchins, and enchanting Starfish. And fear not, the friendly snorkeling instructor will guide you throughout the journey, ensuring a memorable and safe experience.
To conclude this exhilarating escapade, quench your thirst with refreshing water and savor the taste of delicious cookies and bananas, providing a satisfying end to a truly remarkable snorkeling adventure!
Types of Fish You'll See When Snorkeling
Aruba has a diverse marine ecosystem that is home to a wide variety of fish species. When snorkeling in the waters around the island, you may encounter a range of colorful and interesting fish, including:
Parrotfish: These distinctive fish are known for their bright colors and their ability to change color. They are often found in shallow reefs and lagoons.
Angelfish: These are colorful fish with a distinctive shape and long, flowing fins. They are often found in shallow reefs and lagoons.
Grunts: These are small, colorful fish that make a grunting sound when they are caught or disturbed. They are often found in shallow reefs and lagoons.
Snappers: These are larger fish that are found in a variety of environments, including reefs and lagoons. They are often colorful and have distinctive markings.
Groupers: These are large, predatory fish that are found in a variety of environments, including reefs and lagoons. They are often colorful and have distinctive markings.
Barracuda: These are long, slender predatory fish that are found in a variety of environments, including reefs and lagoons. They are known for their distinctive, toothy appearance.
Hogfish: These are colorful, bottom-dwelling fish that are found in shallow reefs and lagoons. They are known for their distinctive, pig-like snouts.
This is just a small sampling of the many fish species that you may encounter while snorkeling in Aruba. The exact species that you will see will depend on the specific location and environment where you are snorkeling.
We left out the images of the fish, as we don't want to spoil too much and we believe you should see them in the warm waters of Aruba!