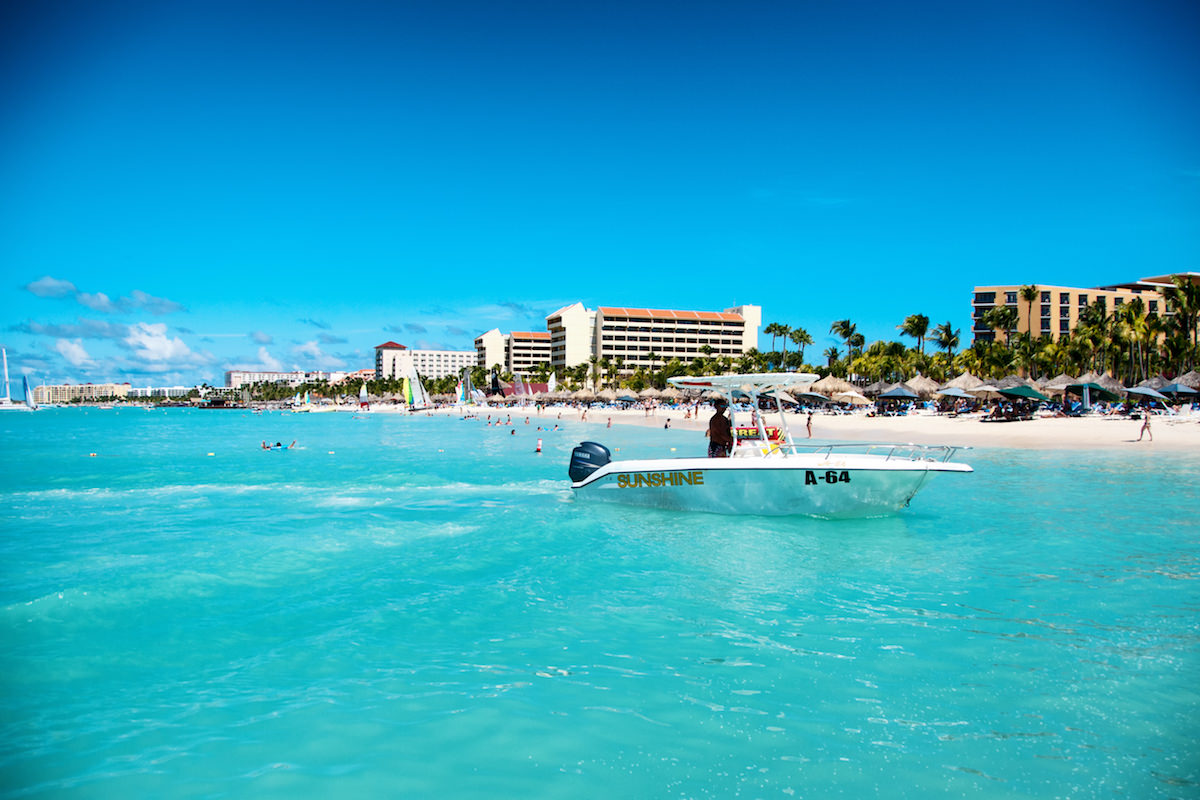 Length: 2500 meters
Facilities: bar, beach chairs, cabanas, parking, restaurant, hotel
Activities: snorkeling, kitesurfing, swimming
Swimming Conditions: Excellent. The water is calm.
Bus Stop: Hyatt Arubus Stop
Next Sunset: 19:14 PM
Next Sunrise: 07:11 AM
About Palm Beach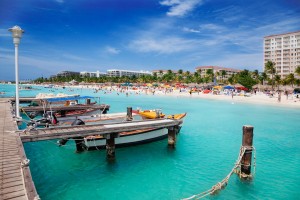 Palm Beach in Aruba is not only the well-known beach that is often referred to but also a residential area site in Aruba where you will mainly find beautifully situated villas. The area lies west of a place called Noord and also a number of shopping centers like Palm Beach Plaza are located here. It is a touristic area where you will find numerous, popular high-rise accommodations like hotels and resorts near the beach with all kinds of amenities in Aruba. Its name comes from the various palm trees that were imported and planted when the construction of the high-rise hotel & resorts area took place. It is interesting to know that the palm tree actually has a hard time surviving in Aruba. Cacti easily outnumber palm trees on the island because of the dry climate and the ever-present trade winds from the northeast.
The Beach
Palm Beach Aruba is located a little over 2 kilometers north of Eagle Beach. This beautiful, white powdered sandy beach is over 2 kilometers long – one of the longest beaches of Aruba – and it stretches along the major high-rise hotels and resorts of the island. Straight out of your hotel, Palm Beach is a great spot for long walks along the shoreline, it's also long enough for some running or jogging in Aruba early in the morning to start the day actively. Palm Beach faces west, making it just another perfect place to enjoy a typical Caribbean sunset as the day comes to an end. You'll find many restaurants, shops, and other hotels and resorts of Aruba nearby, all popular for their level of service, and many beach bars like Bugaloe Beach Bar & Grill and MooMba Beach Bar & Restaurant among others will gladly serve you a cold beer or refreshing cocktail to enjoy in the shade. In general, beverage or cocktail prices are reasonable. Palm Beach has many water sports opportunities, its waters are quite calm and suitable for families with children who'd like to spend the day swimming or snorkeling. It's a beach of Aruba that has been reviewed and looked for a lot on TripAdvisor by holiday visitors of Aruba and people looking for the right booking before traveling to the island. A fun thing to watch is the pelicans while you are visiting the beach or taking a swim or when you are snorkeling or paddle boarding. These beautiful birds are known for their exceptional flying techniques, especially when they are looking for food. Try to observe their final approach when they have located their meal in the water. You will be surprised how close by their nosedives can occur when you are in the water!
Palm Beach Aruba Hotels & Resorts
The Ritz-Carlton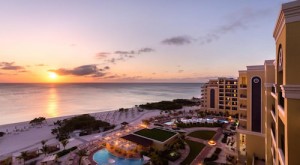 On the north side of Palm Beach, just below Hadicurari Beach and the Fisherman Huts (a top spot among the Aruba Kitesurfing crowd), you'll find the The Ritz-Carlton, one of the newest five-star beachfront resorts in Aruba. The Ritz offers modern rooms and suites with elegant furniture, a private bathroom and a balcony overlooking the Caribbean Sea, a minibar, and flat-screen TV. The resort has two swimming pools for children and adults and offers several watersport facilities. The resort features an exciting 24-hour casino that's one of the best casinos on the island, with nearly 20 traditional table games and a spectacular range of slot machines. Downtown Oranjestad is just 10 minutes away from the beach resort for guests who'd like to go shopping, dining and take a dip into the Aruba nightlife.
Aruba Marriott Resort & Stellaris Casino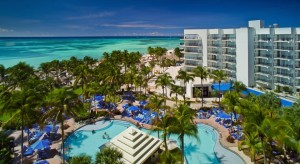 Walk a few hundred feet south from the Ritz-Carlton, and you'll arrive at the four-star Aruba Marriott Resort & Stellaris Casino, which is also conveniently located right at Palm Beach. This beach resort offers a 24-hour Stellaris Casino, several dining options such as "La Vista" which offers panoramic ocean views, an outdoor swimming pool, and the renowned Balinese-style Mandara Spa. The spacious rooms and suites come in a variety of styles, including Garden View, Ocean View and Ocean Front rooms with private balconies offering stunning views over Palm Beach and the Caribbean waters. On the top floor of the beach resort, the exclusive Tradewinds Club offers a unique hotel-within-a-hotel concept. The Aruba Marriott Resort has one of the nicest gardens and beach areas with calm waters on the island. Part of the beach is members-only.
Marriott's Aruba Ocean Club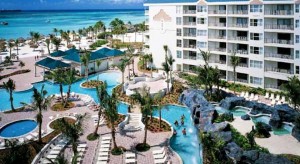 Head south from the Aruba Marriott Resort & Stellaris Casino for a few hundred feet, and you'll arrive at the four-star Aruba Ocean Club which is also operated by the Marriott hotel chain. At the Aruba Ocean Club, you can rent one- and two-bedroom villas that are spacious and completely furnished. The Aruba Ocean Club can be found just steps away from Palm Beach. When you rent a villa here, you'll gain access to the same amenities that are on offer at the Marriott Resort, such as the Mandara Spa, the "La Vista" restaurant and a fitness center. The rental villas are very suitable for self-catering, as they come with a fully equipped kitchen with a stove, oven, and fridge. Families with children are most welcome.
Palm Beach Map
Use the Google and Booking map below to explore the area.
Fill in your vacation dates to get a real-time view of available accommodations near Palm Beach
How to Get to Palm Beach
Palm Beach can easily be reached by car, bus or taxi. From Oranjestad, head northwest on Zoutmanstraat toward Arnold M Schuttestraat. Take the first right and turn left onto Wilhelminastraat. Take the first left onto Arnold M Schuttestraat, then turn right onto L.G. Smith Blvd. Continue to follow Lloyd G. Smith Blvd, pass the roundabout. At the next roundabout, take the second exit onto L.G. Smith Boulevard/Sasaki Weg. Continue onto L.G. Smith Blvd, then turn left onto J.E. Irausquin Blvd to arrive at Palm Beach and various beach hotels and resorts. The distance from the hotels and resorts to the beach is just a couple of footsteps.