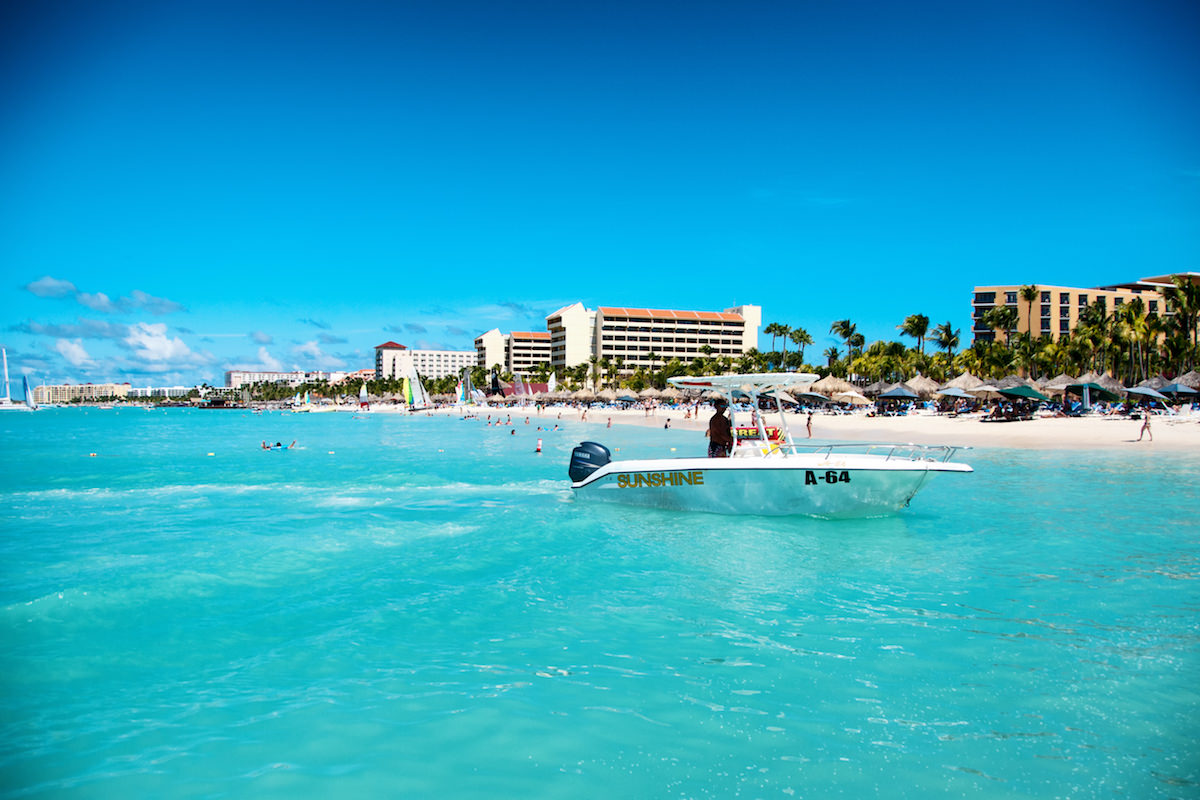 bar, beach chairs, cabanas, parking, restaurant, hotel.
snorkeling, kitesurfing, swimming.
19:49 PM
07:47 AM
2500 meters.
Excellent. The water is calm.
Hyatt Arubus Stop
About Palm Beach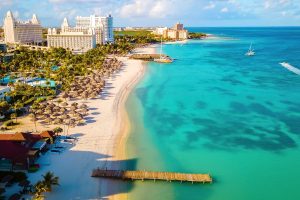 Palm Beach Aruba is located a little over 2 kilometers north of Eagle Beach. This beautiful, white powdered sandy beach is over 2 kilometers long – making it the longest beach of Aruba. It stretches along the major high-rise hotels and resorts of the island. Straight out of your hotel, Palm Beach is a great spot for long walks along the shoreline, it's also long enough for running or jogging early in the morning to start the day actively. Palm Beach faces west, making it another perfect place to enjoy a typical Caribbean sunset as the day ends. You'll find many restaurants, shops, and other hotels and resorts of Aruba nearby, all popular for their level of service, and many beach bars like Bugaloe Beach Bar & Grill and MooMba Beach Bar & Restaurant, among others, will gladly serve you a cold beer or refreshing cocktail to enjoy in the shade. In general, beverage or cocktail prices are reasonable. Palm Beach has many water sports opportunities, its waters are pretty calm and suitable for families with children who'd like to spend the day swimming or snorkeling. It's a beach in Aruba that has been reviewed and looked for a lot on TripAdvisor by holiday visitors of Aruba and people looking for the right booking before traveling to the island. Watching the pelicans while visiting the beach, swimming, snorkeling, or paddle boarding is fun! These beautiful birds are known for their exceptional flying techniques, especially when looking for food. Try to observe their final approach when they have located their meal in the water. You will be surprised how close their nosedives can occur when you are in the water!
Palm Beach Map
Use the map below to explore the area surrounding the beach.
Fill in your vacation dates to get a real-time view of available accommodations near Palm Beach!
Beach Bars at Palm Beach
Bugaloe Beach Bar & Grill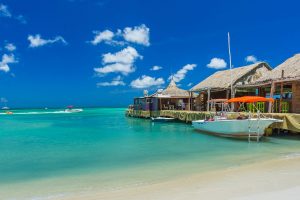 For an unforgettable experience at Palm Beach, you must head over to the Bugaloe Beach Bar, the ultimate hotspot for fun, pleasure, and entertainment. It's the best pier bar in Aruba! Located at De Palm Pier between the Riu Palace Hotel and Hilton Resort, the Bugaloe Beach Bar is the perfect place to start your day with a delicious fruit juice or casual breakfast, lunch, and dinner while enjoying the stunning ocean views. But the fun surely doesn't stop there! The beach bar is perfect for gathering with friends and enjoying great music, delicious food, refreshing drinks, and a Caribbean beach vibe. The Bugaloe Beach Bar hosts some of the best live bands on the island, providing the perfect soundtrack to accompany breathtaking sunsets. So you think you can sing? Go ahead and let loose, and have fun during Karaoke Nights! Double Happy Hour is from 5 to 6 PM and from 10 to 11 PM – a good time to try a signature cocktail like the Bugaloe House Special, the Bugaloe Mojito, and Sex on Bugaloe Beach! Plus, with its stunning beachfront location, and top-notch service, the Bugaloe is the ideal venue for any event, big or small. Google Reviews for Bugaloe are almost always positive. Many customers praise the quality of the food, the drinks, the atmosphere, and the friendly and welcoming staff. So, if you haven't been to Bugaloe, you haven't been to Palm Beach, Aruba!
The Beach Bar at Playa Linda
Located on the beach of Playa Linda, just a few steps away from the clear blue waters of the Caribbean Sea, is the Beach Bar. Enjoy breathtaking ocean views and spectacular sunsets while sipping on ice-cold drinks and refreshing cocktails during the longest daily Happy Hour on the island from 12:00 pm to 7:00 pm. After all, you are in Aruba! With a warm family vibe and friendly staff, they serve lunch and dinner right on the beach. At the Beach Bar, you will enjoy a variety of snacks and meals to satisfy all cravings, including salads, sandwiches, pizzas, and small bites. Try their famous grouper bites, freshly breaded and perfectly paired with your favorite wine – a must-try! For those looking for something more substantial, the certified Angus beef burger is a juicy and tasty option. Grilled to your liking and served on a freshly baked bun, it's sure to satisfy your appetite after a day on Palm Beach. A cozy lounge area provides an intimate and relaxing setting to take in the stunning ocean views. It's the perfect spot to host your next party, family event, or group gathering. The Beach Bar is open daily from 12:00 pm to 9:00 pm.
Eduardo's Beach Shack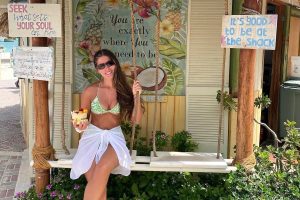 Eduardo's Beach Shack is a well-known smoothie bar that has been serving delicious and healthy smoothies and açai bowls for over 13 years. With a commitment to using fresh, high-quality plant-based ingredients, Eduardo's has become a household name in Aruba. What sets Eduardo's apart is the dedication to using only natural ingredients, free from additives and artificial substances. With three locations on the island, each Eduardo's location offers its unique twist on the menu, but all share the same commitment to quality and service. Eduardo's Beach Shack is a popular spot for breakfast, lunch, and snacks, offering various delicious and healthy options. Whether you're looking for a hearty breakfast, a juicy vegan burger, or a classic açai bowl, Eduardo's has something for everyone. While the lines at Eduardo's can be long at times, the service is quick, and the wait is worth it. If you're driving to Eduardo's, parking is free at the Playa Linda parking lot; tell the guard that you're going to Eduardo's. In addition to their smoothies and açai bowls, Eduardo's is also known for their in-house Kombucha brand, which is popular all over the island. If you're looking for a healthy and delicious breakfast, lunch, or snack option, Eduardo's Beach Shack is the perfect place to go! It's located in front of the Playa Linda Beach Resort.
Where to Stay near Palm Beach - Our Top Picks
The Ritz-Carlton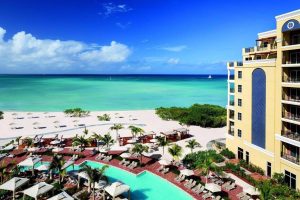 The Ritz-Carlton is a luxurious beachfront resort with elegance, sophistication, and world-class service. Nestled on the pristine shores of Palm Beach, this exquisite property offers a haven of tranquility and indulgence for discerning travelers. As you enter the grand lobby, you are greeted by a breathtaking sight of opulent decor featuring a fusion of contemporary and Caribbean-inspired design elements. The resort boasts a collection of lavish guest rooms and suites, each meticulously designed with comfort and style in mind. With stunning views of the azure Caribbean Sea or the lush gardens, these accommodations provide a serene retreat for guests. The Ritz-Carlton is also renowned for its exceptional culinary offerings. From fine dining restaurants serving gourmet cuisine to casual beachfront eateries offering fresh seafood delights, the resort caters to every palate. Indulge in exquisite flavors, impeccable service, and various dining experiences that range from intimate and romantic to vibrant and lively. The resort's amenities are equally impressive. Dive into the inviting infinity pool overlooking the ocean, pamper yourself with rejuvenating treatments at the world-class spa, or engage in thrilling water sports and recreational activities. For those seeking relaxation, pristine white sand beaches await, providing the perfect setting to bask in the Caribbean sun or take a stroll along the shoreline.
Aruba Marriott Resort & Stellaris Casino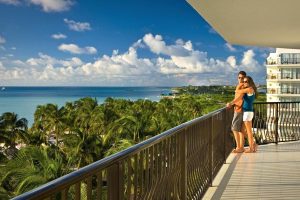 The Aruba Marriott Resort & Stellaris Casino, located in Palm Beach, Aruba, is a magnificent beachfront property that offers a blend of Caribbean charm and modern luxury. Situated on the pristine white sands of Palm Beach, this resort is renowned for its stunning ocean views, exquisite amenities, and a vibrant atmosphere. As you enter the resort, you are greeted by a grand lobby adorned with elegant tropical decor, setting the stage for an unforgettable stay. The Aruba Marriott Resort boasts spacious and beautifully appointed guest rooms and suites, each designed to provide a comfortable retreat for guests. With plush bedding, modern amenities, and private balconies or patios overlooking the azure Caribbean Sea, these accommodations offer a serene oasis. One of the highlights of the resort is the Stellaris Casino, where guests can try their luck at a wide array of gaming options. From slot machines to table games, the casino provides an exhilarating experience for those seeking a bit of excitement. The resort offers an array of dining options, ranging from casual beachfront eateries to upscale restaurants serving delectable international cuisine. Savor delicious flavors and enjoy impeccable service while taking in breathtaking views of the ocean. For relaxation and recreation, the Aruba Marriott Resort features a large, inviting swimming pool surrounded by lush tropical gardens. Guests can soak up the sun on the poolside loungers or indulge in pampering treatments at the resort's spa. Watersports enthusiasts can partake in activities such as snorkeling, kayaking, and paddleboarding, all easily accessible from the resort's beachfront location.
Marriott's Aruba Ocean Club
Marriott's Aruba Ocean Club, located in Palm Beach, Aruba, is a luxurious beachfront resort that offers a perfect blend of relaxation and adventure. Situated along the picturesque shores of Palm Beach, this property is part of the Marriott Vacation Club, ensuring exceptional accommodations and amenities for its guests. Upon arrival at Marriott's Aruba Ocean Club, guests are greeted by a serene and inviting atmosphere. The resort features beautifully designed villas that provide a home away from home experience. These spacious and well-appointed villas offer a range of modern amenities, including fully equipped kitchens, comfortable living areas, and private balconies or patios. With breathtaking views of the Caribbean Sea or the resort's lush gardens, guests can unwind in a tranquil setting. The resort boasts a variety of amenities for guests to enjoy. Take a refreshing dip in one of the inviting outdoor pools or relax in a poolside cabana while soaking up the sun. For those seeking adventure, the resort offers a range of water sports activities such as snorkeling, kayaking, and windsurfing. Fitness enthusiasts can stay active at the resort's well-equipped fitness center or engage in a game of tennis on the on-site courts. Marriott's Aruba Ocean Club is ideally located near Palm Beach's vibrant dining and entertainment scene, allowing guests to explore a multitude of restaurants, bars, and shops within walking distance. Additionally, the resort offers its own dining options, where guests can savor delicious cuisine and enjoy refreshing drinks.
Playa Linda Beach Resort
The Playa Linda Resort in Aruba is a stunning beachfront property that offers guests a luxurious and convenient vacation experience. The resort's location is unbeatable, with beautiful views of the beach and ocean right outside your door. The facilities are updated and immaculately clean, making for a comfortable and enjoyable stay. The pools are also beautiful and well-maintained, perfect for a refreshing swim or lounging in the sun. One of the standout features of the Playa Linda Resort is its suites, which all come with kitchens, making it easy to cook and eat meals in the comfort of your room. The resort also has a wide variety of dining options, both on-site and nearby, offering plenty of food and shopping choices for guests. Many restaurants even have all-day happy hours, making relaxing and enjoying your time in Aruba easy. The rooms at the Playa Linda Resort are spacious and beautifully appointed with modern amenities, providing guests with all the comforts of home while on vacation. The oceanfront rooms offer stunning views of the resort and the surrounding area. Another great feature of the resort is its location on Palm Beach, which is in the island's high-rise section with many restaurants, bars, and shopping malls. The resort itself has several restaurants and stores, so there's no need to go far for anything you need. At Playa Linda, you can also engage in individual sports activities as they provide excellent facilities such as a Fitness Center, Basketball Court, and Tennis Courts.
Things To Do at Palm Beach
Aqua Donut Boat Rental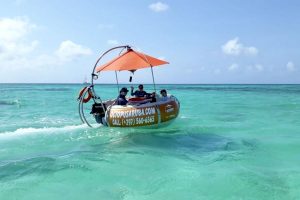 Of all the things to do at Palm Beach, how about a boat ride on a donut for a change? Embark on an exciting aquatic escapade aboard the aqua donut, a remarkable circular floating device reminiscent of your beloved deep-fried glazed treat. Crafted from high-performance fiberglass, this motor-powered marvel invites you to indulge in a memorable adventure. Glide across the shimmering Caribbean Sea for an immersive experience lasting anywhere from 2 to 8 hours, basking in the radiant sunshine and plunging into the rejuvenating, crystal-clear waters. Upon being picked up from your hotel in the Palm Beach area, you'll be whisked away to the aqua donut pier. Here, knowledgeable staff will provide you with instructions on handling and safety, ensuring your comfort and a phenomenal time at sea. When you're ready, hop aboard your donut and relish the effortless navigation, granting you the freedom to sail within a 3-mile (4.8-kilometer) radius from the pier. Take a pause during your journey to snorkel and uncover the wonders of the vibrant underwater marine life of Aruba. Immerse yourself in the sparkling turquoise waters for a refreshing swim or simply relax on board, shaded by an umbrella of your choosing. As the captain of your donut, you'll be pleased to know that no sailing license is required, and even when filled with water, this buoyant vessel remains unsinkable. However, should you prefer, a captain can be hired at an additional cost to accompany your donut adventure!
Boat Trip with Brunch and Aqua Safari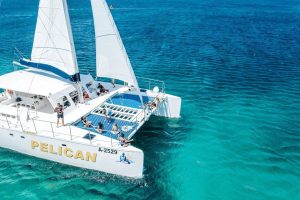 Assemble at the Pelican Pier and rendezvous with your crew before stepping aboard your catamaran. Embark on an immersive journey that brings you intimately close to nature, leaving your worries behind as you savor the delightful experience of sipping refreshing mimosas on a specially crafted catamaran. The vessel is equipped with sunbathing trampolines and shaded areas, ensuring your comfort throughout the excursion. While cruising the waters, treat yourself to a delectable breakfast served on board, satisfying your taste buds as you soak in the surroundings. Indulge in a mixed drink of your choice (champagne, anyone?) as you relish a mouthwatering seafood paella lunch, perfectly complementing your nautical adventure. Immerse yourself in thrilling snorkeling escapades at renowned Aruba hotspots such as Boca Catalina, the Antilla Shipwreck, and the Malmok Reef. Each destination unveils its own unique marvels beneath the surface, allowing you to witness the vibrant marine world firsthand! The 4.5-hour snorkeling trip includes use of certified equipment. Just make sure you arrive half an hour before the boat trip starts, and don't forget to bring your GoPro if you have one! This tour is operated by Pelican Adventures. The Pelican Pier is located between Radisson Blu Aruba and Playa Linda Beach Resort, On Pelican Pier, J.E. Irausquin Blvd 237, Noord, Aruba.
Palm Beach Parasailing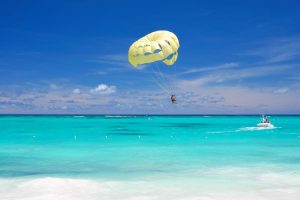 Get ready for an adrenaline-fueled adventure at Frank's Place Watersport! You can soar above Aruba's High Rise Hotel in Palm Beach and experience the ultimate thrill. From high up in the sky, you'll witness the island with unparalleled views that will leave you in awe. Don't forget your camera to capture this incredible moment that will be etched in your memory forever. With skilled and experienced guides, you can go solo, tandem, or even as a trio for an unforgettable journey. As you ascend above the crystal blue waters of Palm Beach, you'll be mesmerized by the breathtaking beauty of Aruba. Safety is paramount, ensuring a secure and exhilarating experience for participants aged five and above. Located on the beach of the Holiday Inn, this unforgettable parasailing escapade lasts for a thrilling 15 minutes! Just a quick heads up about the weight requirements: to fly solo, the minimum weight is 100 lbs, but please note that it may vary slightly depending on the wind conditions. And if you're planning to fly with a partner or friends, the maximum weight limit is 350 lbs.
How to Get to Palm Beach

From Oranjestad
From Oranjestad, head northwest on Zoutmanstraat toward Arnold M Schuttestraat. Take the first right and turn left onto Wilhelminastraat. Take the first left onto Arnold M Schuttestraat, then turn right onto L.G. Smith Blvd. Continue to follow Lloyd G. Smith Blvd, pass the roundabout. Take the second exit onto L.G. Smith Boulevard/Sasaki Weg at the next roundabout. Continue onto L.G. Smith Blvd, then turn left onto J.E. Irausquin Blvd to arrive at Palm Beach and various beach hotels and resorts. The distance from the hotels and resorts to the beach is just a few footsteps!
From the Cruise Ship Terminal
There are several options to get from the Cruise Ship Terminal to Palm Beach. One option is to take a taxi directly to Palm Beach, which is approximately a 20-minute drive depending on traffic. Taxis are available at the Cruise Ship Terminal, and the Aruba Taxi Association fixes the fare. Another option is to take the public bus, which runs along the main road of Aruba, L.G. Smith Boulevard. You can take bus line 10 or 10A towards the Hotel Area from the Cruise Ship Terminal. The bus fare is affordable and exact change is required. Lastly, some hotels in Palm Beach offer shuttle services to and from the Cruise Ship Terminal. Please check if your hotel provides this service or if you can arrange it with a nearby hotel.
After Palm Beach, There's Always Another Beach to Explore!