Baby Beach Aruba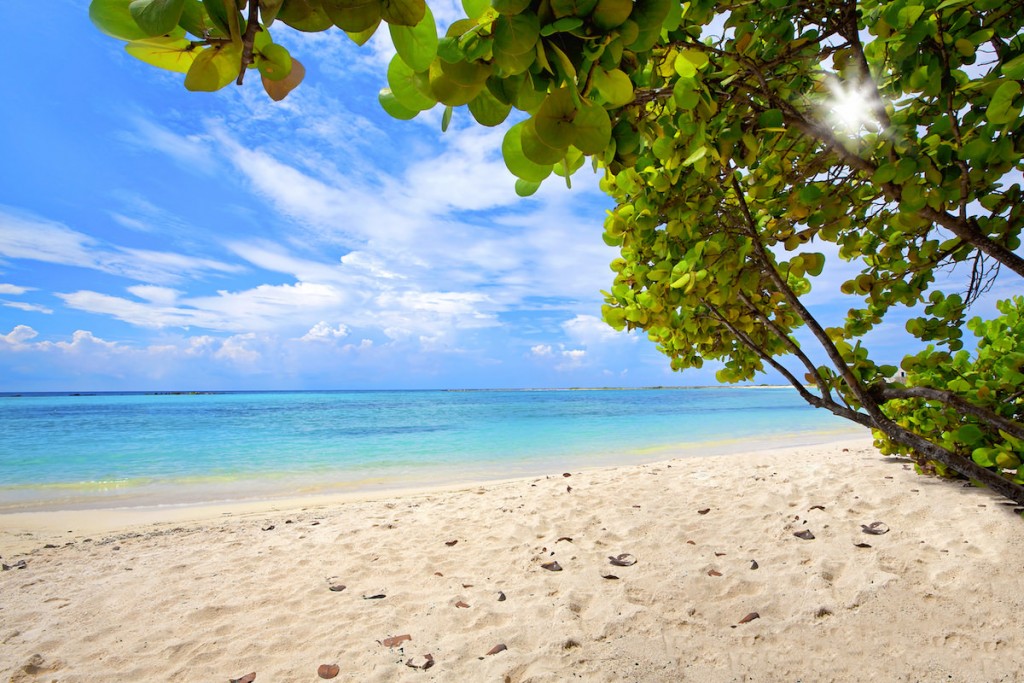 Length: 600 meters
Facilities: bar, cabanas, parking, restaurant, dive center
Activities: snorkeling, scuba diving, kitesurfing, swimming
Bus Stop: Baby Beach Arubus Stop
About Baby Beach Aruba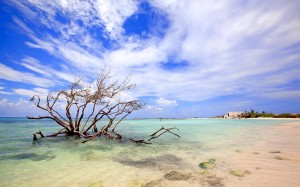 Baby Beach is located at the southernmost point of Aruba (part of the ABC islands), in an area one known as "The Colony", an old gated community where executives of the Lago Refinery used to live with their families when the refinery was still operational in the old days. It should be no surprise that it is one of the top choices on our list of best beaches of Aruba. Reviewed by many, this tranquil cove outside San Nicolas got its name from the fact that its calm waters are less than five feet (1,5 meters) deep. The beach looks like a perfect natural lagoon and it is protected from the big blue waters of the Caribbean Sea. Baby Beach is a great place to spend time with your (small) children to teach them how to snorkel or swim. The lagoon is surrounded by approximately 600 meters of beach. The beach is calm and it slopes very gradually into the water. The water level for most of the cove is not more than about waist high, but towards the inlet, it deepens to over 5 feet. Because Baby Beach Aruba is far away from the hotels and for example Palm Beach it's a relatively quiet place to visit and enjoy the sun, the white sand, and the crystal clear shallow waters. Together with Rodgers Beach (to the north), these are the only major beaches south of San Nicolas, Aruba's second major city. Baby Beach is a favorite spot for the local people to visit with their kids, especially during the weekends – the beach can get a little bit crowded then. The best time to visit is early in the morning on a weekday. Don't forget to pack a bag with some essentials like sun lotion, sunglasses and water and perhaps some food. During the weekends there's a chance to enjoy some local food. There's a snack bar in the area of the beaches too. Enjoy your stay at Baby Beach, one of Aruba's finest beaches to visit!
Snorkeling at Baby Beach Aruba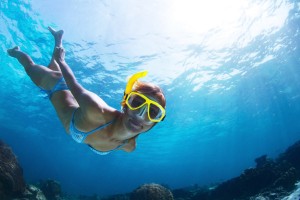 Snorkeling at Baby Beach is quite the experience, especially for beginners and first-time snorkelers. The warm waters at Baby Beach are shallow a long way out, and visibility is usually good. You should be able to see the sandy bottom about 9 feet down without a problem. As soon as you're in the water from the shore with your snorkeling gear, you'll find a whole new underwater world to explore. Its beauty will grab you as from the moment you start your snorkeling adventure. You'll quickly spot all kinds of fish, such as the yellowtail grouper, butterfly fish, blue-headed wrasse, and barracuda. You'll likely spot some schools of baby squid and sea horses as well. You may want to bring some bread or crackers to feed the fish, but be prepared for a tropical fish frenzy! If you swim to where the lagoon opens out to the Caribbean Sea, you'll spot more coral and even more and bigger tropical fish. Be very careful, because, outside the lagoon, snorkeling at the Baby Beach Reef can be very dangerous. The currents can get really strong, don't get caught off guard. The waves will be much larger here due to the easterly trade winds. Also, keep an eye out for any kitesurfers. So if you're a beginner, just stay inside the lagoon. Snorkeling gear is available for rent at the JADS Dive Center, located in between Baby Beach and Rodgers Beach. Renting a mask, fins, and snorkel costs $10.00.
Beachfront Holiday Home near Baby Beach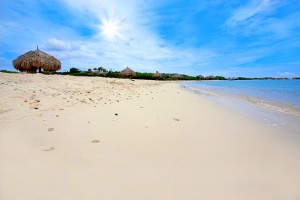 If you'd like to stay near Baby Beach during your vacation in Aruba, there's a beachfront holiday home just a mile away. From the airport, it will take you about 20 minutes to reach by car. The beachfront home is family-friendly and sleeps up to 6 persons. It offers direct access to a private beach area, with fantastic views over St. Nicolaasbaai and Colorado Point (Punta Basora). Outdoor facilities include a patio, BBQ facilities, a garden and a sun terrace. Free private parking is available. The beachfront home is air-conditioned and has a large living and dining area. The kitchen comes fully equipped with a coffee machine, dishwasher and dining table. The family-friendly home features 3 bedrooms and 3 bathrooms. Several bars, restaurants, and a supermarket are just a few minutes away by car. Rodgers Beach is less than a mile away. Shops are a little bit further away in San Nicolas.
How to Get to Baby Beach
It's best to reach Baby Beach by car or some other vehicle. From Oranjestad, make sure you enter Lloyd G. Smith Blvd and follow directions south to Queen Beatrix airport, then Savaneta and eventually to San Nicolas South. Continue following directions to Colorado Point (Punta Basora). From here-on continue to drive further south to the beach. From the hotel zone, the trip to Baby Beach should take you about 30 minutes. Visiting the beach is also possible by public transport.
At the Hotel Zone, directions to the beach are fairly straightforward. Hop on the right Arubus and step off at the Baby Beach Arubus bus stop and just follow directions to the beach.