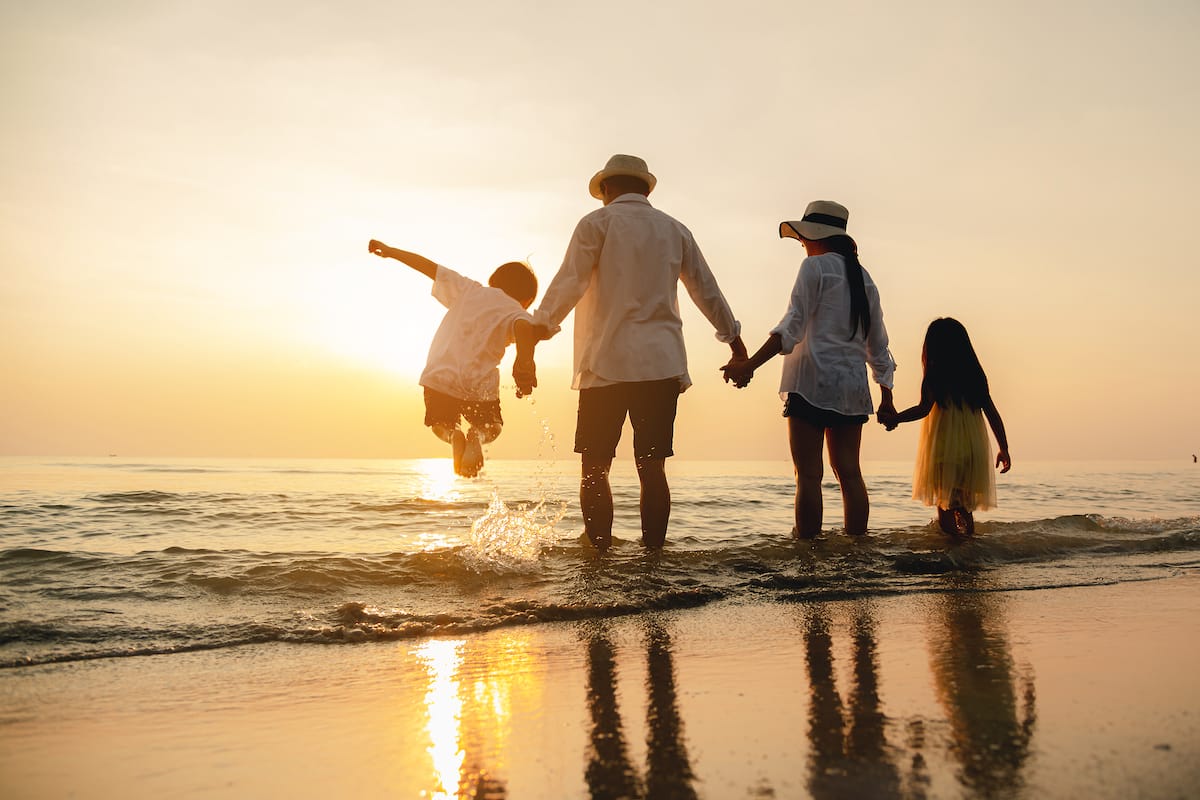 Looking for something fun to do with the family?
Aruba is a beach paradise and probably best known for its white sands and turquoise blue waters.
However, there are many sides to the island and different types of experiences which can make it especially fun for kids.
Let's look at some of the best things to do in Aruba with kids that you should know about!
1. Family Day Tour to De Palm Island
De Palm Island is one of the most fun places in Aruba for families that like to get out there and keep active on their holidays. After arriving on the island, guests are invited to enjoy a cool drink before dipping in the crystal blue waters surrounding the island. Snorkeling gear is available for all the family, and a banana boat ride will surely get the blood pumping! This family day tour in Aruba also includes entry to the water park on De Palm Island, where you will find a lineup of exciting water slides and cabanas with lounge chairs in between.
The open bar always goes down well with guests, but the lunch buffet with fresh seafood is one of the day's highlights and a great way to 'fuel up' for activities in the afternoon. This day trip to De Palm Island is also a guided tour which means you will have access to a guide at all times and with most necessities included, from food and drink to entrance fees; this is also great value when it comes to family activities.
2. Explore the Underwater World on the Atlantis Submarine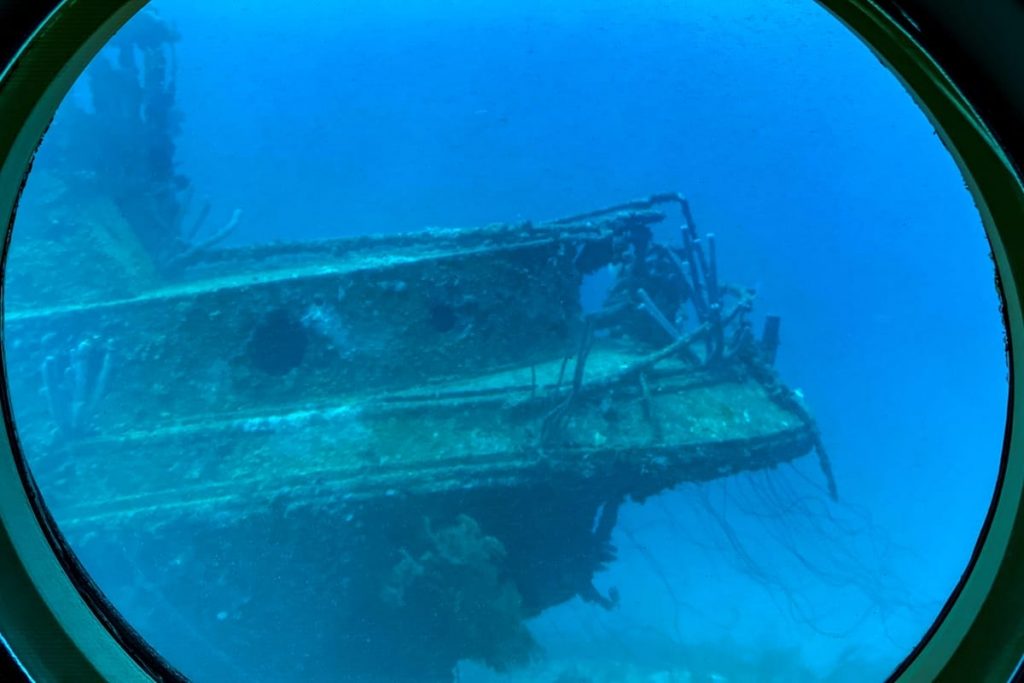 Where else in the world can you take a day trip on a submarine?
The Atlantis Submarine Expedition is an activity your children will love and a remarkable way to see the other side of the island – underwater!
You can expect close encounters with stunning coral reefs and breathtaking marine life, including lobster and moray eels. The coast guard certified the submarine and can descend more than 100 feet below the surface. At these depths, there are also many shipwrecks to witness, including the German Antilla from the era of World War 2.
The interior is air-conditioned and an incredibly comfortable way to explore the reefs in this underwater world. Aside from this being an exhilarating adventure for the kids, you should also find the knowledgeable guides provide a fascinating narration for what you see passing by outside the submarine. While Barcadera Reef is a highlight, the novelty of a submarine trip is why this family activity is so popular with locals and visitors alike.
3. UTV Adventure to Fontein Caves, Arikok and Natural Pool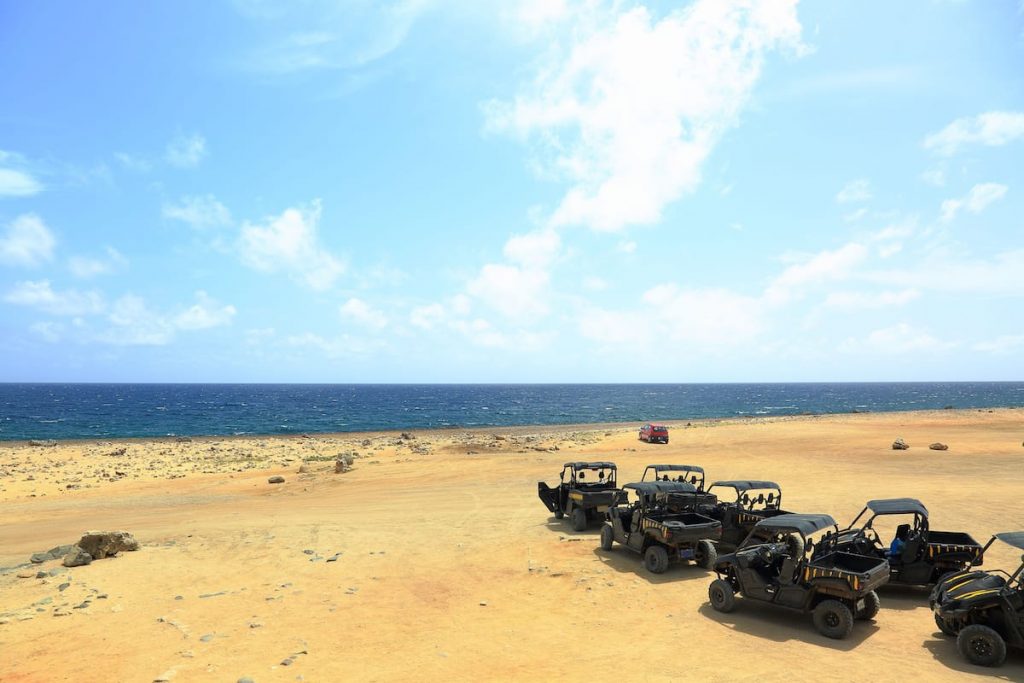 This UTV adventure is suitable for families with kids and an exhilarating way to explore the landscapes of Aruba. You will also have an experienced lead guide all the way to ensure everyone feels safe and competent in terms of driving. After a safety talk, you will stop at several local neighborhoods and proceed to Arikok National Park's lush interior. This is where you can witness some of Aruba's best scenery, fauna, and remarkable paintings at the Fontein Caves. You can enter these caves on foot and see the indigenous paintings on the cave walls.
After some more off-road driving, you reach the dunes of Boca Prins, which provides endless viewpoints and photo opportunities. There is also a natural pool toward the end of the tour where you can bathe, relax and unwind, which is incredibly enticing when the weather is hot. This natural pool is also surrounded by spectacular landscapes and cliffs, which guests will sometimes decide to use as a diving board. While the kids must be big enough to drive a UTV, this afternoon tour is one of the more exciting family things to do in Aruba and one that adults will surely enjoy as much as anyone else!
4. Snorkel at Mangel Halto and Baby Beach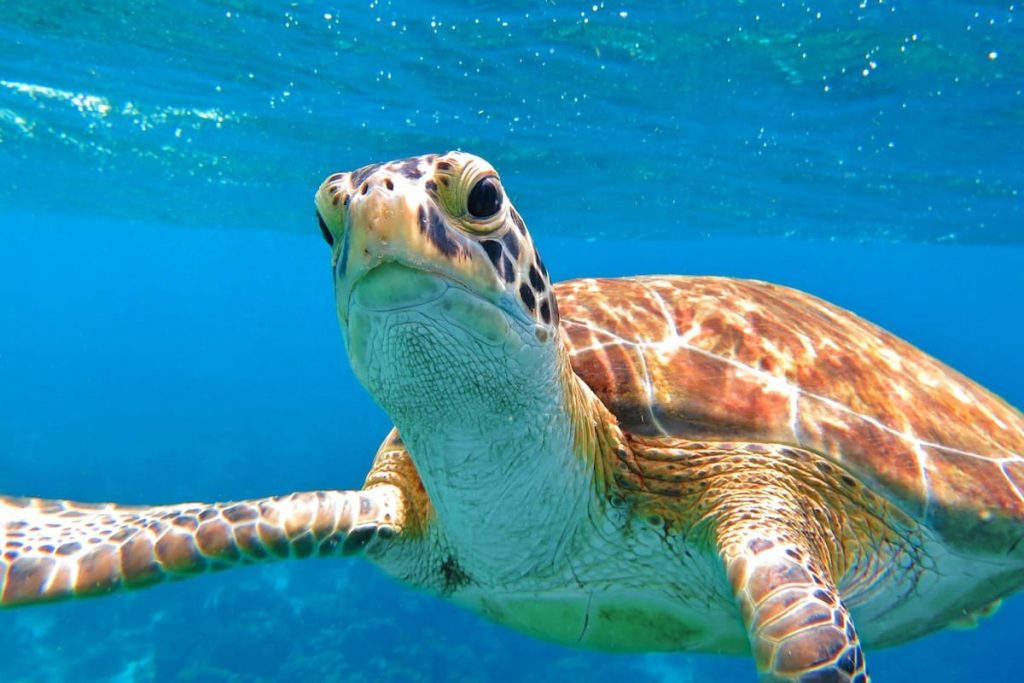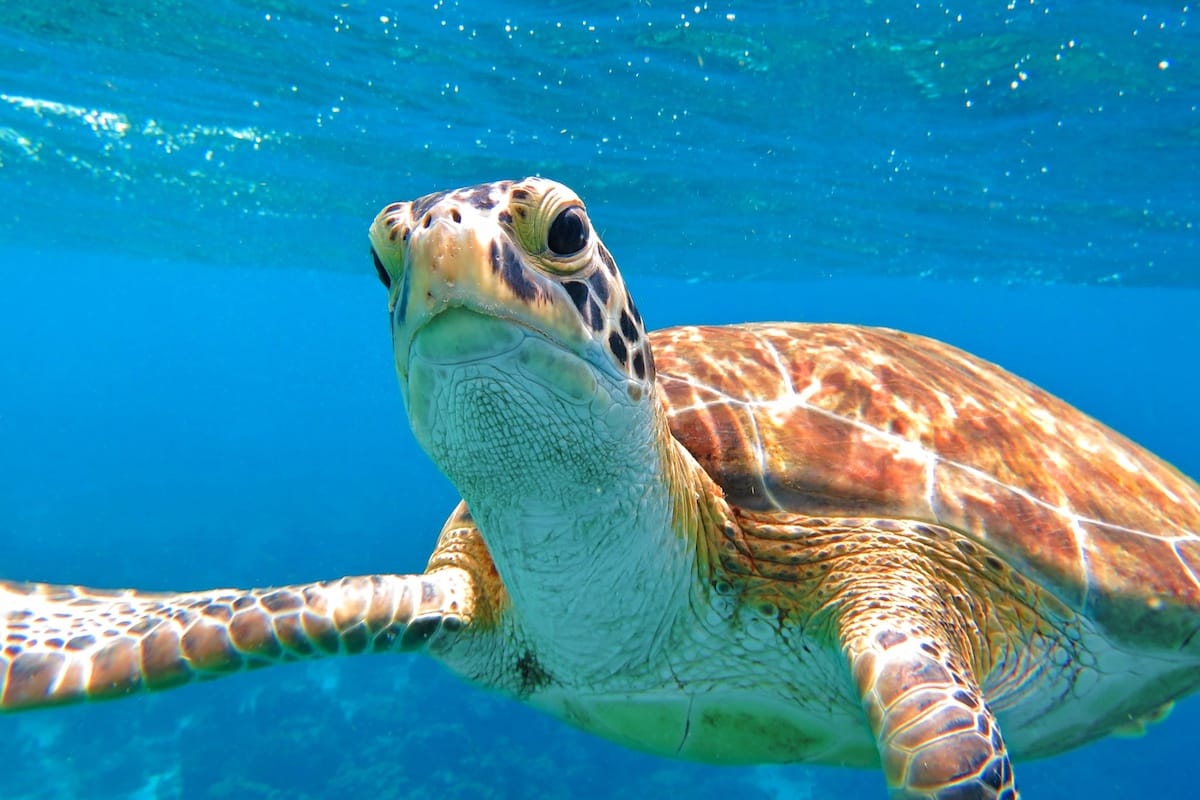 A snorkeling tour is undoubtedly the most authentic way to encounter the underwater world of Aruba and an exciting thing to do in Aruba with kids. After being picked up at your accommodation, the tour guide will take you to the dive center for a safety briefing. This is also where you can learn how to properly use the snorkel equipment and ask any questions that you might have about the day ahead. Would you like to know more before booking this family activity in Aruba?
Snorkeling at Mangel Halto and Baby Beach is an incredible opportunity to get up close to the colorful coral of Aruba. You can also see parrot fish, starfish, angel fish, octopus, oysters, turtles, and much more. The crystal blue waters make for excellent visibility, which is another reason Aruba is considered one of the best snorkel destinations in the world. It is also possible to see a Kaphel Shipwreck at Mangel Halto, and the PADI guides are always present to ensure everyone is safe. Your guides will also provide water, bananas, and a cookie to help you refuel during the trip, and all considered, this is an excellent activity for families!
5. Encounters with the Animals of Aruba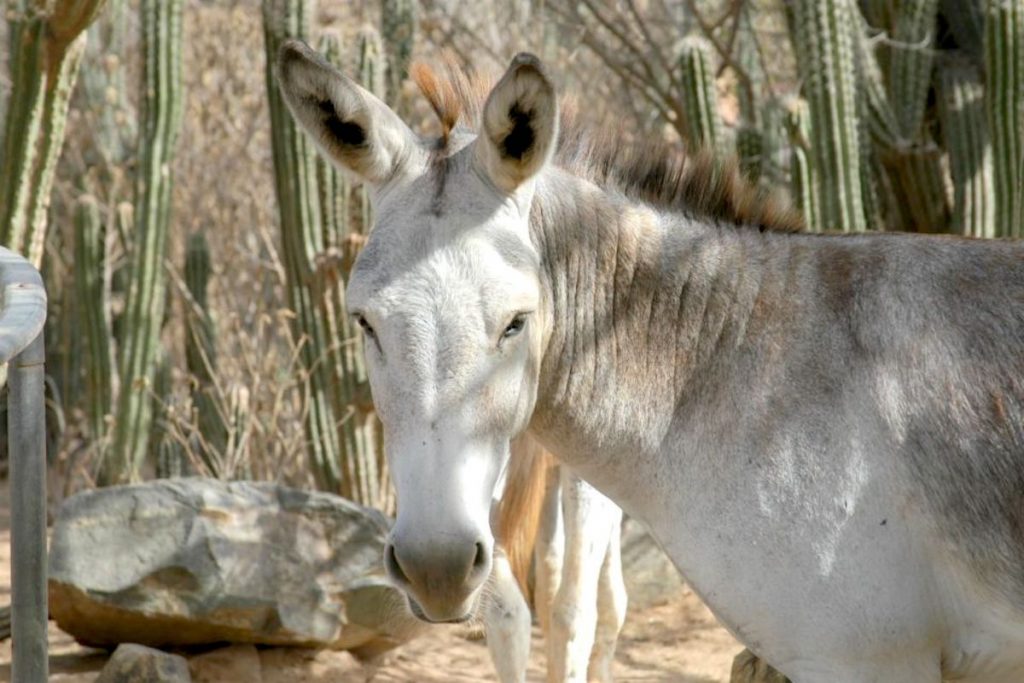 The island might be best known for its white sandy beaches and crystal blue waters, but there are kid-friendly things to do in Aruba away from the shoreline. This day tour is animal-focused and begins with a trip to the Ostrich Farm – the most significant bird species in the world. Your guide will explain this remarkable creature and why it often displays unusual behavior. Families are also encouraged to interact with the ostrich, which can make for an enjoyable experience.
After the Ostrich Farm, you will be taken to the Donkey Sanctuary, which was set up to prevent them from going extinct on the island. Encounters with this cute animal always bring a smile to children, and the dedication of the staff at the sanctuary is a joy to watch. Finally, you will be taken to Philip's Animal Garden, a rescue shelter for more than 50 species. The family can even feed some of these animals by hand and learn everything about them from the experienced guides. So that you know, all transport and entry fees are included in this entertaining activity for families in Aruba.
6. Diving Course for Non-PADI Divers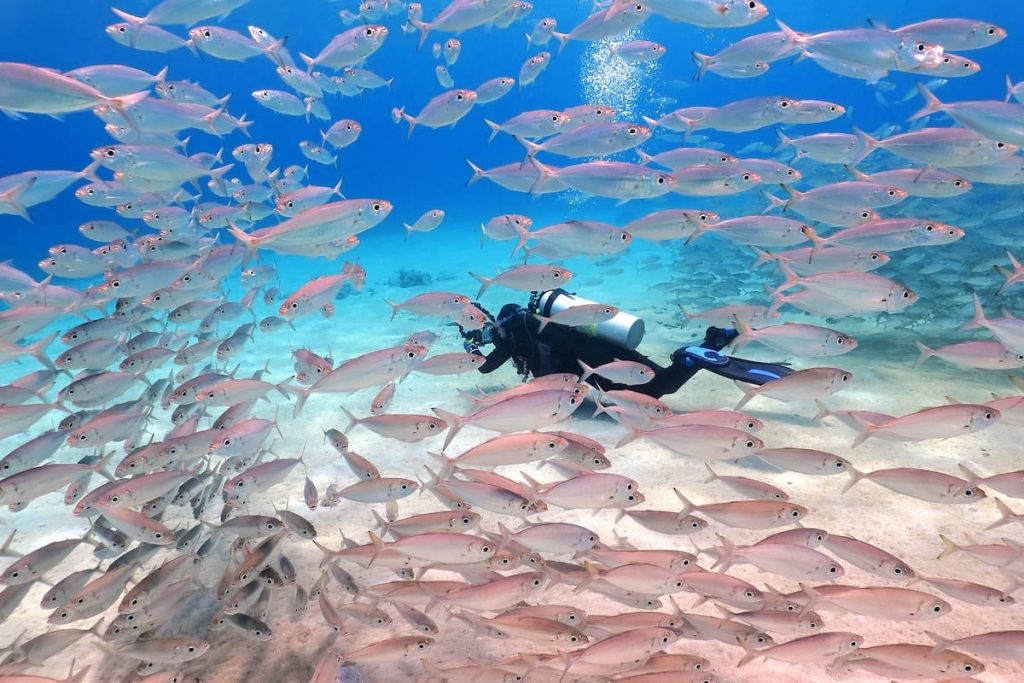 You don't need any diving experience on this family activity in Aruba as his tour is designed to help first-timers experience the excitement of Scuba diving. The instructors will teach everyone about the correct breathing techniques, how to control buoyancy, and how to use the equipment. Therefore, you can go diving at Mangel Halto Reef without any prior experience, and PADI instructors will always be present to ensure safety.
PADI stands for the Professional Association of Diving Instructors. It is the world's leading scuba diving training organization, offering internationally recognized certifications and dive education programs. PADI is known for its high standards of diver safety, education, and environmental awareness.
Mangel Halto is a stunning reef with clear waters, colorful coral, and many marine life. Divers will often see octopus, eels, and many types of fish, and the overall experience is often described as exhilarating or 'once in a lifetime.' Groups and families will often join this diving course, and everyone will receive a certificate at the end of the dive. You will be picked up and dropped off at your hotel, and the PADI guides will try to make this a hassle-free activity for all involved. If you have never tried scuba diving, this is an excellent opportunity to learn and to see why people travel from all over the world to explore the magical underwater world of Aruba.
7. Day Trip to the Ostrich Farm in Paradera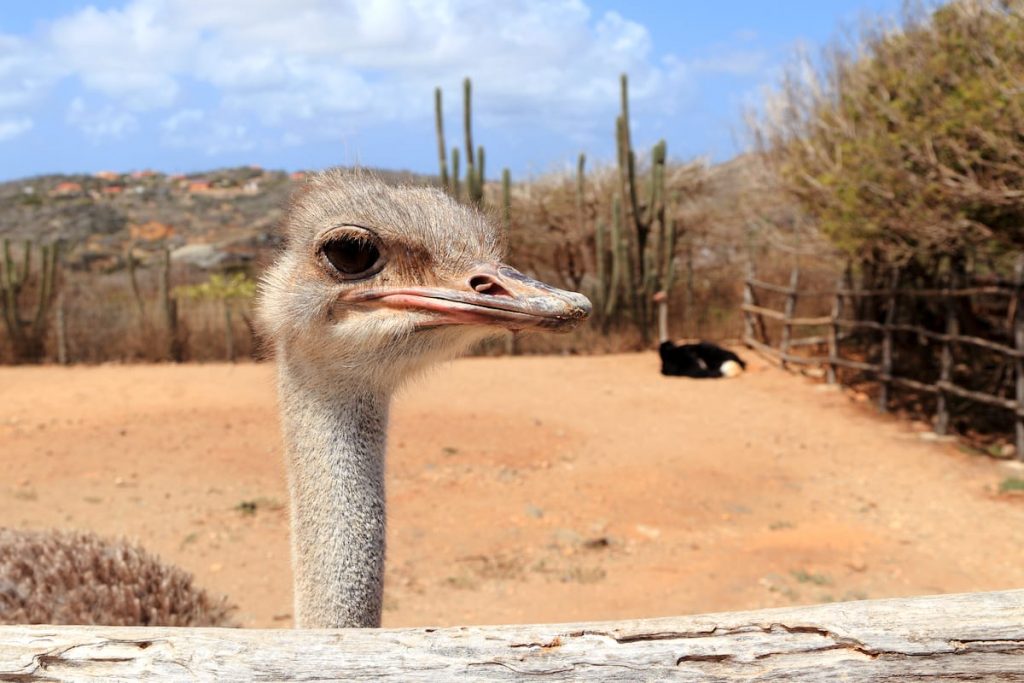 The Ostrich Farm in Paradera is a sanctuary for ostriches and other exotic bird species. This even includes land turtles, peacocks, and emus; these birds' unusual appearances always delight young children. However, ducks, chickens, geese, and many more common bird species are also on the farm. This family activity in Aruba is a guided tour, meaning you get to learn everything about the farm's inhabitants. That is to say; your guide will explain things like behavior and habits and then explain from where each of the birds came.
The farm is immense in size and a joy to explore on foot because it involves close encounters with each bird species. You will also receive a sublime lunch during the tour and a beer, smoothie, or cold beverage to wash it down. Both adults and children should enjoy this family activity in Aruba, and you will also come away from this day trip with a head full of knowledge about different bird species!
8. Discover Snorkeling Mangel Halto Beach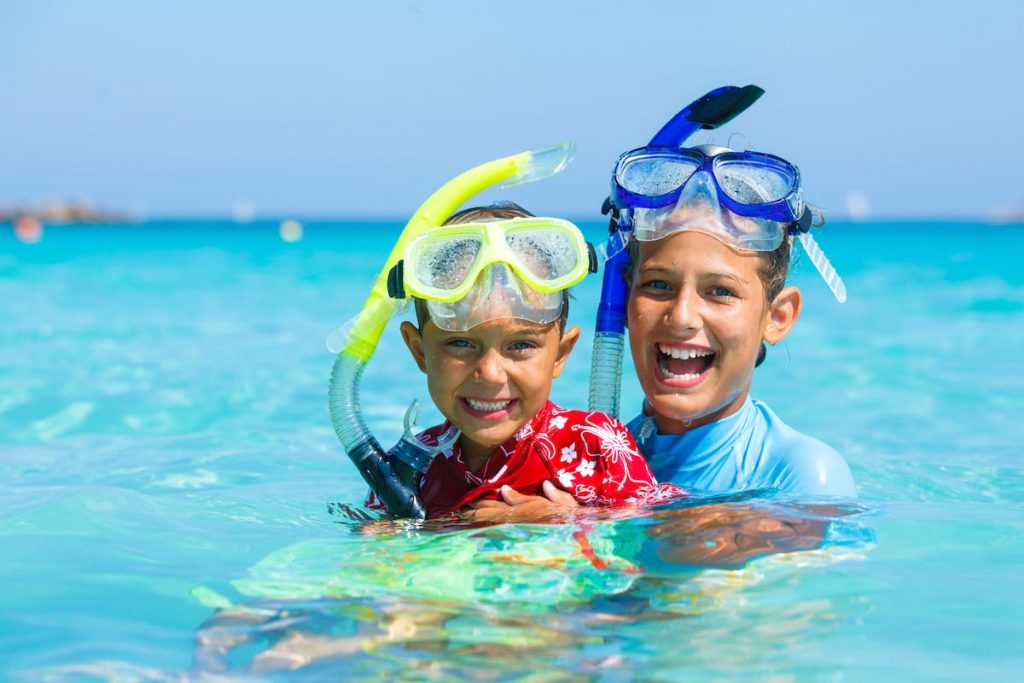 Snorkeling at Mangel Halto is an unforgettable experience and arguably the best snorkel experience in this part of the world. This activity is also safe for children as there is a PADI instructor at all times, and they explain the basics of snorkeling, buoyancy, and how to use the actual equipment. The water just off Mangel Halto Beach is crystal clear, so that you can expect excellent visibility and close encounters with parrot fish, eels, and more than ten types of exotic fish. Although never guaranteed, you will likely see most of these species on a single dive.
There is also a tiny shipwreck for added excitement, and when it comes to diving in Aruba, there is nowhere as enjoyable as Mangel Halto Beach. You do not need any prior experience to participate, and snacks, including bananas, cookies, and water, are provided during the trip to keep the energy levels up. Guests are picked up and dropped back at their hotel, and the PADI guides are always on hand, which ensures this activity is suitable for families. What's more, online reviews attest to this being a suitable thing to do in Aruba for kids, and this is undoubtedly one of the more exciting activities for adults alike!
9. HorseBack Trek to Alto Vista Chapel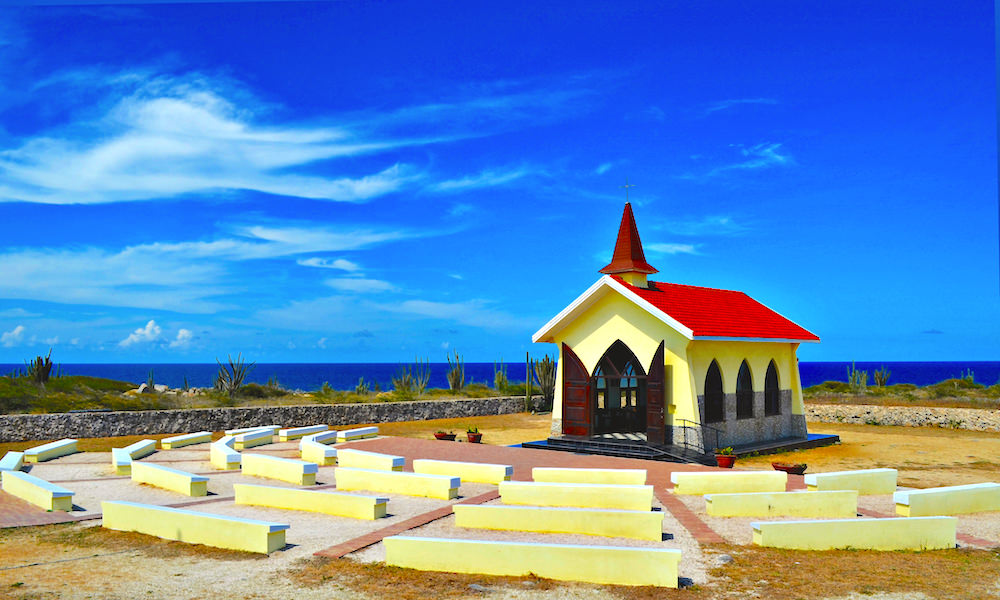 Taking a horseback tour is always fun, but a family horseback trip to Alto Vista Chapel really does tick all the right boxes. Parents and children are sure to enjoy this trip not just because of the horses but also because of the destination. On horseback, you will first travel through ranch lands and rolling plains where iguanas, donkeys, and other fauna like to hang out. Parakeets, choco, and other colorful birds are also in the area, and the vantage point on top of a horse makes them that bit easier to spot.
You will also find contrast on this trip as you reach the ocean and see the rugged coastline for which this part of Aruba is known. But what about the chapel itself? After a 2-hour horseback tour, Alto Vista Chapel is an awe-inspiring sight; you can take time to explore the grounds here. You will then trek back along a dusty trail toward the ranch for a cold drink. It might only last for 2 hours, but the experience of this fun activity for families in Aruba is sure to last much longer in the memory.
10. The Movies at Paseo Herencia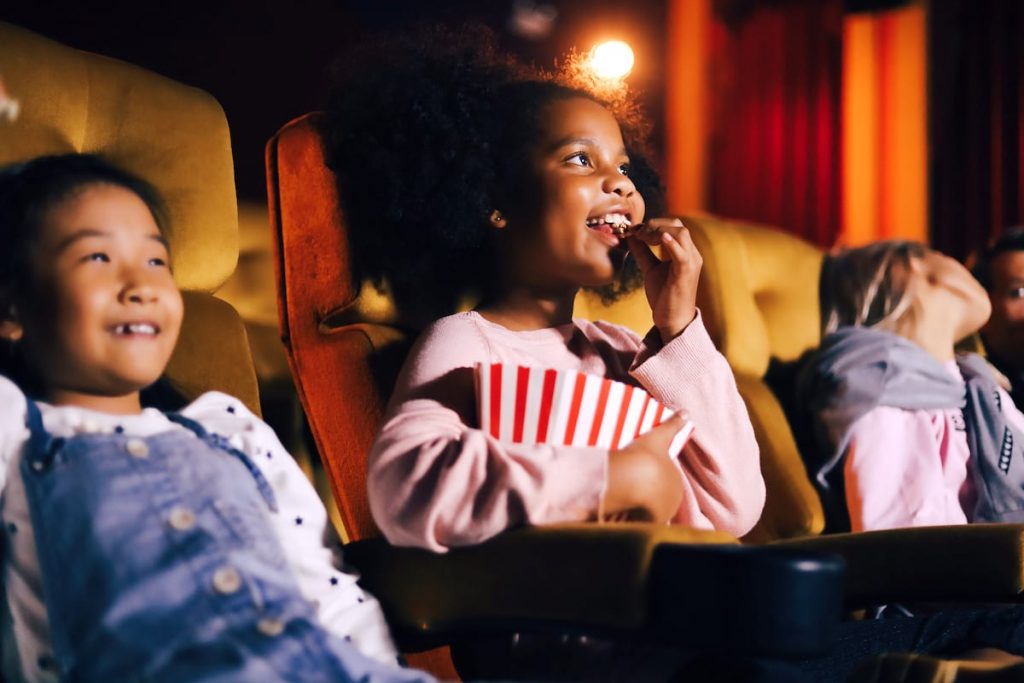 The Paseo Herencia in Aruba is a popular destination for families, including a great place to take your kids to the movies. Paseo Herencia is a shopping and entertainment complex located in Palm Beach, near many of the island's hotels and resorts.
The complex features a modern and well-equipped movie theater called "The Movies at Paseo Herencia." The theater offers a comfortable and family-friendly environment with multiple screens and a variety of movies for all ages. It's a perfect opportunity for your kids to enjoy the latest blockbusters or family-friendly films while on vacation.
Paseo Herencia itself offers more than just movies. It features an open-air plaza with various shops, restaurants, and entertainment options. You can explore the surrounding area, grab a bite to eat, or enjoy some shopping before or after catching a movie.
Additionally, Paseo Herencia often hosts special events and performances, adding to the overall entertainment experience. It's a lively and vibrant place that caters to families, providing a range of activities and amenities to make your outing enjoyable.
Visit the Butterfly Farm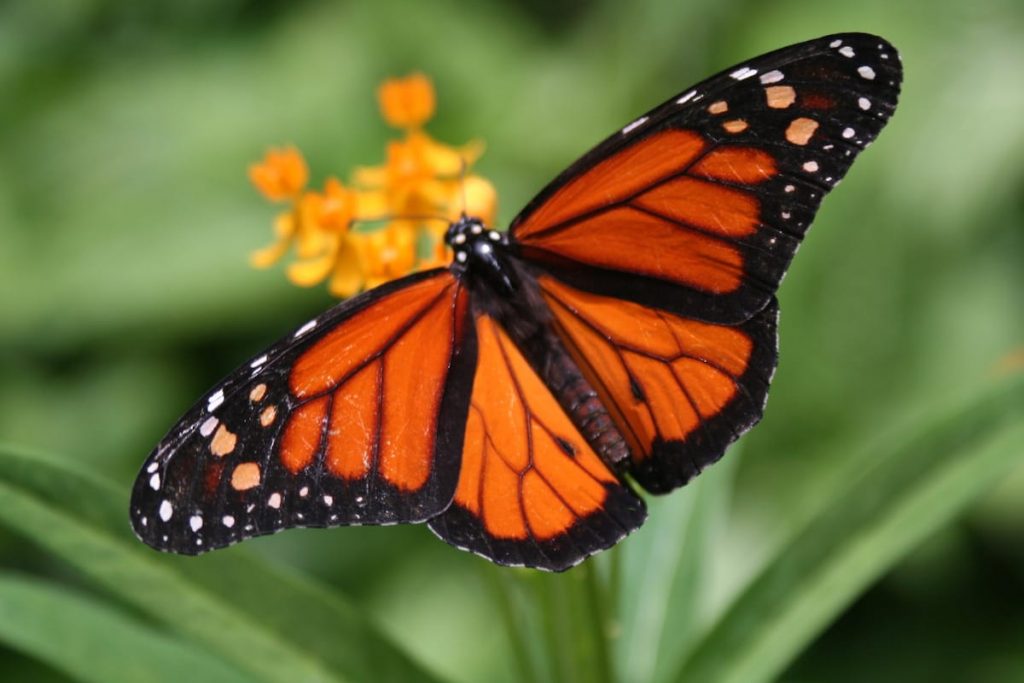 Kids have the opportunity to learn about the life cycle of butterflies, their habitats, and their importance to the ecosystem. The Butterfly Farm provides educational tours where knowledgeable guides share interesting facts about the different butterfly species and their behaviors. It's a chance for children to expand their knowledge and appreciation for the natural world.
Children can witness the magical sight of butterflies fluttering freely around them. Make sure they wear bright colors to attract them! The farm provides a safe and controlled environment where kids can observe butterflies up close, marvel at their vibrant colors, and even have the chance to see them emerge from their chrysalises. It's a hands-on experience that can spark wonder and curiosity in young minds.
Kids can have fun taking pictures of these delicate creatures, creating lasting mementos of their time at the farm!
You'll also have the opportunity to encounter some incredibly unique caterpillars that may seem like they belong to another world. Unlike butterfly exhibits in North America, you can interact with the butterflies and caterpillars here – knowledgeable guides will show you how. Don't miss the chance to admire the intricate eggs and jewel-like chrysalises on display!
Additionally, bird enthusiasts will be delighted that the Butterfly Farm is conveniently located near the bird sanctuary.
We hope the above kid-friendly activities will help you plan an exciting day out for all the family and that you experience everything and more on your trip to Aruba!