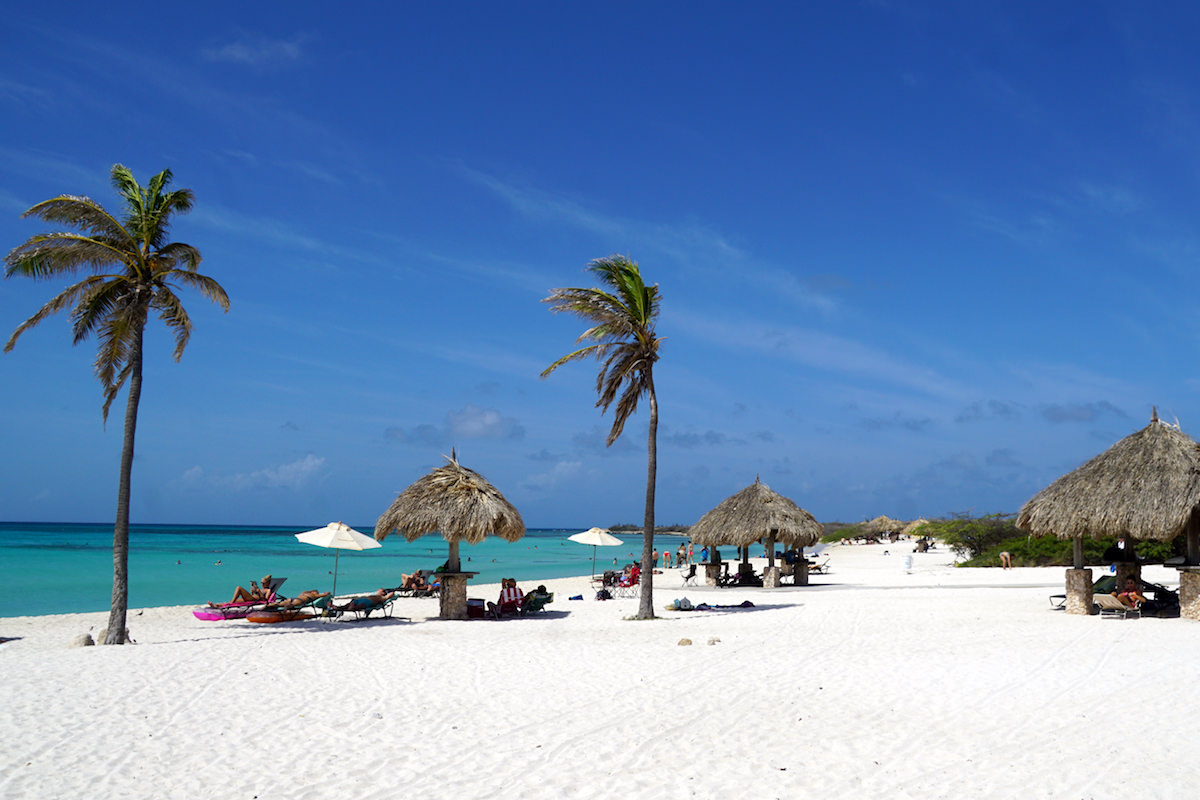 bar, beach chairs, cabanas, parking.
snorkeling, scuba diving, kitesurfing, hiking, swimming.
19:51 PM
07:49 AM
700 meters.
Excellent with calm water.
Arashi Arubus Stop
About Arashi Beach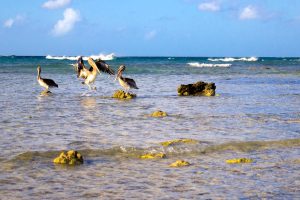 North of Malmok Beach and approximately 500 meters south of the California Lighthouse, you will find Arashi Beach. It's the northernmost beach located on the northwest coast of the island. This beautiful, quiet beach is about 700 meters long and faces west, overlooking the blue waters of Arashi Bay. It's a great beach for snorkeling and taking pictures during sunset hours. Featuring calm and shallow waters with rich Caribbean underwater life, Arashi Beach offers fantastic snorkeling and swimming opportunities. The waters at Arashi stay shallow for quite a distance, but always be careful, as the waves can sweep you further out if you are not careful and swim out too far. There are no water sports restrictions at this beach. Surfing here is allowed. The wind is mostly offshore, the waves are gentle, and there's a nearby reef that's popular with surfers. Generally speaking, kitesurfing at Arashi Beach is for advanced riders only. Arashi Beach is very suitable for families with children. At the beach, you'll find some huts with roofs made of dried palm tree leaves that provide shade when needed. However, Arashi tends to get a little rocky on the north side, so it may be a good idea to bring some beach shoes. There are no other facilities besides a beach bar and a spacious parking area, so you'll want to bring some refreshments and food too. If you've come to Aruba for a very short stay or on a cruise ship and are unsure whether to choose Arashi Beach vs Eagle Beach, for example, we'd suggest you go to Eagle Beach. The food and drink options are more plentiful, a bit more convenient to get to, and plenty of space.
Arashi Beach Map
Use the map below to explore the area surrounding the beach.
Fill in your vacation dates to get a real-time view of available accommodations near Arashi Beach!
Beach Bars at Arashi Beach
Arashi Beach Shack
Yes! There is a beach shack at Arashi Beach. It's open daily from 10:00 am until 21:00 pm. The beach shack is a popular spot where visitors can grab a quick bite to eat or quench their thirst while enjoying the beach. The Arashi Beach Shack offers a range of food and beverage options, including snacks, sandwiches, drinks, and refreshing treats. You can find typical beach bites such as burgers, hot dogs, fries, and local specialties to satisfy your hunger after swimming or sunbathing. The beach shack provides a convenient option for those who prefer not to bring their own food or venture far from the beach. It allows you to grab a quick meal or snack without leaving the sandy shores of Arashi Beach. Remember that the availability and menu offerings at the beach shack may vary, so it's recommended to check for the latest information on the operating hours and available food options. Arashi Snack offers a casual and relaxed dining experience, allowing you to refuel and continue enjoying the beauty of Arashi Beach. Snorkel gear is available for rent at the shack, and shouldn't cost you more than $5 or so.
Where to Stay near Arashi Beach - Our Top Picks
Alegria - Ocean View Villa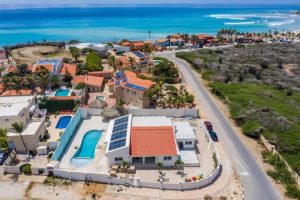 Alegria Ocean View Villa is a beautiful place to stay near Arashi Beach, and the large walls surrounding the villa mean you can expect a very private stay. This is also an incredibly spacious villa with a large swimming pool and a designated sun-tanning area. A big roof deck offers the perfect spot to enjoy the scenery at this beachfront villa. The property is fully equipped with air conditioning and all modern conveniences, making it an ideal place to stay for families or groups. Alegria can cater to up to ten adults and six children, highlighting the property's grand size. All four bedrooms come with a private bathroom, television, and direct access to the outdoor terrace, while the bright interior is equipped with brand-new furnishings. With Arashi Beach just a 12-minute walk away, this is also a great place to explore the area, and the beach house is right next to the immaculate Tierra del Sol Golf Course.

LG Smith Boulevard 558 (Villa)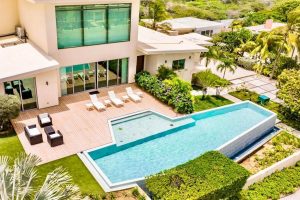 LG Smith Boulevard is a beachfront villa near Arashi Beach with no less than four bedrooms and five bathrooms. You will find all modern conveniences at the property, such as air conditioning, Wi-Fi, televisions, and a full kitchen suitable for cooking meals for families or groups. The size of the outdoor area is also generous, with a large patio and private pool for guests to enjoy. The pool in this private garden is an infinity pool which adds to the luxurious nature of the villa. There is even a large dining table, a lounge with leather sofas, and a "Den" area where you can escape and relax. As for the furnishings and decor, the interior is contemporary and high-end at every turn. Everything is newly renovated, and the overall standard should live up to even the highest expectations. 
Located just 250 meters from the white sands of Arashi, this ocean-view villa is ideally situated for outdoor lovers. A tropical oasis in the garden ensures you don't need to go anywhere to experience the lush nature surrounding this stunning place to stay in Aruba.


Beach Front Luxury Villa Boca Catalina Malmok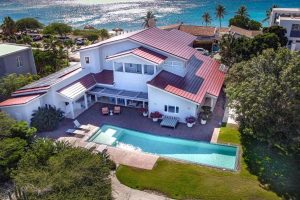 This beachfront villa is perfect for families or groups that want a private stay in the north of Aruba. Located just 400 meters from Arashi Beach, Villa Boca Catalina is a luxury villa with immediate access to nature and a stunning interior that highlights the property's features. Featuring an ottoman, two sofas, and a vast television, the lounge is ideal for movie nights, while the five bedrooms ensure there is plenty of space for large groups. All bedrooms are beautifully decorated, and several en-suites accompany the modern furnishings. The villa also has a full-sized modern kitchen with all modern appliances and easy access to the outdoor terrace. This makes dining outdoors easy, but the location means you are also within walking distance of the local eateries. Some truly stunning and lush tropical vegetation surrounds the veranda, with six deck chairs on which to relax. Guests have direct access to a resort-type swimming pool and can always walk to the nearby beach. All considered, Villa Boca Catalina is a great place to stay near Arashi Beach and is sure not to disappoint!
Things To Do at Arashi Beach
Kayak Guided Night Tour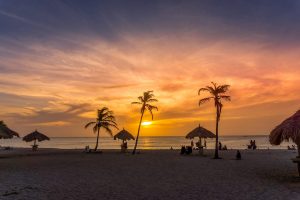 How does a kayak tour under the starry skies at Arashi sound? It's a unique and unforgettable experience (and a romantic thing to do for couples!) As the sun sets, you'll embark on a tranquil kayaking adventure along the shoreline of Arashi, immersing yourself in breathtaking scenery. As darkness falls, the tour guide will activate your special LED light racks, securely fastened beneath your kayak, illuminating the underwater world. Witness the captivating nightlife of fish and coral, enhanced by the moon's gentle glow. You can even snorkel for an up-close encounter with the local marine life. Unveil the enchanting waters of Aruba beneath a starlit sky, guided by experts who will teach you effective kayaking techniques. With the aid of the LED lights, marvel at marine life from a new perspective, and follow our knowledgeable guide as you explore a shallow shipwreck. Remember to bring extra towels to shield yourself from the refreshing night breeze once you exit the water! Gather at the designated meeting point, the parking lot of Arashi Beach. Look for Clear Kayak Aruba, easily identifiable by the stone arch near the entrance.
Snorkeling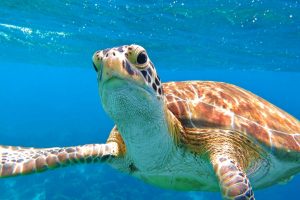 Arashi Beach is a good spot for some light snorkeling. Currents are usually gentle here, and you'll spot plenty of underwater life. Angelfish, butterflyfish, damselfish, filefish, goatfish, jack, and the well-known parrotfish are frequently sighted. For the best snorkeling experience, head outside the shallow reef. The reef runs roughly parallel to the shoreline and will require quite a lot of swimming. Please avoid touching any coral, keep enough energy to swim back, keep an eye out for boat traffic and stay aware of any changing currents. If you're coming to Aruba to swim with sea turtles in the wild, you're in luck! Arashi is one of Aruba's turtle-nesting beaches, and sea turtles can often be spotted on the left side in the warm water of Arashi Bay. While snorkeling, keep an eye out for patches of seagrass where they usually hang out. If you spot a turtle, please don't disturb the creature by getting too close. Please do not touch the animal and do not feed them. Remember that sea turtles are endangered species and must be protected to thrive.
Hiking Westpunt Trail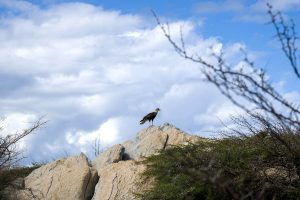 Westpunt Trail is a scenic and popular hiking trail that takes you along the rugged northwest coast of the island. You'll find it approximately half a kilometer north of Arashi Beach. It's a great trail for bike riding or just walking the dog. It is best known for its stunning coastal views, unique rock formations, and diverse flora and fauna. The trail offers an opportunity to immerse yourself in the natural beauty of Aruba and explore its unspoiled landscapes. The Westpunt Trail starts near the California Lighthouse and stretches for approximately 2.8 kilometers (1.7 miles), winding along the rocky coastline. It is a moderately challenging trail that requires sturdy footwear and proper sun protection, as there is little shade along the route. As you hike along the trail, you'll be treated to panoramic vistas of the turquoise Caribbean Sea, with dramatic cliffs and crashing waves creating a picturesque backdrop. Along the way, you'll encounter various species of desert vegetation, including cacti and shrubs, which have adapted to the arid conditions of the island. Keep an eye out for native birds and lizards that inhabit the area, adding to the wildlife sightings during your hike.
Kitesurfing
The wind at Arashi blows offshore, and if you are confident going upwind, you should check this kite spot out. On the western end of Arashi beach there is a reef called "rancho" that is quite popular. You may want to have access to a rescue boat. If you're going to go to Arashi from the Fisherman Huts, just put up your kite and go right until you get to the island's tip. Let the lighthouse be your guide. On the way to Arashi, don't be surprised if you pass a snorkel tour catamaran in Arashi Bay. It's an excellent opportunity to show off a massive jump – see if you can get some cheers from the crowd! Once at Arashi, you'll find crystal-clear warm water with offshore wind, plenty of deeper water, and a reef with a gentle swell. The waves are sweet and comfortable. For advanced riders only.
How to Get to Arashi Beach

By Car
To reach Arashi Beach from Oranjestad, make sure you follow directions north to L.G. Smith Blvd and keep on following the road until you've reached the sign for the beach. Turn left and then follow directions to the parking area. It's about a 12-kilometer trip, and it should take about 15 minutes, depending on traffic. You can park your car right behind the beach!
By Arubus (Public Transportation)
Arubus L10A can take you from Oranjestad to Arashi Beach daily.
On weekdays, the first bus departs at 06:15 AM and the last one at 6:10 PM
During weekends, the first bus leaves at 06:00 AM and the last one at 6:00 PM
Check this page for up-to-date departure times.
After Arashi Beach, There's Always Another Beach to Explore!