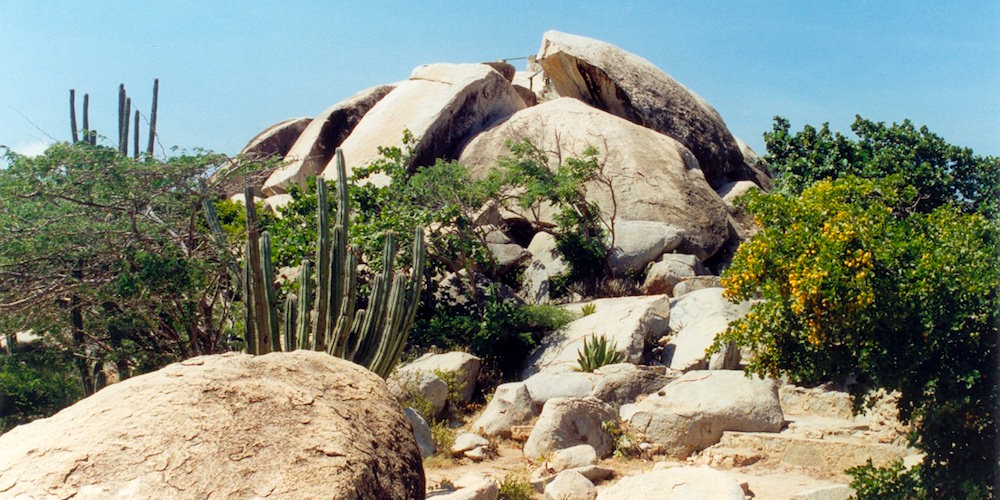 The Ayo Rock Formations, situated close to Ayo Village, are worth visiting when you are looking for things to do in Aruba. Actually, you should pay the rock formations a visit because, as soon as you arrive, you will realise that this place is a place filled with mystery. You will wonder what these rocks are doing there and where they came from, taking the flat landscape with some scattered hills of Aruba into account. It is still unknown what the origin is of the rock formations is. The rocks are grouped and here and there piled. The surface of the rocks looks rather smooth and there is a system of paved paths that lead around and through the large rocks.
Ayo Rock Carvings
The Ayo Rock Formations consist of monolithic boulders. They are massive, single pieces of rock that very well may have been placed at their current location. In ancient times, the indigenous peoples of Aruba might have created a certain kind of monument or temple to worship the Gods. The Arawak Indians who came from Venezuela to Aruba around 2000 B.C. used the rocks for shelter when bad weather, especially thunderstorms, would hit Aruba. During their visit and use of the Ayo Rock Formations for their religious rites, the Indians also made drawings called petroglyphs. By carving they removed part of the rock's surface, creating beautiful, mysterious works of art. The culture of the Arawak Indians, especially the one from the Caquetios tribe, had a greater influence on Aruba than on the other islands of the Caribbean. You can still find traces of this influence in the local Papiamento language.
Location
The elevation of the Ayo Rock Formations is a 175 ft. When you look around you will notice that the elevation change of the rocks is minimal. When you plan on climbing the rocks bear in mind that no steps have been carved into the rocks to make climbing them easier. Trying to reach the top of the rocks is at your own risk and requires proper footwear.
Best Time to Go
We recommend visiting the Ayo Rock Formations early in the morning or late in the afternoon. Although the wind might bring you some relief, the temperature around noon is just too high. Make sure you bring sufficient water when you plan to go hiking around the rocks. Also, a hat or cap, sunglasses, proper clothing, sun lotion or sun block and the right shoes are a necessity.
Amenities
At the Ayo Rock Formations location, there are no amenities available. You have to bring your own food and refreshments. There are no restrooms at the site. Andicuri is very close by when you would like to go to the beach afterwards. Andicuri will lead you to Andicuri Beach.