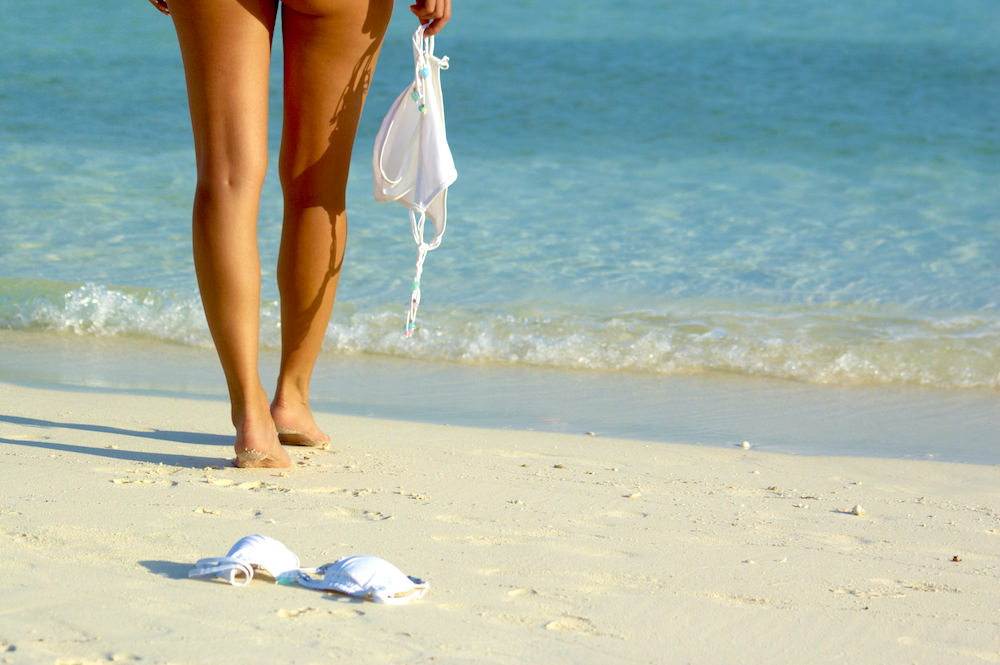 Are There any Nude Beaches in Aruba?
No. In Aruba, public nudity of any kind is strictly forbidden on the Caribbean island. Besides, public nudity is often perceived as an insult to the (predominantly Catholic) Aruban people.
If you haven't decided where to go yet, Jamaica is by far the best island for a nude vacation.
One of the best naturist resorts on Jamaica is the Couples Sans Souci
There are a few spots in Aruba where topless sunbathing is allowed.
Flamingo Beach
On Renaissance Island, on the adult section of Flamingo Beach, topless sunbathing is allowed, but no one ever goes totally nude. Besides that, there are no nude beaches in Aruba. You won't find any nude beach resorts or "clothing optional" resorts on the island either.
East Coast
However, there are several secluded beaches along the rougher east coast where you could undress, provided that you do so discretely. Make sure that you're completely alone. Do keep in mind that some of these beaches often are visited by tourists on a Jeep safari or horseback tour. These beaches are popular surfing and kitesurfing spots as well. Also, please keep in mind that these beaches are not safe for swimming. There are no facilities nearby and the surf can be extremely rough.
Any Other Topless Beaches in Aruba?
Not officially. You won't find a sign that says "This is a Topless Beach". However, topless sunbathing or topless swimming/snorkeling is not against the law. In the eighties and nineties it was much more prevalent.
Europeans
If you want to go topless, it's best to look around to confirm you're not the only one. You'll likely find more topless sunbathers in the low-rise area, near Manchebo Beach and the south part of Eagle Beach, near the Bucuti & Tara Beach Resort. Most Europeans tend to stay in that area, and they're not that easily shocked when it comes to a bit of skin. At the Manchebo Beach Resort, there's a separate area where Europeans go topless, but walking on the beach topless if generally frowned upon.
Americans
Move up to Palm Beach, where most Americans reside, and you'll spot no topless sunbathers whatsoever. Move further up north past the high-rise hotels towards Malmok Beach and Arashi Beach, and it could be you'll spot a few people sunbathing and swimming topless there. The quieter the beaches are, the greater the chance that this will occur.