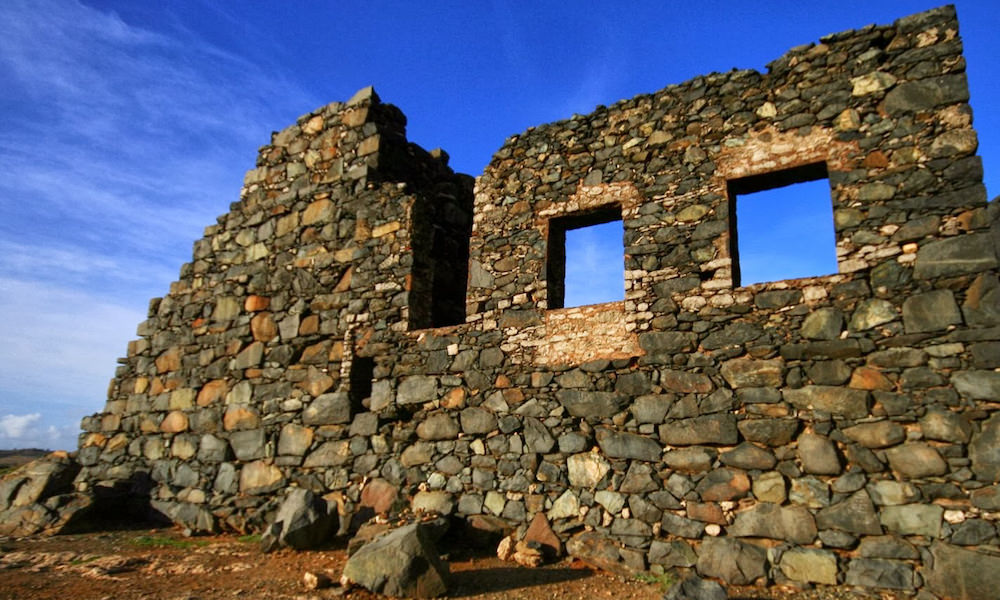 The Bushiribana Gold Mill Ruins are the remnants of a long-abandoned gold mill that processed gold ore during the Aruban gold rush in the nineteenth century.
Location
The ruins are located between Wairiruri beach and Andicuri beach.
History of the Bushiribana Gold Mill Ruins
Already in 1725, The Dutch explored the presence of mineral ores on Curaçao and on Aruba and Bonaire too. The results were disappointing in the beginning but the rumor that the Spanish had left hidden treasures on the islands kept the people going and the spirit alive. It was not until 1824 that the Gold fever caught on in Aruba after the discovery of gold ore by a young herder in the nearby hills of Rooi Fluit.
After the right to dig for gold in Aruban soil was taken from the public in 1854, it first exchanged hands between several companies. The Bushiribana Gold Mill was finally built in 1874 by the English Aruba Island Gold Mining Company. The fort-like Bushiribana Gold Mill was made of limestone in order to fence off potential pirates looking to steal treasures.
Digging for gold in Aruba was a complicated process. During the period that several companies, using several kinds of techniques, explored the sites, looking for gold, only reasonable results were achieved. The frequent exchange of rights to dig for gold also explains why a lot of companies had difficulty getting profitable. The lack of the proper production process and materials was a rather big disadvantage.
The gold fever, though, kept the companies going.
Use of Tunnels
It is interesting to know that many mine tunnels were used. The longest mine tunnels were at Seroe Crystal, Seroe Gerard, and Kadushi. Eventually, during World War I, in 1916, it was decided to end all operations by the Aruba Gold Mining Company. Never again, looking for gold in a professional manner was resumed. Today, the Bushiribana Gold Mill Ruins are still frequently visited by tourists who are on their way to view the rougher side of Aruba either by a Jeep safari or on horseback.