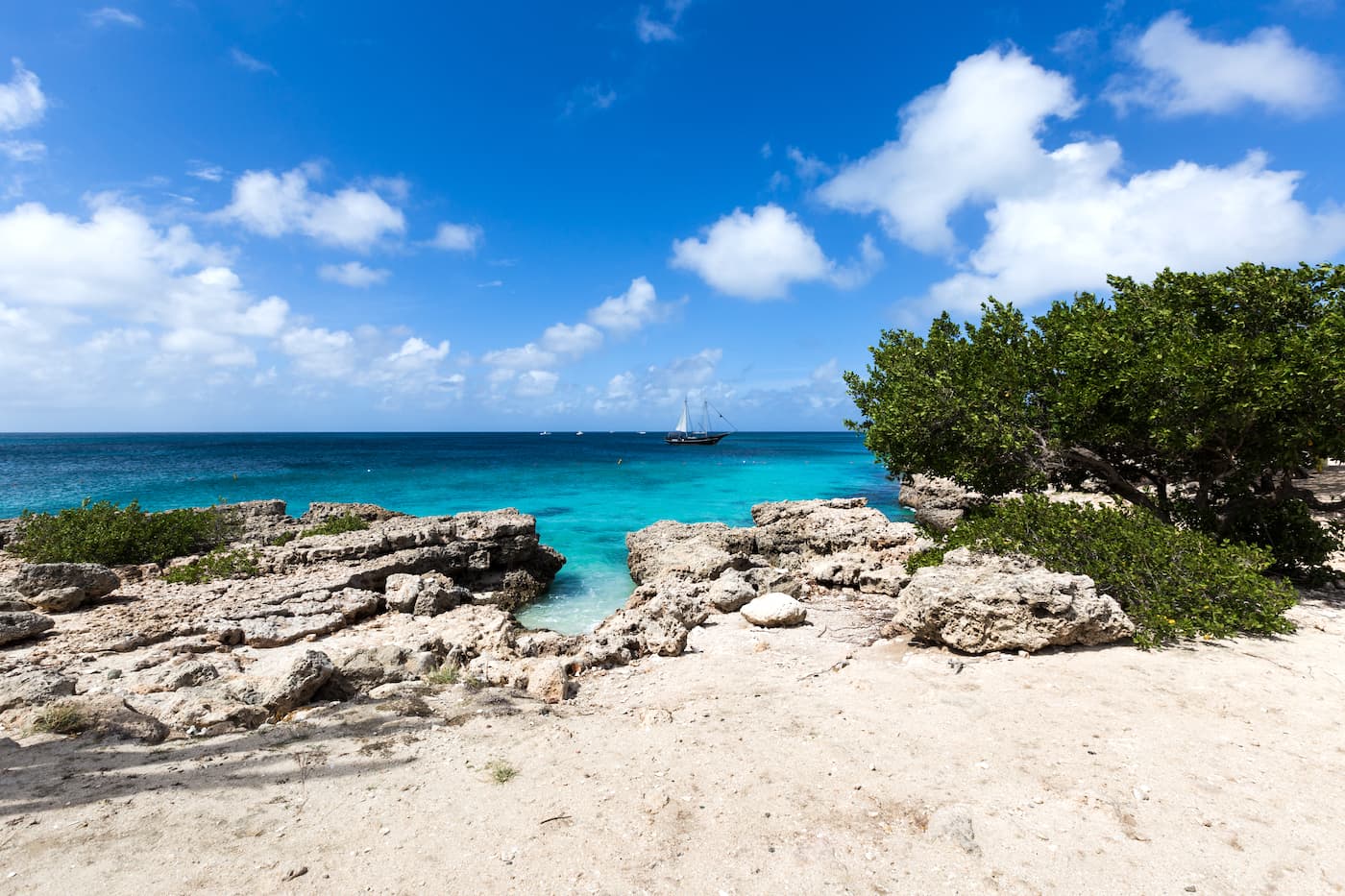 cabanas, parking.
snorkeling, scuba diving, swimming.
19:49 PM
07:47 AM
700 meters.
Clear and shallow waters, a popular snorkeling spot.
Malmok Arubus Stop
About Malmok Beach
Malmok Beach is just past the high-rise hotels on the north coast of Aruba. This beach lies just 3 kilometers north of the famous Palm Beach and is approximately 700 meters long. Although this beach is not very frequently visited by regular beach enthusiasts who want to spend a day sipping cocktails in the sun, it is a popular spot where some of the best snorkeling in Aruba is within reach right off the beach. Unsurprisingly, many Aruba snorkel tour companies choose Malmok Beach every day to anchor their boats to water the snorkelers. It's easy to enter the water yourself and go solo and explore the area for tropical fishes. If you'd like to snorkel at Malmok Beach, it's best to go early, at around 10 AM, as this snorkeling spot can become quite noisy once the tours start around 1 PM. You can enter the warm Caribbean waters by choosing one of two sandy beaches. You may want to bring water shoes or flippers as the beaches are scattered with rocks.
Malmok Beach Map
Use the map below to explore the area surrounding the beach.
Fill in your vacation dates to get a real-time view of available accommodations near Malmok Beach!
Where to Stay near Malmok Beach - Our Top Picks
Malmok Beach Hotel - The Ocean Z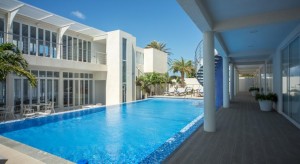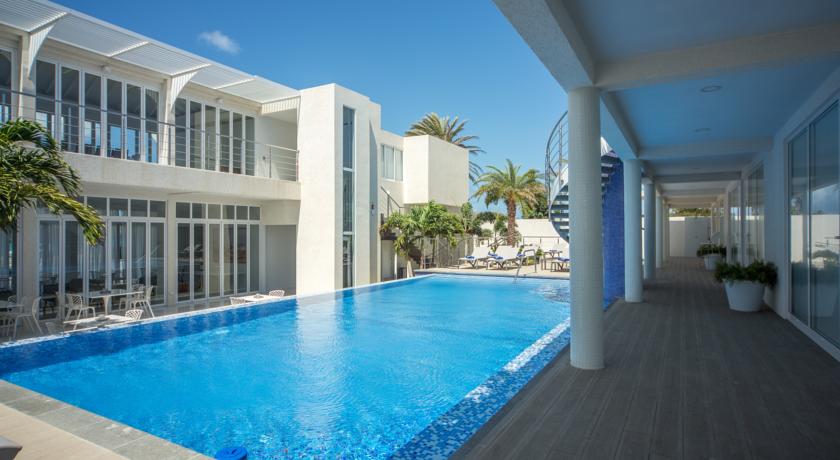 If you'd like to stay near this beach during your vacation in Aruba, you'll find the brand new Ocean Z boutique hotel just across the road to Malmok Beach. The adult only Ocean Z was opened for business in July 2016. It was built to function as a beachfront villa, but the Venezuelan owner turned it into a unique five-star Aruba boutique hotel instead. The small luxury hotel boasts ultimate privacy for couples and features a clean and minimalist design. The Ocean Z offers just 13 rooms, spread across two adjacent buildings, with a chic outdoor pool in the middle. The hotel's luxury suites feature an infinity pool and spectacular ocean views across Malmok Beach. Double rooms are elegantly furnished and have a size of over 400 square feet. A private outdoor shower with a deck will keep you cool. The hotel is located right on Aruba's renowned Ocean Drive, which leads to other beaches such as Boca Catalina and Arashi Beach. Top facilities include a gourmet restaurant and a convenience store. Upon arrival, the hotel's multilingual staff will take care of your transfer, and welcome you with a glass of champagne.
Villa Bougainvillea Aruba Rumba Suite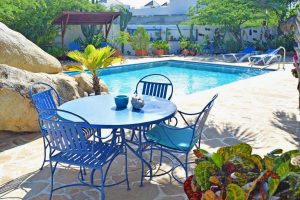 Situated at walking distance from Malmok Beach, Villa Bougainvillea is a tropical villa featuring three modern, intimate, spacious studios with a tropical garden and one large swimming pool. The accommodation is in a quiet area, and a supermarket is close. The California dunes, the Tierra del Sol Golf Resort, and the California lighthouse are all within a reasonable distance. When the sun sets at the end of the day, enjoy amazing skies in this tranquil part of Aruba! Sunsets on the west coast of Aruba are what the island is famous for. Satisfaction guaranteed! Throughout the years, this accommodation has been praised for its hospitability and location.
Things To Do at Malmok Beach
The New Malmok Beach Boardwalk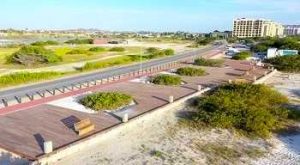 Back in February 2021, the government opened up the Malmok Boardwalk at the north end of the island, and it's totally awesome! The new boardwalk starts at Fisherman's Hut, where all the kite surfers hang out, and goes all the way to Boca Catalina Beach in the north. You can walk on both paved and wooden paths right next to the beautiful Caribbean Sea. There are even little paths that connect to the beach. There are plenty of benches where you can take a break or just chill and enjoy the peacefulness. And if you want a break from the sun, there are palapas that give you shade. You can do all sorts of fun things on the boardwalk. You can go for a run and let your mind wander, have a chat with your friends while walking, or even bring your dog along for a stroll. And here's the best part: the boardwalk has the most amazing sunset views in Aruba. No, scratch that, maybe it's the best sunset spot in the whole Caribbean! Right across the street from the boardwalk, there are fancy hotels where people stay. They now can walk across the street to watch the sunset. Even when it's dark outside, you can still have fun on the boardwalk because it has lights. You can go for a jog and feel super safe. Plus, there are markers with pictures of local birds and even the trash cans are decorated. Don't worry about parking if you come by car. There's plenty of space for you, so no need to stress about finding a spot. After a long day of work, locals come here to relax and unwind. It's their happy place!
Snorkel at Tres Trapi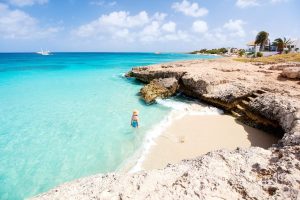 Head north from Malmok for about 2000 feet and go snorkeling at Tres Trapi, a fantastic snorkeling spot that perfectly captures the essence of Aruba. If you're eager to see sea turtles, look no further because this is a turtle paradise. That's why it's at the top of our list of the best snorkeling spots on the island. Finding it is a piece of cake – keep your eyes peeled for a breathtaking 7-foot coral wall with an entrance. To enter the water, you'll need to descend a skillfully carved staircase in the rocky formation that leads you straight into the ocean. In the local language, "Tres Trapi" means "Three Steps," which refers to the original three steps carved into the coral years ago to access the water. Nowadays, there are around six steps. As you enter the water, be careful because the stairs can be slippery and rough on your feet. Bring along some water shoes for added protection. But once you're in the water, prepare for an unforgettable snorkeling experience in some of the best offshore waters in Aruba!
How to Get to Malmok Beach

By Car
Malmok Beach is easy to reach by car or taxi from Oranjestad. Head northwest on Zoutmanstraat toward Arnold M Schuttestraat. Take the first right, and turn left onto Wilhelminastraat. Take the first left onto Arnold M Schuttestraat, then turn right onto Lloyd G. Smith Blvd. Continue to follow, then go through the roundabout. Take the second exit onto L.G. Smith Boulevard/Sasaki Weg at the next roundabout. Continue following L.G. Smith Boulevard/Sasaki Weg. At the next roundabout, continue straight to stay on L.G. Smith Blvd. The beach will be on your left.
By Arubus
The bus stop is practically behind Malmok.
After Malmok Beach, There's Always Another Beach to Explore!