Aruba weather is just that type of weather you will enjoy!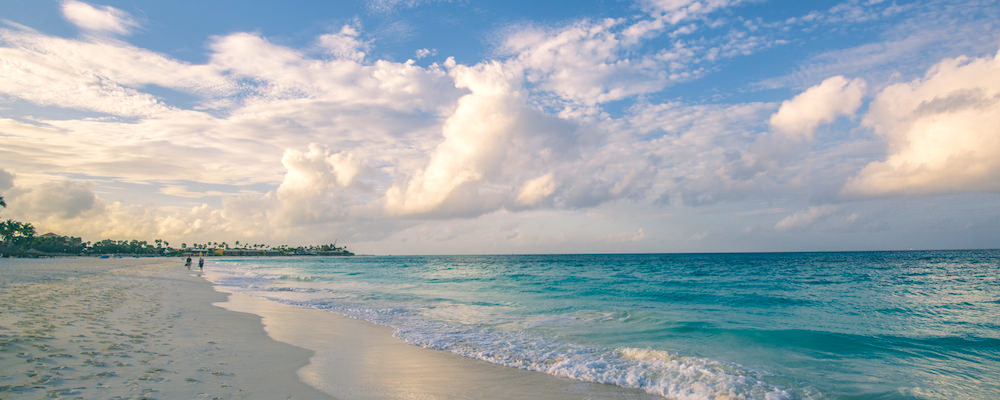 Current Three-day Weather Forecast for Aruba
Clear

Mostly clear. Lows overnight in the upper 70s.

Partly Cloudy

Windy with a few clouds from time to time. High 79F. Winds E at 20 to 30 mph.

Clear

Sun and a few passing clouds. High 79F. Winds E at 15 to 25 mph.
The Aruba Climate – Air Temperature
What is the weather like in Aruba? Does Aruba have the ultimate climate? What is the best time to visit Aruba? As this "one happy" Caribbean island is located a little over 12 degrees north of the equator, Aruba's atmospheric conditions are classified as tropical with a fairly constant temperature of 82 sunny degrees Fahrenheit (28 degrees Celsius) year round. Temperature differences between day and night and summer and winter are a mere 38 degrees Fahrenheit (4 degrees Celsius). As a result, it is fair to say that the people of Aruba enjoy world-class weather because of a comfortable average temperature. A weather forecast in Aruba is hardly needed. Visiting Aruba during the winter months at home is indeed a pleasurable thing to do. And that's what people do in November, December, and January every year!
The Aruba Climate – Water Temperature
The water temperature just off the beaches of Aruba is in the range of 75-85 degrees Fahrenheit, with slightly lower temperatures reported in the early months of the year.
The Aruba Climate – Sunshine
On average, the sun rises between 6 and 7 AM and sets between 6 and 7 in the evening year-round. The sunshine is very strong on Aruba, especially between the hours of 10.30 AM and 2:00 PM. Sunrays don't just come from above, they are reflected by the typical white sands of Aruba's beaches and the water surface of the Caribbean Sea. As we explain in our list of Aruba Tanning Tips, frequent use of high-SPF sunscreens is strongly recommended, especially for people with lighter skin. Tourists who have just arrived on Aruba to skip winter at home partially, ready for that perfect Caribbean vacation, are advised to avoid direct exposure to sunlight for the first few days. Don't worry, even in the shade, you will get tanned!
The Aruba Climate – Wind
Trade winds blowing from the east-northeast and east constantly cool the island, making the meteorological conditions one of the most temperate ones on the islands in the Caribbean. During the year, wind speeds vary from 7 mph to 25 mph (light breeze to strong breeze) and almost never exceed 28 mph (strong breeze). Every year in June, the winds are on average the highest at 25 mph (strong breeze) and in November the lowest at 18 mph (fresh breeze). Although Aruba's trade winds make the temperature more tolerable, they will easily trick you into getting seriously sunburnt, even on days with overcast skies. Your skin just feels less "in trouble" until you notice when you have returned to your place of stay where there's hardly any wind.
The Aruba Climate – Rainfall
Aruba's weather brings an average rainfall of not more than 20 inches in an entire year. Chance of showers tends to increase during the months of October through January, and most of the rainfall takes place mainly during the months of November and December. Rain showers on Aruba are generally short and can be quite a pleasure when you happen to be swimming or snorkeling. If you'd like to avoid any rain altogether, the best time to go to Aruba is between February and September.
The Aruba Climate – Hurricanes
When is hurricane season in Aruba?
Although hurricanes do occur on occasion in the Caribbean region during hurricane season (The hurricane season in the Atlantic, Caribbean, and the Gulf of Mexico runs from June 1 to November 30 each year), a storm's center rarely reaches Aruba. Aruba lies south of the hurricane belt. However, the island – on occasion – is influenced by the fringe effects of tropical storms in the area, causing dangerous swimming and surfing conditions at worst. When this occurs, it is advised to follow the news and the Aruba weather service closely. At the hotels, resorts or other types of accommodation, further info and instructions on what to do will be at hand when the Aruba weather conditions get serious. During tropical storms or hurricanes that reach Aruba too closely, it is difficult to forecast the atmospheric conditions and thus rely on it. Be safe when it occurs!