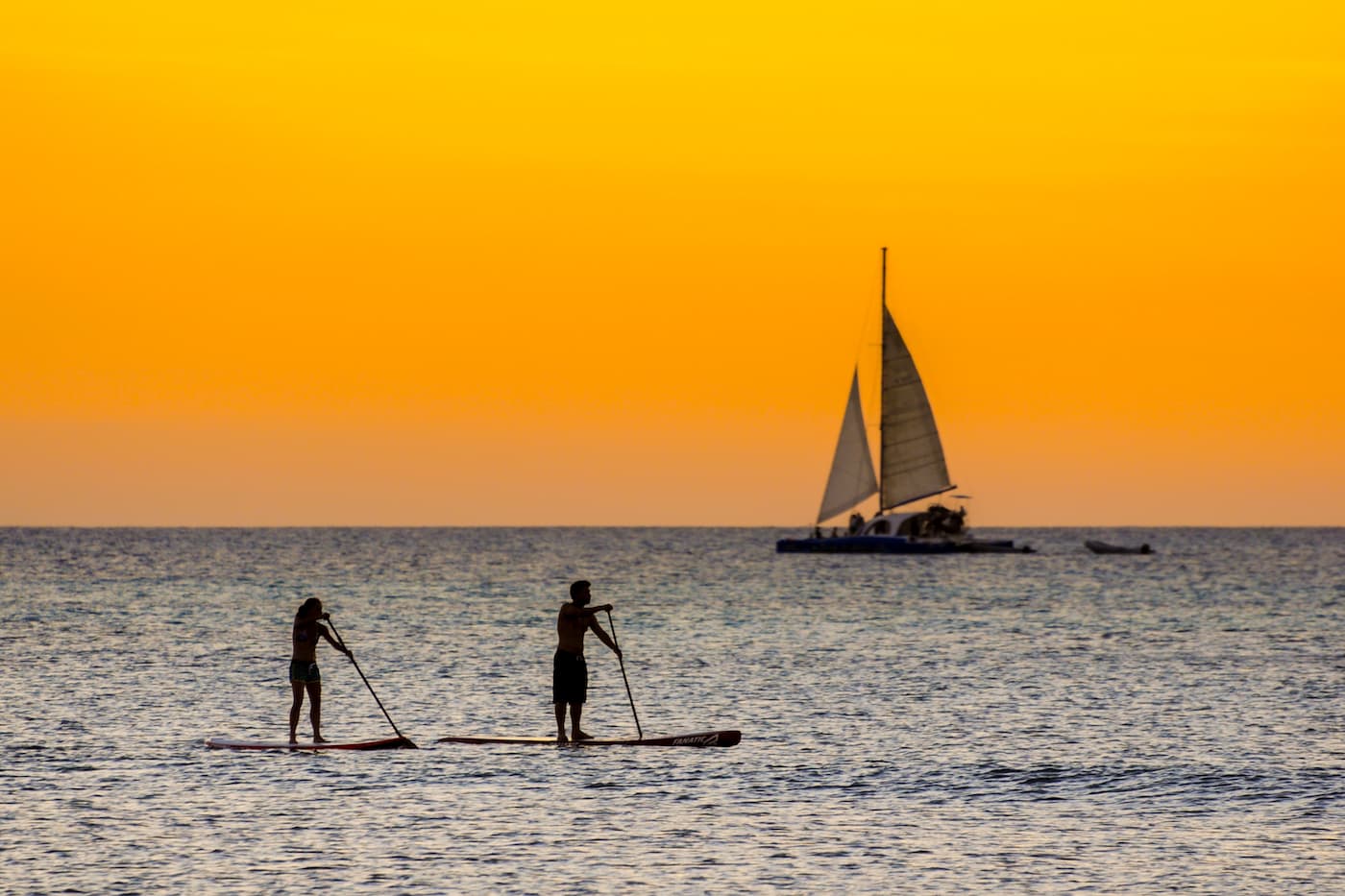 cabanas, parking.
snorkeling, windsurfing, kitesurfing, stand up paddling (SUP), swimming.
19:51 PM
07:49 AM
300 meters.
Very shallow water. Windsurfers like that too!
Hadicurari Beach Arubus Stop
About Hadicurari Beach
Hadicurari Beach is located between Malmok Beach to the north and Palm Beach to the south and lies at the north-western side of the island. It can be easily reached by car, taxi or public transport. It measures about 300 meters and it ends to the south where the beach of the Ritz-Carlton Aruba hotel begins. It is a rocky beach and windy beach that narrows the more you go to the north. The beach starts off the Arubus Hadicurari Bus-stop. Here you will also find the well-known Fishermen Huts that the local-fishermen used for shelter and storage during their fishing-trips with their small boats. Local fishing still takes place but the environment has changed nowadays. Hadicurari Beach has become a busy place with activities like windsurfing, kiting and sporting events throughout the year. For example, every year in June/July the largest windsurfing event of the Caribbean takes place here. The nearby Windsurfing Village becomes the center of many windsurfing enthusiasts. If you are looking for windsurfing or kitesurfing lessons then Hadicurari Beach is the place to be. In the vicinity you will be able to find a windsurfing and kitesurfing school that are offering various services.
The beach of Hadicurari has beautiful white powder sand with scattered rocks and pebbles. The water offers excellent opportunities for swimming, snorkelling, paddleboarding and windsurfing because the conditions are very shallow. Hadicurari Beach also offers great opportunities for families with children who are looking for non-deep water to teach their children how to swim or snorkel. It is a good idea to bring beach-shoes when visiting, especially when you walk towards the direction of Arashi Beach. Hadicurari Beach has very good parking possibilities but further amenities are hard to be found. Prepare your visit well by bringing your own food and drinks and other necessities. At the beach you will find some huts and palapas that offer shade when needed. Hadicurari Beach is also a great start to go for a walk or to go jogging/running or even take your mountain bike to the north towards the California Lighthouse and perhaps further. Especially the fact that the beach narrows to the north gives you that special feeling that you are one with the elements when doing your workout. Bear in mind that you have to start your day early and that you bring sufficient drinks and that you protect yourself well against sunburn.
Hadicurari Beach Map
Use the map below to explore the area surrounding the beach.
Fill in your vacation dates to get a real-time view of available accommodations near Hadicurari Beach (Fisherman Huts)!
How to Get to Hadicurari Beach (Fisherman Huts)

From Oranjestad make sure you follow directions north to L.G. Smith Boulevard and keep on following the road north until you reach the sign to make a left to Hadicurari Beach. Just follow directions to the parking area. It's about 9 kilometers and it takes you about 15 minutes to get there, depending on traffic.
After Hadicurari Beach, There's Always Another Beach to Explore!