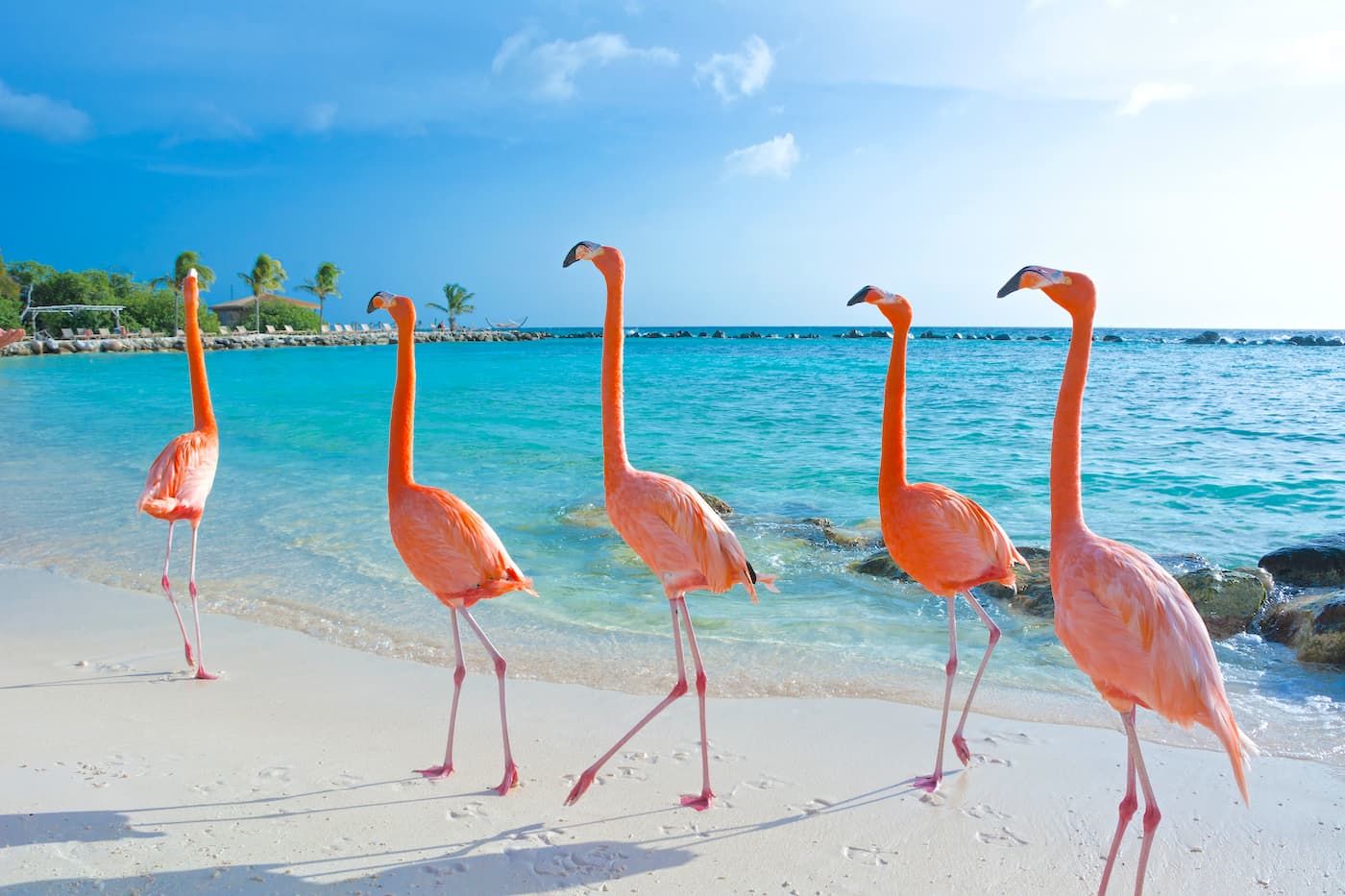 About Renaissance Island
Are you looking for a place in Aruba to really relax and get that "reborn" feeling? Do you want to avoid the busy beaches such as Eagle Beach or Palm Beach? Then Renaissance Island is the right place to visit! Renaissance Island belongs to the Renaissance Aruba Resort & Casino, it is a private island that is accessible to guests who are staying at the resort and to non-guests who have purchased a day pass. The island can only be reached by a boat taxi service which leaves every 15 minutes. It will take you just 8 minutes to arrive. Renaissance Island is open between 7 AM and 7 PM.
The Beaches
Flamingo Beach
Renaissance Island has two private beaches called Flamingo Beach and Iguana Beach. Flamingo Beach is an adult-only beach. It offers quietness, a spectacular view of the flamingos looking for food where the beach touches the ocean. It is a really quiet beach, the only sound you mostly hear is the wind going through the leaves of the palm trees. Flamingo Beach is a perfect spot for couples' romantic getaways, tasty cocktails, and open-air massages. It is a place to let go and go for that reborn feeling. For guests towels and relaxing beach chairs are free and if you are caring for some refreshments the waiter is just waiting for you to order.
Iguana Beach
Iguana Beach is a family-friendly beach. Families with children will enjoy the amenities this beach has to offer. Iguana Beach is the perfect spot to enjoy your precious time with your children. The surroundings are safe, not too busy and food and drinks are very close by. Guests are offered towels and relaxing beach chairs and of course, there is protection from the sun too. Now and then iguanas will appear out of nowhere and this gives your children the opportunity to meet this interesting animal. At noon daily, the hotel staff organizes a "lunch time" for children to participate in feeding the iguanas and it's such an awesome sight to see so many iguanas crawl out from all the bushes to the beach and eat leaves from your hand. Really a wonderful experience!
The Amenities
Renaissance Island offers various amenities to really enjoy your stay. There are many water sports activities like snorkeling, scuba diving, paddle boating and kayaking at hand. Even sail cruises or deep sea fishing are a possibility to go for. Do you feel like going for a workout then fitness and playing tennis is also being offered. There's a fitness room with sufficient equipment and there are tennis courts to enjoy a game of tennis. You do not have to bring your own racket because renting one is possible. Also, sun accessories are available because good protection is very important, especially for your children. There are hammocks on the beach and there is a walking path around the island.
Spa
The Spa Cove at Renaissance Island is operated by Okeanos Spa Services, also to be found in the adult exclusive Renaissance Marina Hotel that is situated on the mainland. The Spa Cove offers you a full package to enjoy a deep relaxation while enjoying your privacy. There is even a secluded wading area waiting for you to explore. Should you care for food and refreshments while enjoying your visit, just give a sign and you will be taken care of. Ocean wind, sound, and view make the Spa Cove a perfect place to go to.
Food
The Papagayo Bar & Grill offers a wide variety of food and drinks for you to enjoy while visiting Renaissance Island. Also when you stay at one of the private beaches drinks and snacks can be ordered here. Do you feel like socializing then the Papagayo Bar & Grill is the place to be!
Drinks
The newly added Mangrove Beach Bar will be happy to serve you whatever drink you like. Whether you are in for an ice-cold beer or a tropical cocktail or a good glass of wine or maybe something stronger. Also, a large variety of non-alcoholic drinks is available for you to order. Do you want to go for a good cup of coffee or do you prefer a good espresso? Just ask and enjoy!
The Mangrove Beach Bar is a great place to meet new people and to chill out.
Events and Weddings
Renaissance Island is very well suited to organize your event for business or pleasure or to plan your wedding. Because of the private character of the location, your event or wedding will become an unforgettable one. A lot is possible, even to have the island for yourself when gathering. Just ask the front desk of the Renaissance Aruba Resort & Casino what the possibilities are.
Renaissance Island Day Pass
Also for non-visitors of the resort visiting Renaissance Island is a possibility. The Renaissance Aruba Resort & Casino provides day passes based on the availability on the day needed. A day pass costs $99.00 per person and a lunch, transportation to the island and a beach towel are included. To make a reservation you must contact the hotel directly on the same day of your arrival.