Are you seeking an affordable apartment in Oranjestad?
While Aruba is renowned for its popularity as a Caribbean destination, accommodations in Aruba sometimes come with a hefty price tag. However, fear not! There are still great deals to be found in Oranjestad, allowing you to experience the wonders of Aruba without breaking the bank.
Whether you're on a tight budget or prefer a more cost-effective stay, there are options available that will help you make the most of your visit while keeping your wallet happy.
Let's look at five apartments in Oranjestad that won't break the bank!
Jardines del Mar, Pool & Beach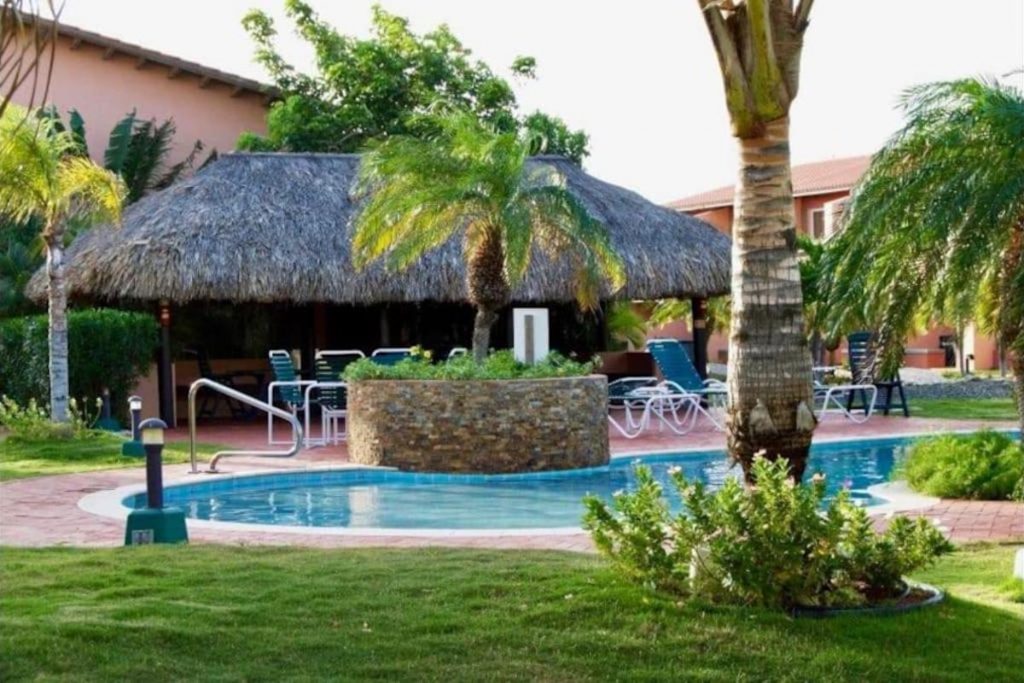 Jardines del Mar Pool & Beach is a family-run beach apartment building in Oranjestad. Featuring a fully-equipped gym and spa tub, this 4-star property is excellent value for money and a popular option for staying in Aruba on a budget.
Located just five minutes from the beach, Jardines del Mar is nicely situated and within easy reach of the nearby town. This is a gated community, and the owners are very responsive to guests during their stay. Rooms in the apartments come with all modern conveniences, including air conditioning, private bathrooms, and a kitchen. Each room also features a balcony, and while the decor is simplistic, the apartments are spotless and practical.
As you can guess from the name, guests at Jardines del Mar have immediate access to a beautiful outdoor pool. This gated area is one of the property's main features because it not only ensures plenty of space but also provides a place for guests to enjoy a barbecue. With laundry facilities, free Wi-Fi, and on-site parking, Jardines del Mar is one of the most affordable apartments in Oranjestad, providing more than enough value at every turn.
Montana Eco Resort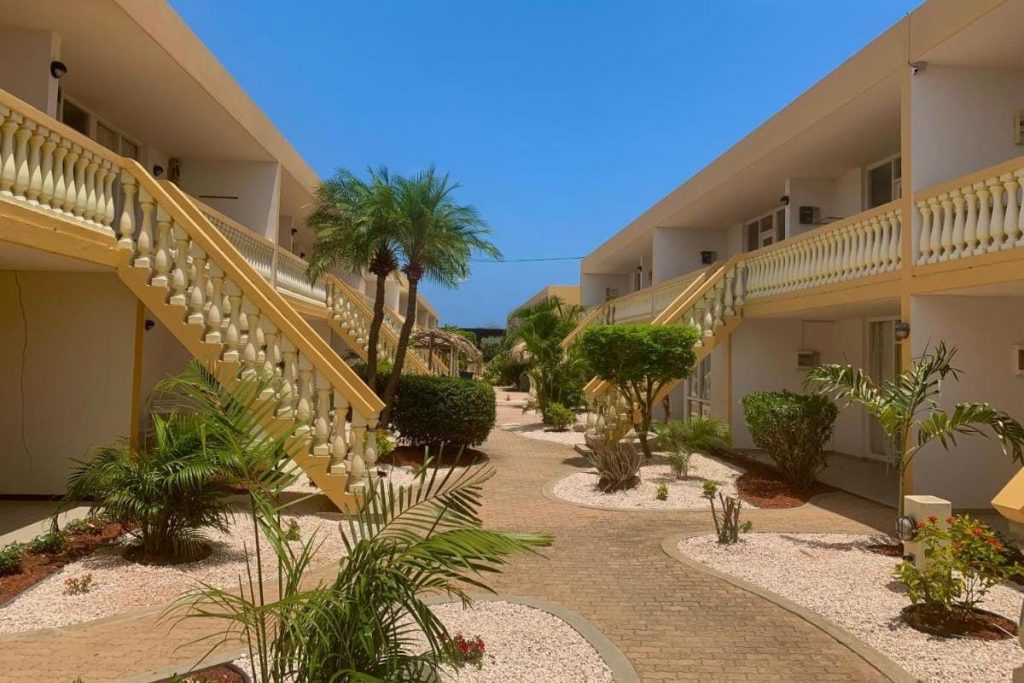 Montana Eco Resort is a newly renovated apartment in Oranjestad with an exceptionally light and clean appearance. This is also a very private resort with an on-site restaurant, a private sun terrace, and a garden for guests to enjoy.
Rooms are very spacious and equipped with all modern conveniences. You can expect free Wi-Fi, cable television, and a safety deposit in each room, while the lounge and dining area ensures plenty of space to move around. Some units come with a private patio, and the quality of the interior is high despite this being such an affordable place to stay.
Space is abundant at the Montana Eco Resort because guests can access a sun terrace, outdoor pool, and garden. Many families, in particular, seem to appreciate this extra space, while the owners of Montana Eco Resort describe their creation as "the perfect place to unwind."
Happy Days Oranjestad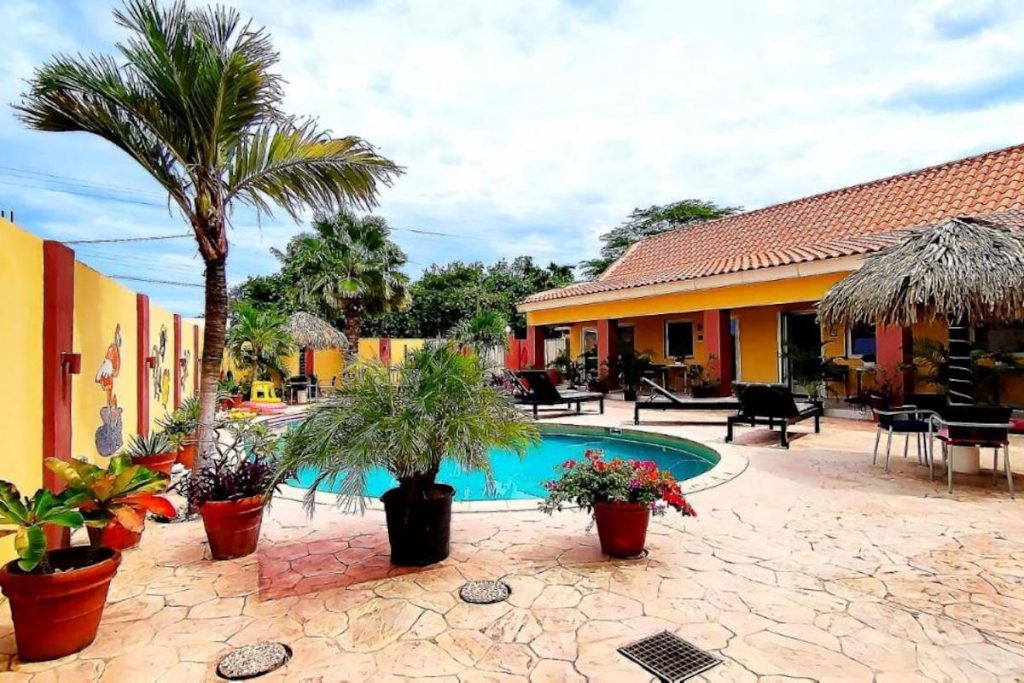 Are you looking for a quiet place to stay in Aruba on a budget? Happy Days is a beautiful property in Oranjestad with an inviting gated terrace and pool area. Online reviews frequently mention the friendly owners, while the favorable location and nicely furnished rooms add reason to the name – Happy Days!
Rooms at this affordable apartment in Oranjestad have a bright and fresh feel; what they might lack in size, they make up for through appearance. These rooms have a kitchen, air conditioning, and practical furnishings, but the outdoor pool area is arguably the property's highlight.
It's a small but beautiful pool at Happy Days, and the surrounding terrace is very spacious. After dark, colorful lights brighten up this area and make it the perfect place to enjoy a night in during your stay. Overall, this is a great option and one within easy reach of the nearby things to do.
Palmita Apartments & Hostel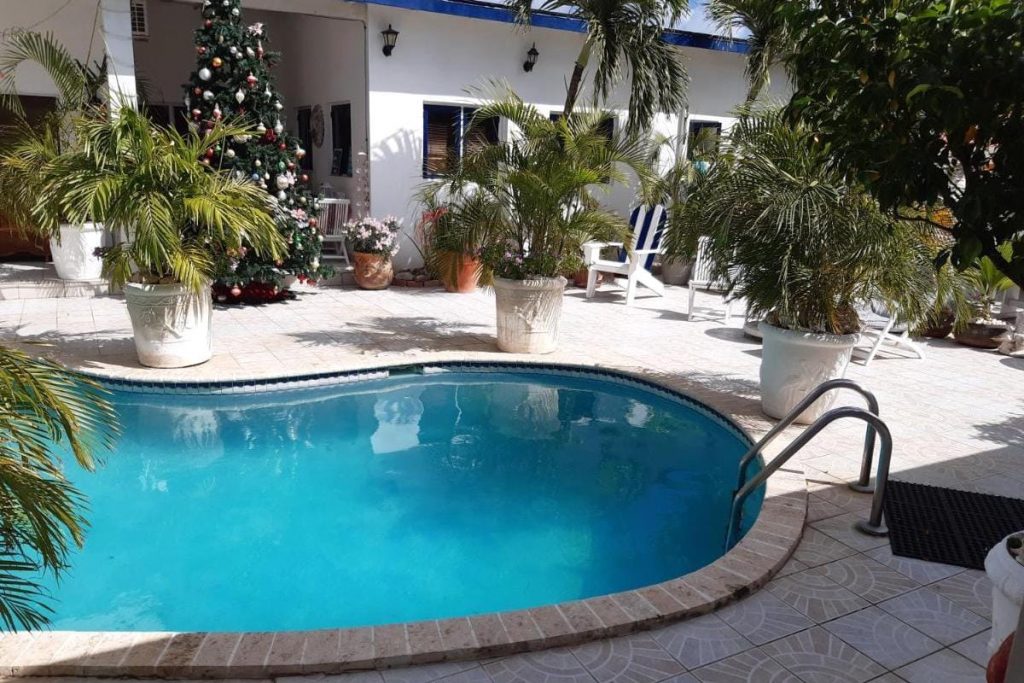 Palmita Apartments is situated just 2.5km from Surfside Beach in Oranjestad and is considered an excellent option for staying in Aruba on a budget. Featuring clean rooms, friendly staff, and an outdoor pool, this is also a very suitable accommodation that seems to tick most boxes for an enjoyable stay in Aruba.
Some apartments feature a kitchen with a stove and other appliances, which will be especially useful for anyone wanting to enjoy an affordable accommodation in Aruba. Most guests enjoy the complimentary continental breakfast and head into town for the rest of their meals.
While the decor and furnishings are simplistic, each room is clean, and the apartments might be best described as practical instead of luxurious. The same goes for the medium-sized pool and shared outdoor area where guests are encouraged to unwind. Although Palmita Apartments might not be the most luxurious place to stay, this affordable apartment in Oranjestad offers value for money.
Harmony Inn
Harmony Inn is home to some of the most affordable apartments in Oranjestad and an excellent option for a group stay. This is because of the sizeable on-site space, including a lush garden and outdoor pool. Although close to the center of Oranjestad, this is a quiet place to stay and one that does not sacrifice quality and comfort.
All four rooms in the apartment complex are nicely furnished, and some units include a fully equipped kitchen, air conditioning, and flat-screen television. Online reviews frequently mention the friendly staff at this property, and the nearest supermarket and restaurant is approximately a 10-minutes walk.
A continental breakfast is also served at Harmony Inn, and most venture further afield for lunch and dinner. Harmony Inn is a great option to explore Aruba on a budget, especially for groups that can rent out all of the apartments simultaneously, which means you can have the place to yourself!
Conclusion
Indeed, Oranjestad might not be the most affordable place to stay in terms of hotels and apartments, but these five affordable options should at least get you started and help you enjoy Aruba on a budget!