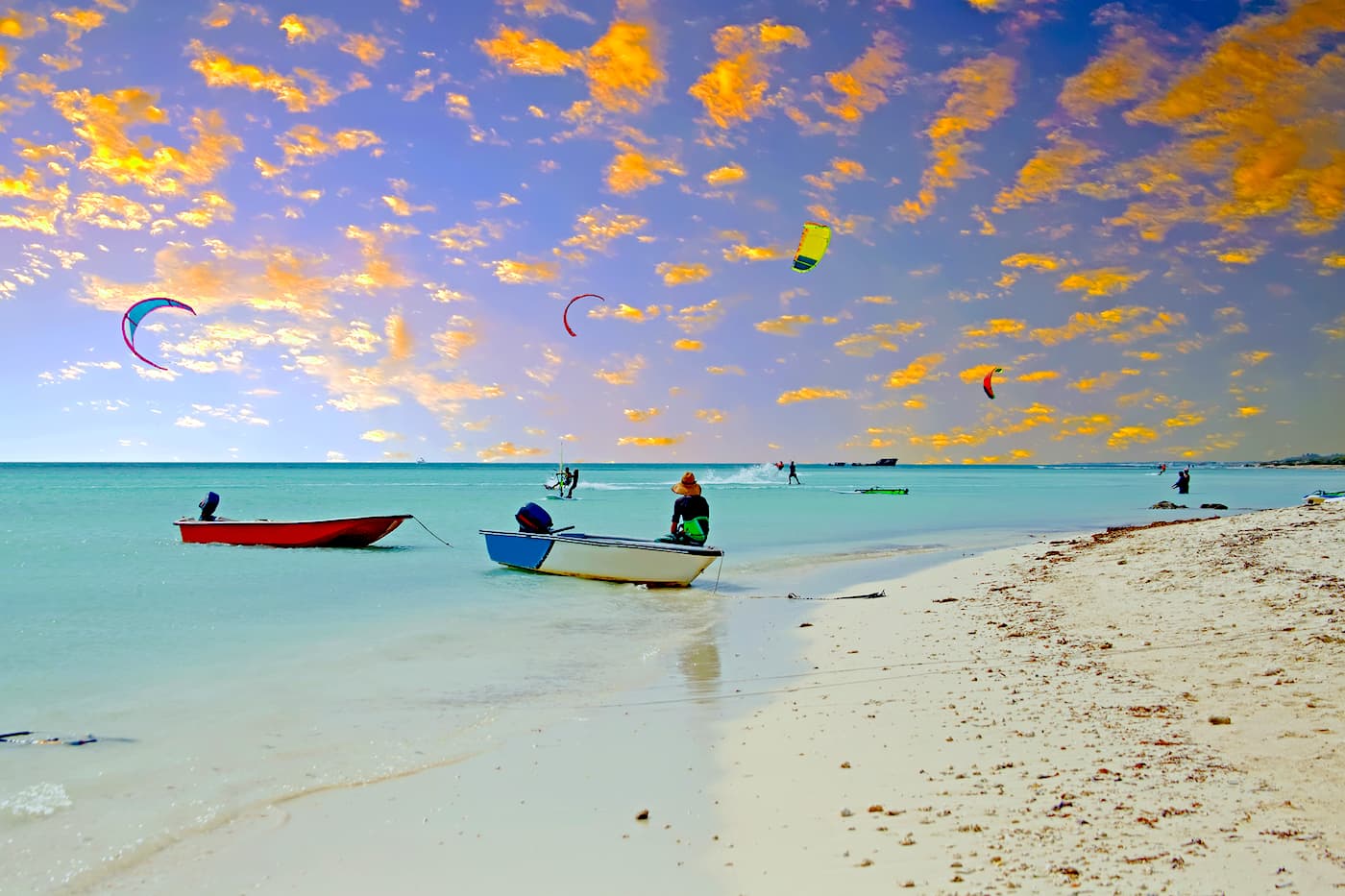 Aruba Kitesurfing
You might have heard that Aruba is a fantastic island to practice all kinds of water sports. More specifically, if you're looking for an awesome place for kitesurfing in the southern Caribbean, with winds pretty much guaranteed, Aruba definitely is the place to go. Aruba offers crystal-clear, warm and shallow waters that are often only waist-deep. The trade winds from the east produce excellent kitesurfing conditions throughout the year. The high-wind season in Aruba is well-known among kitesurfing fans, as it is one of the longest in the entire Caribbean. In May, June and July wind speeds in Aruba are highest, averaging out between 20 to 30 knots. From August to November wind speeds decrease to an average of approximately 10 to 18 knots. In December through April they reach an average speed of 15 to 20 knots. The reef offers good kitesurfing opportunities for beginners, while the waves outside the reef are challenging enough for the experienced kitesurfer. It is no surprise that The Aruba Hi-Winds Windsurfing and Kiteboarding tournament, held in Aruba every year in June and July, is a magnet for both professional and amateur kitesurfers.
Map
The Best Kitesurfing Spots of Aruba
In a nutshell, the best beaches to go kitesurfing in Aruba are Hadicurari Beach, also known as the Fisherman Huts, and Boca Grandi.
See below for more kitesurfing spots in Aruba!
Boca Grandi
Kitesurfing Conditions at Boca Grandi
Wind: Constant cross-wind on-shore throughout the year.
Swell: Swell consistency is constant, with a East to North direction.
Experience: For beginners who want to make progress, or more advanced riders who'd like to push limits.
At the south-eastern part of Aruba, you will find Boca Grandi. This is where the Aruba Hi-Winds Kitesurfing and Windsurfing contest takes place in June and July every year. Boca Grandi offers the bluest waters on the island, especially when viewed from the dunes near the beach. Nature is raw and rugged, with a half moon bay, white sand beaches, and waves breaking out on the reef. Kitesurfing here is an entirely different experience to that of Fisherman Huts. The winds are usually safer here, blowing cross-onshore from the right. But you do need to be careful, as there's no one to rescue you. The place is never crowded. You can park your car on the road and walk to the spot. If you rent a 4×4, you can drive on the beach right to the waterfront.
Arashi Beach
Kitesurfing Conditions at Arashi Beach
Wind: Offshore.
Swell: Nice swell, sweet easy waves.
Experience: Advanced riders only.
Arashi Beach is located on the northern tip of Aruba, about 2 miles north of the Fisherman Huts. You can clearly see the California Lighthouse. The wind here blows offshore, and if you are confident going upwind, you should definitely check this kite spot out. You may want to have access to a rescue boat. If you're going to go to Arashi from the Huts, just put up your kite and go right until you get to the tip of the island. Let the lighthouse be your guide. On the way to Arashi, don't be surprised if you pass a snorkel tour catamaran in the Arashi Bay. It's an excellent opportunity to show off a massive jump – see if you can get some cheers from the crowd! Once at Arashi, you'll find crystal clear warm water with offshore wind, plenty of deeper water, and a reef with a gentle swell. The waves are sweet and comfortable. For advanced riders only!
Fisherman Huts
Kitesurfing Conditions at Fisherman Huts
Wind: Offshore. Can be quite gusty inside, usually constant outside.
Swell: Swells are rare at the Fisherman Huts, due to cold-fronts.
Experience: Beginner to advanced riders.
The Fisherman Huts, also known as Hadicurari Beach, offers powder-soft white sand and translucent shallow waters. It is located at the north-western side of the island, near Palm Beach. The beach is right next to the Aruba Marriott Resort and the Ritz Carlton Aruba – both high-rise hotels that make the winds rather gusty. It is an exciting kitesurfing spot for beginners, as they can learn the basics by taking kitesurfing lessons. Advanced kitesurfers who are not afraid to challenge the waves, currents, and strong offshore winds will have a field day! The best part of the Fisherman Huts is the amount of wind. Only a handful of spots on the entire planet have this many hours of wind, which gives you the best shot at completing a kitesurfing course. At walking distance from the main hotels and resorts, are a few experienced kitesurfing schools, with boats, radio's and new kite gear. If you're looking for vibes, the Fisherman Huts is the place to go!
Barcadera Beach
Kitesurfing Conditions at Barcadera Beach
Wind: Favorable trade wind conditions.
Swell: Swells are rare at Barcadera.
Experience: Beginner to advanced riders.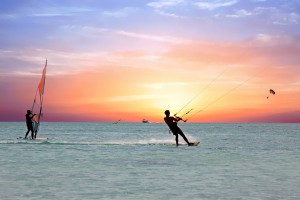 Southeast of Oranjestad and Queen Beatrix International Airport, you will find Barcadera Beach. This kitesurfing spot sits in between the Barcadera Port and a suburban area called Balashi. With favorable wind conditions, it is a popular place to go windsurfing or kitesurfing in Aruba. You'll get a decent trade wind here from January through August. Winds are blowing from the north-east at a minimum of 15 knots, often at around 25 knots. The winds can be lighter from September into early December, but they'll still be powerful enough to make you work. The water is never flat, and depending on the wind strength, you can see waves of between three feet and ten feet high. You'll have fun playing in the water for hours, as the waves will roll in consistently throughout the day.
Baby Beach
Kitesurfing Conditions at Baby Beach
Wind: Usually constant.
Swell: Swells are rare here.
Experience: Beginner to advanced riders.
Another fantastic (unofficial) kitesurfing spot is Baby Beach, although you are actually not allowed to kitesurf here. But if you go early in the morning between 6 AM and 9 AM, you can probably get away with it! Just make sure you leave before the swimmers and snorkelers start to fill up the beach. Respect the rules and you should be having an awesome ride, on smooth, shallow blue water. You'll have the entire spot to yourself for a couple of hours in the most stunning morning light. Disrespect the rules, and chances are the police will stop by, and that would be a bummer.