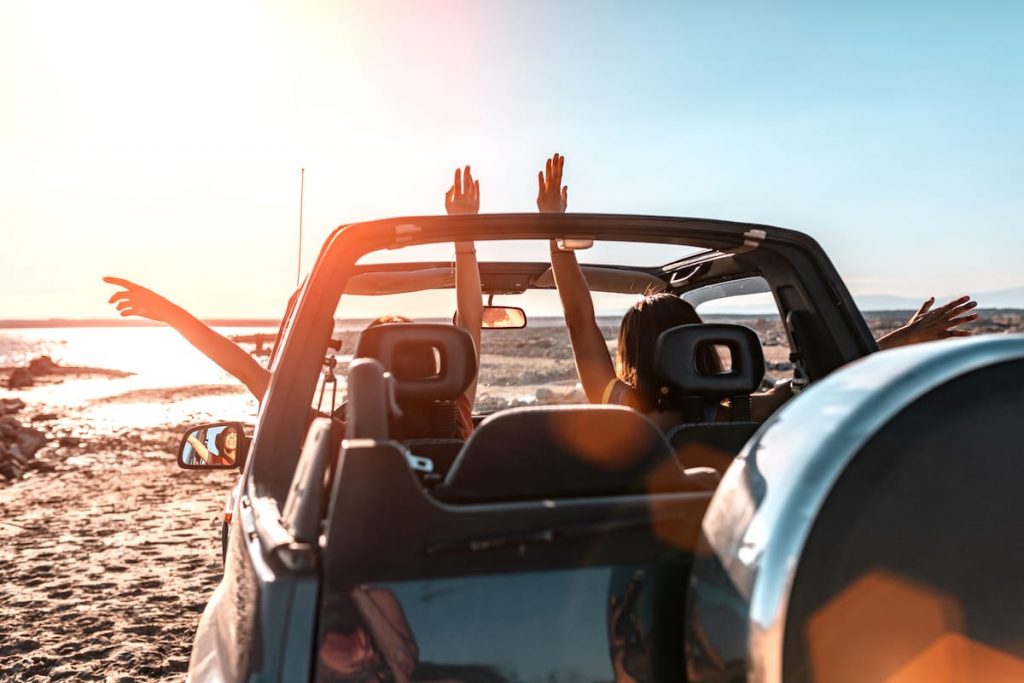 If you want to rent a car in Aruba, you can find great car rental deals on the web at websites such as Rental Cars, making it easy to compare car models, find great rates and reserve your car. You can pay later, and cancellation is usually free. Very often, discounts are offered if you own a membership card.
All car rental companies in Aruba generally offer a well-maintained fleet and a wide range of vehicles: you can choose between economy cars, compacts, SUVs, four-wheel-drive vehicles, and minivans. Almost all of these vehicles have an automatic transmission and air conditioning. You won't find many rental cars in Aruba with manual transmissions.
International Brands
The following international Aruba car rental companies have offices on the island:
Avis
Budget
Hertz
Thrifty
NÜ
National
Alamo
Dollar
Ace
Local Brands
Jay's Car Rental
Aruba Car Rental
Super Car Rental Aruba
Sunset Car Rental
Economy Car Rental Aruba
Rent a Car in Aruba at the Airport
In-terminal Booths and Car Pickup
You can also rent a car in Aruba when you arrive on the island. Alamo, Avis, Budget, Dollar, Hertz, National, and Thrifty have in-terminal booths at Reina Beatrix International Airport. With these companies, you can pick up and drop off your rental car at the airport terminal. In general, these companies offer a wide range of rental cars with unlimited mileage, free customer pick-up and require a deposit of a few hundred dollars or an authorized credit card. Car insurance and collision damage protection can be taken care of when you fill in the required paperwork at the car rental booth.
Shuttle Service
Many rental car companies in Aruba provide shuttle services to transport customers from the airport to their rental car counters. These shuttles are typically available at designated pick-up points near the airport terminal. Upon arrival at the airport, you can look for signs or inquire at the information desk to locate the shuttle service for your chosen rental car company. The shuttle will conveniently transport you to the rental car counter where you can complete the necessary paperwork and collect your vehicle. Be sure to check with your specific rental car company for details on their shuttle service and any requirements or instructions to follow.
Book a Private Airport Transfer
Instead of renting a car, you can also book a private airport transfer and arrange a car at your hotel later. This offers several benefits that enhance your travel experience: you enjoy the convenience of having a dedicated vehicle and driver waiting for you upon arrival. There's no need to wait in taxi queues or navigate public transportation options. Plus, private transfers typically offer spacious and comfortable vehicles, allowing you to relax after a long flight. You can enjoy the privacy of traveling with your group without sharing the car with strangers. Private transfers offer direct transportation from the airport to your desired destination without multiple stops along the way.
VIP Luxury SUV Airport Transfer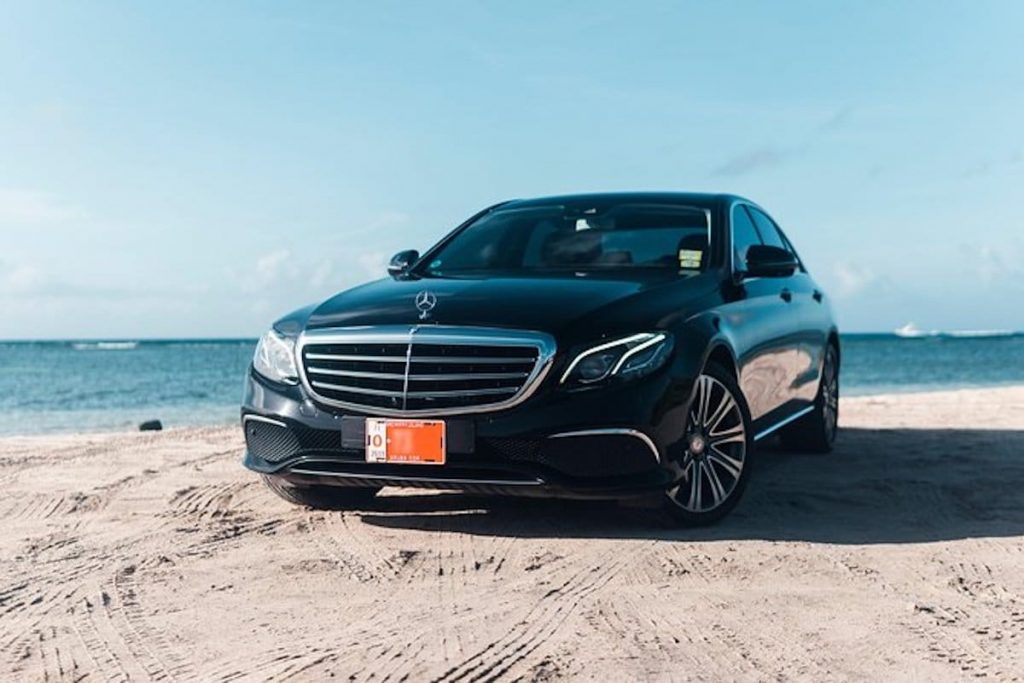 With the Reina Beatrix International Airport VIP Luxury Transfer, you will cruise in style in a comfortable, air-conditioned SUV as you arrive or depart from the airport in Aruba. This exclusive service is private, catering only to you and your group. Choose between a convenient round-trip transfer or a one-way option to suit your travel needs. A professional chauffeur will be at your service, assisting with your luggage for a seamless airport experience. Rest assured that this VIP service is designed to accommodate your flight times, ensuring you never have to wait around. Enjoy a truly lavish and stress-free journey with this exceptional VIP luxury transfer.
VIP Luxury Sedan Airport Transfer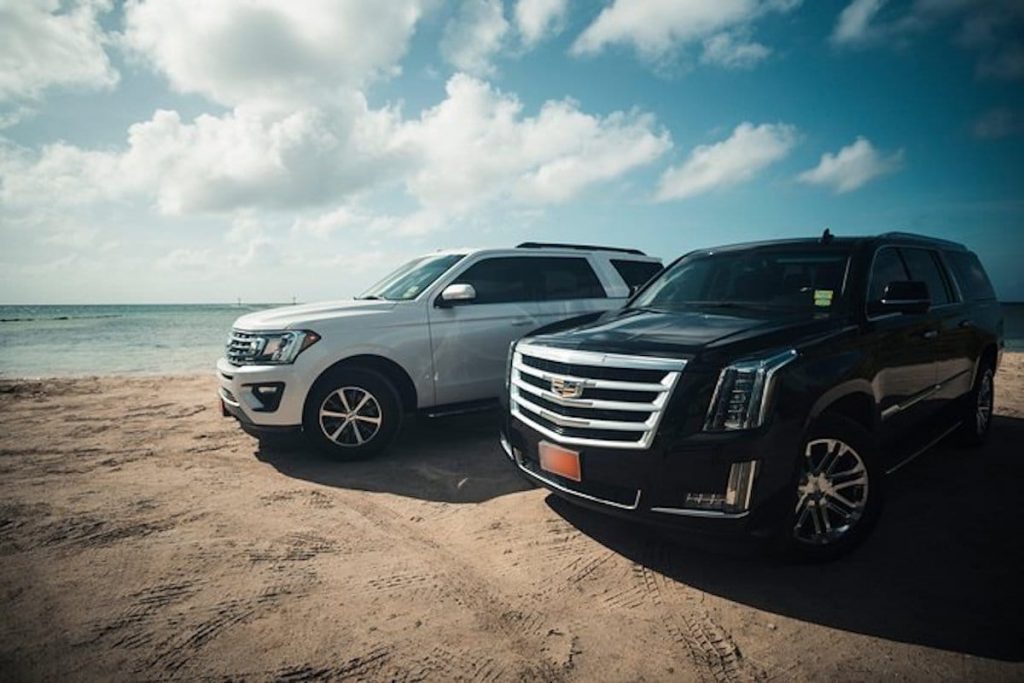 Secure your travel plans easily by booking the Reina Beatrix International Airport VIP Luxury Transfer by Sedan in advance. Ensure a timely arrival at the airport or a prompt departure to catch your flight. Whether you prefer a one-way or round-trip service, you can customize your booking accordingly. Experience the convenience of having a driver meet you at the airport or your hotel, providing assistance with your luggage. Bid farewell to long wait times as your dedicated driver closely monitors your flight schedule. Enjoy peace of mind knowing that your transportation aligns perfectly with your travel itinerary. Make your journey seamless and stress-free with this exclusive VIP luxury transfer service.
Frequently Asked Questions
How Old do You Have to Be To Rent a Car in Aruba?
In Aruba, the minimum age requirement to rent a car varies depending on the rental car company. Generally, the minimum age to rent a car is 21 years old. However, some rental car companies may require drivers to be at least 23 or even 25 years old. It's important to check with the specific rental car agency you plan to use to confirm their age requirements and any additional conditions or restrictions that may apply.
How Much Does it Cost to Rent a Car?
The cost of renting a car in Aruba can vary depending on several factors, such as the type of vehicle, rental duration, time of year, and the rental company you choose. Generally, the daily rental rates for a basic economy car can range from $40 to $70 USD. However, prices can be higher during peak tourist seasons or if you opt for a larger or more luxurious vehicle. Comparing prices and policies from different rental car companies in Aruba is recommended to find the best deal that suits your needs and budget. Additionally, be mindful of additional costs like insurance, fuel, and any extra services you may require.
Are Uber or Lyft available in Aruba?
Unfortunately, Uber and other ride-sharing services are not operational in Aruba. The taxi services on the island are regulated by the government. However, you can easily hail a taxi, particularly in popular tourist areas. Alternatively, if you don't mind some physical activity, walking or taking the bus are viable options for getting around.
Is it Cheaper to Rent a Car or Use a Taxi?
Rental cars prove to be a more economical choice than taxis in certain scenarios. For instance, if you plan to use the car for both daytime activities and evening outings such as dinner, or if you're staying in the high-rise area and need to travel a significant distance to reach a restaurant on the opposite end of the island. In such cases, the cost of a taxi fare is comparable to a full day's car rental charge. Assess your specific transportation needs and consider the distances you'll be covering to determine whether renting a car or relying on taxis is the most cost-effective option for your Aruba adventures.
Is it Worth Renting a Car in Aruba?
The decision on whether to rent a car in Aruba depends on the duration of your stay and your level of activity. If you intend to thoroughly explore the island, it may be worthwhile to rent a car for a day or a few days. Local car rental agencies often offer special deals for 3-day rentals. However, if your plans primarily involve staying within your resort for activities such as dining, gambling, and shopping, opting for taxis or using the Arubus bus system would likely be more cost-effective. Consider your itinerary and preferences to determine the most suitable transportation option for your Aruba experience.
Do I need an International Driving Permit to rent a car in Aruba?
No International Driving Permit is required. You can confidently drive in Aruba with your state-issued license without any concerns or additional paperwork.
Can You Drink and Drive in Aruba?
Definitely not! In Aruba, the maximum allowed blood alcohol level is 50mg per 100ml of blood. This threshold is lower than in many European countries, which means that consuming just one drink could likely exceed the legal limit. We strongly advise against drinking and driving in any unfamiliar country, regardless of how tempting Happy Hour may seem. Your safety and the well-being of others on the road should always take precedence. It's best to err on the side of caution and choose alternative transportation options if you plan on indulging in alcoholic beverages.
Do I need 4WD in Aruba?
For those eager to venture into Aruba's rugged north and east coast, opting for a 4WD vehicle is highly recommended, adding an extra touch of adventure to your exploration. Keep in mind that certain dirt roads on the island can be rocky and dusty, offering a thrilling yet bumpy ride. If you're looking to spend a day exploring this captivating region, take note of the various 4WD Tours available in Aruba. These tours provide an enjoyable and exciting experience for friends and family, allowing you to navigate the terrain with ease and create lasting memories along the way. Get ready to embrace the thrill of off-roading and discover the untamed beauty of Aruba's north and east coast!
Is it Easy to Drive a Car in Aruba?
Once you become accustomed to the roundabouts and acquainted with the traffic signs, driving in Aruba becomes a laid-back experience. It's a breeze to navigate the roads and enjoy the scenic drives. Moreover, Aruba presents an incredible opportunity for off-roading enthusiasts. Whether you opt for a guided off-roading tour that guarantees adventure or decide to rent a 4×4 vehicle and embark on your own expedition, get ready for an exhilarating and thrilling journey through untamed terrain.
Is Parking Free in Aruba?
Paid parking lots are available around the shopping malls and south of the Dunkin Donuts on JE Irausquin Blvd. However, in most other areas of Aruba, finding parking is generally easy. The beautiful beaches like Eagle, Malmok, Arashi, and Baby have free parking lots, allowing you to enjoy the sun and sand without any parking costs. Additionally, many supermarkets, stores, and restaurants offer free parking for their customers. So, whether you're exploring the island, visiting attractions, or enjoying a meal, you'll often find convenient and complimentary parking options available.
Do People in Aruba Drive on the Left or Right Side?
In Aruba, people drive on the right side of the road. The steering wheel is located on the left side of the vehicle, similar to driving practices in the United States and many other countries. It's important to familiarize yourself with local traffic laws and road signs before driving in Aruba, especially if you are accustomed to driving on the left side in your home country. Stay attentive and follow the traffic rules to ensure a safe and enjoyable driving experience on the island.