What to Bring to Aruba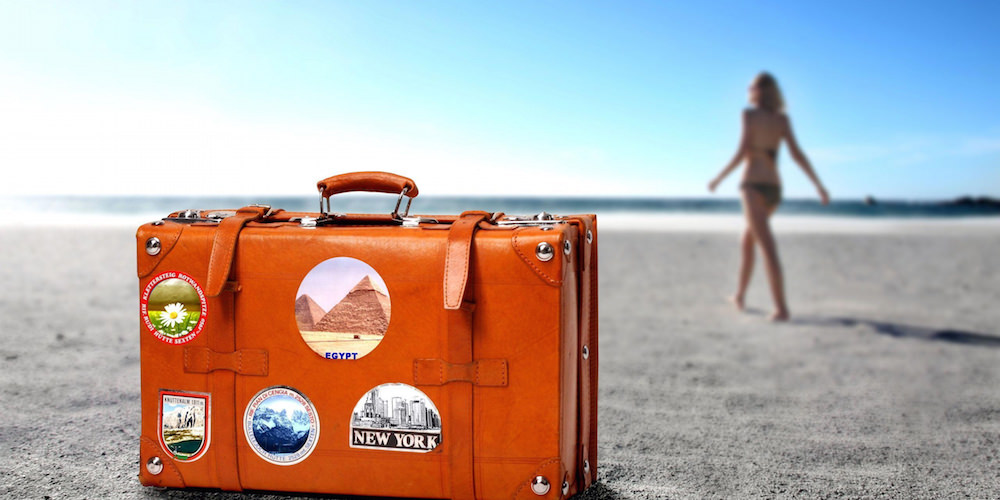 Pack your bags, you're almost ready to go! What to bring to Aruba though?
Aruba has plenty of shops, malls, and supermarkets that provide everything you need. But as with most islands in the Caribbean, everything has to be imported, so prices are higher – guaranteed. So why not save some money by ordering the things you know you'll need online at Amazon before you travel to Aruba? Below you'll find a convenient list of tips for what to bring to Aruba. We wish you happy pre-travel shopping, happy packing, and happy travels to the one and only Happy Island!
What to Bring to Aruba – Flight Comfort
Flight Noise Cancelling Headphones
No matter how long your flight to Aruba will be, aircraft noise is likely to be a pain, especially around take-off and landing, and when you're sitting in a window seat or towards the back of the plane. Even at cruising altitudes of 33000 feet, the noise level will be around 85 decibels (dBA) – a level that's high enough to cause ringing in the ear (tinnitus) after a long flight. On older airplanes, the noise level inside cabins can reach 90 decibels, a level that can cause permanent hearing damage after being exposed to it for more than 8 hours straight, according to the US Federal Aviation Authority (FAA). Although airplane manufacturers are working on bringing down the noise levels during flights, there are a few noise-avoidance tricks that passengers can use as well. One of them, if you have the choice, is to move to other locations in the cabin where there's less noise, such as away from the windows and in front of the engines. The other is to buy a set of noise cancelling headphones. Put these on during your flight to Aruba, listen to some music or your favorite podcast, and forget about the engines whirring, the air conditioning pumping, people chatting and babies crying.
What to Bring to Aruba – Skincare
Always wear Sunscreen
One of the things to pack for Aruba is sunscreen. As you probably will be spending most of your holiday on some of the best beaches of Aruba, you will get tanned. There is no other way around it. As Aruba's sun is very strong, especially around noon, getting that classic Aruba tan is easy – even in the shade. The hardest yet most important part is not to get sunburnt, if only for health reasons. As the Baz Luhrmann song goes: "always wear sunscreen". That's especially true on Aruba. In general, sunscreen is very expensive on the island so save yourself some money and bring plenty with you.
Sunscreen for Adults
Sunscreen for Children
Parents with children need to be extra vigilant about sun protection all the time. As a simple rule of thumb, your children should never get sunburnt at any age. Keep a watchful eye on them at all times whether they are still in a stroller or building sand castles on the beach. For more sun safety tips for infants, babies, and toddlers, we highly recommend reading Sun Safety Tips for Infants, Babies and Toddlers before you travel to Aruba.
After Sun Lotion with Aloe Vera
Don't forget to replenish your skin after a long day in the sun. Trust us, your skin deserves it, it will appreciate it, and you'll feel it. Preferably, buy an after sun lotion that contains aloe vera as it has rejuvenating, healing, and soothing properties. After sun lotion is best applied after the sun has set and after taking a shower (to rinse off any salt off your skin, whether from sweating or swimming in the Caribbean sea).
What to Bring to Aruba – Eyes, Head and Feet Protection
UV Sunglasses
Don't forget to bring a good pair of UV Sunglasses to protect your eyes from sunlight. Just remember, the sun rays don't just come from above, they are reflected by both the white sand (very reflective!) and even the blue water.
Flip-Flops
The white sand on the beaches of Aruba can get extremely hot, especially around noon when the sun reaches its zenith. The sensitive soles of your feet will easily get burned, even after short walks in the sand. Some of Aruba's beaches (especially near Eagle and Manchebo Beach) can get quite wide, making the walk to the water painful without proper footwear. Make sure you buy and wear some flip-flops to protect your feet from the tropical heat! They don't cost much, they're lightweight and very easy to pack.
Water Shoes
Some of Aruba's beaches, such as Boca Catalina and Catalina Cove, have rock ledges near the shore that can make it a bit difficult to get into the water. You'll want to bring some water shoes to protect your feet while going snorkeling or swimming. Pack some water shoes in your suitcase.
Water Shoes For Men
Speedo's surf walker pro 3.0 water shoes feature a stretchy pull-on upper part with a secure fit. They're made of quick-drying materials. A cushioned insole provides impact protection and a massage footbed. They can be used in the shower as well.
Water Shoes For Women
Aleader's Women's slip-on water shoes are lightweight, fast draining, and have good traction with a comfortable fit. They can also be used for water aerobics and to climb slippery boulders and rocks on the northeast coast of Aruba.
Water Shoes For Kids
Protect the feet of your little ones by making them wear water shoes. They have a good rubber sole, slip on easily and are great for a day at the beach or a hot pool deck. They'll also keep your kids from getting blisters while they're pushing off on the bottom of the outdoor pool all day long.
Beach Hats
To protect your scalp from the sun, make sure you wear a beach hat, even more so when you're going out on a boat trip, a jeep safari or a horseback riding tour along the northeastern coast of Aruba. Without wearing proper headwear you increase the chance of suffering from heatstroke and/or sunstroke, both conditions that can occur after exposure to excessive heat or sunshine.
Aruba Caps
Protect your scalp from the fierce Aruban sun while showing some love the Happy Island! Get a cap with the quote "I don't need therapy, I just need to go to Aruba". That's going to look great at the airport you're departing from

Get a Hashtag Aruba men's baseball cap – they come in various sizes and colors.
Better yet… get the "Make Aruba Great Again" cap. No matter who you voted for, this cap really trumps them all. The Nike Swoosh trademark is visible on the bill and center back.
You can get a cap with the official Aruba logo and "One Happy Island" quote as well. They're unisex, available in all sizes and made of high-quality cotton. The caps have an adjustable snap back closure and come in several colors.
What to Bring to Aruba – Books
Books About Aruba
Get up to speed on where to go, what to do and where to stay while you're flying to Aruba or relaxing on the beach.
What to Bring to Aruba – Electronics
Waterproof Portable Bluetooth Speakers
These JBL splashproof portable bluetooth speakers are great to have if you want to be able to stream your favorite music from your smartphone, either inside your hotel room or outside. You can connect up to 3 smartphones or tablets to the speaker. Bring it on boat trips, jeep tours or to a secluded beach, it will outlast all your Aruba adventures! The JBL Charge 3 speakers have a waterproof design, submerging it in water is no problem. If you leave it outside during that occassional tropical rain shower, no worries either. It features wireless bluetooth streaming and a powerful rechargeable Lithium-ion battery that supports up to 20 hours of music play. You can charge your other electronic devices via its built-in USB port. The speaker comes in a variety of hip colors, and weighs just 800 grams (about 1.8 pounds). If you have good WiFi at your hotel or resort, you can access Siri or Google Now right from the speaker to further plan your vacation in Aruba.
Portable Solar Charger
You'll want to get a portable solar charger if you're planning on spending a lot of time outdoors in Aruba. The benefit of packing one in your suitcase is that you can always be confident to be able to make that emergency call while you're on a boat trip or a jeep safari tour around the island. Portable solar chargers are easy to pack and don't waste much space in your suitcase. The model below is lightweight (17.5 oz) and has an ultra-thin design (1.6in folded). The 2-Port USB Portable Foldable Solar Charger features a high-efficiency solar panel that's almost twice as efficient as other folding solar chargers on the market today. It's powerful enough to charge an iPhone 6 under the Aruban sun. It has a smart chip built in that will intelligently identify your device so that the charger maximizes its charging speed while protecting your device from overloading.
Power Strip and Travel Power Outlet
If you're coming from the United States or Canada, you won't need any power adapter to plug in your power cords because electrical sockets in Aruba are similar to the electrical outlets in the United States and Canada. If you're bringing your electronic gadgets (smartphone, iPad, E-Reader, laptop, et cetera) you'll want to be able to quickly charge them. Hotel rooms can become power outlet deficient rather quickly. To solve that problem you'll want to purchase a power strip or travel power outlet and pack it in your suitcase. Even better, the products below feature USB ports too, making it really easy to charge your USB devices while you're at it.
Camera
Don't forget to bring a camera. Pictures or your Aruba vacation didn't happen!
Action Camera
Going surfing, windsurfing or snorkeling in Aruba? Buy an action camera and relive your adventures in HD quality back home! The advantages of the renowned GoPro action cameras are that they are super portable, and with the right accessories they can easily be strapped to your head, the steer of a mountain bike or the tip of a (wind) surfing board.
Selfie Sticks
Hang around on social media much? Take a selfie! Show your family and friends that genuine smile after a few days of living the Aruba way of life. They're easy to pack, and they don't take up too much space. They've become quite professional (all the way up to 4K video resolution) and affordable too, and usually work with both Apple iPhones, Android smartphones, GoPro action cameras, and regular digital cameras. Smile!
What to Bring to Aruba – Diving and Snorkeling Gear
Waterproof Outdoor Watch with Altimeter, Barometer and Compass
The Suunto Core, made by the world's biggest compass manufacturer, keeps you informed of Aruba weather conditions while you are diving, snorkeling, hiking, or biking in Aruba. It senses approaching storms even when the Aruban sky looks clear. It has a built-in altimeter that's accurate to within 30,000 feet; it displays your current elevation and how much you've climbed or descended – perfect if you're planning on climbing Hooiberg, Aruba's second largest landmark, or Jamanota, the highest point of Aruba located in Arikok National Park. The watch also features a barometer that displays the barometric history for the last three and six hours, a digital thermometer, a weather trend indicator, and a digital compass for keeping track of your direction while you're exploring Aruba. A depth meter provides accurate water depth readings to 30 feet. The Suunto Core is water resistant up to 30 meters.
Snorkel Sets
Going diving or snorkeling? Instead of renting gear, save money and bring some of your own.