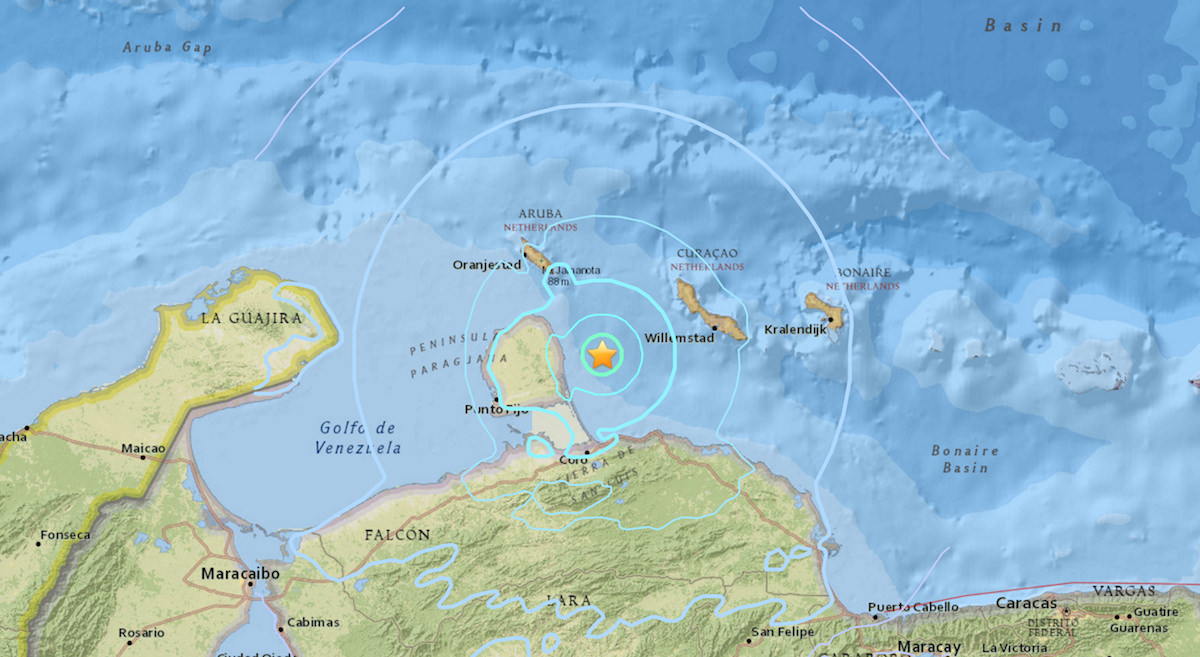 In a rare event, Aruba and Curaçao were rocked by an earthquake for the second time in two consecutive days.
Last Thursday morning's earthquake had a magnitude of 4.8 on the Richter scale. This morning's earthquake was a lot stronger with a magnitude of 5.5 and could be felt on both Caribbean islands. More destructive earthquakes typically have magnitudes between about 5.5 and 9.0. The Richter scale is logarithmic; a difference of one point results in a thirtyfold difference in magnitude.
In Willemstad, on the island of Curaçao, located 70 miles southeast of Aruba, a hardware store had to be evacuated after several product shelves came down, Radio Dolfijn reported. In Aruba, customers were ordered to leave stores as well. No further major damage has been reported.
Epicenter
Both earthquakes took place between Venezuela, Curaçao, and Aruba. The quake's epicenter was located about 54 kilometers north of La Vela de Coro, Venezuela at a depth of 10 kilometers. The quake was felt as far as Caracas, the Venezuelan capital.
"In my rearview mirror, I could see parked cars sliding down the road.", Dutch news correspondent Dick Drayer said. Dick also stated he could feel the ground move beneath him. "It was as if someone was shaking my car."
Caribbean Plate
Leon Pors, who works as a geologist at the Curaçao Footprint Foundation, explains that Aruba is located on the Caribbean Plate, which borders the North American Plate, the South American Plate, the Nazca Plate and the Cocos Plate, and slowly moves toward Suriname.
On these borders, seismic activity including earthquakes and volcanic eruptions, are not unusual.
"Millions of years ago, the islands of Aruba and Curaçao began their slow eastward journey from the Galapagos Islands. It will take approximately 15 million years before Aruba and Curaçao reach Suriname."
Mr. Pors expects even more seismic activity in the region.
"From a geological perspective, earthquakes in the Southern Caribbean are not unusual. But the sheer power of Friday's earthquake, and the fact that they were so close after one another is."
Source: NOS
Image courtesy of USGS.