Natural Pool Aruba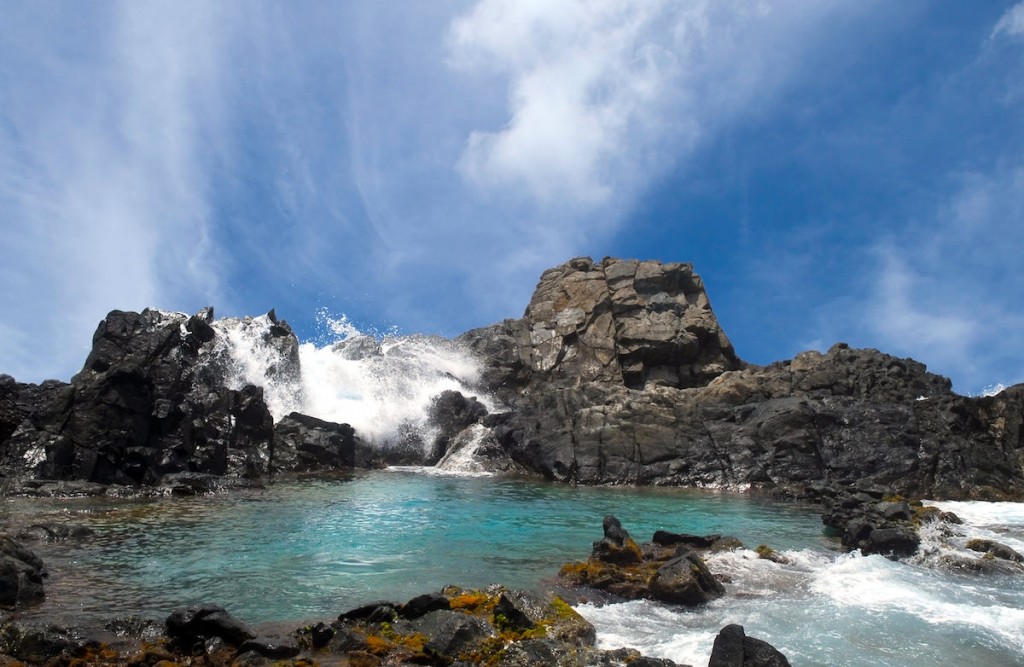 About the Natural Pool
Located a short distance from the Venezuelan coastline, Aruba is a Caribbean destination with so many natural attractions and things to do that visitors return year after year to explore more of the island. White powdered sands provide a fitting outline for much of the island and many stunning landscapes occupy the places in between but none of the attractions are quite as enticing or unique as the Conchi, also known as the Natural Pool in Aruba.
The Conchi is enclosed by natural walls of rocky coastline. These outcroppings are what allow the inside of the pool to be calm and swimmable. The waters that lie outside of them are rough, powerful, and filled with strong currents. If you are lucky enough to visit the Conchi on a day when swimming is safe, it's imperative that you stay within the walls of the pool at all times. Occupying a very isolated part of rugged coastline in the north of the island, the Natural Pool consists of a small depression surrounded by volcanic rock with a beautiful pool in the middle which is referred to as the Conchi.
Marveling at this magnificent sight is the easy part but unfortunately (or fortunately) reaching the natural pool is not so straight forward. Situated in the heart of Arikok National Park, either incredibly good stamina (for long distance hiking) or an off-road vehicle is required to reach the Natural Pool and while this may sound like something to put you off, you should be assured that this journey is often what makes the adventure that little bit more exciting.
Although incredibly beautiful and tranquil inside the Natural Pool in Aruba, the water around the outcrops is sometimes rough and powerful so you do need to stay within the safety of the pool. You should also enquire with regard to the weather as depending on the time of year, the conditions could mean that it is inadvisable to visit the Conchi. That being said, as long as you take enough drinking water with you, good hiking shoes, a change of clothing and a few snacks, this is usually possible and genuinely one of the most enjoyable things to do in Aruba.
Whether you wish for some truly unique photographs in Aruba, a mini adventure in the midst of your relaxation by the pool or a gentle dip in the most tranquil blue waters, the Natural Pool in Arikok National park never fails to impress and you can be quite sure that there is nowhere quite like this stunning attraction anywhere else on the island of Aruba.