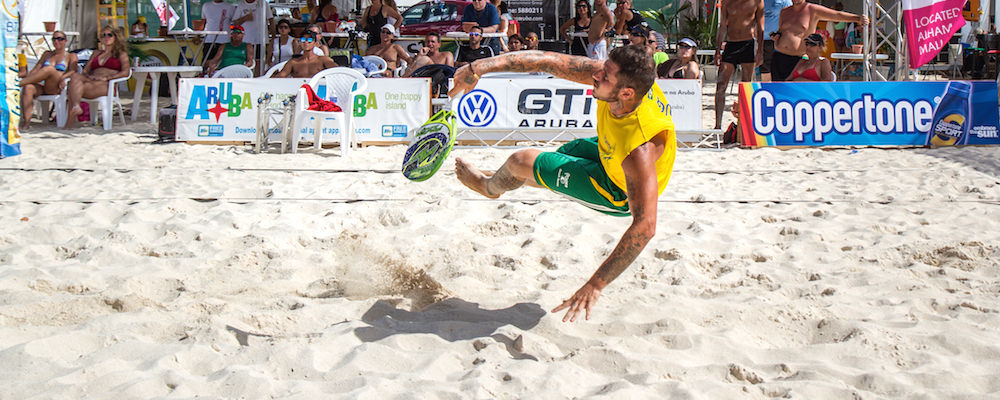 Returning to the International Tennis Federation (ITF) Beach Tennis Tour this November, the Aruba Beach Tennis Open 2016 will be held between November 13th and November 20th. The world's top players will compete at one of the biggest events of the year.
Aruba Beach Tennis
Beach Tennis Aruba (BTA) was founded in 2002 and is located at Tropicana Aruba Resort & Casino, close to Eagle Beach. BTA manages over 20 competitions on 12 permanent courts and hosts 2 monthly tournaments. Every year in November BTA organises the biggest international beach tennis event in the world. This exciting and challenging type of tennis has become one of the fastest growing sports in the world. Aruba was the first Caribbean island that embraced beach tennis.
Prizes
The Aruba Beach Tennis Open is second only in terms of financial rewards on offer. Only the Kazan World Grand Prix Tournament, held in Russia every year in July, offers bigger prizes to win. Single, mixed and other events leading up to the pro-level competition will be held throughout the week. Expect it to be a real show of beach tennis and more! More than a 1000 professional and amateur players from around the globe will gather to enjoy an exciting mix of beach tennis action, in a great atmosphere with music and all sorts of events.
Finals
The finals of the Pan American Championships will be held on Sunday before the main event. Moreover, three events for juniors are scheduled for different age categories. These events offer a great opportunity for the young and the "old" to meet!
Have a look at the official Aruba Beach Tennis Open website for up-to-date news, and further information about the tournament, registration and promoted accommodations.