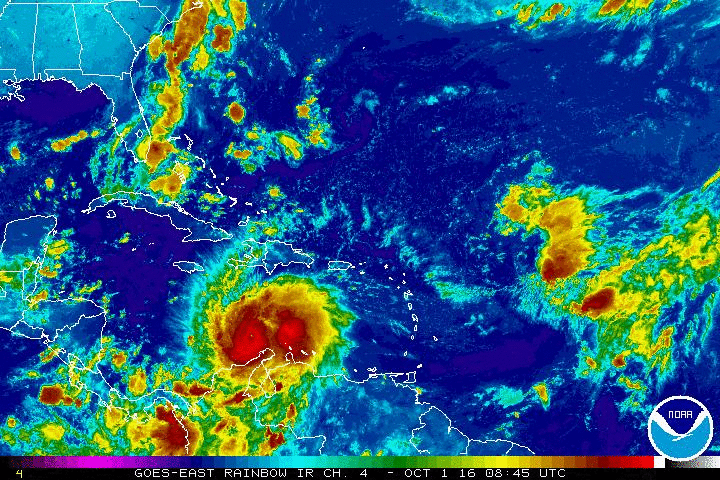 Aruba News: Hurricane Matthew is currently impacting Aruba with heavy rain and wind. It will affect the weather for the ABC Islands in the coming days. Aruba, Bonaire and Curaçao (the ABC islands) are part of the Lesser Antilles. Matthew became a hurricane on Thursday south of Puerto Rico, reaching maximum sustained winds of 120 kilometers per hour. In Aruba, it is a rare happening when a storm that is in the area develops into a tropical storm and eventually becomes a hurricane. Today Mathew is still located above the Eastern Caribbean Sea. Later in the day it is expected that Matthew will have become a hurricane and that it will affect the weather of Aruba, Bonaire and Curaçao quite heavily.
Heavy Winds, Rain and Lightning
Hurricane Matthew will pass from east to west at a speed of approximately 17 miles per hour. The authorities are warning for heavy rain and winds and possibly some flooding and mudslides. The local population is strongly advised to stay inside and to take necessary precautions. Tourists should do the same and stay up to date by checking weather forecasts for the coming days regularly and follow advice given by the local authorities.
Video of Hurricane Matthew in Aruba
In this Youtube video published on Oct 1, 2016, you can clearly see heavy lightning caused by the hurricane. The video was recorded near Palm Beach.
Another Youtuber made this footage of Hurrican Matthew in Aruba on September 30th. The video clearly shows that quite a few beaches have been hit hard by heavy winds and waves.
Twitter
As CBS4 Miami reports on Twitter:
#BREAKING: #HurricaneMatthew hasn't stopped gaining strength, now #Category5. @CraigSetzer has update on #CBS4 News. https://t.co/vP7H8MEQgW

— CBS4 Miami (@CBSMiami) October 1, 2016
CNN Weather Reports:
Tracking Matthew as it strengthens and moves across the Caribbean. Currently impacting Aruba with rain and wind. pic.twitter.com/Dk0CrCf6UE

— CNN Weather Center (@CNNweather) September 30, 2016
AMHQ has some video footage of Hurricane Matthew in Aruba:
#Hurricane #Matthew brings strong winds to #Aruba. .@twcMariaLaRosa and .@TWCChrisWarren are following Matthew's path on #WeekendRecharge pic.twitter.com/7OnENWC1JV

— AMHQ (@AMHQ) October 1, 2016
Dominican airline Pawa Cancels Flights due to Hurricane Matthew
Dominican airline Pawa yesterday announced the cancellation of flights scheduled for Friday between Santo Domingo and Aruba and Curacao due to Hurricane Matthew. The company said in a statement that passengers affected will be relocated on flights scheduled for next Sunday. Other airline flights scheduled for Friday remain unchanged.
Hurricane Season
Although hurricanes do occur on occasion in the Southern Caribbean region during hurricane season, they rarely affect Aruba the way Matthew has these past few days. Aruba lies south of the hurricane belt, and the island – on occasion – is influenced by the fringe effects of tropical storms in the area, usually causing dangerous swimming and surfing conditions at worst.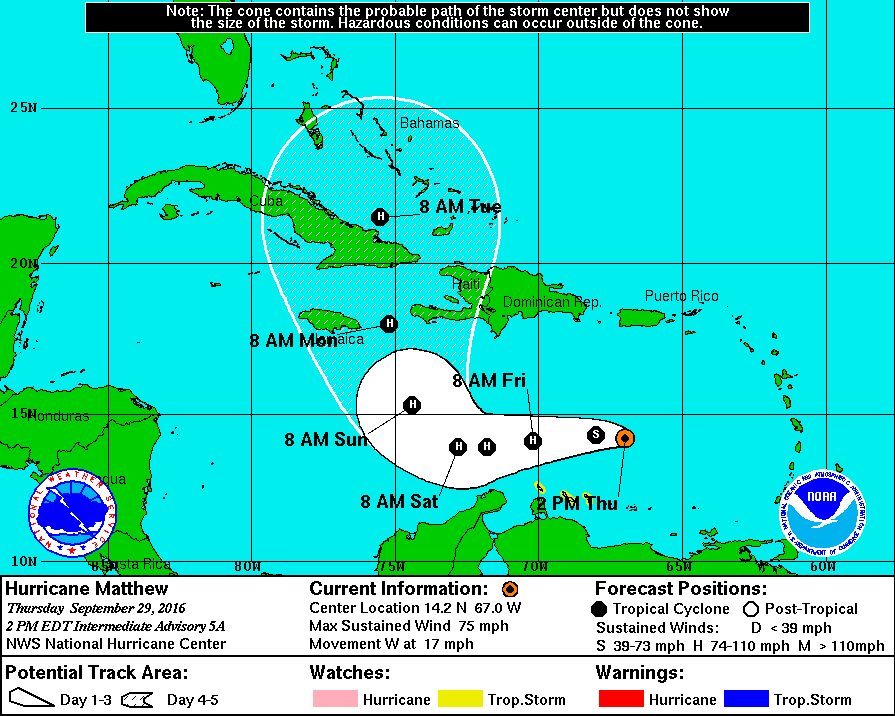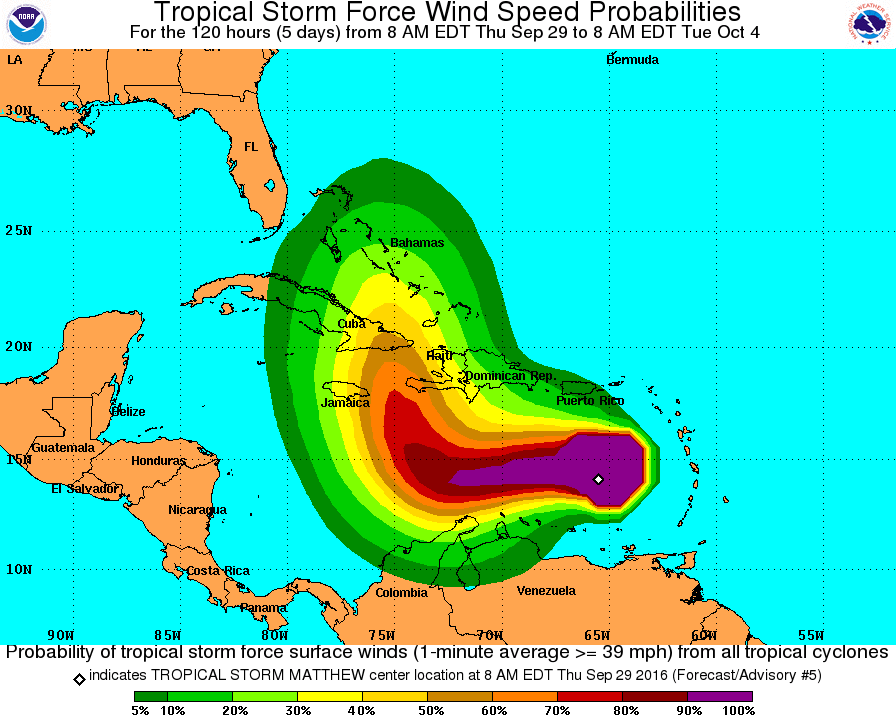 Source: National Hurricane Center